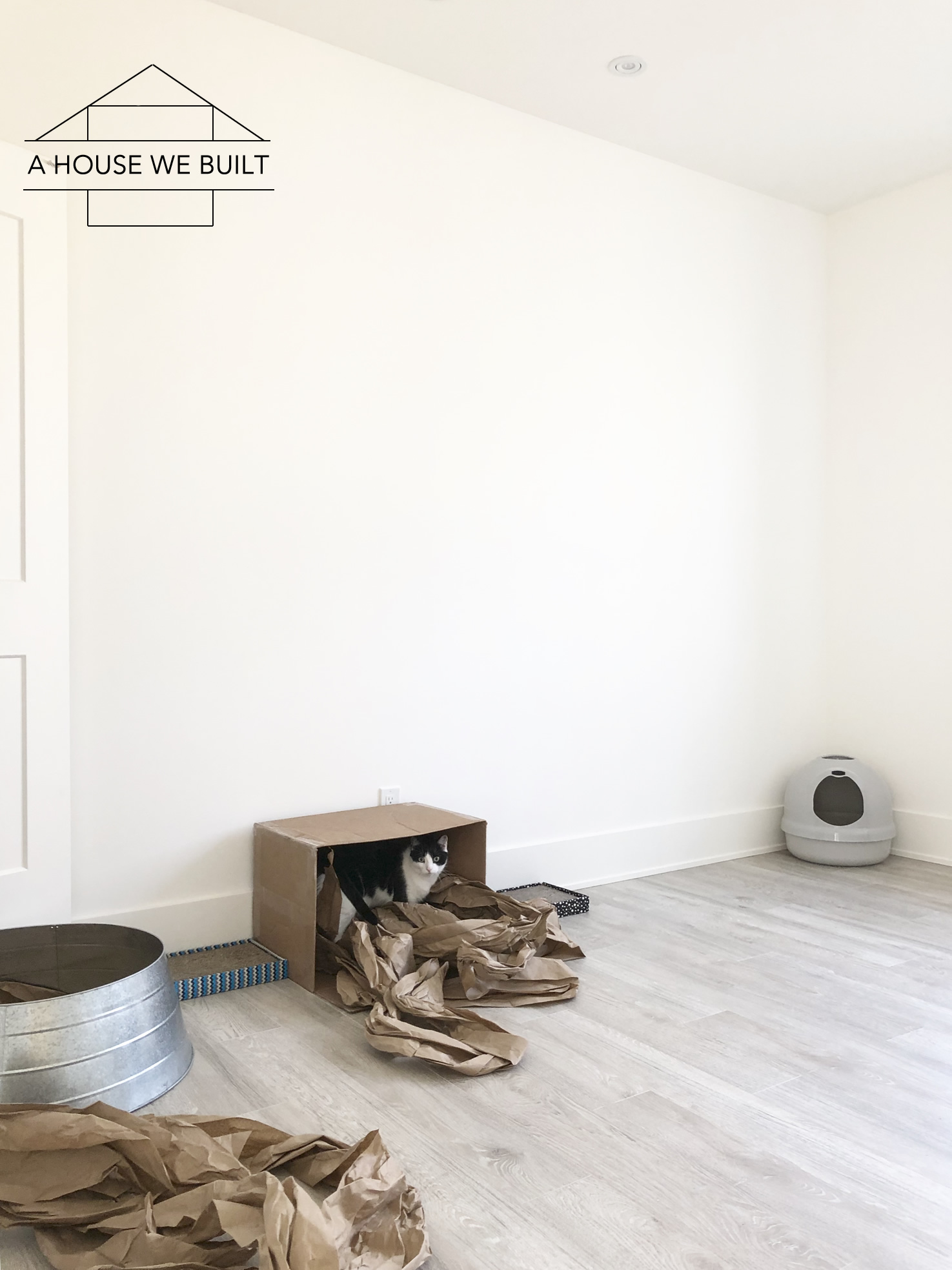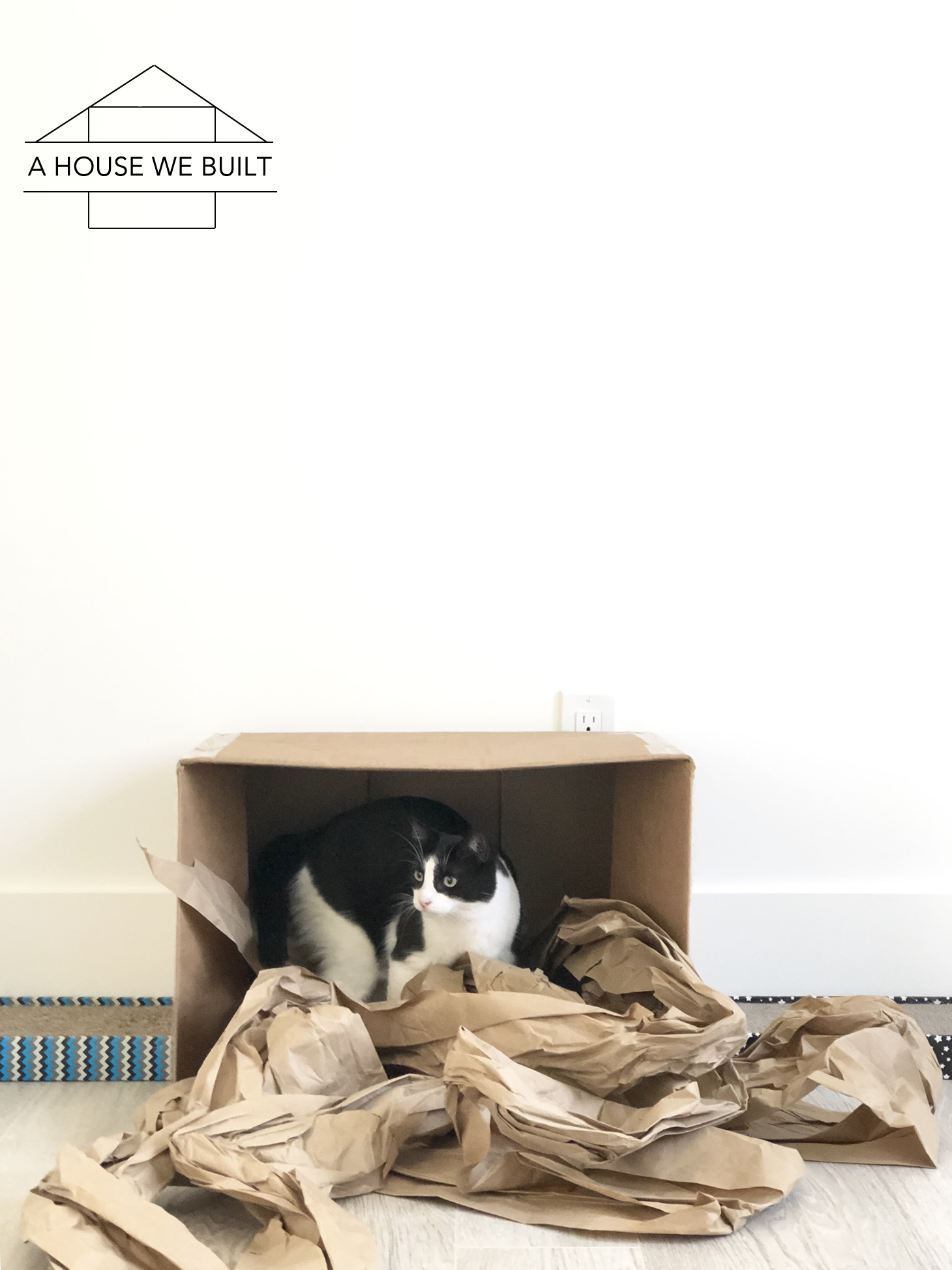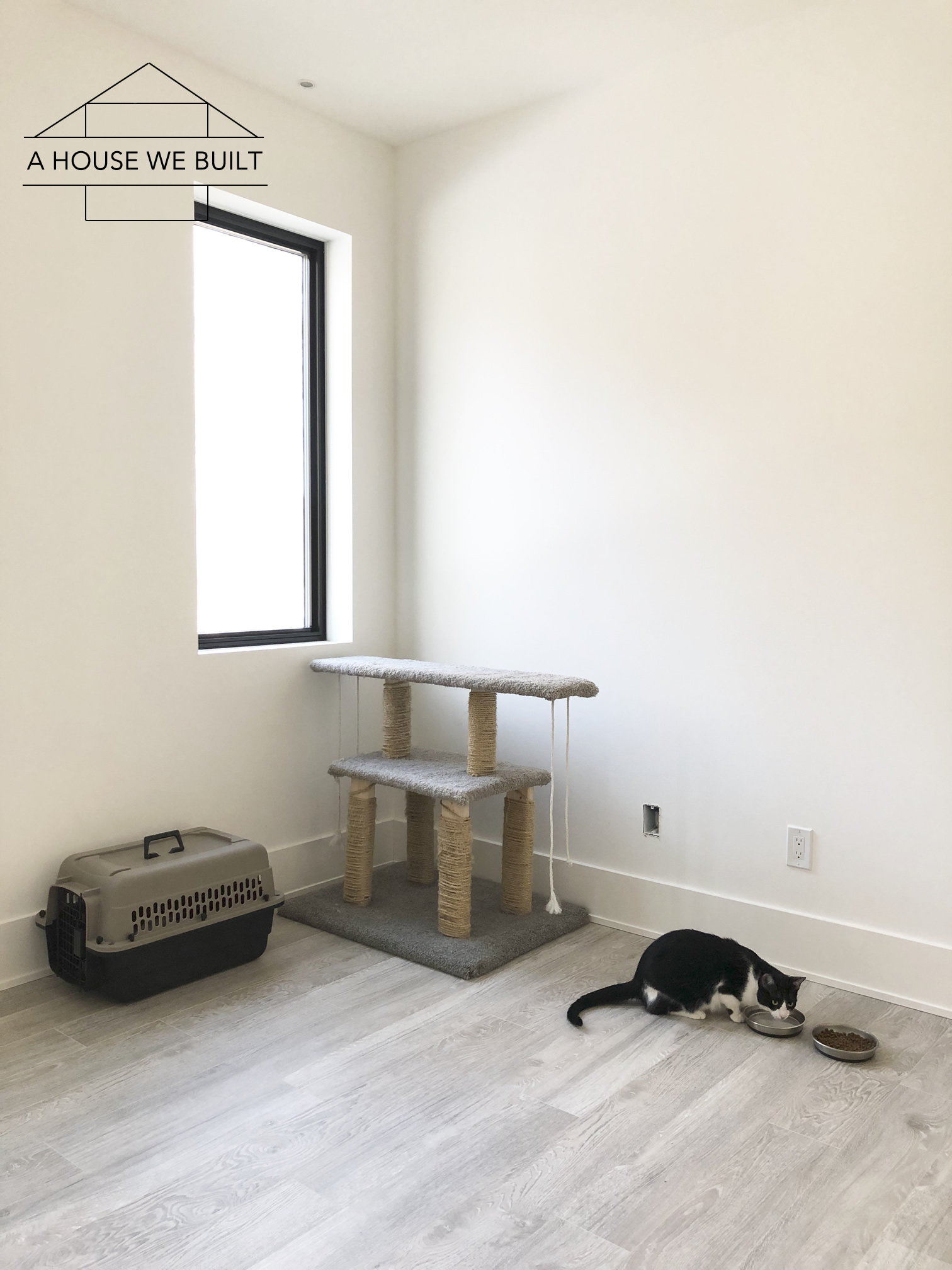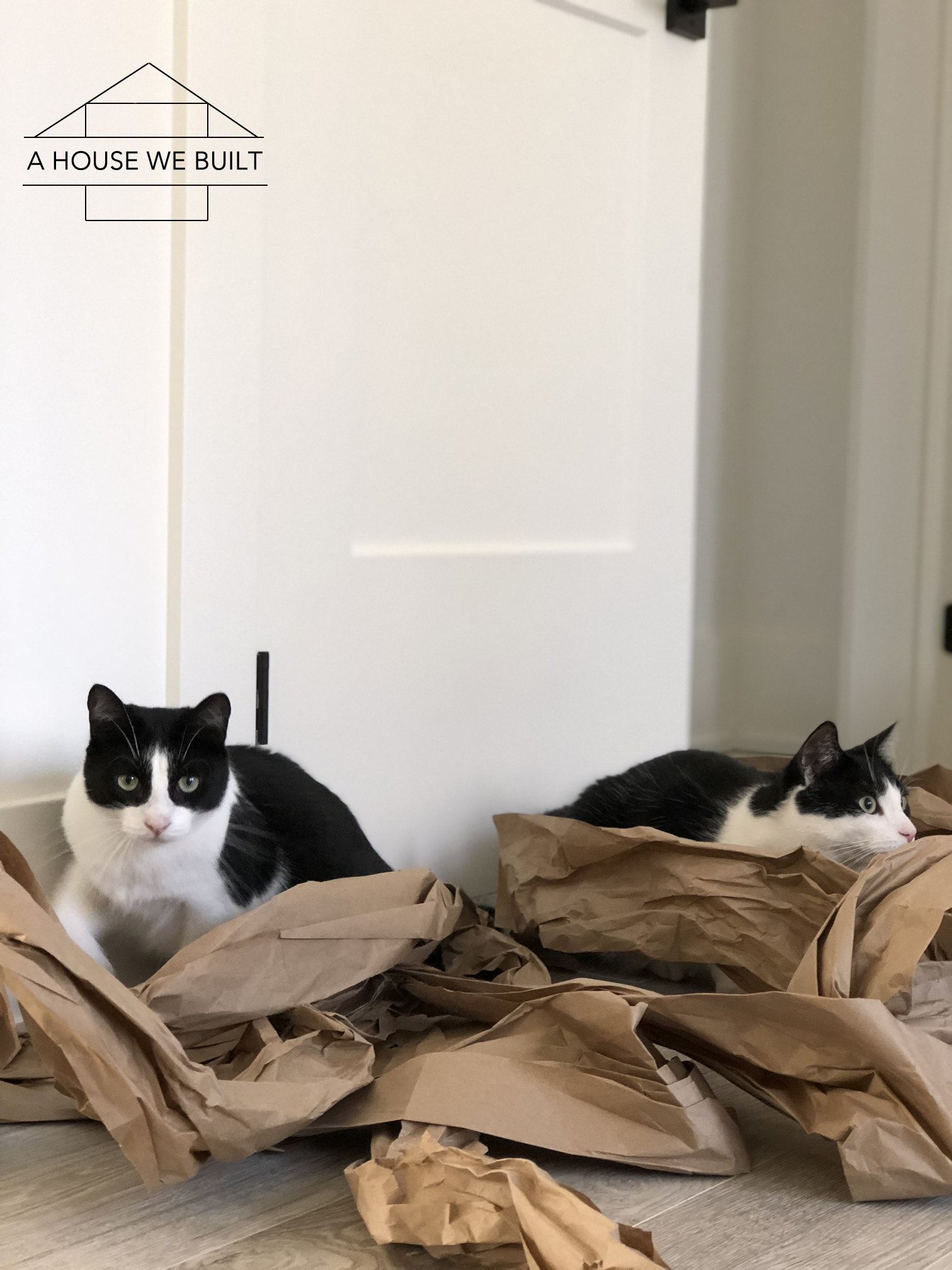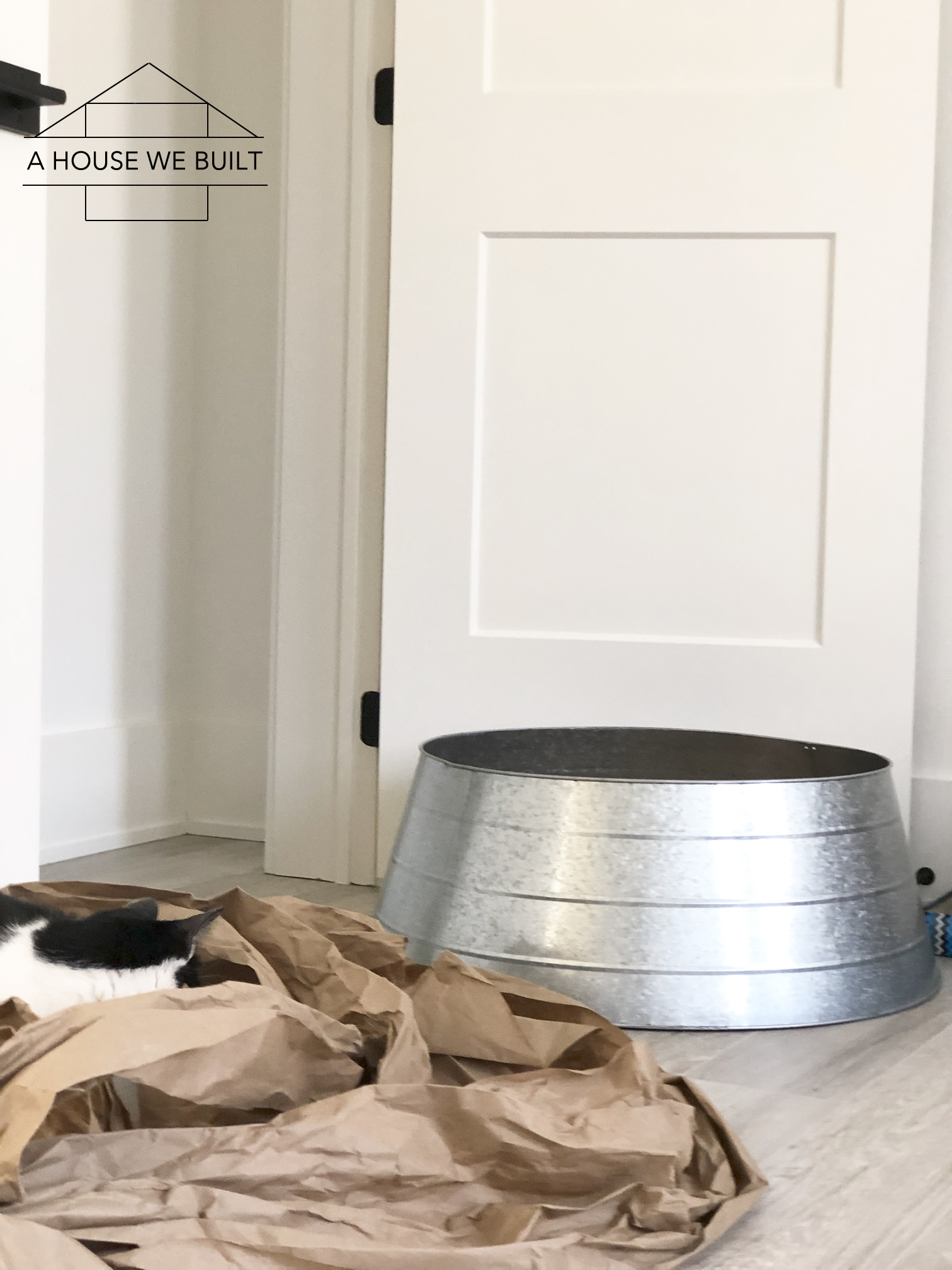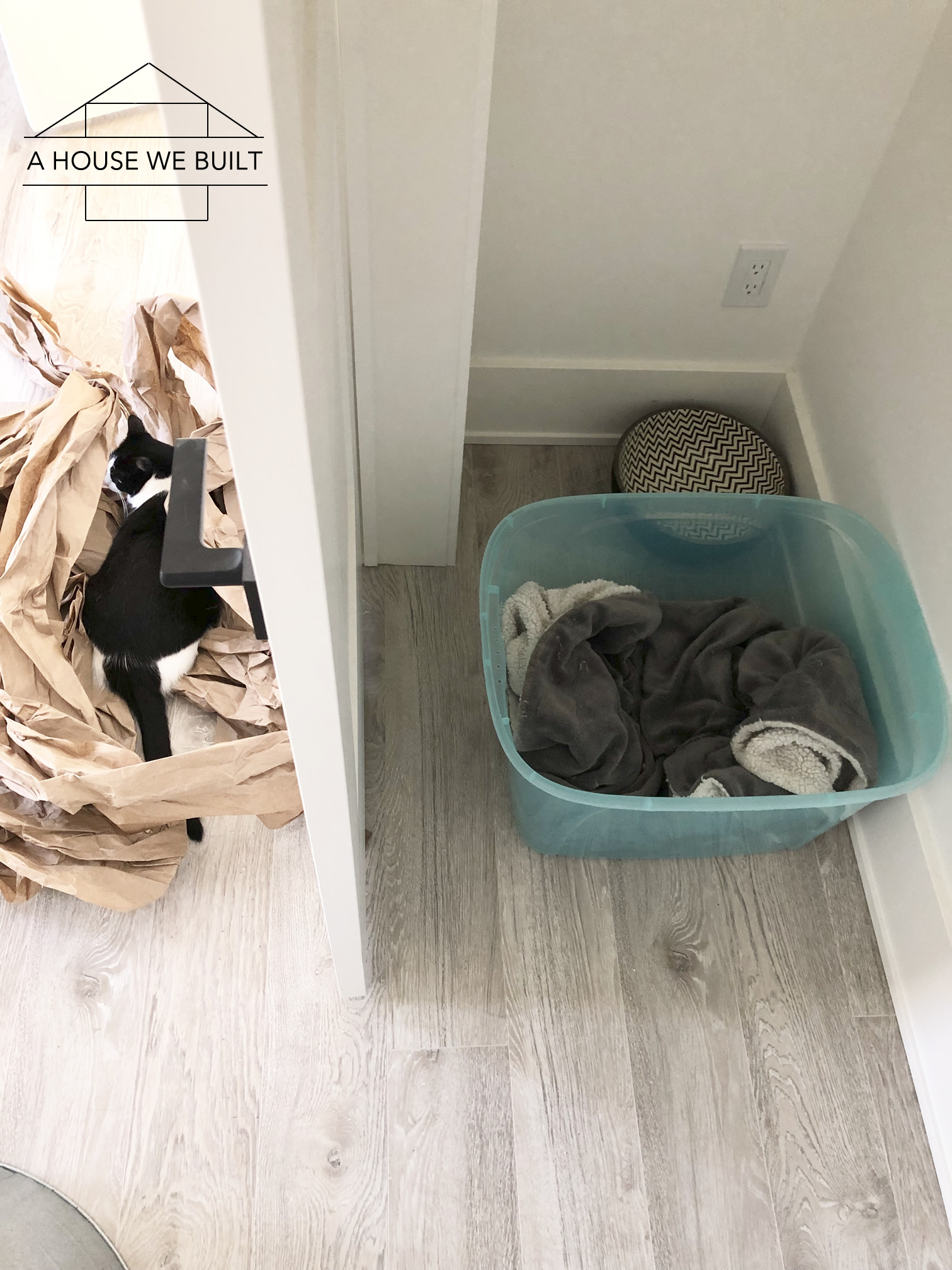 Although our cats have free run of our house all day, we have created a "cat room" for them where they spend their nights (when we're either sleeping or away). This cat room has fresh water, food, a litterbox, beds, scratchers, and toys. They all love this room and going here at night is a part of their routine – they actually just come to it of their own accord at the end of each day when I call for them.
The story behind this cat room is that when we first moved here I wanted to help them acclimatize to our new home as smoothly and happily as possible so we turned a spare bedroom into a "cat room" to create a contained environment with all their favorite/familiar things to give them a place that smelled and felt familiar to them and it was hugely helpful! — For just the first day after we moved into this house, I kept them only in this room to allow them to get familiar with the sounds and smells of this new house, then every day after that I'd let them out a couple hours with supervision, increasing the time each day to expand their familiarity with the new house while giving them the confidence of having a safe, familiar space to return to (which they often did) if they weren't sure what to think of the new place. After a week they were fully acclimatized and adjusted to the new house and we gave them free run of our house.
Now that we're fully settled into our new home, I decided to keep their cat room set up as "their" space and even though they have free run of our full house most of the time, I still put them in their cat room at night and if we go out (which is rare considering we work from home) because it's a way for me to know they're in a completely safe environment while I'm either sleeping or away and I know they can't accidentally get into anything they shouldn't while I'm not around.
Every time I put them in their room (usually at night before bed), I also always give them their soft food at the same time so they love the routine of going to the room and it's always a positive experience.
NOTE 1: If you are adopting new kittens/cats, keeping them in a separate room for the first day(s) this way is also a good idea. Ultimately the idea is to slowly introduce the new element (whether its cats/kittens to a house, or a house to cats/kittens) to make the transition smooth and stress-free. More details here.
NOTE 2: I did not "decorate" this room — the cats decorated it in a sense because they chose all the things inside it. So I didn't try to make it look pretty, I just kept it full of all the things they love most.
LITTER BOXES.
I have the same style litter box everywhere in our house. This is the one I use: white version: Amazon | dark grey version: Amazon | pearl version: Amazon. We love this litter box style because it's small, minimal and simple, domed to contain litter spray, and the top lifts off so they're very easy to clean.
We have one litter box on every floor of our house. It's very important that litter boxes be easily accessible for the cats (the easier to access, the great chance of preventing accidents) so be sure it's placed somewhere logical, consistent, and easy for them access. The general rule should be one box on each floor, unless you have a ranch home, then maybe do a few around the house.
I clean all the boxes once a day (occasionally twice, but that's rare). Cleaning all 4 litter boxes across 4 floors of our house takes less than 5 minutes and in combination with using a clumping litter that sticks to their business as soon as they do it, that eliminates any odor. Ultimately, the cleaner you keep the box, the less odor there is. I don't use self-cleaning boxes though because it's so easy to clean them in person and also the litter boxes I chose are visually prettier to my eye.
I don't try to hide them. I just tuck them into corners where they won't be noticed too much. Again, it's important that the cats are able to find them easily, so I keep them accessible and unhidden. I'm not sorry or ashamed of the fact that they're there. The simple fact of life is that we have cats, and cats have to do their business and that's just that. My way of minimizing it is by choosing such a visually minimal and simple style of litter box (Amazon) that is a similar color to our walls and small.
*** EDIT: right now the kittens have their own litter box in their kitten room as well as access to the big cats' domed litter boxes on every floor of our house. The cats and kittens use each other's boxes though so once they start using the same room at night (which is when the kittens are bigger), I'll transition their kitten litter box out and have only one litter box on each floor as none of our cats are territorial about them.
FOOD AND WATER.
We keep fresh water and bowls of dry kibble always available for them both in this room, and also on every floor of our house. I free-feed them dry kibble because, since they've never known what it's like to go hungry, none of them overeat and none are territorial around their food. Since we have cat allergies in our house, we feed an allergen-reducing kibble called LiveClear (link: Petco) that really helps.
They also have a continuous water fountain (Amazon | Walmart) in our mudroom – I keep it there because it has a tile floor so it's easier to clean spills since Chai loves to play in the water with his little paws lol.
Finally, they get 1-2 packs/cans of wet food daily per sibling set. My rule is that every time I put them in their cat/kitten rooms, I give them one can of wet food to share between them. If I put them in their room mid-day for whatever reason, I give them another can then too so the amount they get depends on my need for them to be in their rooms but it averages 1-2 cans/day per sibling set. Right now, since each sibling set is in a different room, they each get a can to share between them. This works because none of our cats are territorial around food so they are happy to share. Eventually when they all share one room, I will give them 2 cans and put them on separate plates so they all have easy access to the snacks.
CARDBOARD BOXES.
The cardboard boxes and shipping paper items in this room rotate all the time depending on what we have on hand at any time. Whenever we get a delivery I put the boxes out for them to play with and if I notice a particular one they really love to play with, then I put it in their room until they get tired of it. This makes sure that they always have one thing in there that's new and different and fun.
Be very careful that you always remove any tape, staples, twine, string, or small bits from anything you give cats to play with. Also, never give them normal paper. I only give them the soft crinkly paper used to stuff shipping boxes, and only if it's in a large piece so that they don't eat it.
CAT TREE.
Their "cat tree" was a DIY we built right after we adopted them out of lumber, plywood, and carpet. They love it and play/climb on it all the time and it's a great place for them to scratch. If you'd rather buy one, here are some options: Amazon | Amazon | Amazon | Amazon | Amazon | Amazon | Amazon | Amazon.
SCRATCHERS.
I keep 2 cardboard scratch pads (this is the one that I like best because it's so simple: Amazon) in here and have 2 on every floor in our house. They love them and usually opt to scratch these over other things in our house as long as they have access to them. You can also sprinkly cat nip on them for added fun!
CAT CARRIER.
The cat carrier (similar: Amazon | Petco) to the left of the cat tree has a little fuzzy blanket inside and I just leave it open all the time because it's Mocha's favorite sleeping spot.
TREE COLLAR.
The metal tree collar (Home Depot) is something we actually never used for Christmas and I was originally intending to return it but Chai fell in LOVE with it so I gave it to them and he loves to sleep inside it. I think he feels like it's his little castle.
CLOSET.
The closet in this room is Matcha's favorite sleeping spot. I keep one door permanently shut to create a little nook and the other door open. Inside I have a decorative bowl she loved to sleep in as a kitten and still loves but she kinda can't fit into it anymore because she's a big kitty now so I also have a plastic storage bin with a blanket in the closet nook that she inevitably actually sleeps in after realizing the bowl isn't comfy enough. She picked the storage bin herself from the basement. She just started sleeping in it so I gave it to her. But I leave both the bowl and bin for her because I know she loves them.
KITTY FORT.
This is not not in any of the pictures because I don't actually have it in their room, but I thought I'd mention it anyways. One of our cats' favorite toys is this little step-stool (Amazon) simply covered with an old bedsheet. We have one of these stools on every floor of our house for convenience anyways, so all I have to do is cover one of them with a sheet to make the cats' day! This literally keeps them entertained for hours so I'll often set it up for them in a random part of the house for them to have fun with. It's small enough to not cause much visual clutter (plus if you have a white stool and white sheet, it's a pretty minimal look) and since there are only 2-parts to it, it's easy to clean up.
All our cats are spay/neutered. This is best for their health in the long term.
Our cats are NOT declawed! Declawing is an inhumane, barbaric, out-dated practice that is banned/illegal in many places. Please never declaw a cat!
Anyways, I hope that helps answer your questions on the kitty room!
More cat-related posts that might help: