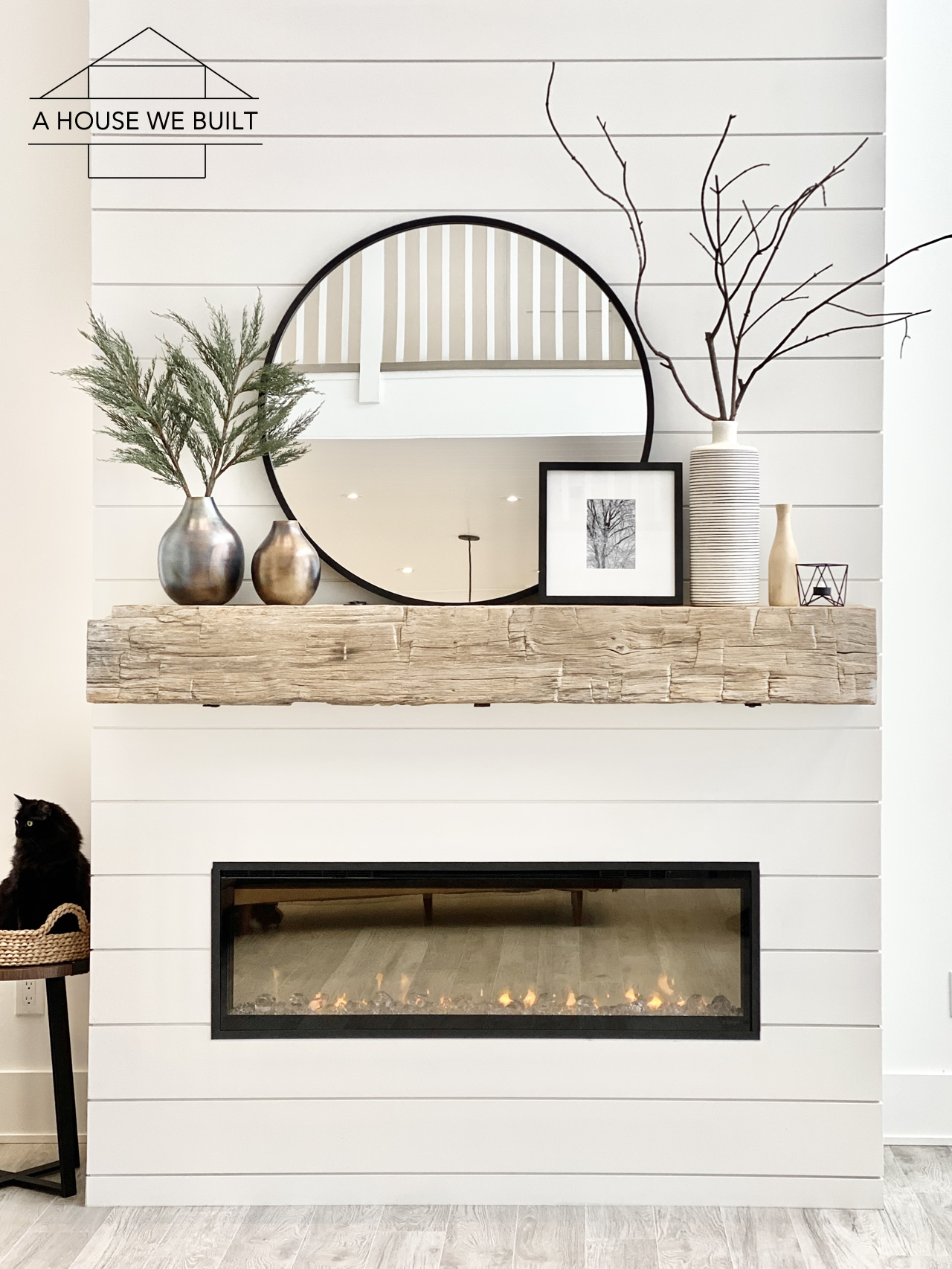 I love the clutter-free feeling of knowing that everything in my house is something I either love, use, or need. On our Instagram page @ahousewebuilt, one of the things people comment on most frequently is either noting how minimal our house is or asking about how we keep things so minimal. For us, the getting to this clutter-free point has been a long, intentional journey so I thought I'd share our tips and the things we did in hopes that they might help you if you're thinking about becoming more minimal.
We don't consider ourselves "minimalist" by title, we're just "generally minimal" by nature. We still do buy stuff frequently, we just focus on buying stuff we genuinely love, use or need. Our policy is that we don't let anything into our house that doesn't fit the "love, use, or need" criteria – stopping things at the door before they get settled into your home really nips clutter in the bud by halting it before it even gets started. We're intentional about our purchases so the end result is that our house is filled only with things we love/use/need. (Just as one example, if you've seen my closet, you'll note it's hardly a capsule wardrobe or anything remotely close to "traditional" minimalism; but on the flip side, every single piece I have is one I genuinely love, wear, and that fits me. It's my own way of being minimal.)
To me, being minimal isn't about having less stuff, it's about having the right stuff. It's about having stuff you love, stuff you use, stuff you need, stuff you actually want. And I love having stuff! I love getting seasonal decor, I love acquiring beautiful things to style my house with, I love furnishing my home with furniture and furnishings, I enjoy clothing and fashion, I love pretty things, I love cozy things, I love fun things, I love gadgets, I love technology, I love finding the right tools for the projects I'm working on, and I absolutely don't try to restrict myself from these things, but I do try to make intentional purchases. But again, the point is that I try to buy stuff I genuinely love, stuff I'll actually use, and things I really need.
Being minimal is not a "better" way to be, it's simply a life choice. I feel the need to say that you don't have to be minimal unless you want to. If a clutter-free house brings you happiness, then I hope this post helps you. But if you love maximalism, if clutter doesn't bother you, if you love knick-knacks and just enjoy having stuff in general, that is equally ok! You should always do whatever feels right for your home.
Achieving a state of minimalism you're happy with is a process and it will not happen overnight. In fact, my best advice is to intentionally work towards minimalism in stages. This way it's easier on you, and you'll probably end up feeling better about what you decided to get rid of if you do it more gradually.
Before moving into our house, we purged our possessions three times. It so happened that we moved three times in the couple years before moving into this house so we purged as we packed each time – and only packed the things we love/use/need. We also took things a little further and sold/donated all our old furniture so that when we moved into our new house, we started with a completely clean slate.
If you're not moving and you have a house full of stuff you don't love/use/need and you want to start being more minimal, I have lots of tips for you because we used to have way more stuff than we have now, and we've gotten to the more minimal state we're in now by the following process:
Focus on one room at a time. If you break your decluttering down by room, it'll feel more manageable than trying to declutter your whole house at once. The goal will feel more attainable. So pick any room to start and systematically go through everything you have in it. If you're moving, then only pack the stuff you love, use, or need. If you're not moving, then just pretend you are and do a "reverse pack" where instead of packing what you you love/use/need, then pack up everything you don't love/use/need.
If there are items you're unsure about getting rid of, that's totally understandable. My advice is to have an "unsure box" where you place all these items that you think you may still want in the future. Once this box is full, place it somewhere out of sight (maybe in your garage, basement, the back of a closet, etc) where you can forget about it. If six months to a year goes by and you literally never think about or need any of these items, then you may end up feeling better about truly not needing those items in your life.
It's ok to get rid of "perfectly good stuff". If you don't personally want these items, one option is to sell them (especially furniture or decor that's no longer your style) online or at a yard/garage sale. Another option is to donate them to people you know or organizations that might be able to repurpose or rehome them. But don't feel held back by this – take action, and move these items you don't want in your life along because if they're not useful to you and you don't love them, then they're just cluttering up your life.
Don't be afraid to keep things you love. There's no single right or wrong way to be minimal, so the end result of minimalism will look very different for each person/family. For example, I actually do have a lot of clothing (see my closet) but I don't buy anything I won't genuinely wear, I don't keep anything that doesn't fit me, and I don't hold onto any piece I don't love. Another example is that I have lots and lots of vases all over our house (and more in storage) because… I love vases! I just do. They make me happy, they're versatile, and when I find a new one I love and I think it would look good in my home, I buy it with zero guilt. It's that simple. But if I find a vase that I only sorta-kinda like and I'm not sure about, then I don't buy it. We also cook a lot so both our kitchen and our pantry are full of gadgets we use regularly, but we don't generally have multiples of things, and we store the most-used items in the easiest-to-reach zones.
Don't keep items out of guilt. In contrast to my previous point, I don't keep items I don't love even if someone gave it to me as a present. If someone gifts me something I don't like, then I tell them how grateful I am for the gift and how much it means to me that they thought of me, but then I just regift or rehome it. While I don't feel guilt about holding on to items I love, I also don't keep items out of guilt.
For the items you love/use/need and want to keep, figure out storage solutions for them so that they're not just left out all the time. This is a really simple way to organize your house. Designate a "home" for each item you keep so that it has a place it belongs. This really helps keep you home clean, because if you follow my cleaning routines, then you always have a designated spot to return each item to.
Organize your home by priority. This means to try and make the most commonly use items easiest to access. Utilize the backs of deep cupboards/closets, or higher shelving, or low-traffic zones for items that you don't reach for very often. Have everything you use most often easily reachable. Not only will this make accessing them easier, but the easier their location is to access, the easier it is to tidy up.
Ultimately, the goal is to create a home environment that you are happy with. Naturally, the end result of this goal will look different for each person, so don't worry about making your minimalism goal look the same as anyone else's. Again, in my opinion, being minimal isn't about having less stuff, it's about having the right stuff. Just take your time, be intentional, and do whatever feels right for you.
Sources from our mantel decor (pictured above):
For our cleaning routines, go to Our House Cleaning Tips.
For daily updates, follow our Instagram page @ahousewebuilt.
If you have any more questions, feel free to leave me a comment down below.