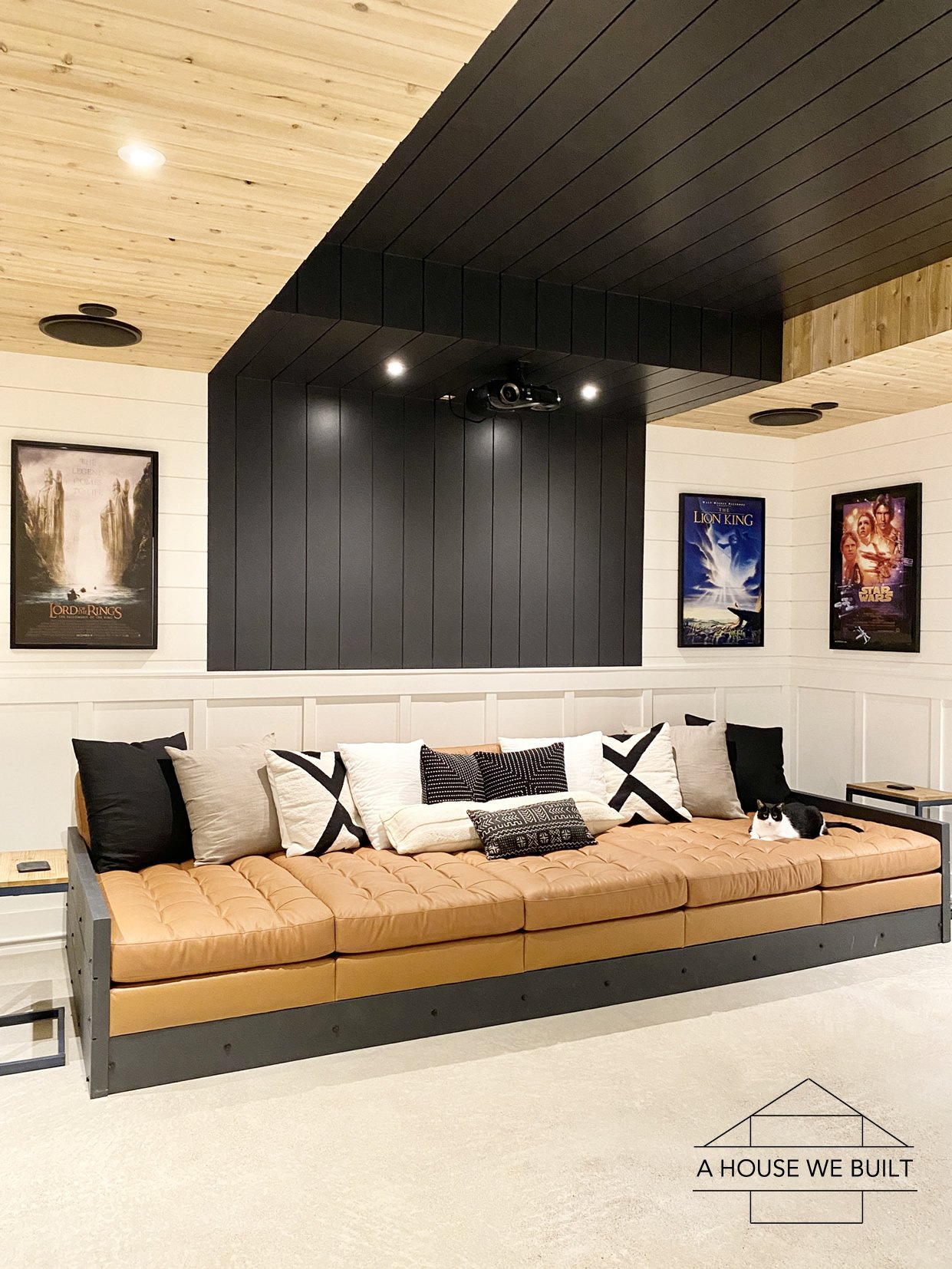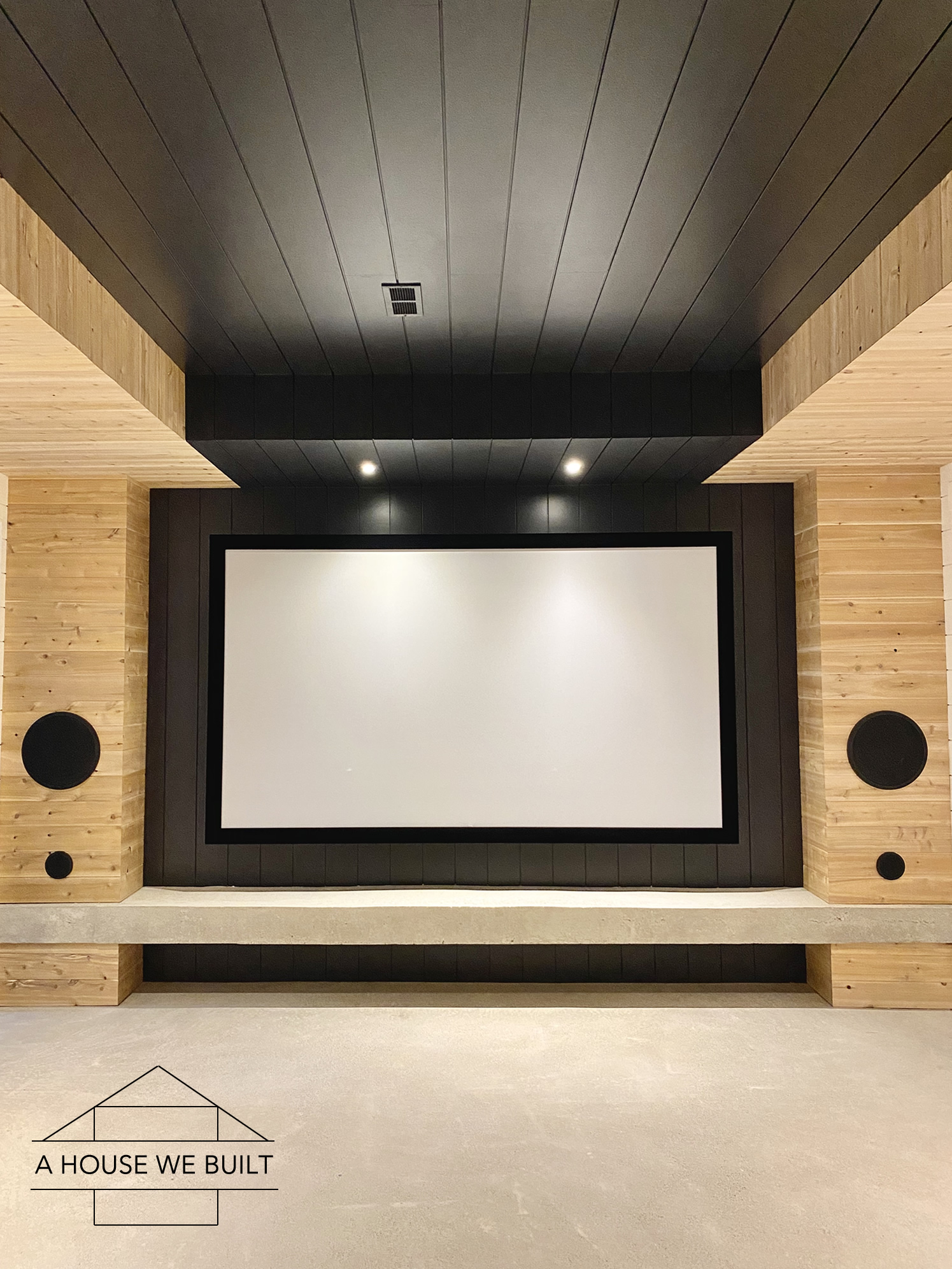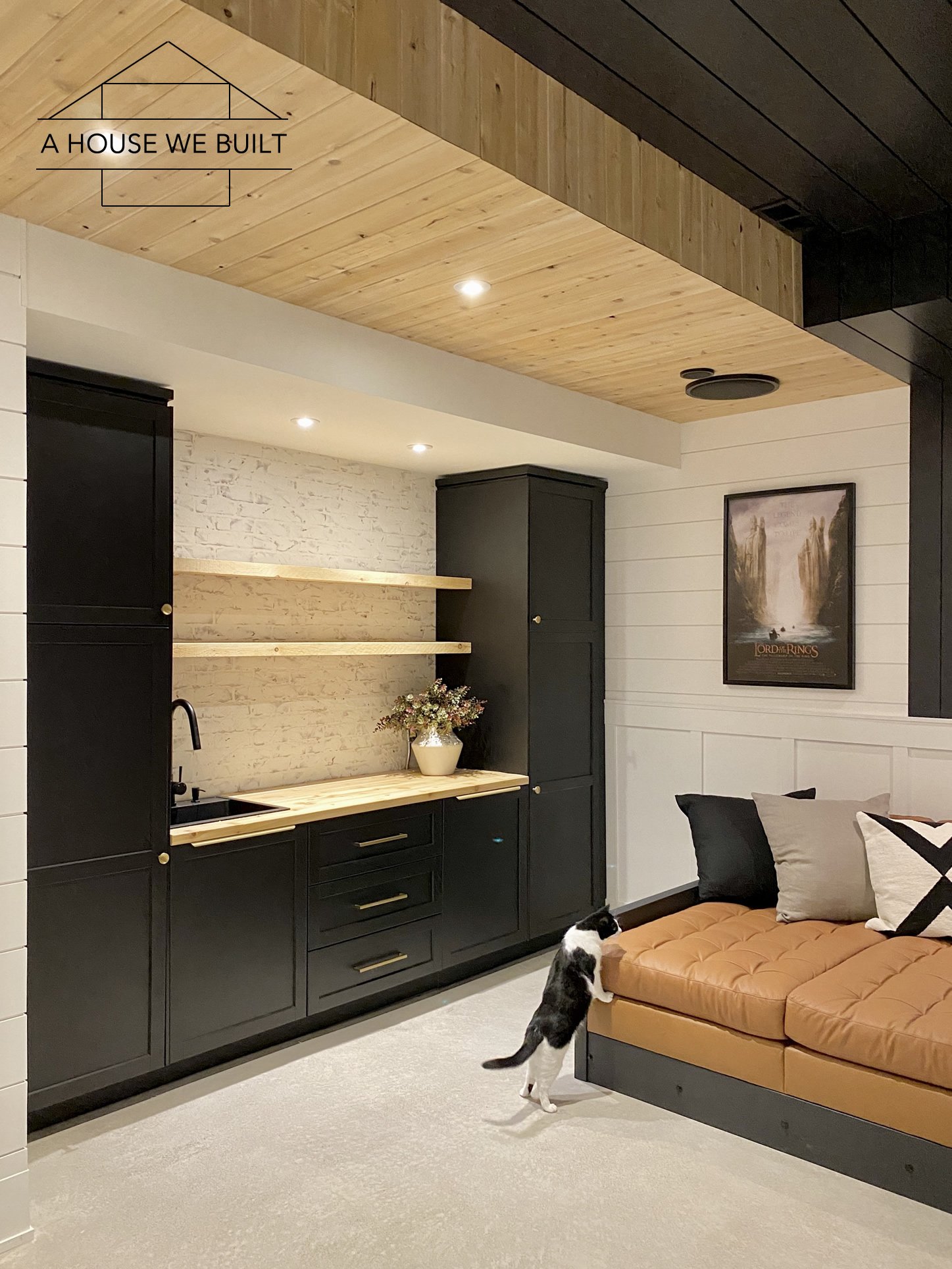 Projector equipment:
Seating & tables:
Pillows:
Movie posters (I've been planning this gallery wall for a while so I got everything for it a long time ago, but I've listed sources for the same sizes and/or similar styles as we have here):
Paneling:
Snack bar:
Bench decor:
General info:
Paint colors: BM Black Panther + BM Simply White
Floating bench: concrete (tutorial coming)
Ceiling: 10-ft
Speakers: we made our own tower speakers by buying drivers and building the boxes so that we could incorporate/build them into our room design. We have a 5.1 system (we intentionally left the center speaker out but wired for it, and the sub is concealed in cabinetry).
Flooring: polished concrete. We did it ourselves and polished it until it was smooth but not glossy, so essentially a matte finish, and we chose to leave the imperfections and markings as we liked their organic look. You can totally polish concrete though until it's flawlessly perfect and glossy so what our floor looks like is a personal choice based on how far we wanted to grind it down. Our concrete has no stain or color treatment, but we did put on (clear) hardeners and sealers. The products we used have no effect on the color or look of the flooring and are purely there to strengthen and protect the concrete. A very general overview of the process we did was to do a heavier grind, then apply the hardener, then a medium grind, then the sealer, then a final soft grind/buff. Our floor is also heated (though we've never actually had need to turn it on because we insulated our slab really well so it actually doesn't get all that cold). We're not concrete experts though so I don't want to give any advice further to this information. We just googled the process and researched heavily before starting. I'll be honest, this was the most miserable construction project we've ever done – it's slow, tedious, and SO dusty. You must have proper PPE or exposure to the concrete dust can be very dangerous, and the necessary PPE is much harder to source now than it was back when we did this project. But we saved a lot of $ doing this work ourselves, plus we learned a new skill (that I sincerely hope I will never ever ever ever ever have to use again lol). — They're very easy to maintain. Since we sealed them they basically don't need maintenance… we mostly just vacuum them but if needed it's fine to swiffer/mop them.

To explore other rooms in our home, click here for our website roadmap.
To follow our daily progress and house projects, follow us on Instagram @ahousewebuilt.