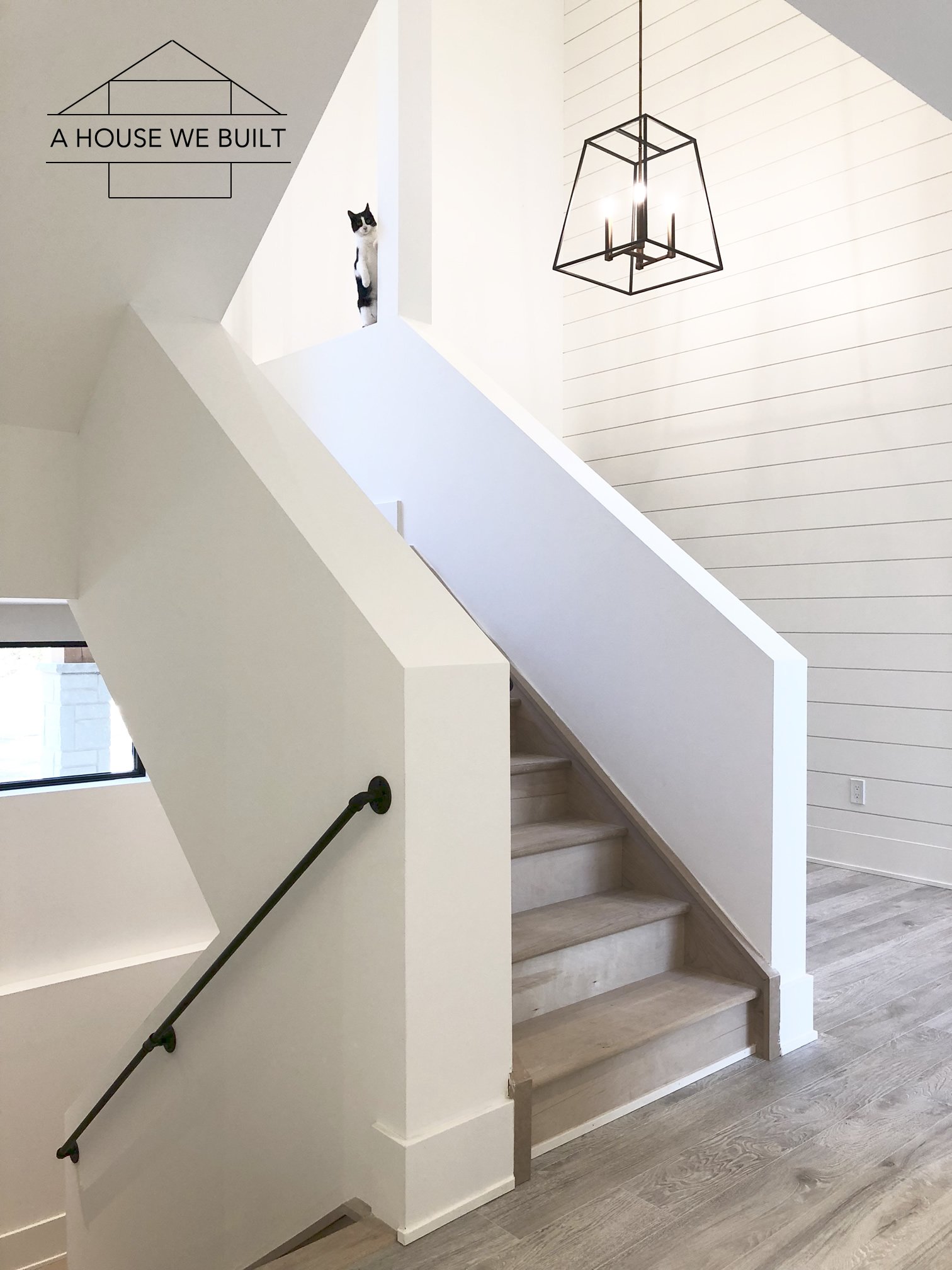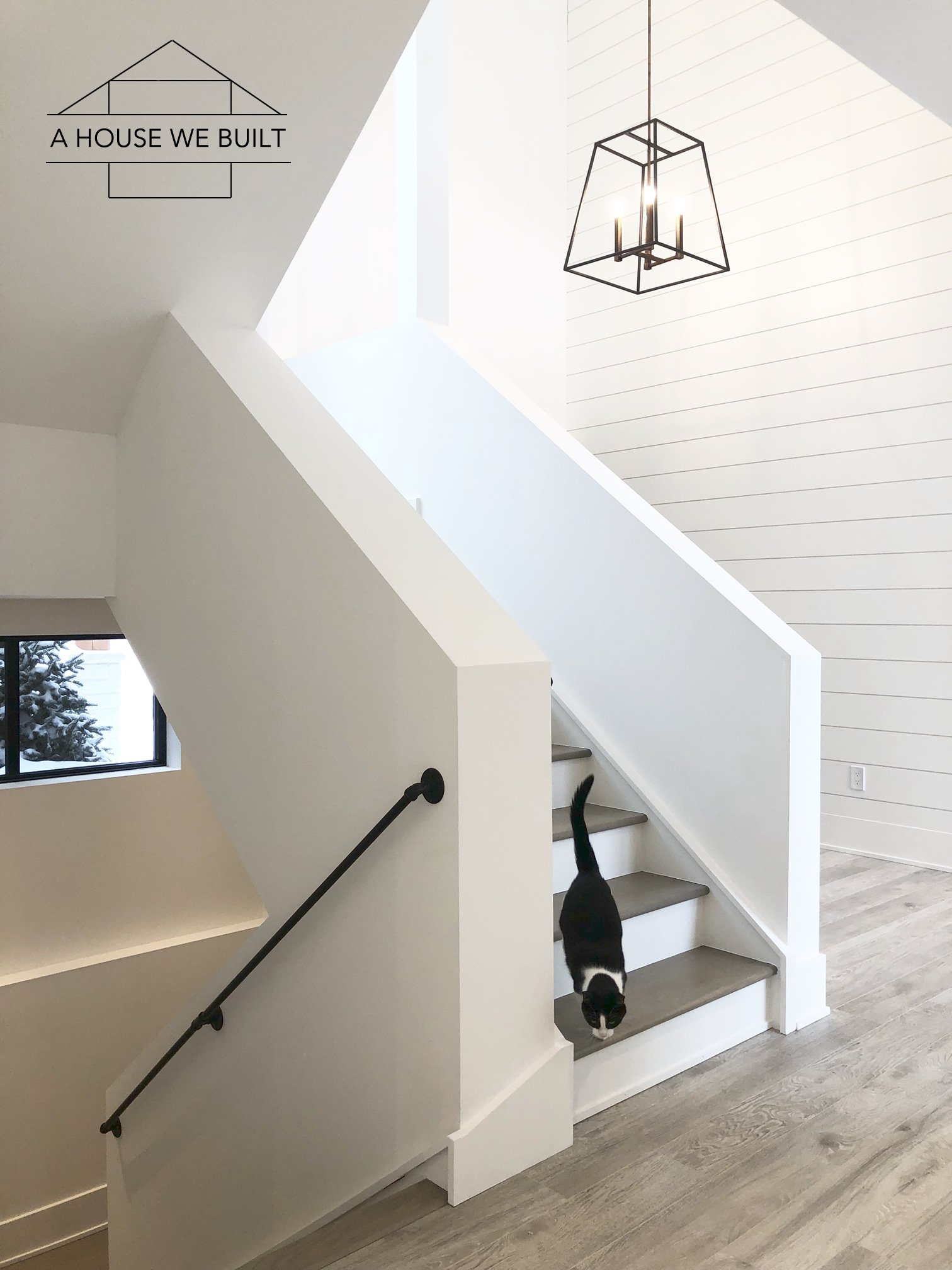 I took on the huge task of staining and painting our staircase myself and thought I'd share my experience since I actually couldn't find many resources on how to do this online and basically had to figure it out for myself along the way. NOTE: I'm not a professional so if you're a pro, please don't judge!!! For reference: our stairs are white oak hardwood and our flooring is brushed white oak laminate. So this is what I did:
For staining treads:
Heavy sand (this product: Home Depot)
Stain (ours is a custom grey color)
Light sand (this product: Home Depot)
Top coat (ours is Low Luster)
Light sand
Top coat
Light sand
Top coat
For painting risers and trim:
Caulk corners (this product: Home Depot)
Primer (this product: Home Depot)
Top coat (I used the same paint as our walls so that it would make cutting the edges easier and faster)
Top coat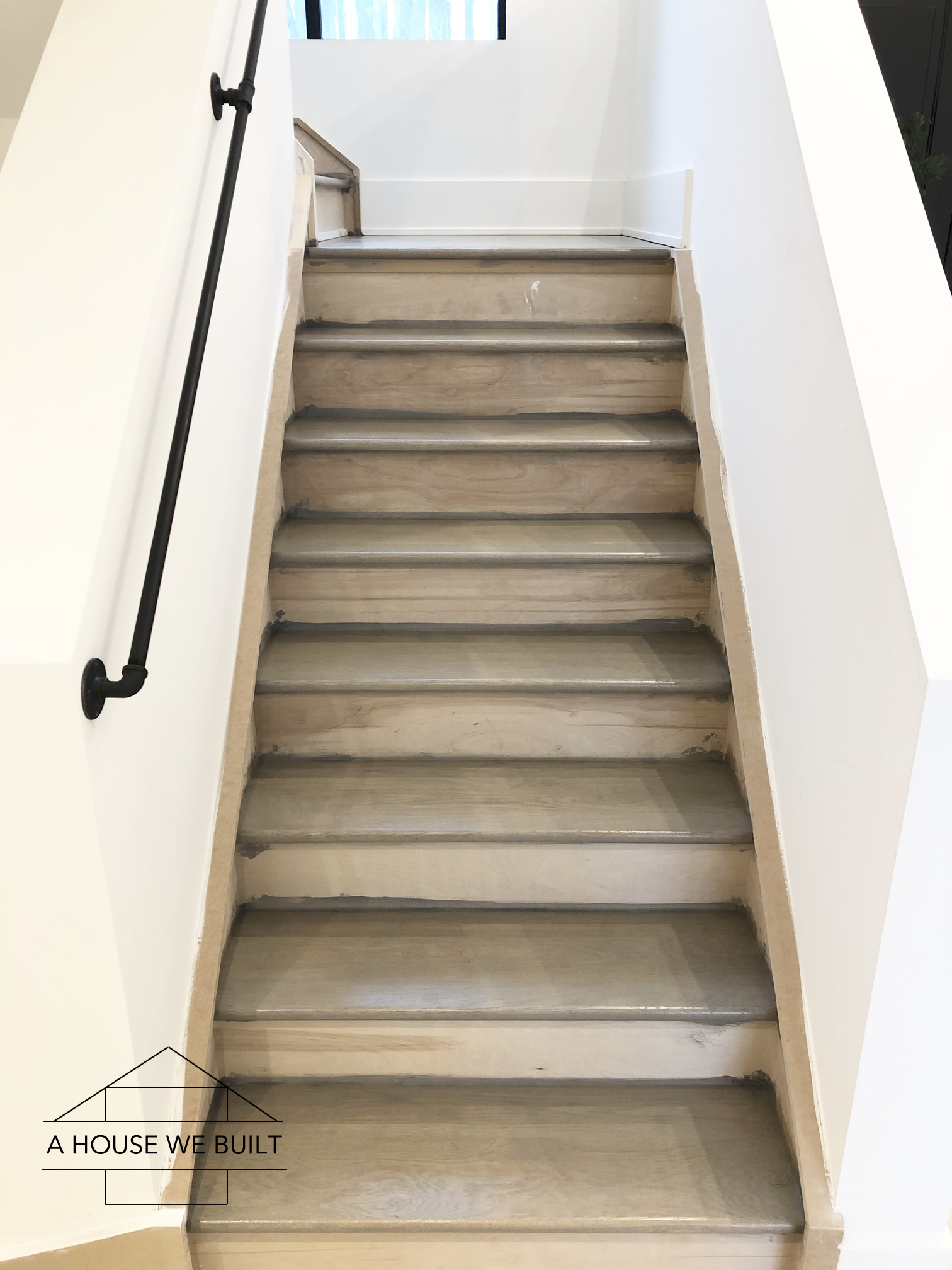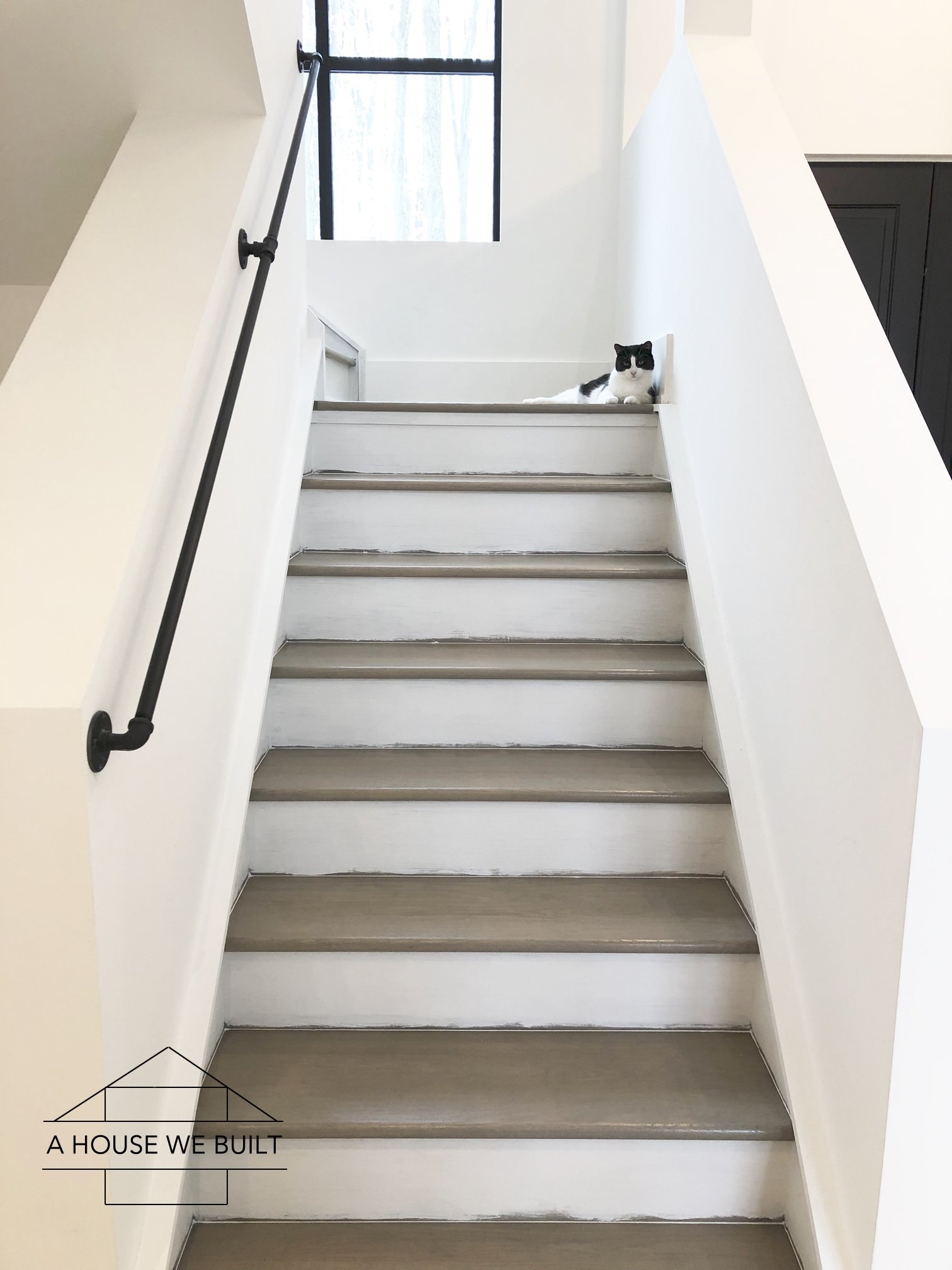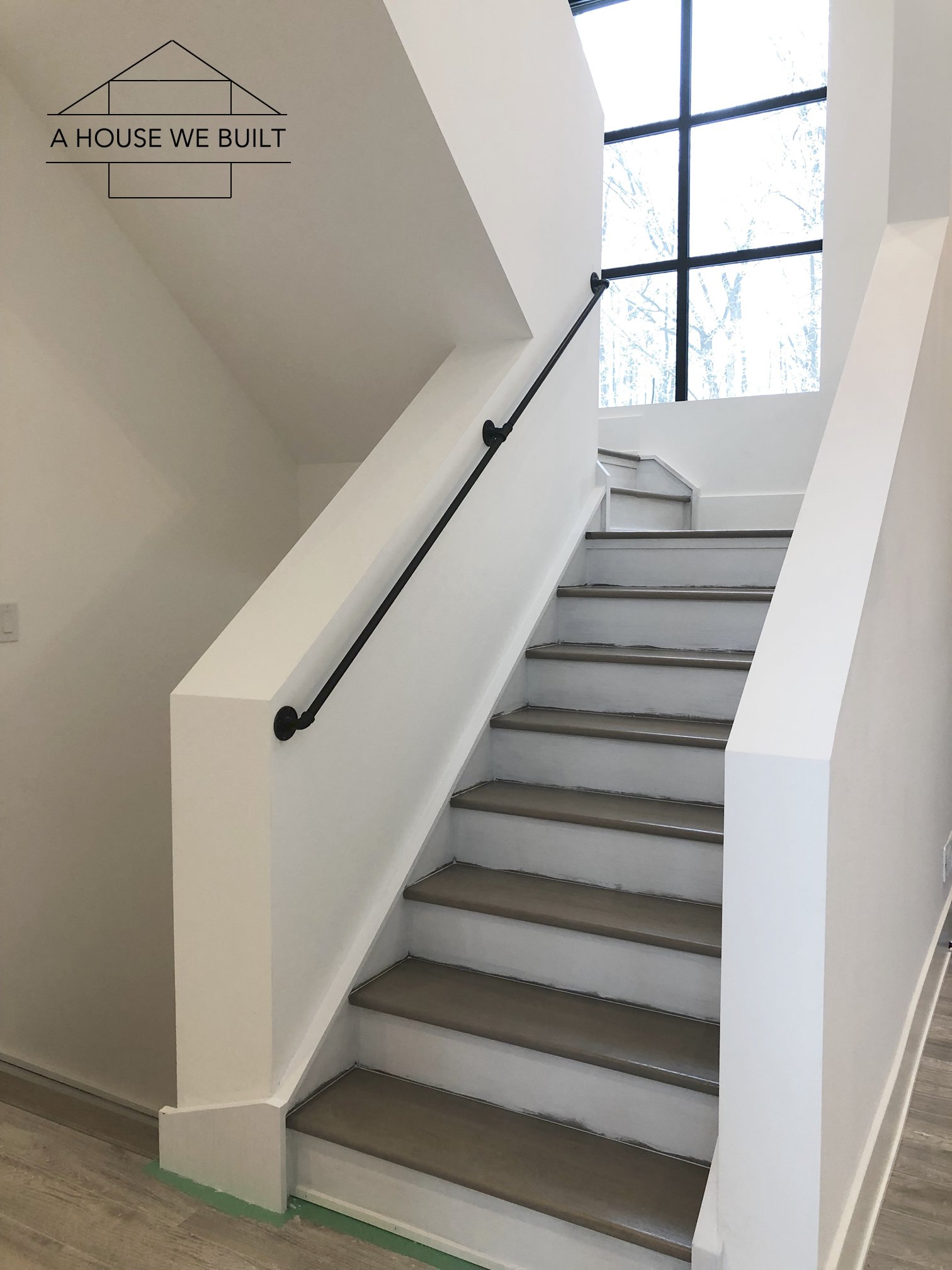 Couple things I learned or experienced along the way:
Our staircase was challenging because it's so big. Our house has 4 floors so we have 3.5 sets of switchback stairs. I broke them up into 3 sections. First: the basement-to-first floor switchback. I started with this because it's our least used and least visible stair set. ALWAYS start with the least visible area because you will always have a learning curve and it's better to learn where it won't be seen. Second: the first-to-second floor switchback and landing stairs. This was the most challenging because it was the most high-traffic set of stairs. Third: the second-to-third floor switchback. This is the easiest because it's just our master suite on the third floor.
This was the timing that worked best for me: I did the first sand during the day because it didn't matter if people walked on it. Then I did the rest of the work after everyone had gone to bed so that it could dry overnight. And always start at the top and work your way down so you don't have to worry about what you're sitting on/touching as you work.
I debated over whether to paint or stain first and there are some pretty intense opinions out there but ultimately I determined that my best approach would be to stain first, then paint because a good primer covers any stain that gets on the risers but it would've been a nightmare to tape off the risers. Also the line I got with taping wasn't straight enough for me so the answer I found was caulking the corners and that gave the paint a solid termination point which was easy to freehand.
Note: the trimwork in these pictures is still not fully complete.
The reason we didn't get our stairs done before we moved in was that stain needs solid drying time before it properly sets especially when you're not doing high gloss and I wanted to wait until we could ensure that nobody was going to stomp on them with shoes so I decided to do them myself.
I hope that helps!!
Be sure to follow us on Instagram (@ahousewebuilt) to keep up with our house projects and decor! And check out our Sources Page for more details on everything in our house!