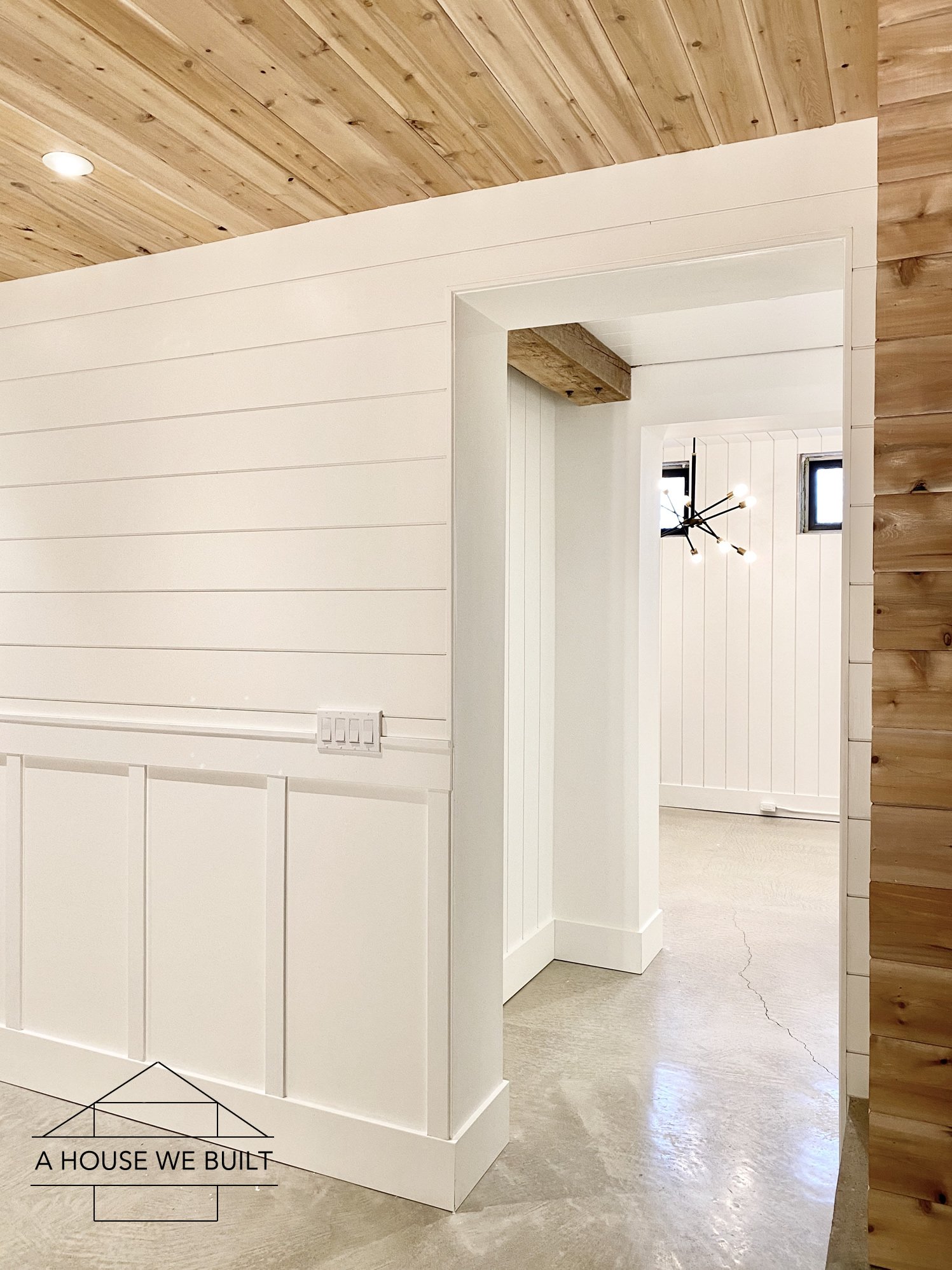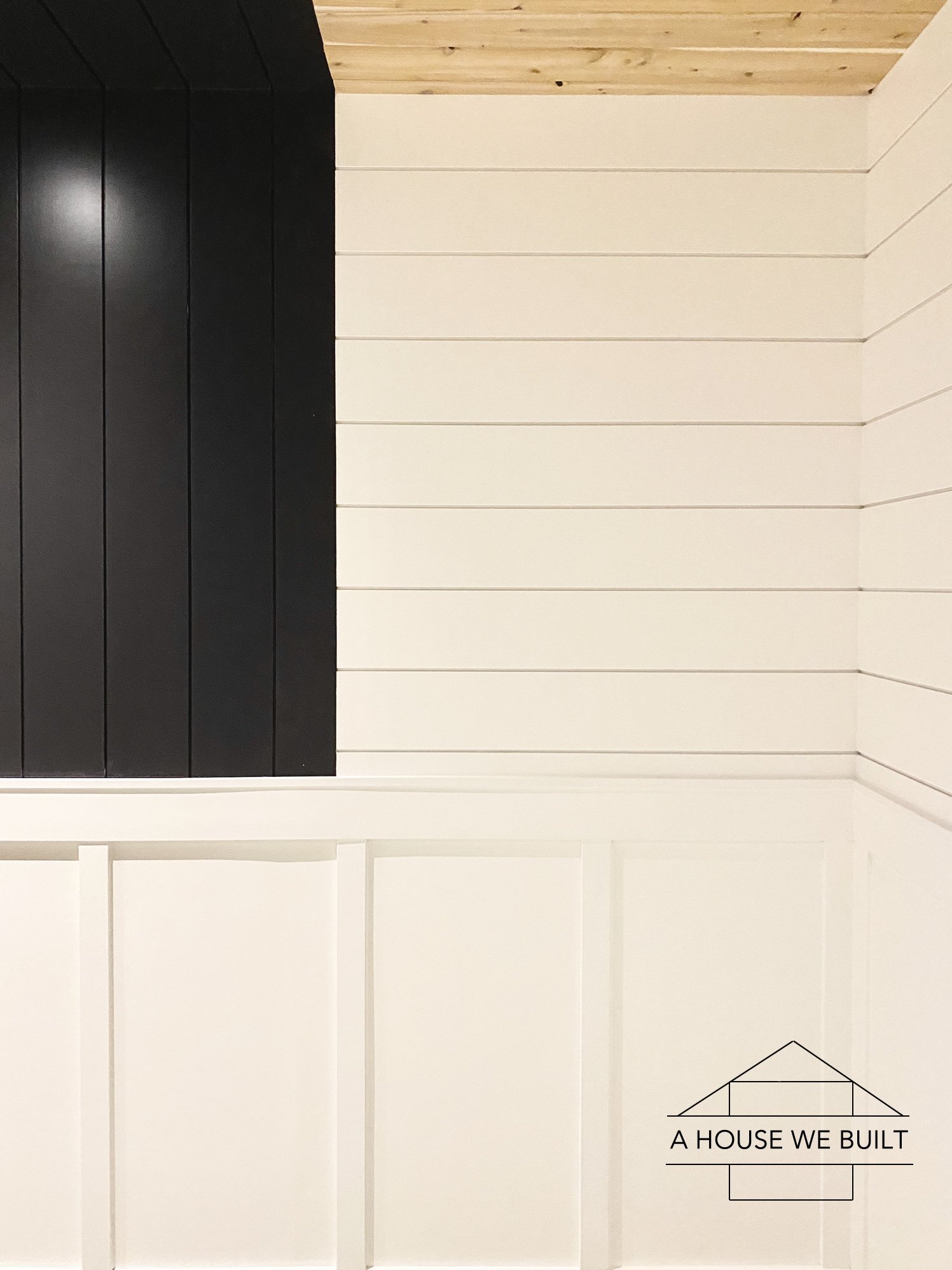 We have shiplap all over our house and its clean lines make it one of my favorite design elements to use! I even used a picture of our shiplap as the background of our website here! Shiplap is visually clean, minimal and simple, but all the lines also add really great interest and texture to any room, wall, or ceiling.
In our house, we've used horizontal shiplap in our living room, entryway, mudroom, laundry room, home office room, powder bathroom, master bathroom, and master bedroom, we've also used vertical shiplap in our pantry and basement, we have shiplap ceilings in our kitchen, dining room, and basement, and even have done designs with it in my home office. We've used it to create small accent features (like in our master bathroom) and at other times we've also done almost entire rooms with it (our theater room). So it's an extremely versatile type of paneling that makes for a beautiful accent or design feature!
Shiplap is pretty easy to install as long as you plan your project out well and have the right tools on hand. There are many different ways to get the shiplap look but my preference is using real shiplap – which means boards manufactured to interlock/overlap in a way that leaves a small even gap between them.
SHIPLAP MATERIALS:
To start, you need to choose a shiplap board. Typical widths are variations of 1x6s and 1x8s. I use 1/2″ pre-primed MDF shiplap boards that I source locally, but I've provided a few other shiplap options below.
*Note 1: If you're using wood shiplap, check each boards for straightness before using each one. MDF has some flexibility and is generally easier to install. Real wood requires a greater level of cut accuracy.
*Note 2: If you're using wood paneling or shiplap, I recommend to let it sit and acclimatize to your interior temperature and humidity for a week or two before using it, so allow for that time.
TOOLS + SUPPLIES YOU'LL NEED:
Miter saw: Home Depot | Amazon (for all regular straight or angled cuts)
Table saw: Home Depot | Amazon (for "ripping" side boards down to size, meaning to shorten the width of a board – you can technically do this with a jig saw or circular saw too but it's a lot harder)
Level: Home Depot | Amazon (to make sure your boards are installed straight)
Measuring tape: Home Depot | Amazon (I hope this one is self-explanatory)
Carpenter's square: Home Depot | Amazon (to draw straight lines where to saw the boards)
Nail gun (+ nails): Home Depot | Amazon (to attach boards to the wall)
Rubber mallet: Home Depot | Amazon (to tap the boards into place)
Paneling adhesive: Home Depot (to attach boards to the wall)
Caulk: Home Depot | Amazon (to fill in seams after installation)
Caulk gun: Home Depot (for your adhesive and caulk)
Wood filler: Home Depot | Amazon (to fill in nail holes)
Putty knife: Home Depot | Amazon (to apply wood filler to nail holes)
Sandpaper: Home Depot | Amazon (to sand wood filler after nail holes are filled)
You'll also need painting and/or staining supplies but I figure I don't need to list all that.
If you have to cut around anything (outlets, vents, lighting, etc) you'll also need:
Jig saw: Home Depot | Amazon (to cut around outlets etc)
Drill: Home Depot | Amazon (you'll need this to cut a hole in the middle of your board – drill is needed to make a hole in each corner of your cutout for your jig saw blade. Details below.)
Hole saw: Home Depot | Amazon (to cut out recessed lighting holes – make sure you get the right size for the specific recessed lighting you're planning to use – they're all different)
IMPORTANT THINGS TO CONSIDER BEFORE INSTALLATION:
Calculate the placement of boards across your wall/ceiling to determine the most symmetrical or aesthetically pleasing configuration of boards. Almost any walls or ceiling you decide to shiplap will not perfectly fit full boards across it. So, for example, if your wall is 114″ wide, and your shiplap boards are 5.5″ wide, that means you can fit 20 full boards (covering 110″), but you're left with 4″ to cover which means you'll have to use a table saw to rip that last board down to the right width. So planning ahead allows you to choose exactly where you're going to have those uneven boards. One option is to just leave the side pieces smaller than the rest, or you can center all the boards so have have evenly smaller pieces on the two ends, or maybe you just want the one side smaller. These are things we take into consideration every time we install shiplap before installation.
Get extra boards. When you're calculating how much shiplap you'll need for a given project, it's usually safe to count on about 10% extra for waste – better to have too much material than too little.
If you're shiplapping a wall, consider whether you want a full board to start at the top or the bottom (I prefer at the top). And also consider which parts of your shiplap (if any) will be covered by baseboard or crown molding because that'll affect how much of the boards will be visible. Note: when doing your calculations, remember to include the gap between boards in your math!
If you're covering an area that is longer than the length of your shiplap board, you will have to hide the seams if you want the look of a continuous board plank from one end of your shiplap installation to the other, so also consider where these seams will be and try to vary them across your wall so you don't end up with a line of seams all in the same spot. Also, it's best to plan to always have the seam on a stud so that you can nail both then ends of both the boards butting up next to each other into the stud (if you don't do this, they can bow outward and your seam will be more visible) so it's worth it to do this even if you end up losing a bit of length off your board.
Once you start installing your shiplap, it is helpful to have the 'notch' side facing the direction you want to go because it will make it easier to interlock new boards (see middle pic below). One of the reasons for this is that you can use the rubber mallet to tap against the notch if needed to tap the board into place without damaging any part of the board that will be seen.
GENERAL INSTALLATION INSTRUCTIONS:
Using your miter saw, cut your board to length. Be sure you cut as you go instead of pre-cutting all your boards – this will ensure the greatest possible accuracy in your measurements and cuts.
Apply adhesive to the back of the board in a wavy line down the middle.
Place the board on the wall, and use a level to make sure it's straight.
Once you get past the first board, you will need to make sure each new shiplap board you put up properly interlocks with the one before it. You have to really check to be sure that it's fully locked in along the entire length of the board before you go to the next step. This may require a gentle tap with a rubber mallet (just be careful not to damage the edges of the board when tapping it).
Check again to make sure it's level.
Nail the board to the wall. If you're doing horizontal shiplap, you must nail into studs, you can't just nail it into drywall. If you're doing vertical shiplap, obviously some of your boards won't land on studs so for the boards that are on studs nail once per linear foot into the stud because these boards are your anchor, then for the boards between studs you'll have to nail them into drywall but try to angle your nailer at 45* to give the nails a better grip and do a couple nails into the small overlap between boards to secure them to each other.
When you get to the sides, you will have to rip your final board down to size with a table saw. Note that some homes have slightly (or very) uneven walls and ceilings so be prepared that your side boards may have varying widths along the board so measure them every 1-3 feet.
Possible things you may run into:
If you need to shiplap around an outlet or vent, you'll need to precut the hole in your board. So first, measure where the hole needs to be and draw the lines with a pencil. If the hole is in the center of the board drill 4 large holes at the corners of the box you need to cut out on the inside of the box (don't drill outside the lines) – the purpose of these holes is to give your jigsaw blade starting point in the middle of your board. Then use your jigsaw to carefully cut out the 4 lines of the box. If the hole is at the side of the board, then you'll just need to drill 2 holes for the corners of the box that fall in the middle of the board, then cut it out with your jigsaw.
If you need to cut a round hole for recessed lighting, measure where the hole needs to be and find the center point. Use a hole saw to cut the hole around the center point (make sure you have the correct size hole saw for your particular recessed lighting – they're all a little different).
HOW TO DEAL WITH CORNERS:
If you're wrapping shiplap around an inside or outside corner, or down a ceiling-to-wall edge, we always miter all those corners at a 45* angle to ensure a seamless transition and so that it looks like the board is literally wrapping around the corners. You have to to consider this in your board length calculation because the mitered edge will change the overall length of your board. The easiest way I find to do it is to calculate the length of your board based on the space you're shiplapping, then miter *out* from there for outside corners, or miter *back* from there for inside corners. This is how we make it look like the shiplap wraps around the wall with no capping trim.
If you need to terminate your shiplap to an outside corner that you don't want to wrap the shiplap around (like a doorway or a drywall window return), I make my own trim by ripping a board that's slightly thicker than my shiplap (so if I'm using 1/2″ shiplap, I'll make my trim from a board that's 5/8″) down to about a 1/2″ little strip. (Note: I like to use primed MDF board for this with ever-so-slightly rounded edges but if the board you're using doesn't have rounded edges, just sand the outside edge a bit before you rip it down so that if you bump into it it won't be painful.) I then glue and nail that into place with a setback of about 2/16″ from the actual finished wall corner, then use that edge as the "wall" to terminate my shiplap to. Have this trim in place before installing your shiplap. If you scroll back up, you can see an example of this in the top left picture at the start of this post. I would think you can also buy this type of trim from a specialty hardware store or wood shop but I've had no luck finding trim of this exact size in stores so it's easier to make my own.
If you're just shiplapping a ceiling or wall without wrapping around any corners and without any corner trim, then just cut each piece as you go so that the lengths are perfectly precise, then caulk the seam between the shiplap and wall.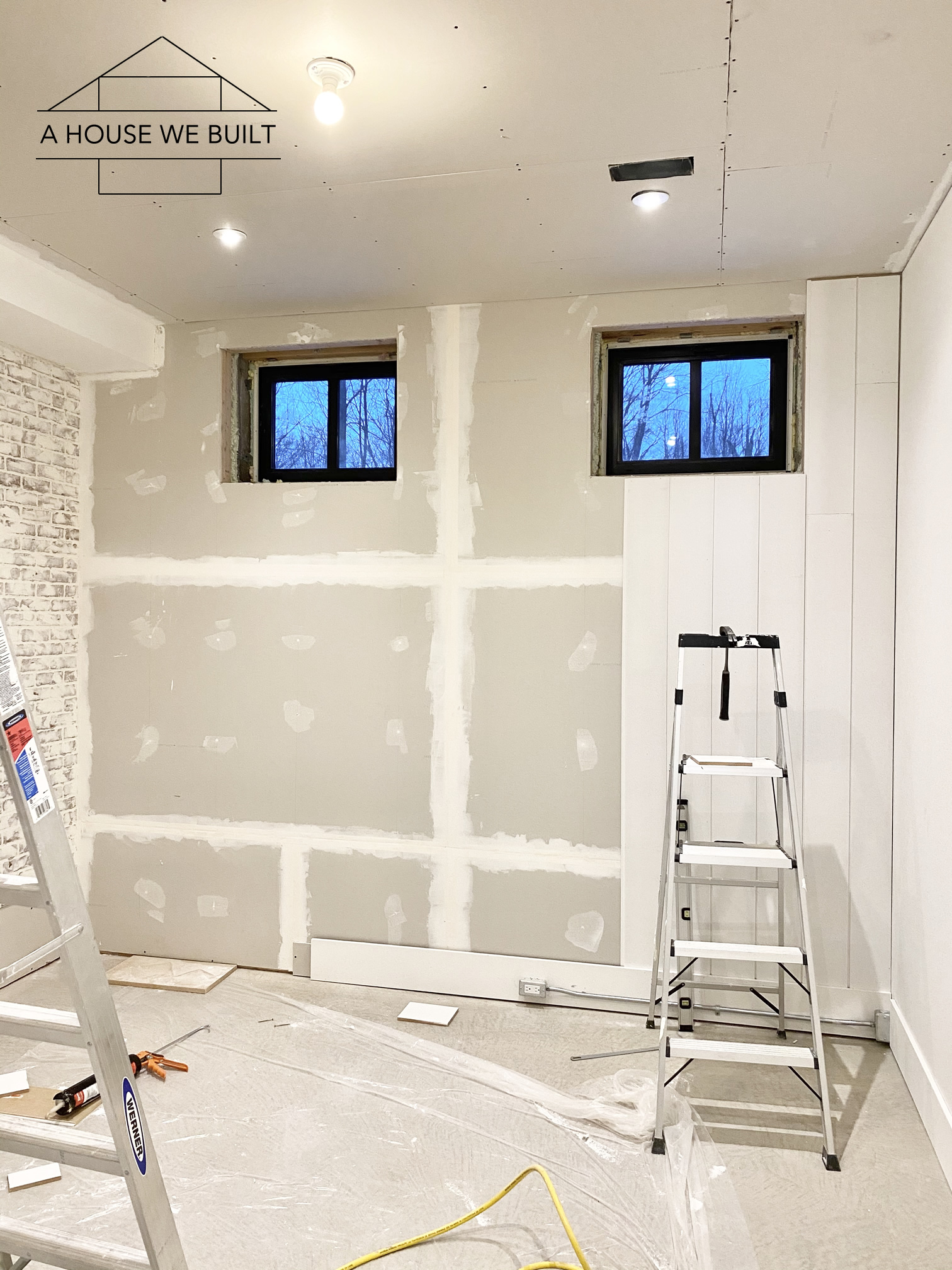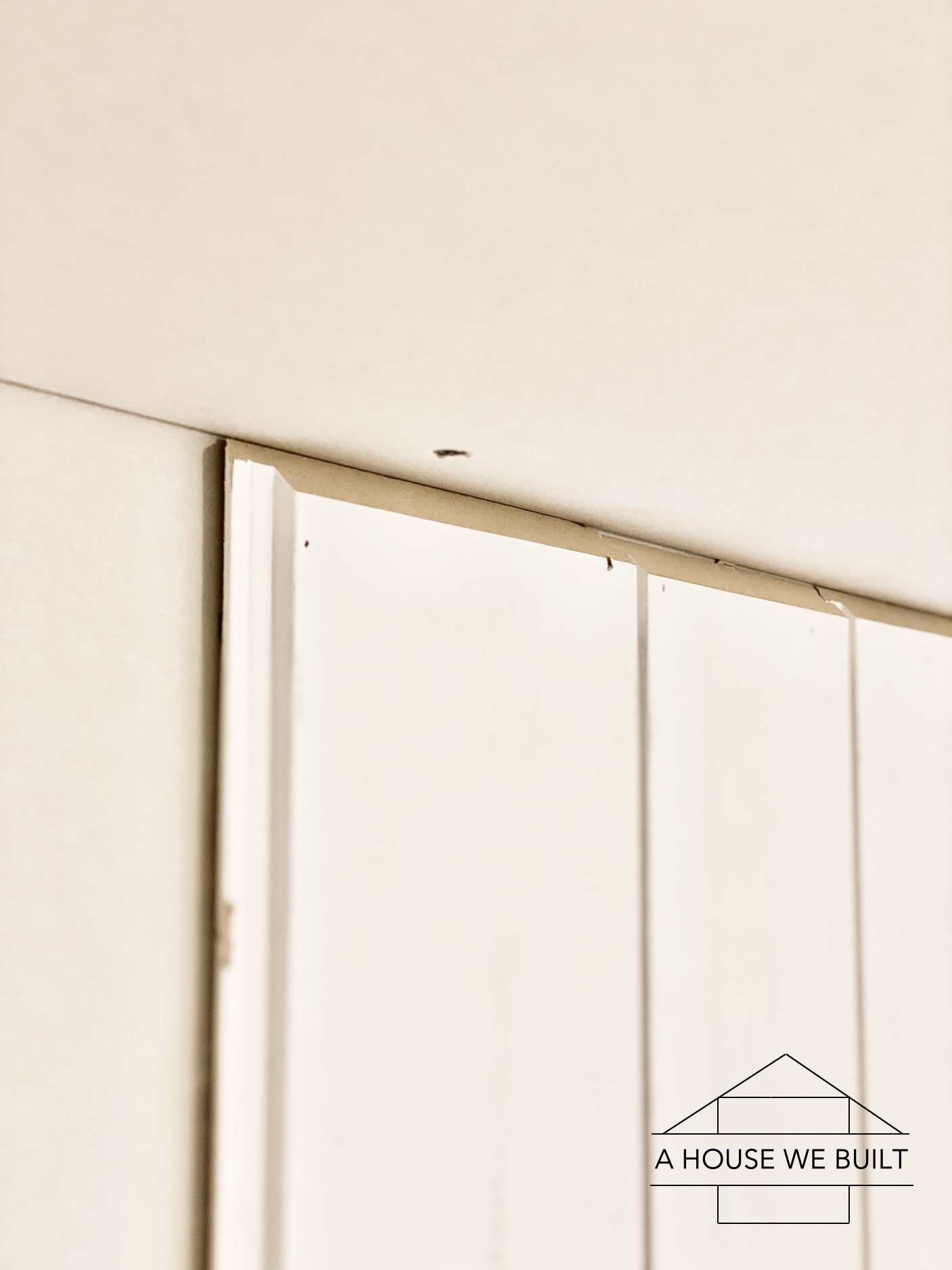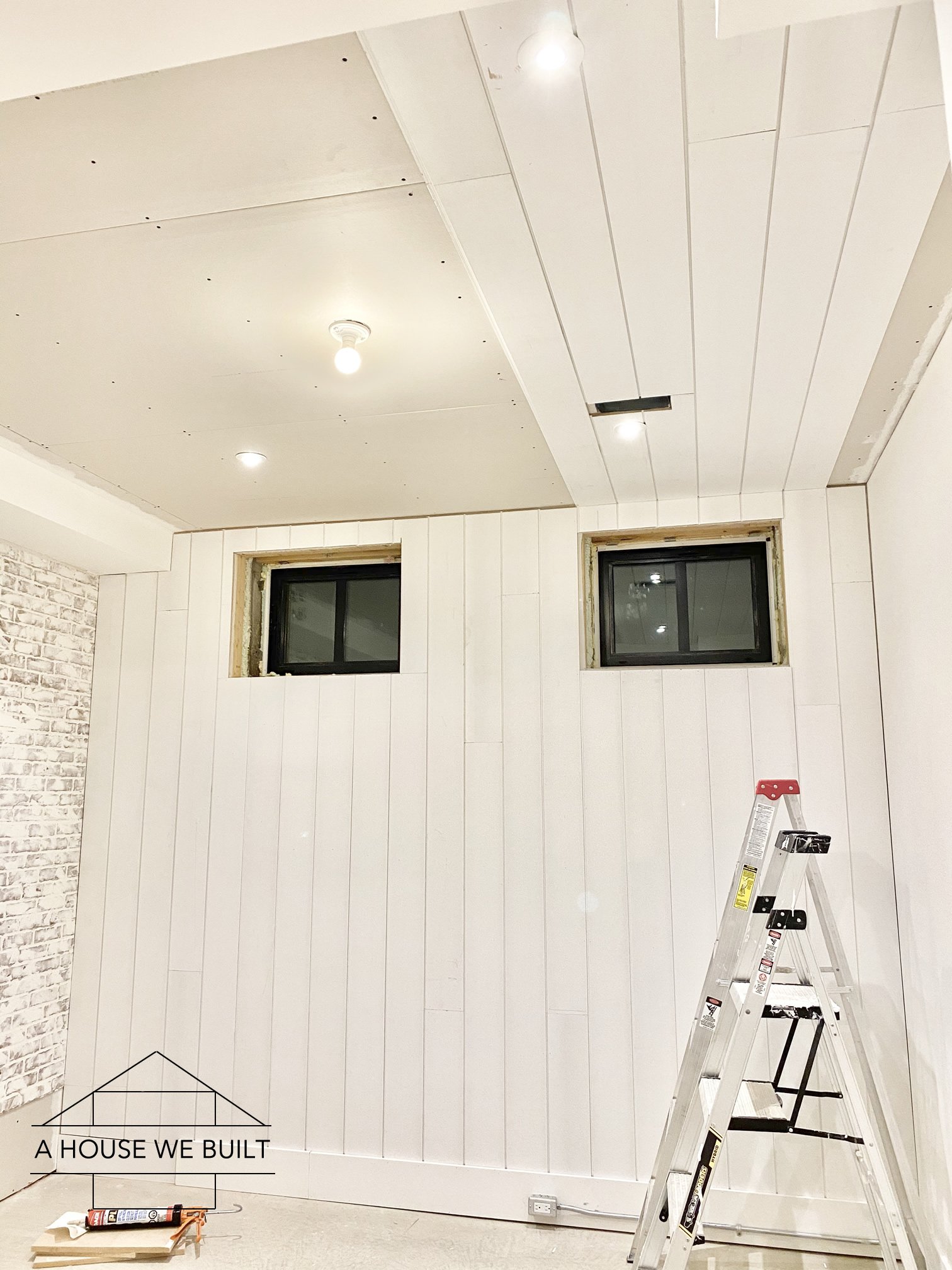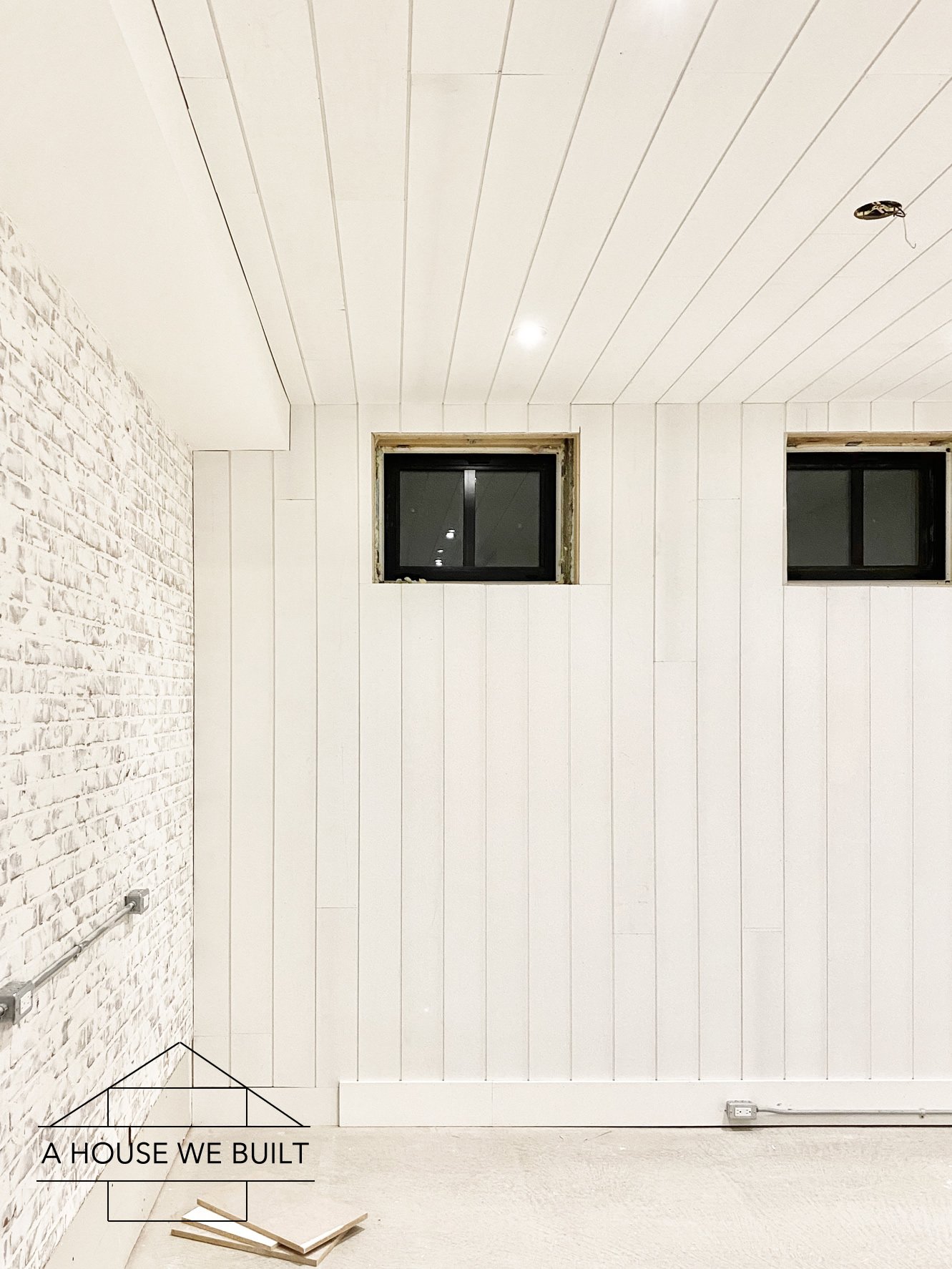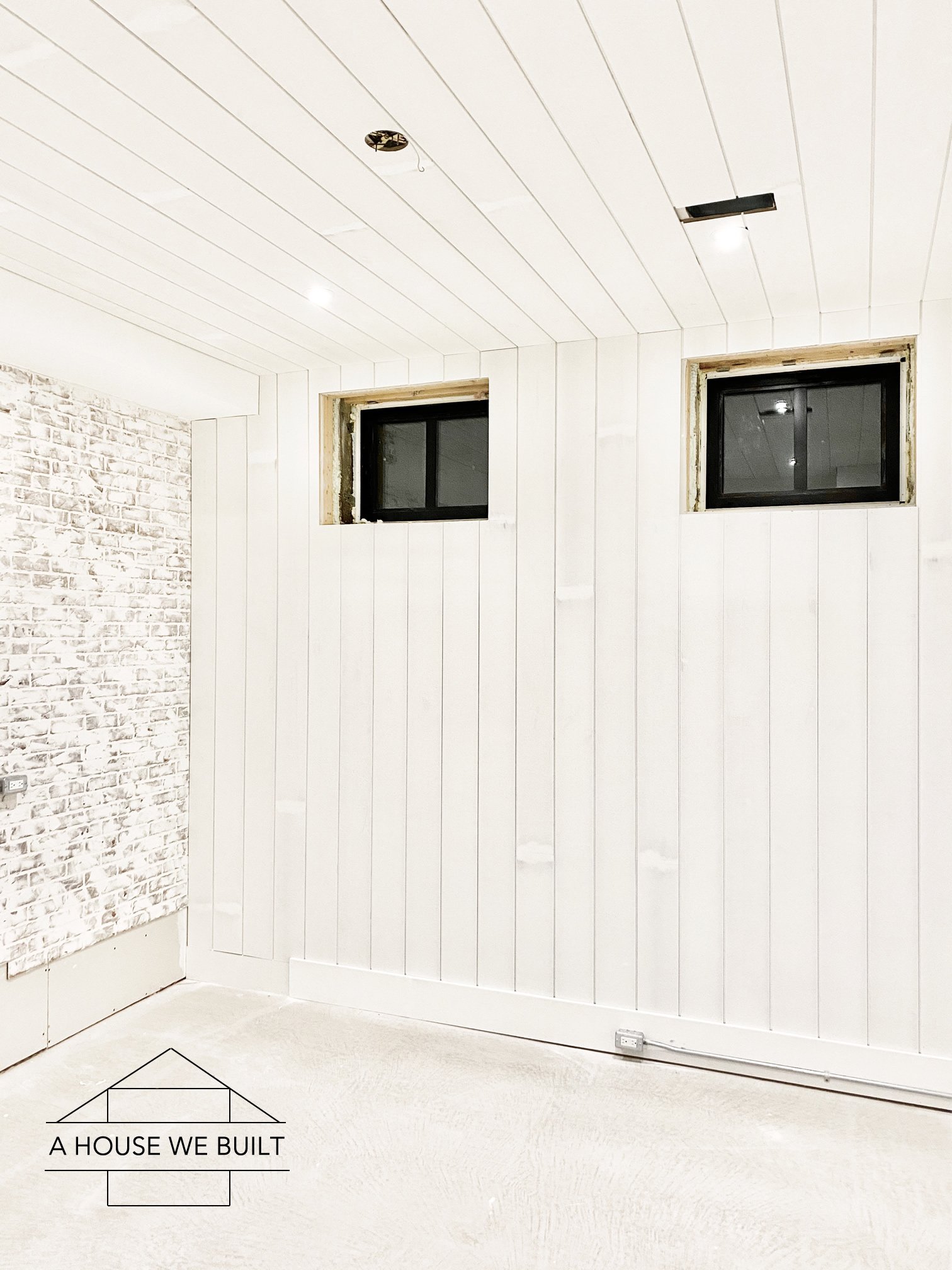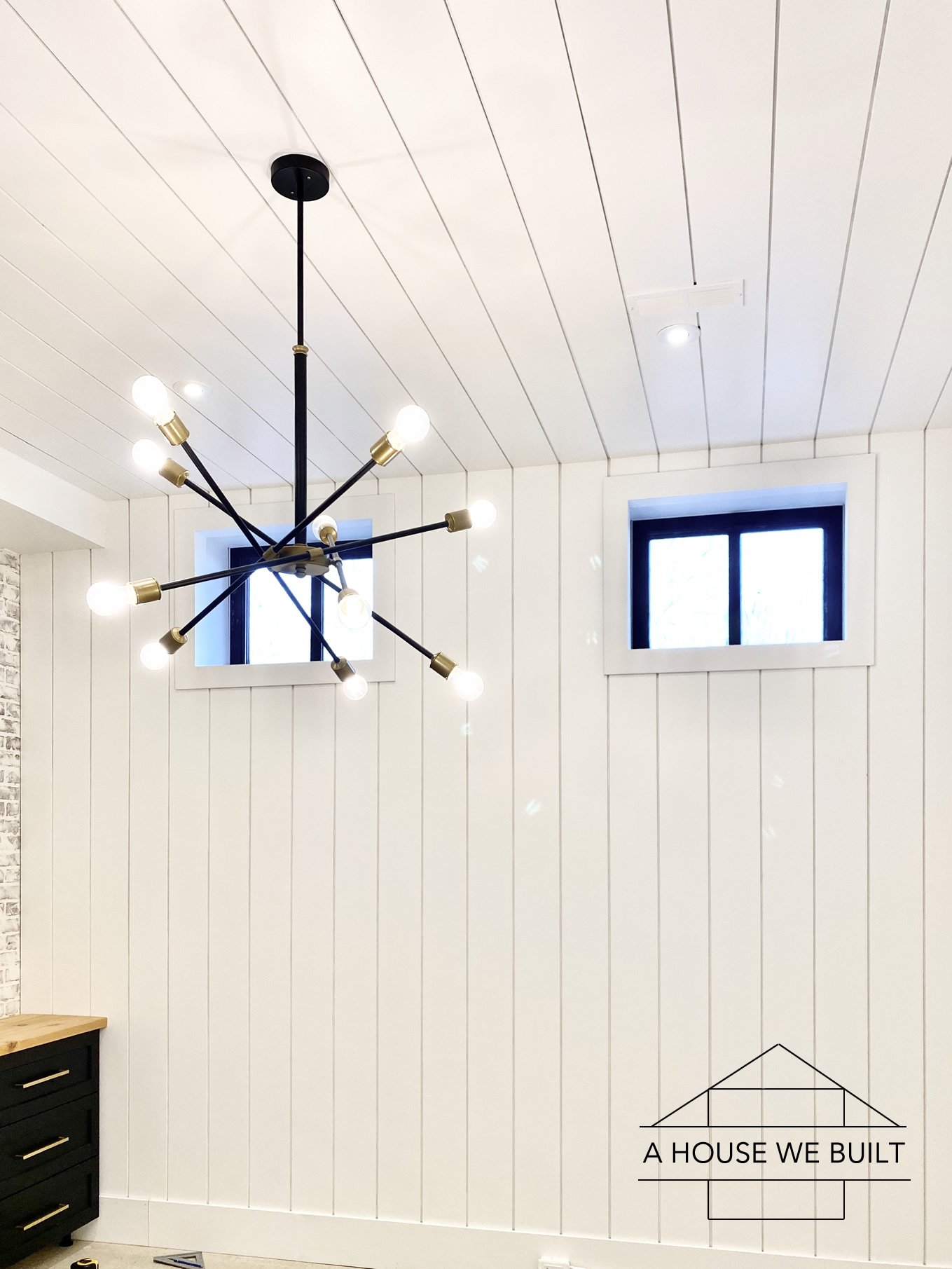 FINISHING INSTRUCTIONS:
Note: this only applies to shiplap you plan to paint. If you're using natural wood shiplap that you're going to either leave raw or stain, then you may not wish to finish it quite the same way. It's up to you.
After all your shiplap is installed, run a bead of caulk around all seams where the shiplap terminates to a wall, or along inside corners. Use your finger to run over the bead of caulk and shmoosh it into the seam while smoothing it out. Have a wet hand towel to clean your finger as you go.
Fill in all your nail holes and seams between boards with wood filler and a putty knife.
Sand everything you used wood filler on (nail holes and seams between boards) until smooth.
Now you're ready to prime/paint.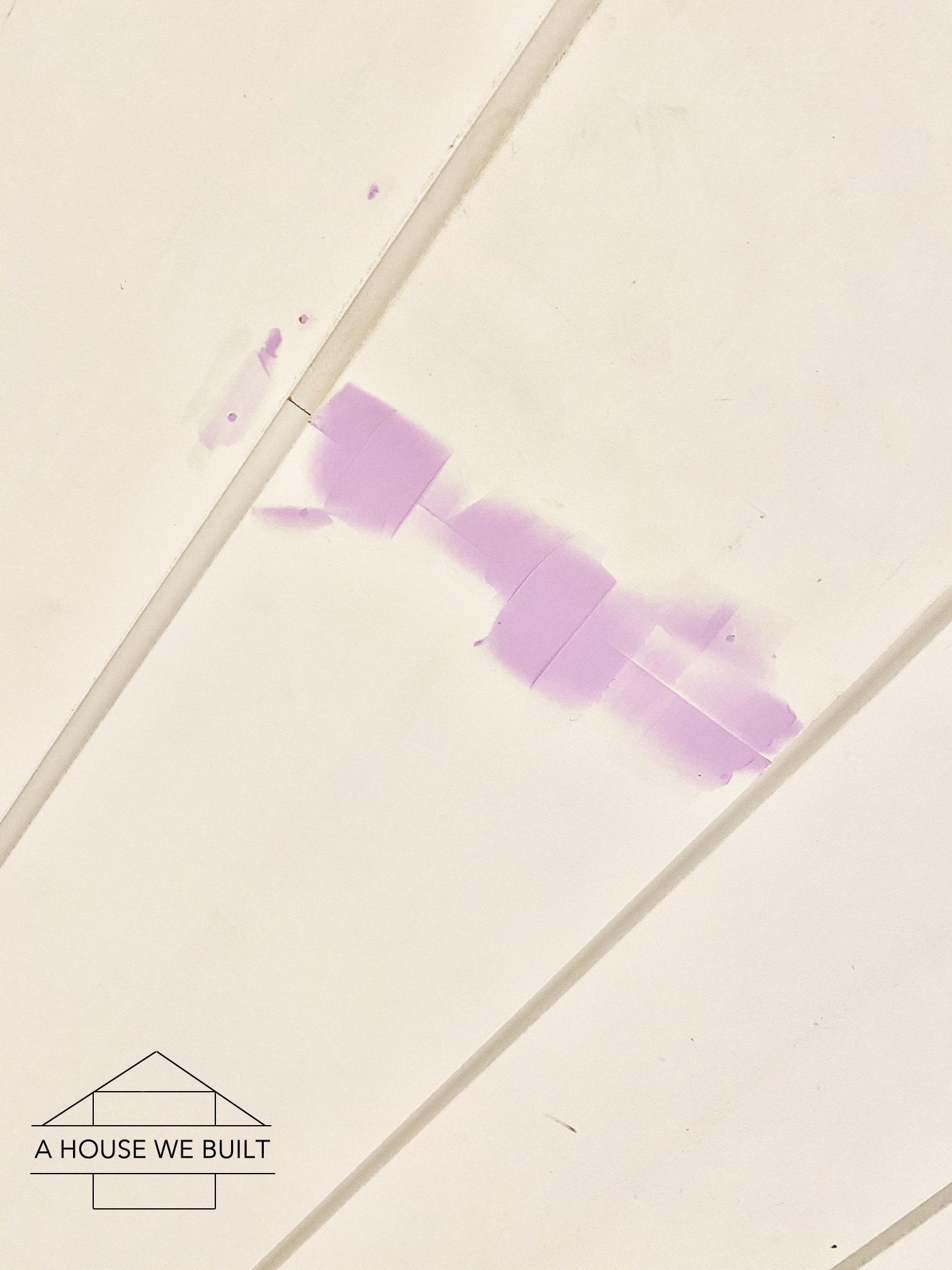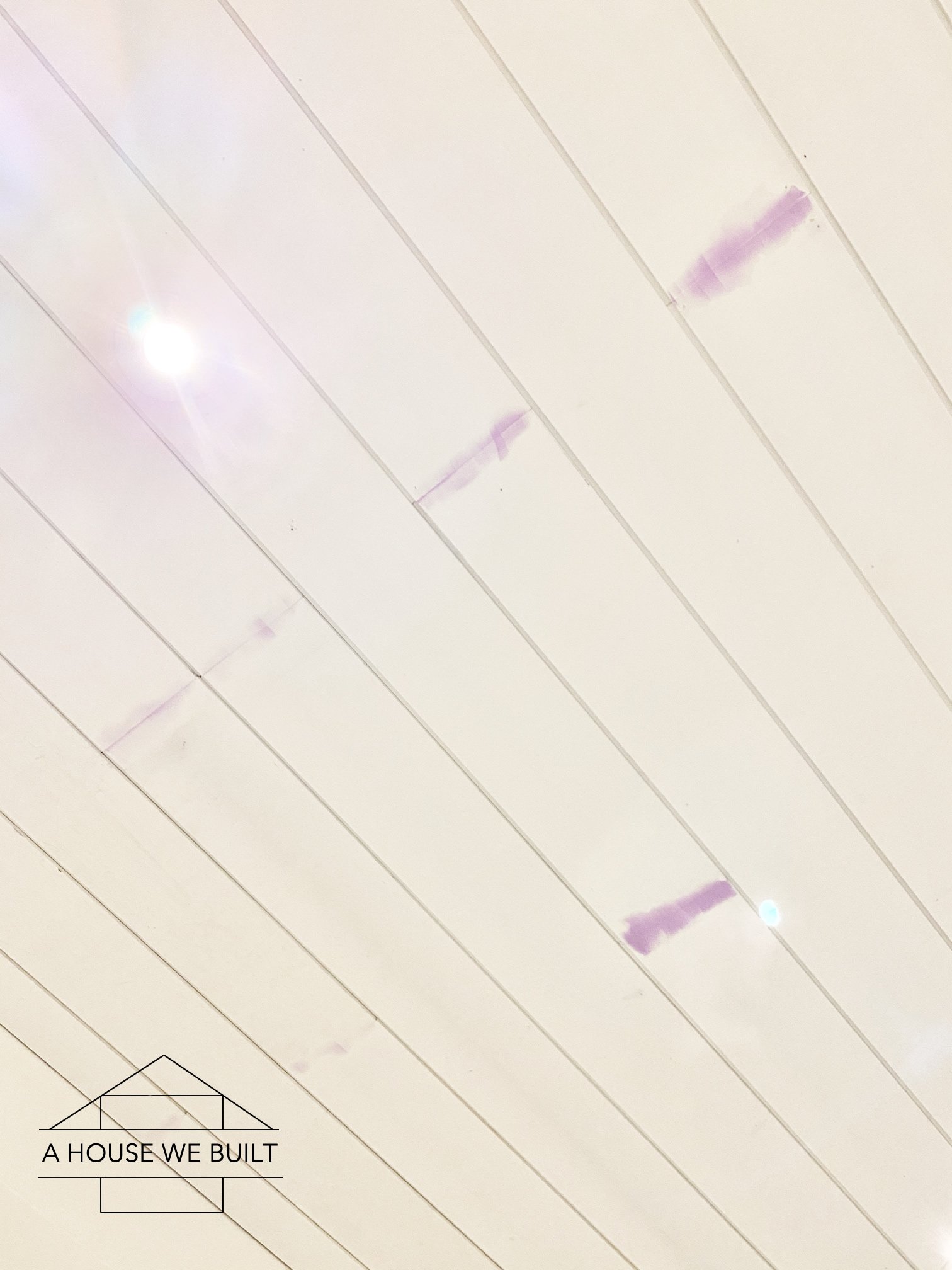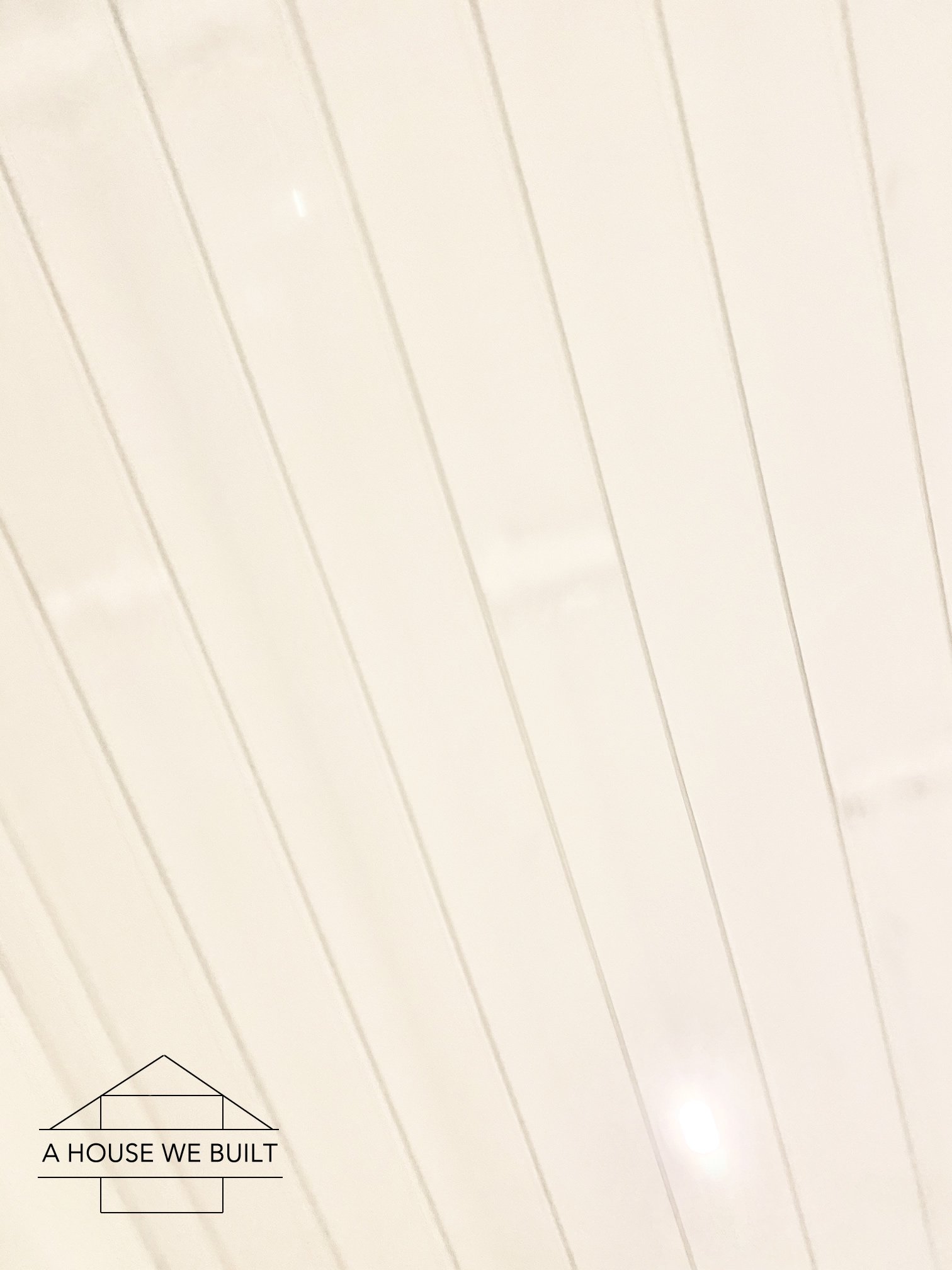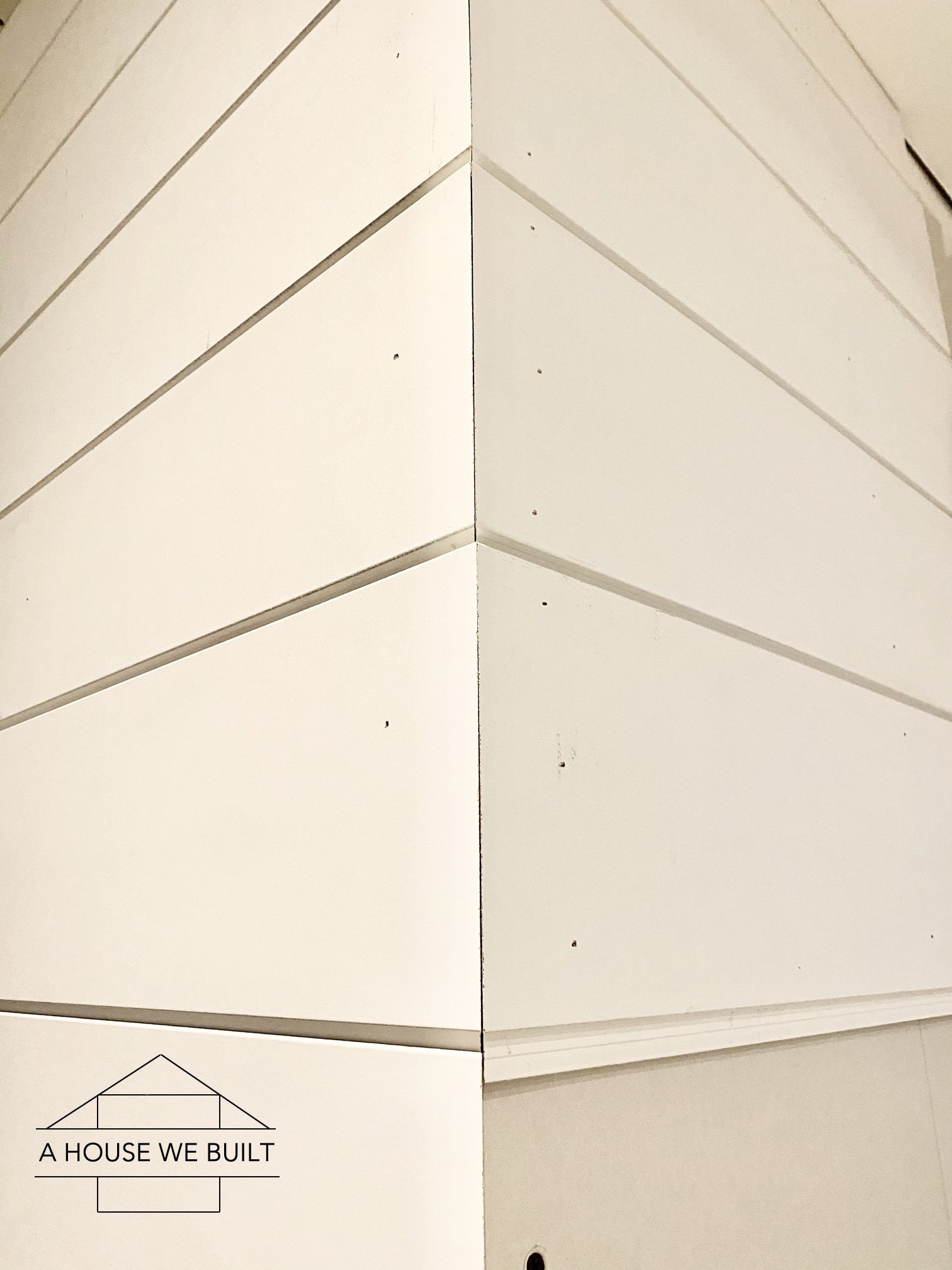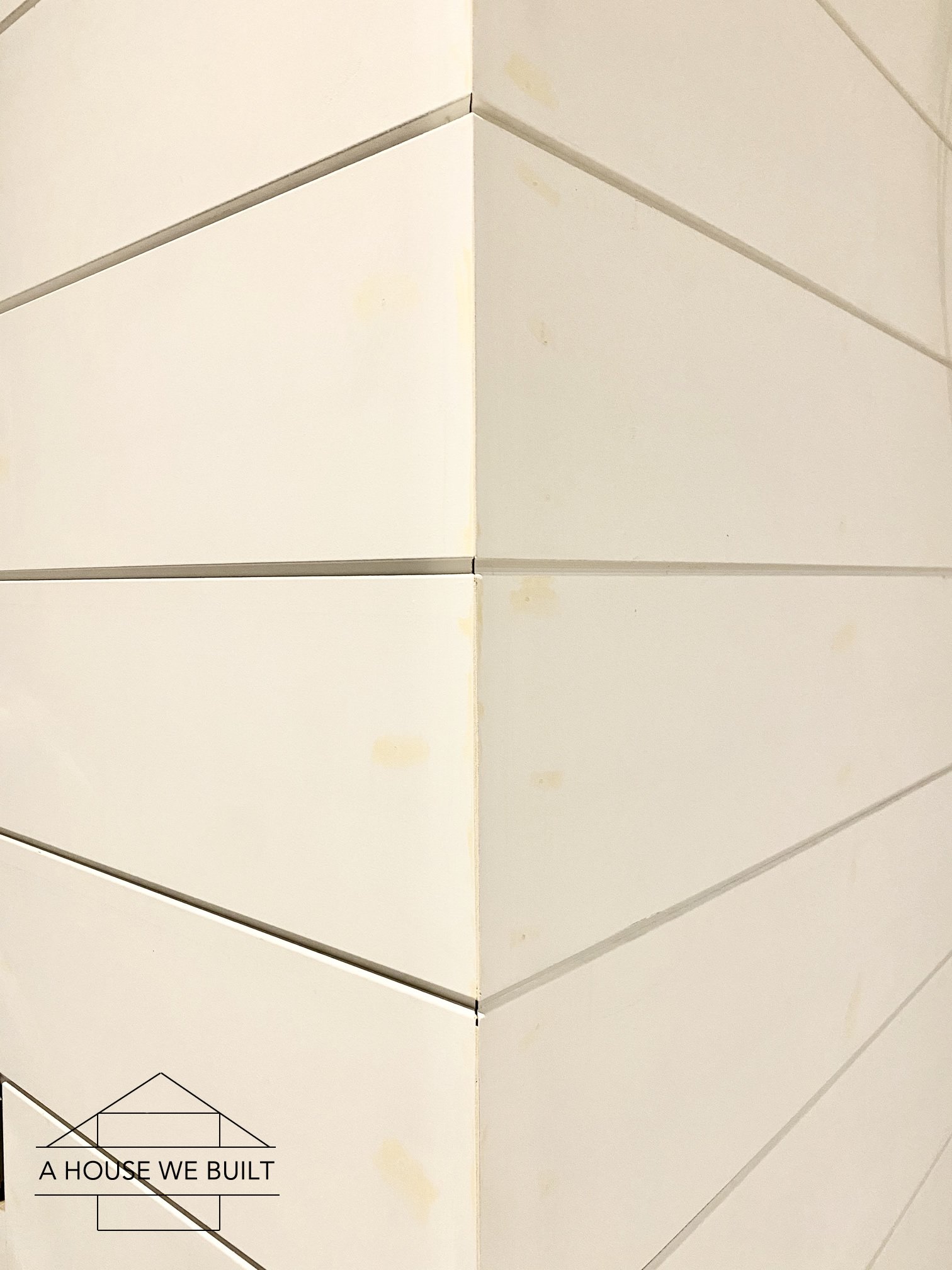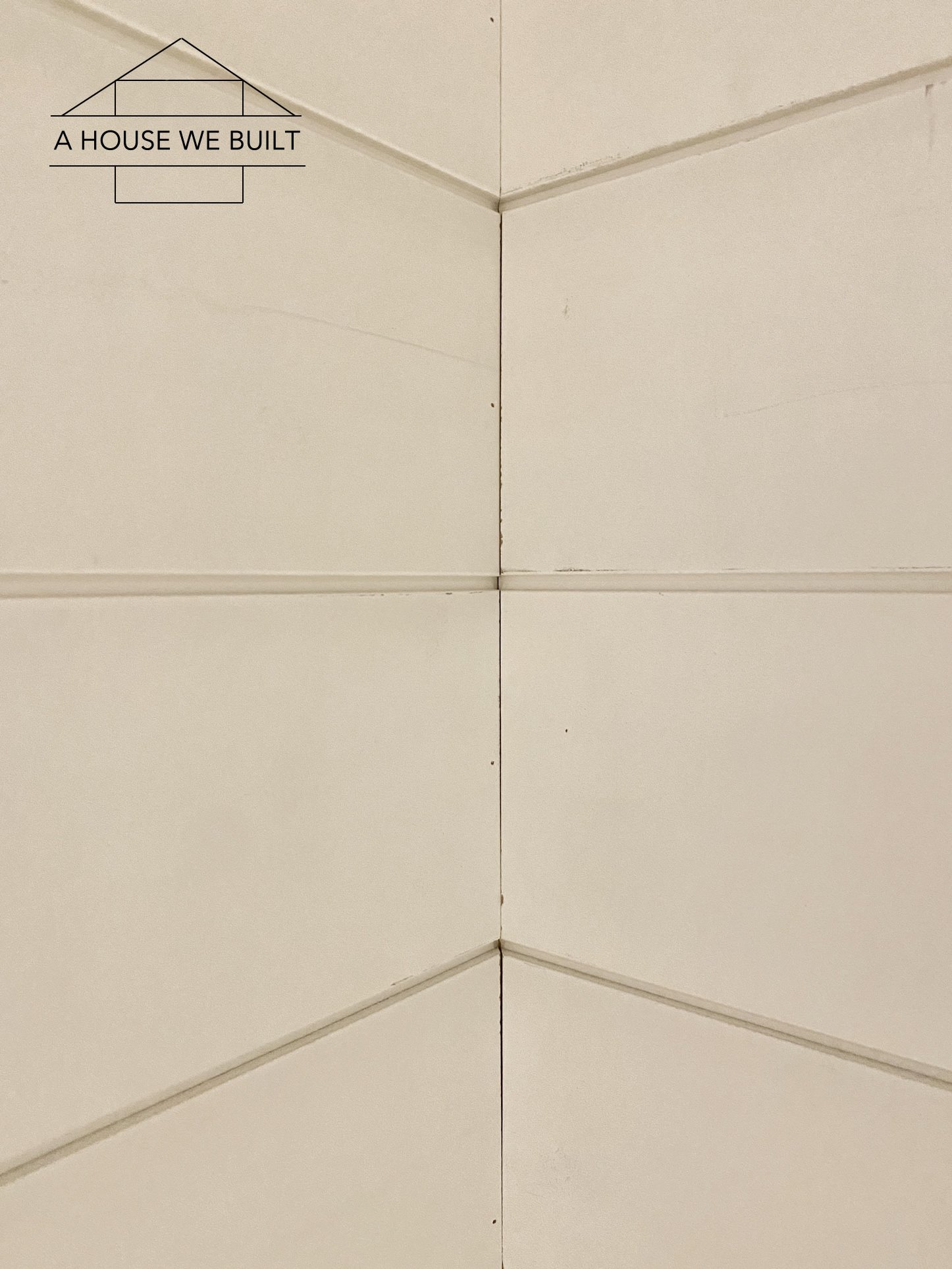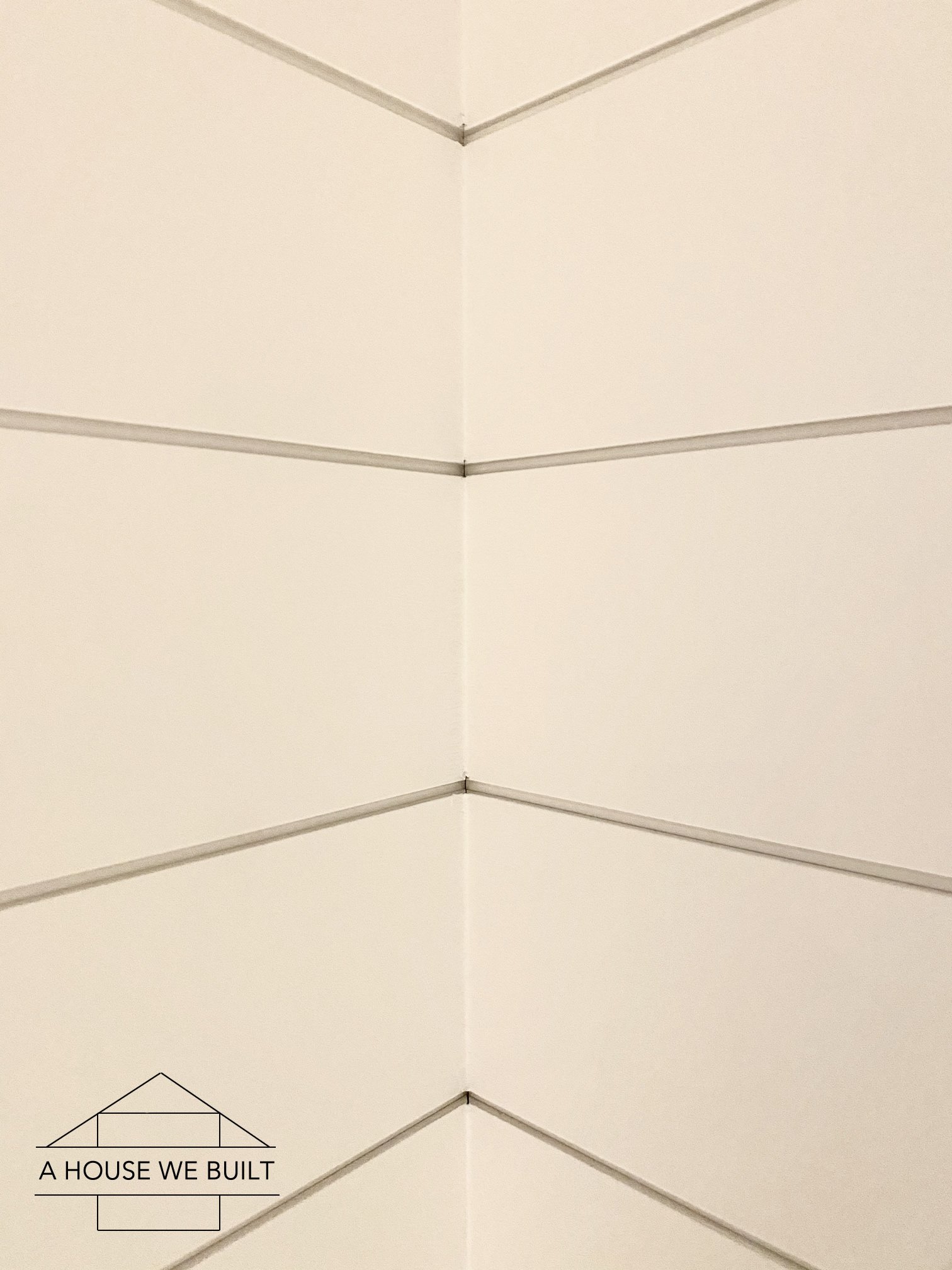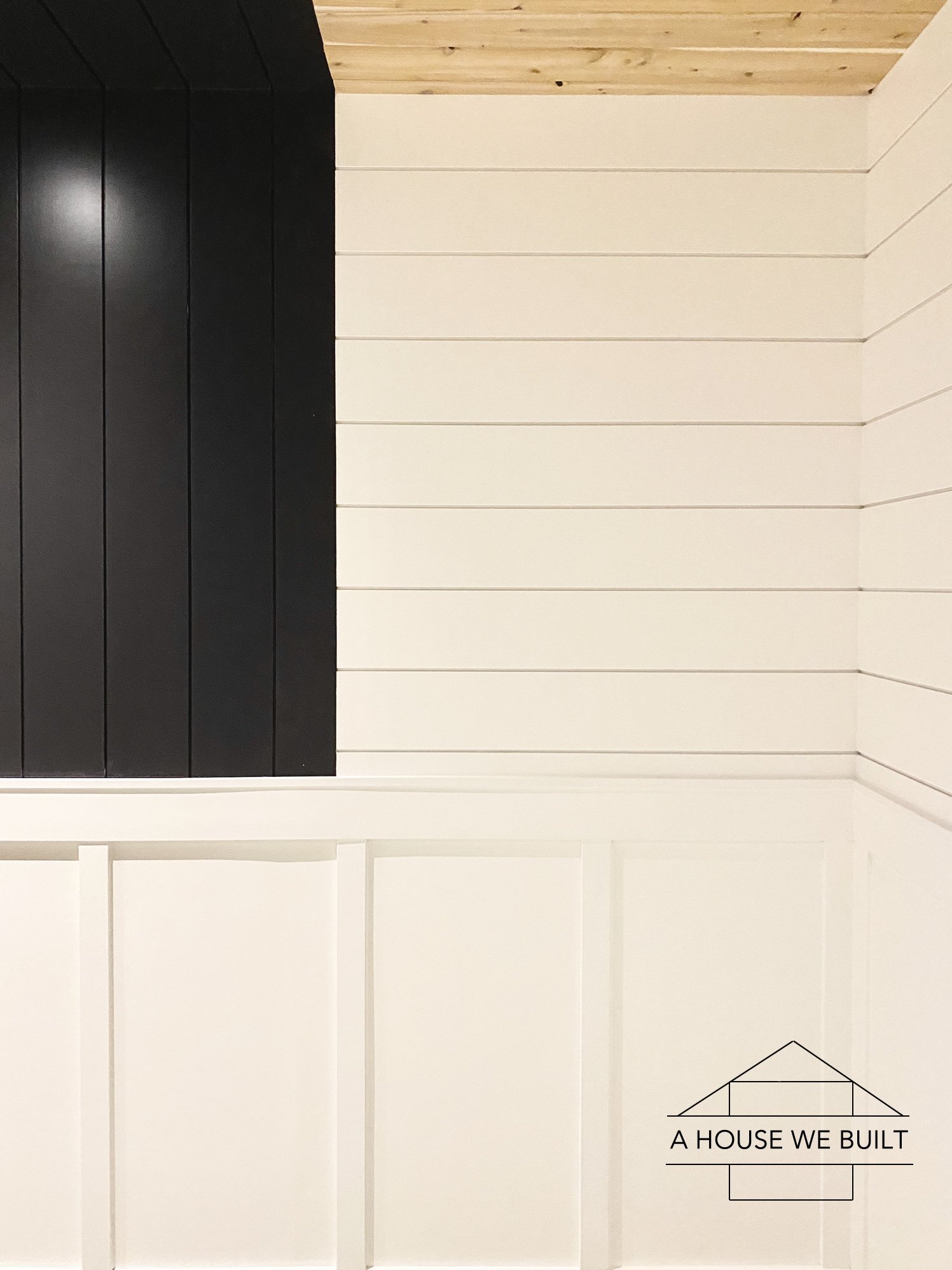 PAINTING TIPS:
My preference is to brush and roller shiplap. Paint sprayers are great in theory but I don't have the patience to do all the prep-work involved, I don't like how all the little paint particles get blown into the air (and then my hair!), and finally cleaning a paint sprayer is beyond frustrating so if you have the patience for that, all power to you. But I like to stick with a traditional, easy peasy brush and roller. If you brush and roller properly, the end result is just as smooth as spraying.
If you're painting horizontal shiplap white (and it's already been primed), I wouldn't paint your final white in between the boards. I find the slightly different tone of the primer in the grooves makes the grooves pop and you don't notice that it's a different white because it just looks like a shadow.
If you're painting vertical shiplap white and you find that your lines between boards are "disappearing", I recommend painting the lines with a small brush in a very light gray color – I did this in our game room and in the nook at the end of our basement hallway (behind the wood art) and found that it made a huge difference in making the shiplap pop.
If you're painting shiplap anything other than white, I recommend to always paint between the seams before rollering the boards. Feather your brush strokes carefully to leave the boards smooth and with no paint streak lines or drip marks. I can't stress enough how important this is!
The paint colors we've used are recapped on this page: Paint Colors and Stain Recap, and also posted on the individual room "sources pages" on our website so pick any room you want to know about, go to that source page, and you'll find the relevant paint colors we used listed at the bottom. If you need help navigating, here's our website roadmap.
Regarding paint sheen, we've used both flat and satin on shiplap and love the look of both.
If you use un-primed wood shiplap, you also have the option of staining it instead of painting.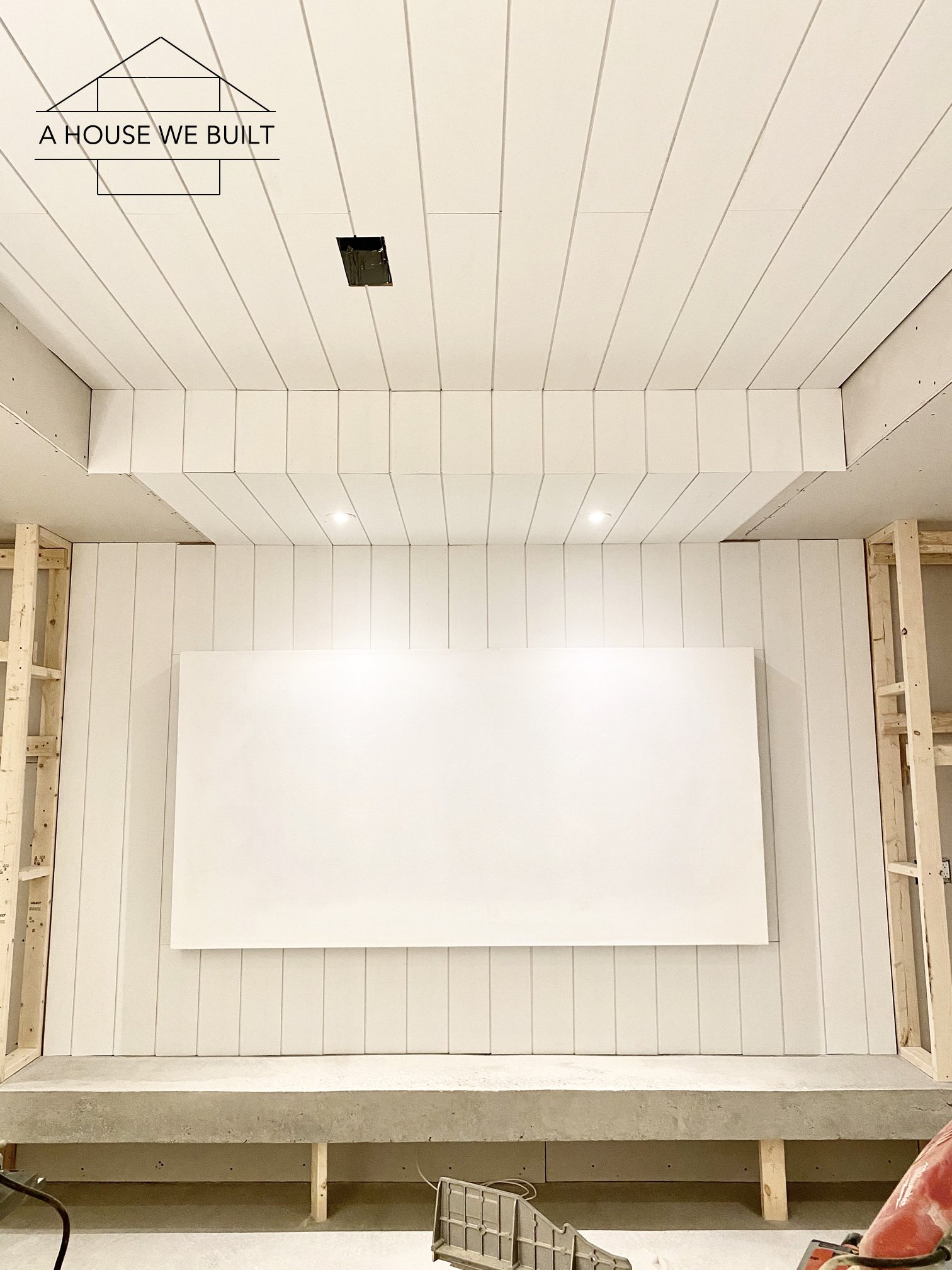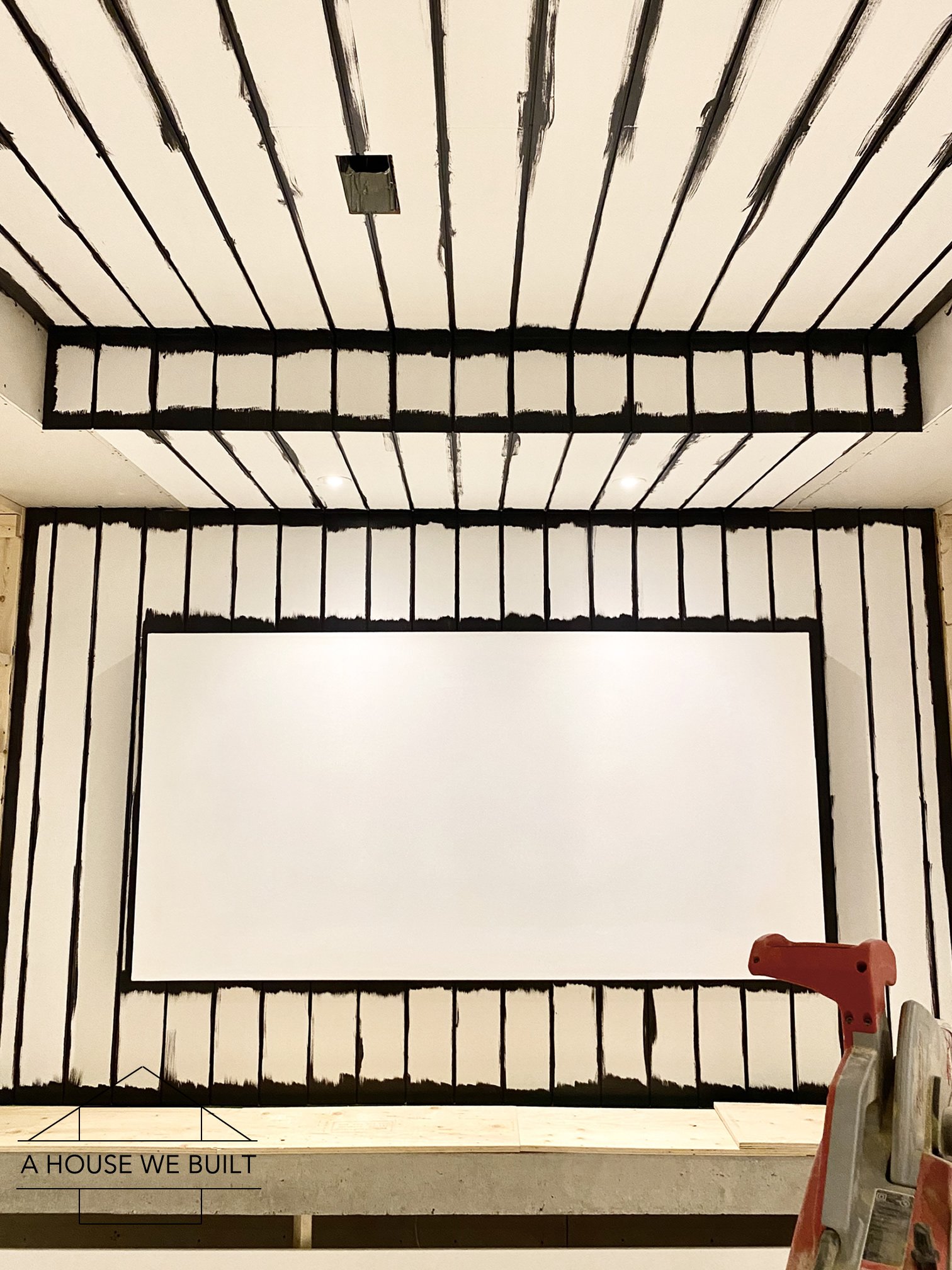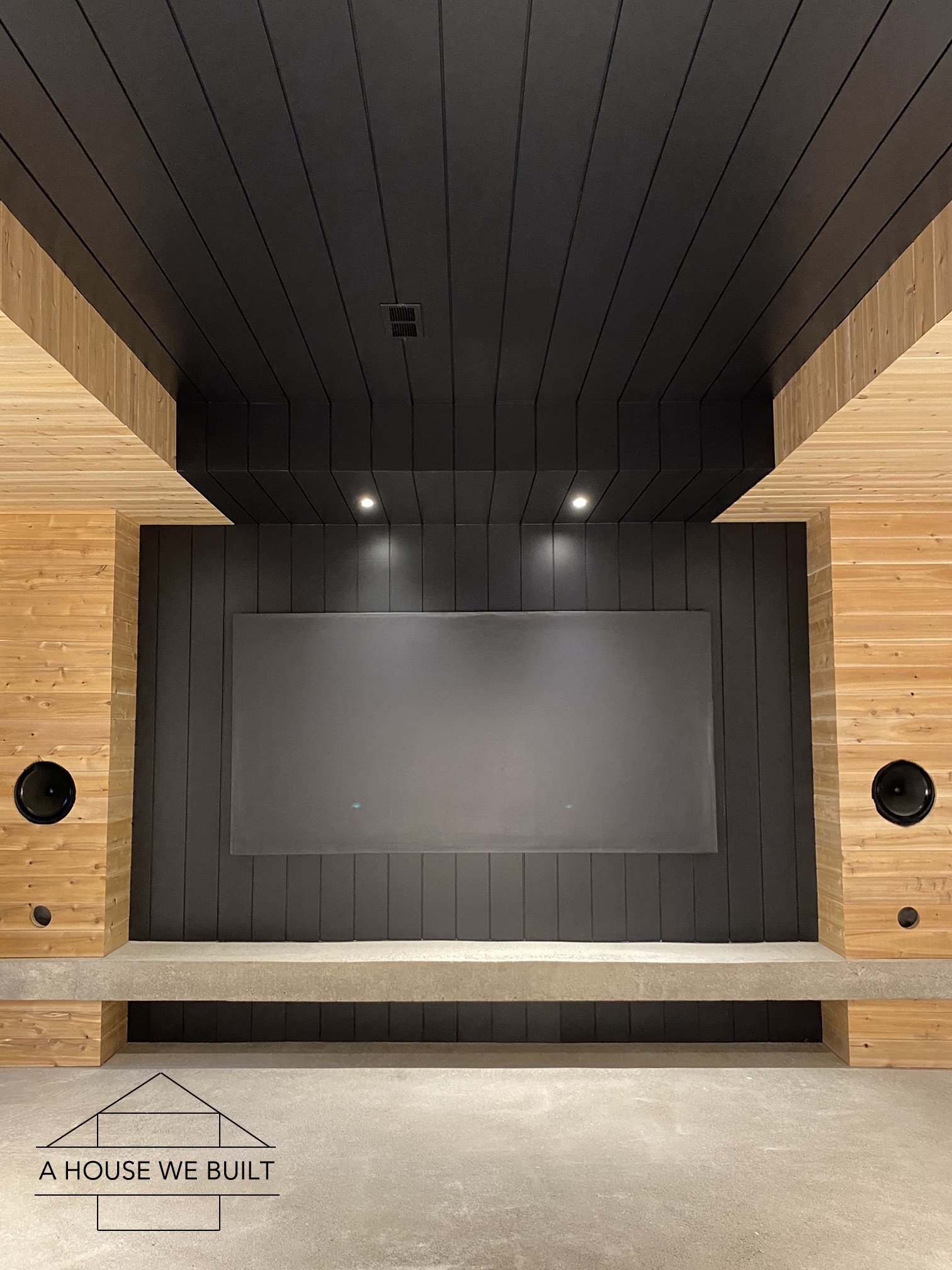 PS: If you're wondering about the wood paneling that we installed in our theater room design (similar to this: Home Depot), that is tongue-and-groove, not shiplap, but the installation method is generally the same. The natural wood material is much more frustrating to work with though, is less forgiving, and requires a greater level of accuracy so if you're new to this, I would start with shiplap work instead.
BONUS TIP:
In our theater room, we had this white exterior door in the middle of all our shiplap whose location we couldn't change (for reasons) so my goal was to visually minimize it while keeping it accessible. Originally, I considered hiding it behind a barn door but the door handle didn't allow for that. Finally, I decided to simply hide it in plain sight by painting gray shiplap lines onto it continuing the shadow lines of the real shiplap boards surrounding the door! Super simple solution!!! I used frog tape (Home Depot), which is better than painter's tape, to connect the shiplap boards on either side of the door (including the trim to keep the lines seamless) and then just painted the lines gray. I mixed different grays I had lying around my house so I don't have a specific color to share but this project was low-risk since I could always paint it back to white if needed. Luckily though, my idea worked! Here are the before, during, after pics: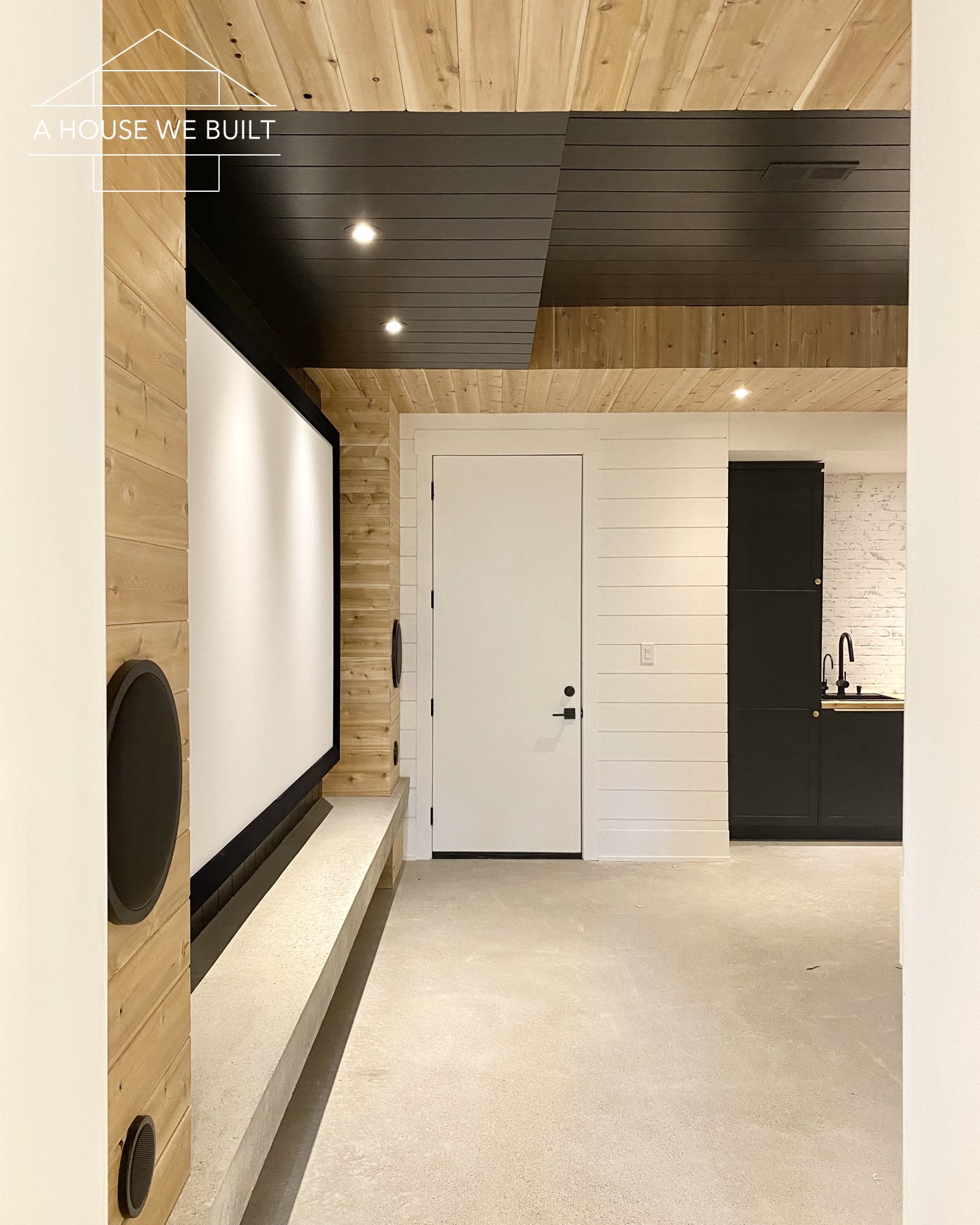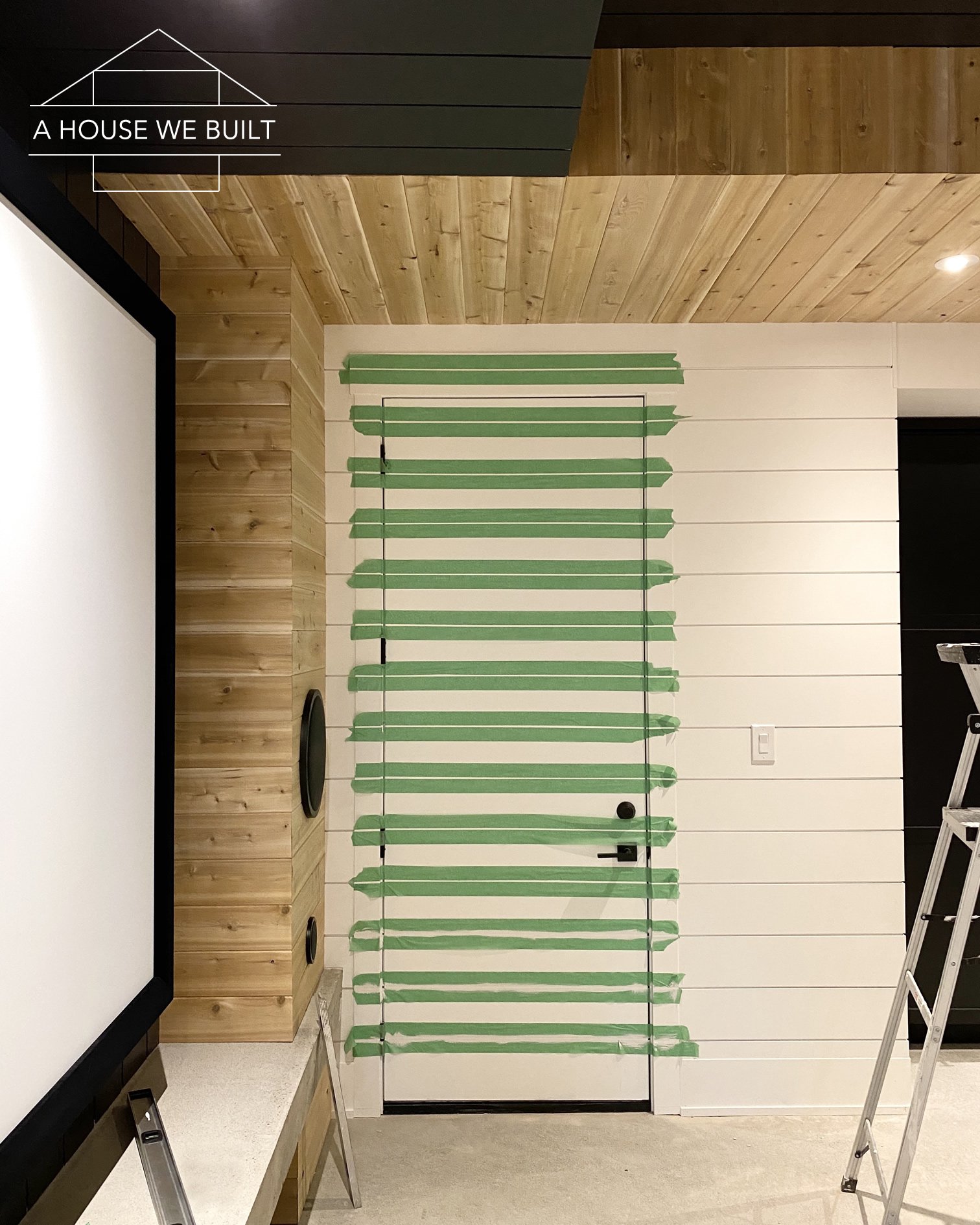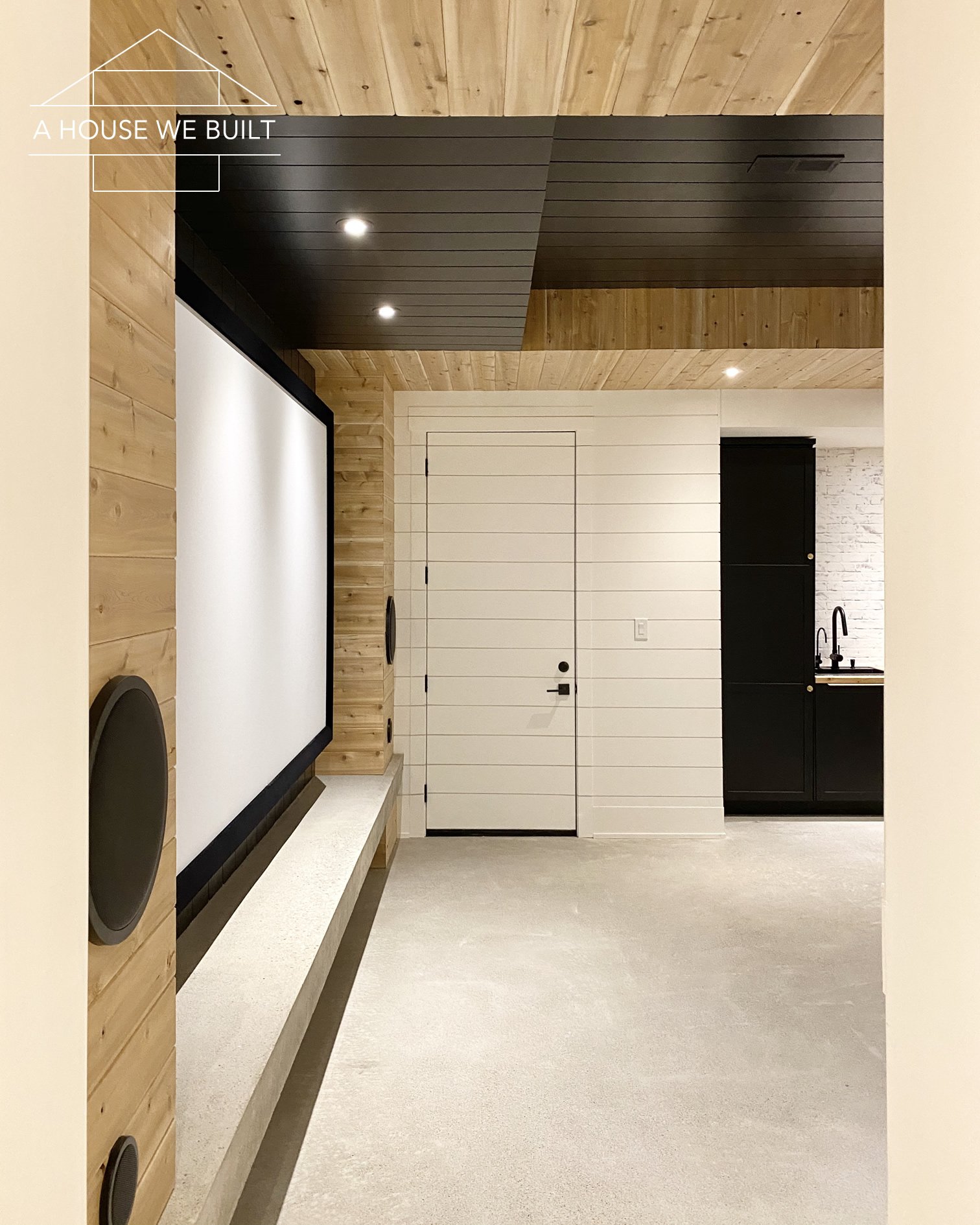 FREQUENTLY ASKED QUESTIONS:
Do you constantly have to dust between the boards? I've never had to (not even on the black shiplap that would really show the dust if it were there). If you live in a really dusty climate and have your windows open a lot, I suppose that might change things, but it hasn't been an issue for us.
What type of shiplap is easiest to install? Horizontal shiplap installed on a wall with two perpendicular walls on either side (meaning that each side can terminate to a 90 degree wall without wrapping around a corner) will always be the easiest type of shiplap to install.
How do you decide between vertical or horizontal shiplap? How do you pick what parts of your house to shiplap? This is 100% personal preference. There are no rules here – in your house, you should choose whatever you love most. I make my design decisions based purely on what looks good and feels right to me. Horizontal and vertical shiplap have very different feelings to me so it really depends on what look you're going for and what makes you feel warm and fuzzy when you look at it. Not to be cheesy here but just let your heart decide!
How do you have shiplap around your fireplace? Our fireplace is electric so the surround and front of it don't get hot like a gas/real fireplace so it's not an issue.
Is it trendy? What if it goes out of style??! Personally, I don't care. I don't follow trends or care what's "in style". I choose all my design elements based on how much I love them. Shiplap has been around for hundreds of years so while it may be having a moment in the spotlight, that's not why I love or or the reason I chose to use it in my home. I strongly advise making design choices for your home based on whatever truly makes your heart happy instead of based on trends.
If you want to follow our daily progress, come follow us on Instagram @ahousewebuilt!
SOURCES:
Left pic is our Theater Room | Right pic is our Game Room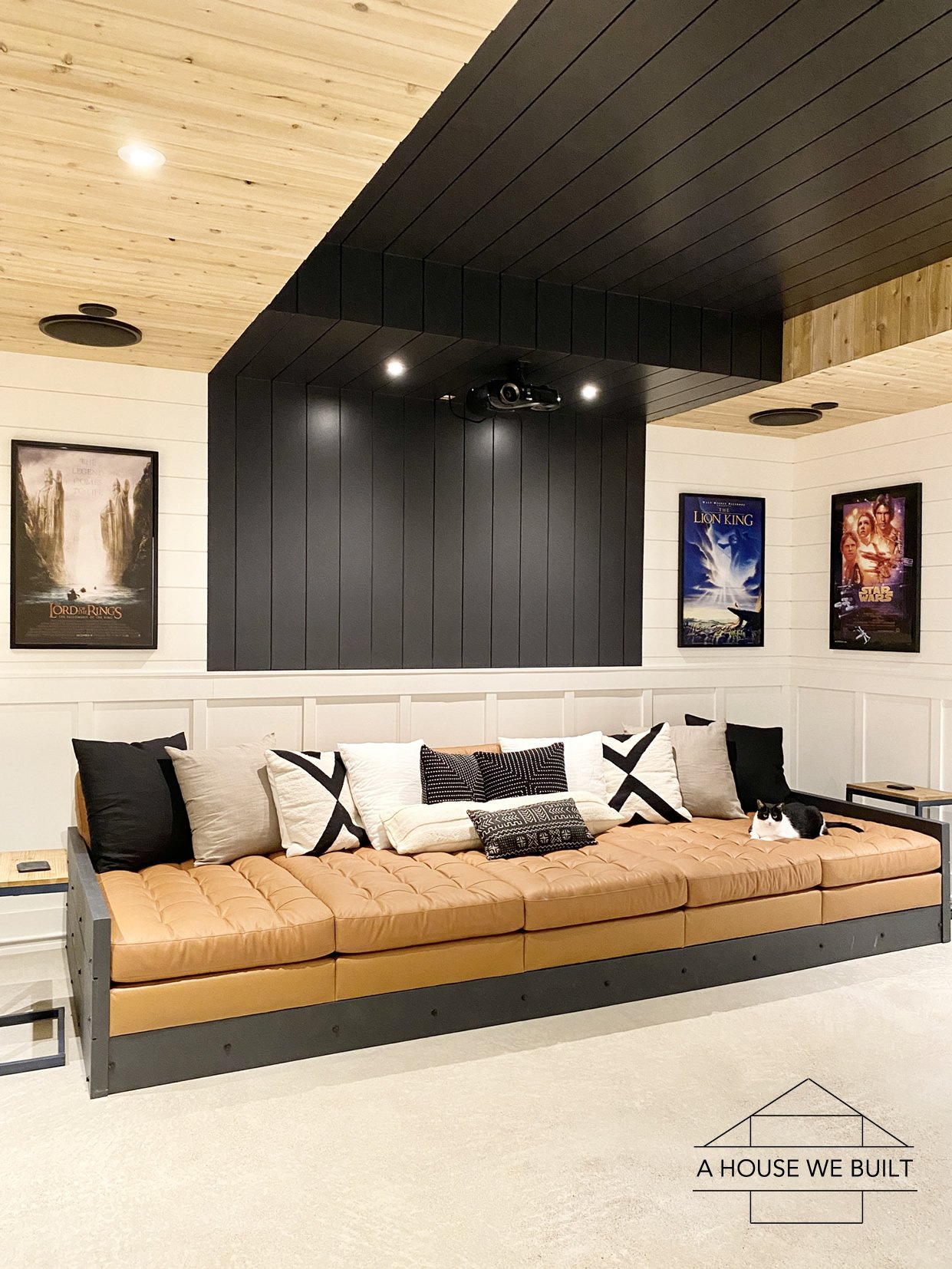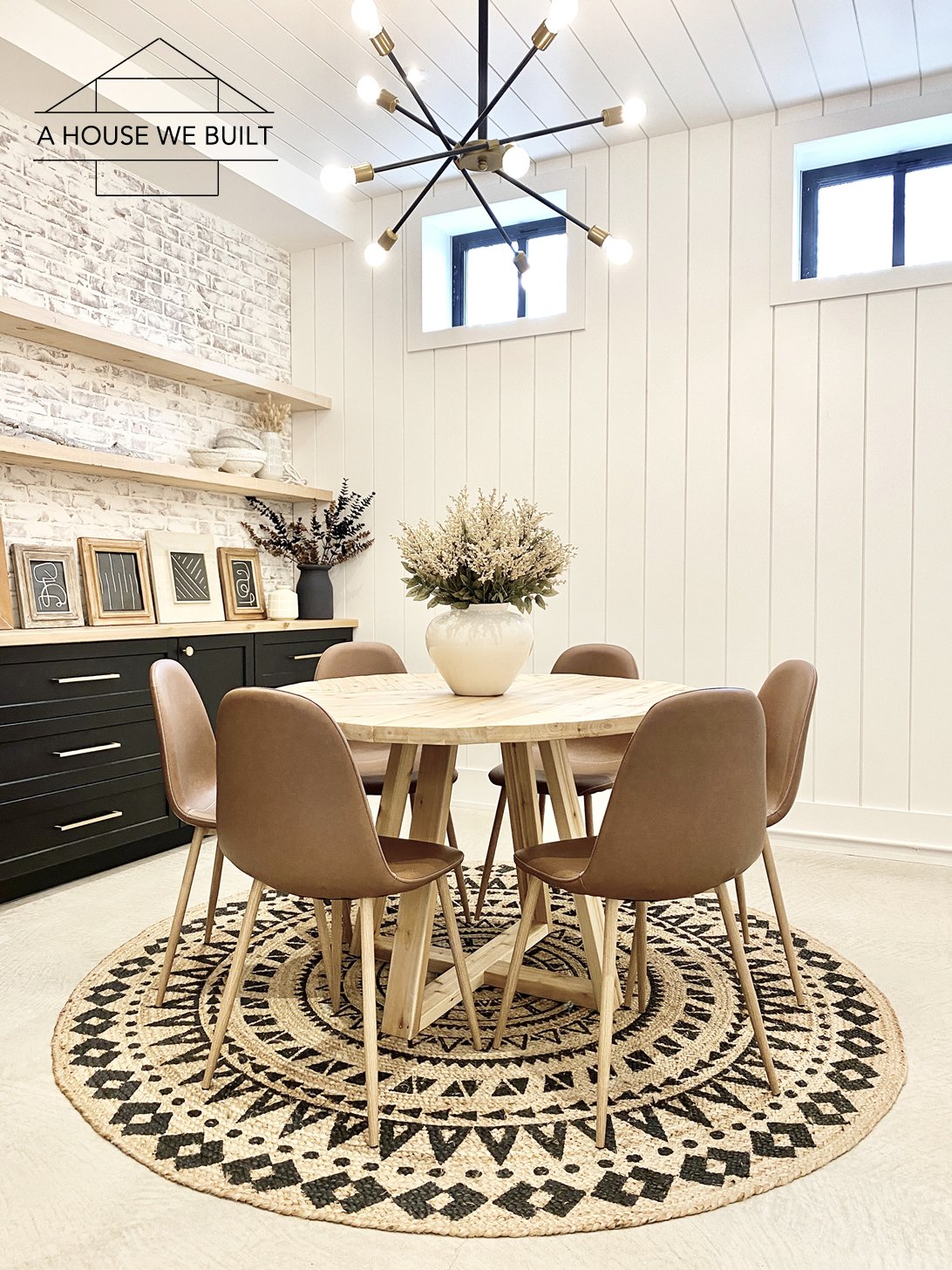 For more of our tutorials, click here.
To explore rooms in our home, click here (most have some kind of shiplap).
To follow our daily updates and home progress, follow us on Instagram @ahousewebuilt.