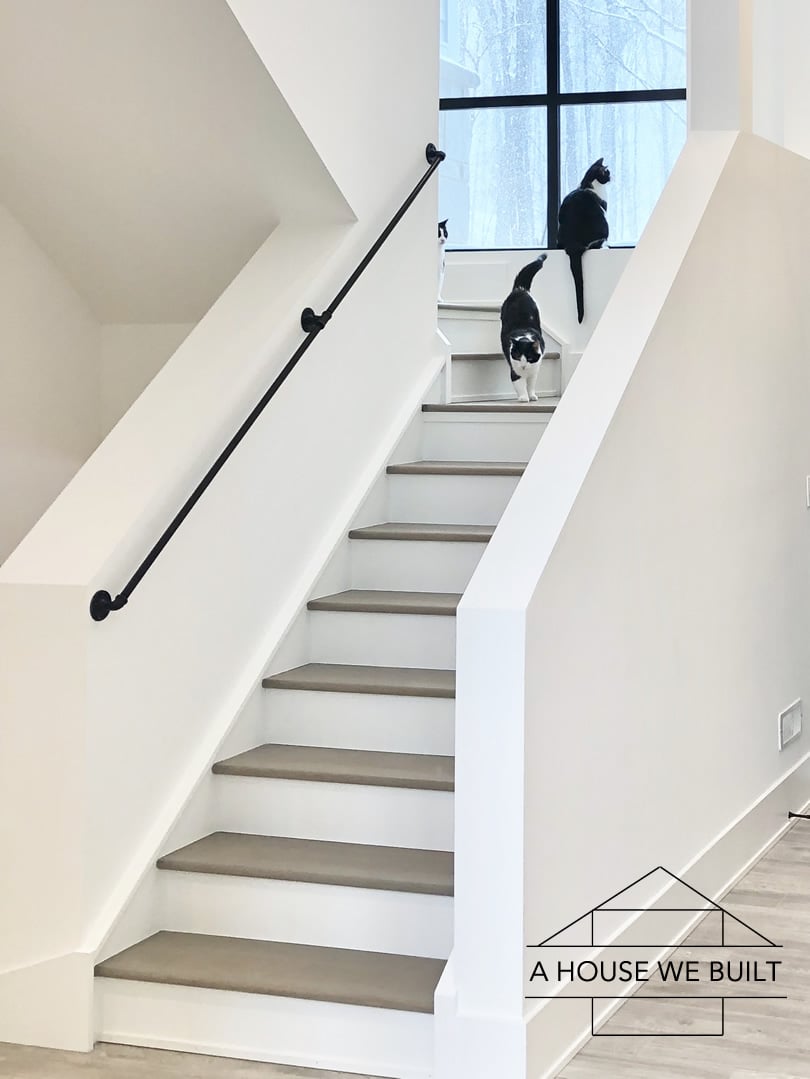 What you'll need:
Industrial railing tutorial (this is how you build it with the above items):
** Note: this same process works for hangar bars, as we did in my closet room
Read the building code in your area and/or talk to your inspector. You may have to use more connectors, or a certain thickness of pipe. Better to figure this out beforehand!
Locate the studs on your wall, perhaps using a stud-finder, and mark the studs you will fasten to. At minimum, you'll want a support/connecting T-join every 3-4 feet.
Figure out how many support pieces (T-joins + connector + flange combos) you'll need to make your railing sturdy, and how many end pieces (flange + elbow combo) you'll need.
Purchase all the pieces that attach to your wall (see links above), as well as the bolts! Remember, it's 4 bolts per flange, but you'll probably only get two in a stud. For the ones that went into drywall, we bought shorter lag bolts since they're just decorative.
Assemble all the necessary combo pieces and with one small screw attach them to the wall where they'll go. (Tip: we used a really long piece of wood and balanced it on top of them to make sure that our line was straight). Make sure that the flanges are rotated so that two holes are over a stud!
Measure how long a rod you'll need between each of your combo pieces and write them down. Make sure the T-joins and elbows are aligned! Count on 3/8″ of extra length on each end of each pipe for where it will screw in.
Find a Home Depot location that has a threading machine (they don't all have them!) and have them cut and thread all your rods to length. You shouldn't need more than 1/2″ of threading for each end.
Clean all the rods, and then sand them, and then clean them again. We used rags with paint thinner and 150 sandpaper. You'll have to smooth out the teethmarks where the threading machine held the rods too. It's not too hard.
Take everything down from the walls and fully assemble your railing.
Spray paint it with a metal paint
Screw all the hex-head bolts into something disposal (we used a piece of scrap drywall) so they are standing up straight – this makes sure you get all sides of the heads. Spray paint them too!
Screw it to the wall with the same small screw as before – this is quick and easy and gets the railing in place.
Once the railing is attached to the wall, step back and check it! This is your last chance to change the angle or placement.
When you are happy with the placement, screw in the lag bolts! While you can use a socket wrench, I highly recommend buying a small bit for your handheld drill or impact driver which fits the 1/2″ hex heads. It makes it much easier!