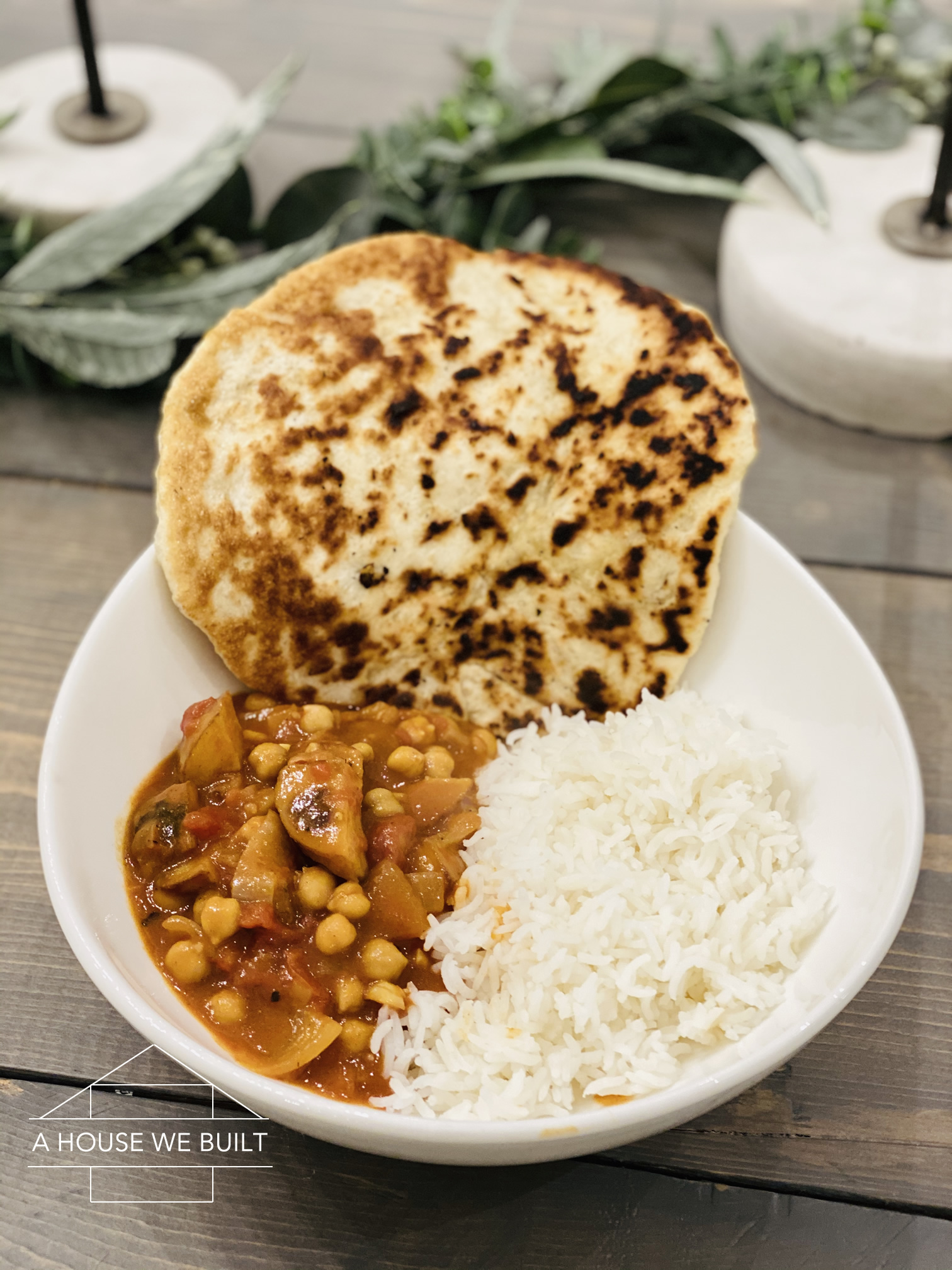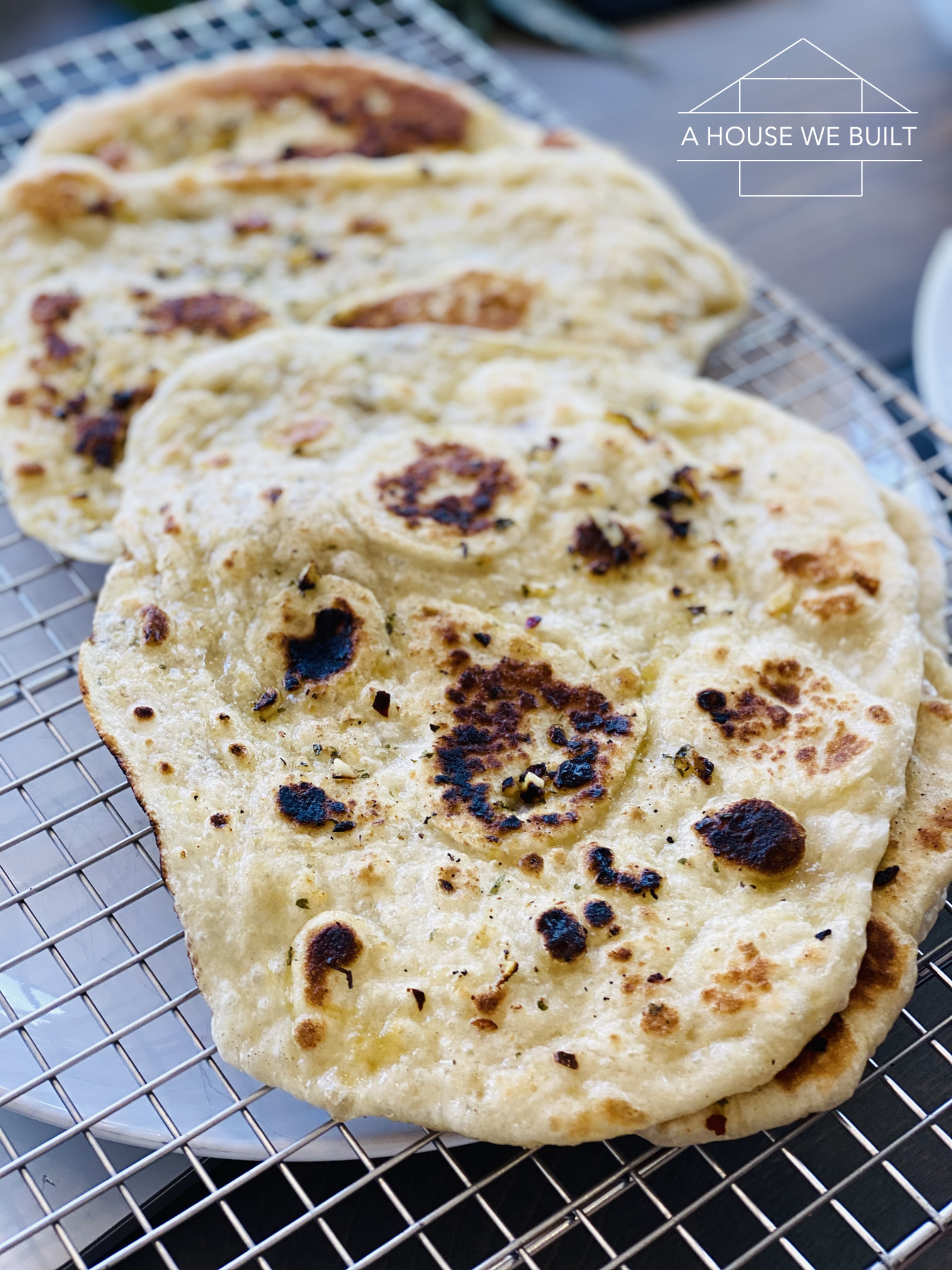 This is our newest favorite dish and since we've made it like 3 times in a row recently, I thought I'd share the recipes here (it's actually two recipes: one for the curry, one for the naan). These last few weeks, we've been focusing on meals made from pantry shelf staples without fresh ingredients as part of our efforts to keep staying home and limit grocery runs during these pandemic times.
Note: these are not ethnically-accurate recipes. These are just our own versions of these dishes so I'm sure the technique or recipe may not be authentic but they work really well and taste amazing!
RECIPE #1: POTATO CHICKPEA CURRY
Preparation: get all the following groups of ingredients prepped in bowls and set aside.

Into a small bowl | Spice blend:
3 tbsp curry powder 
2 tsp ginger (or grated fresh ginger if available)
1 1/2 tsp smoked/normal paprika 
3/4 tsp cumin powder
3/4 tsp cayenne pepper
1 tsp salt
Into a larger bowl | Wet ingredients: 
1 can (~2 cups) chickpeas, drained and rinsed
1 can (~2-3 cups) crushed tomatoes
1 can (~2 cups) coconut milk (if you don't have coconut milk, substitute veggie stock)
2 cups vegetable broth/stock
Into a large sauce pot that you'll be cooking the curry in:
2 tbsp olive oil 
1-2 onion, diced
4 garlic cloves, minced (optional)
Into a cast iron pan or baking sheet:
2-3 medium potatoes, cut into small cubes
3 tsp olive oil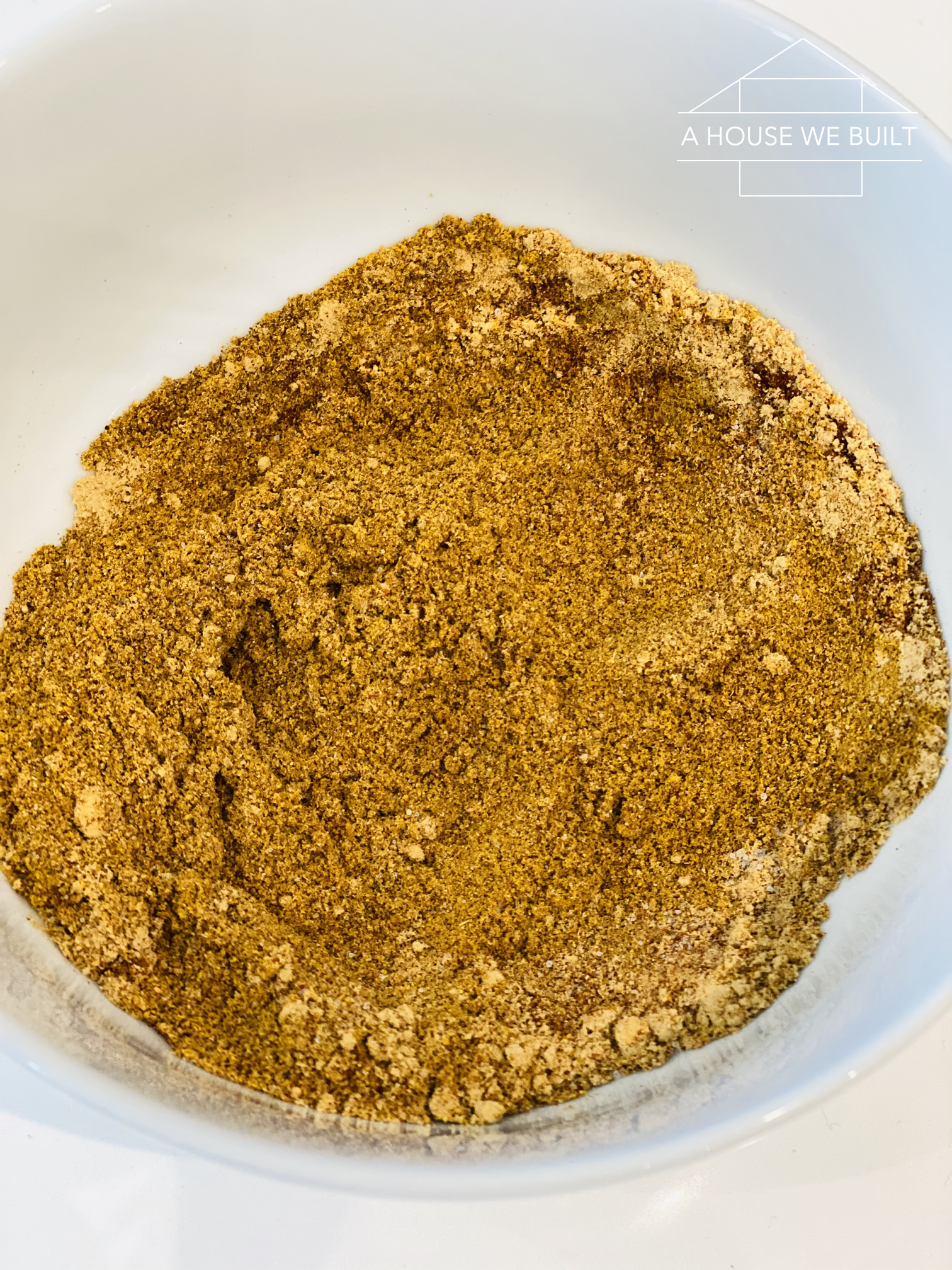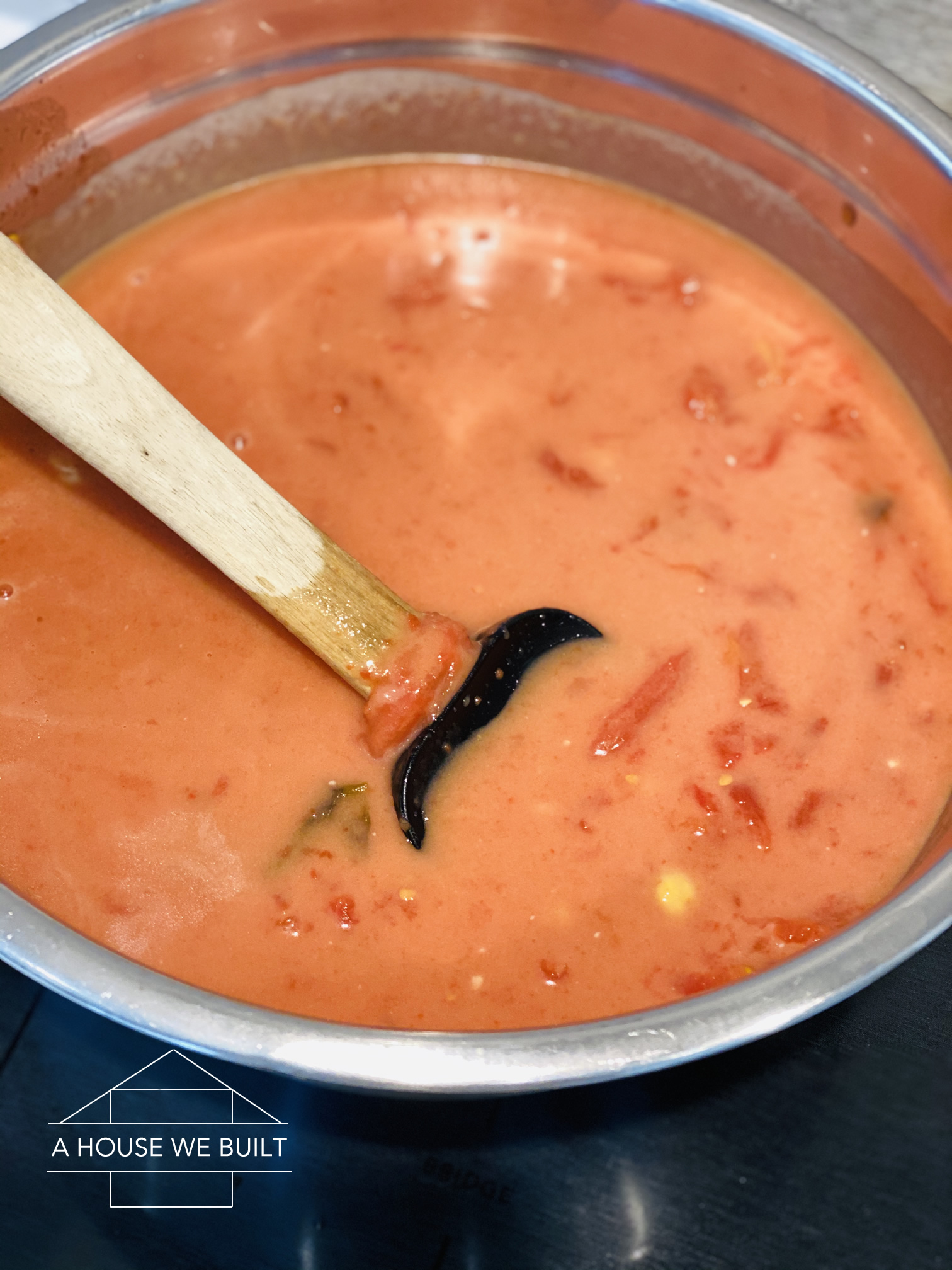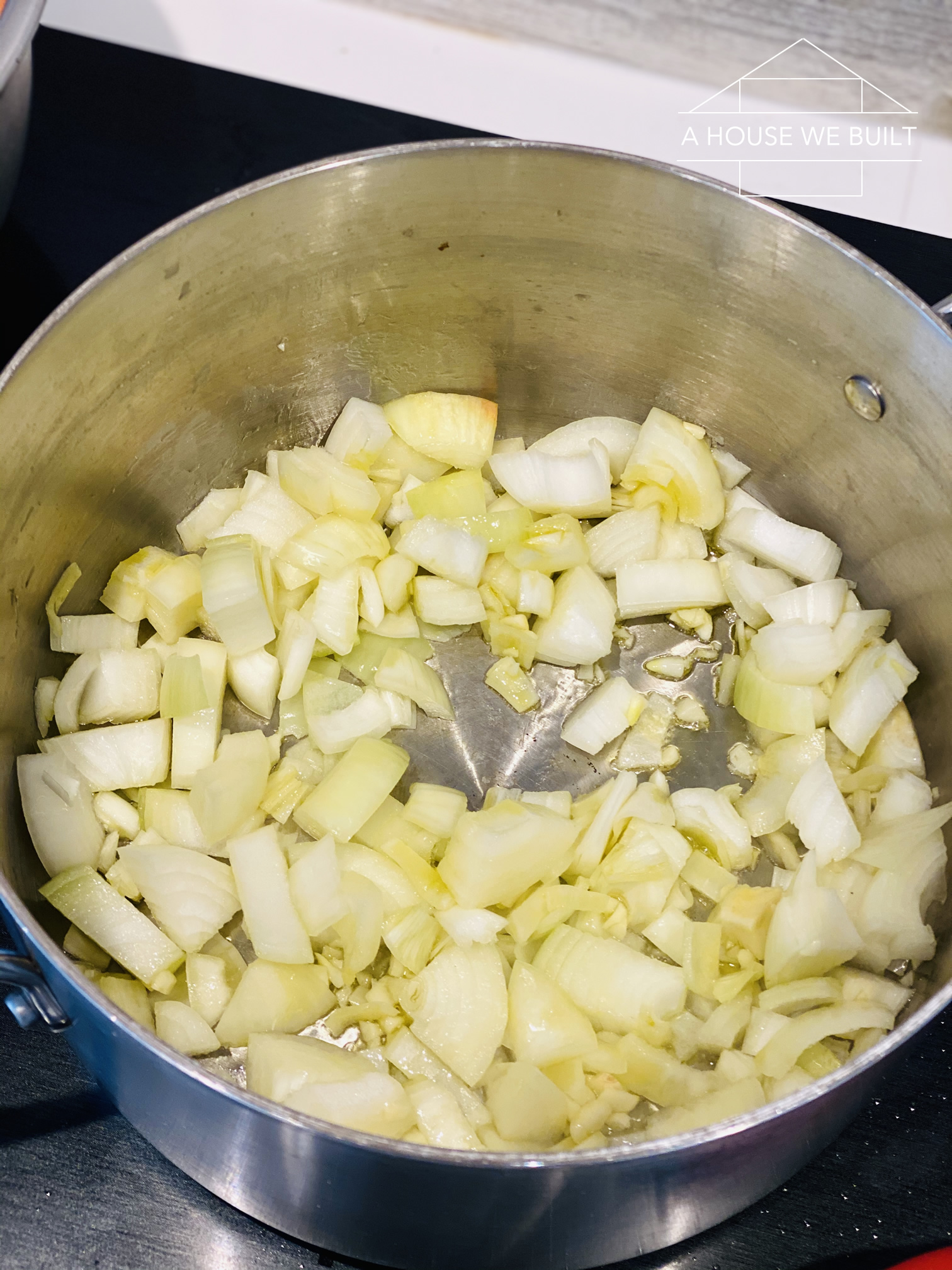 Cooking instructions for potatoes:
Option 1: fry the potato chunks in olive oil on the stovetop in a cast iron pan on medium-high heat, stirring every 2 minutes until they are crispy on all sides and fork tender. About 10 mins.
Option 2: roast the potato chunks in olive oil in the oven at 350-400, stirring every 5 minutes until they're fork tender.
Cooking instructions for main curry:
In large pot on medium-high heat, stir garlic/onion/olive oil for 3 min until onion is translucent.
Add  in Spice Blend and stir for 1 minute.
Add the chickpeas, tomatoes, broth, and coconut milk. Bring to boil then turn down the heat to medium and simmer for 35 minutes or until the sauce has thickened. Stir every 5 minutes.
Add in fried/baked potato chunks whenever they're ready. Then you're done!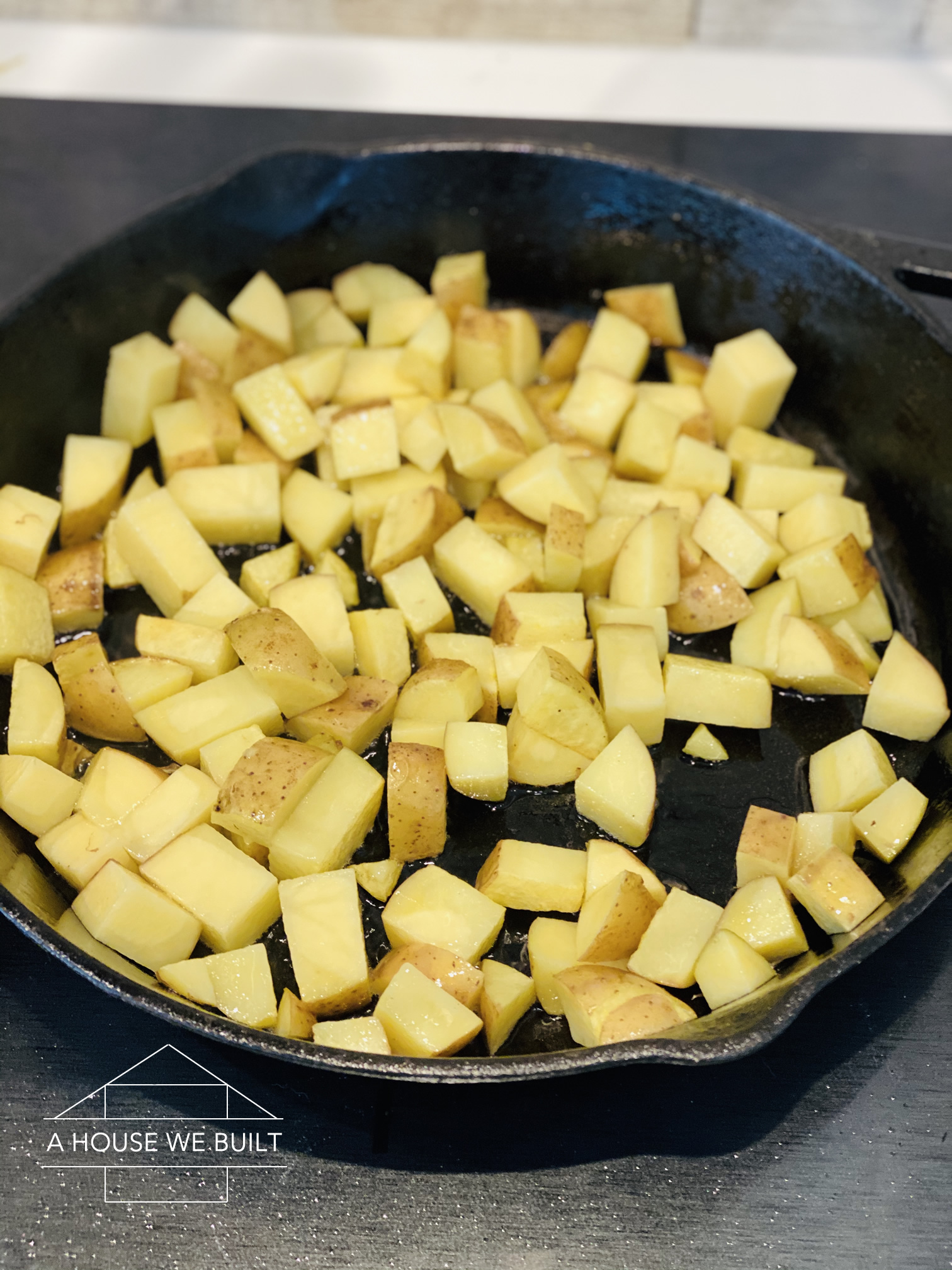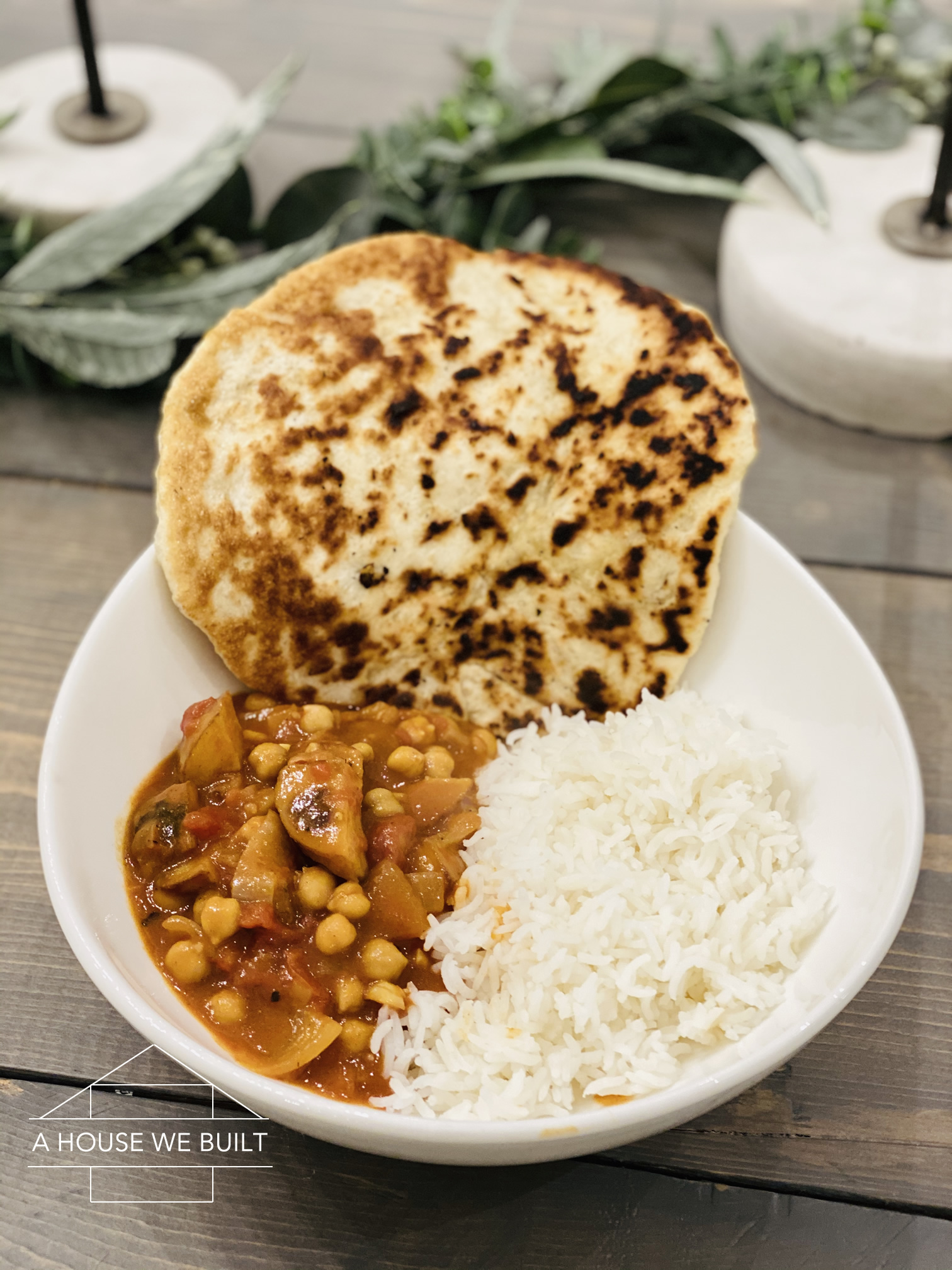 Notes:
Rutabagas work instead of potatoes, and squash would also be good. Prepped same way.
Possible additions: peas, lentils, cumin seeds.
Serve with rice and/or naan bread.
RECIPE #2: VEGAN NAAN BREAD
Dough ingredients:
~3 loose cups or 375g sifted all-purpose flour
2 1/2 tsp active dry yeast
2 tsp coarse grain salt (or 1 tsp table salt)
1 cup + 1/8 cup warm water
1 tbsp honey
1 tbsp olive oil
Dough preparation:
Combine flour, yeast, & salt.
Add honey to warm water and mix that up.
Using a stand mixer (Amazon | Bed Bath & Beyond), slowly add wet ingredients to dry ingredients, mixing constantly. Mix on medium until dough comes away from sides (1-2 mins).
Add olive oil using it to coat the dough and create a ball.
Leave in a bowl, covered, for at least 1 hour until it triples in size.
Olive oil/garlic mixture: (only do this if you want garlic naan)
4 garlic cloves, finely minced
1/2 tsp dried parsley
1/2 tsp salt
2 tbsp olive oil
Cooking instructions:
Divide dough into 6 balls (pinch them away).
Roll them out flat with rolling pin (use olive oil if too sticky, not flour) until about 1/8″ to 1/4" thick
To cook, place them on a cast iron pan pre-heated to medium-high heat. Once the dough has been placed in the pan, brush the top with the oil/garlic/herb mixture.
When it's cooked (~1 min), flip and cook the other side for about 30 seconds. Basically the same concept as a bready pancake. Repeat x6.
For sources from our kitchen, click here.
For sources from our pantry, click here.
For more of our recipes, click here.