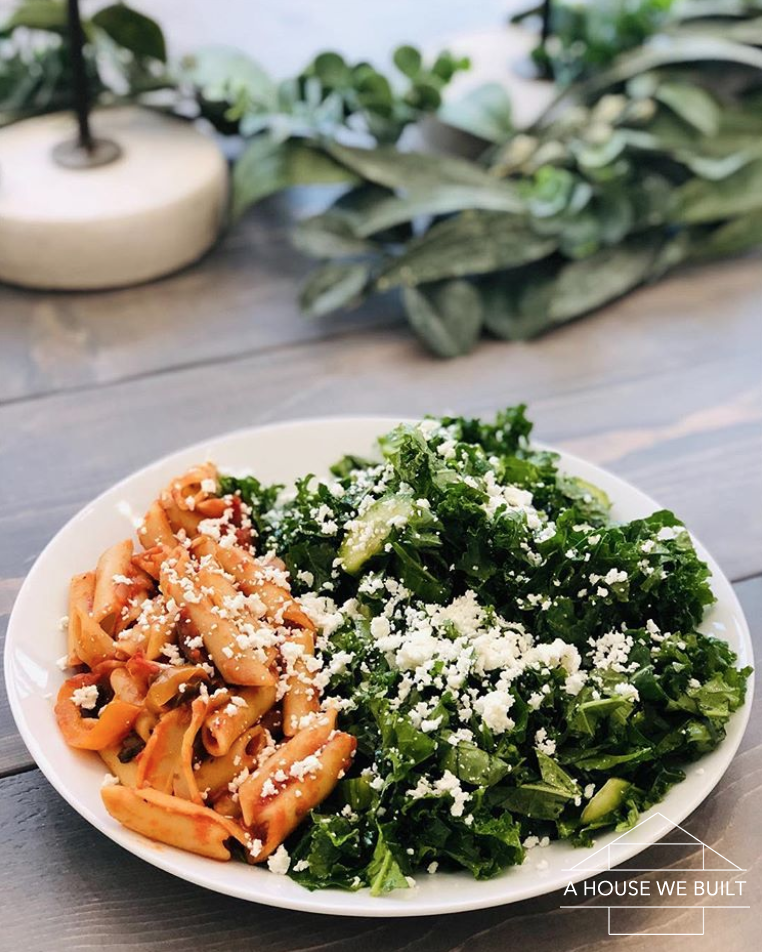 This is one of our go-to favorite quick-and-easy homemade meals! You can make the whole thing from scratch in the time it takes to boil the pasta (~15 mins) and it's healthy and hearty! We eat almost every meal at home and since I'm always showing you guys our kitchen and pantry and we've shown a few baked goods so far too, I thought I'd occasionally show some of the lunch/dinners we make too!
Start by making your pasta of choice. While it's cooking, make the sauce and salad.
Pasta sauce: Slice up 1 onion, 1 bell pepper, some mushrooms, and garlic cloves. On med-high heat stir them in a bit of olive oil til the mushrooms release their water. Stir in dash of dried oregano & basil, red pepper flakes, salt & pepper. Add 2 cans of crushed tomatoes and let simmer until pasta is ready. Then mix it all together. (Optional: add in a can of rinsed & drained chickpeas)
Salad: dice up kale (or lettuce), cucumber, parsley, or anything else you want. Dressing: juice of a lemon, 2 big glugs of olive oil, 2 dashes of balsamic vinegar, bit of garlic powder, couple drops of honey, salt & pepper to taste.
Sprinkle goat cheese on everything after serving (parmesan or pecorino romano work too). Everything is totally modifiable if you have picky eaters or allergies (if you want it more healthy just double the veggies!) but this is one of our go-to favorites! Ooo and if you have leftover pasta just throw it in a baking dish the next day with a sprinkle of cheese on top for a yummy pasta bake!
PS: I adore that garland in the background! This is the one I have: Wayfair and it's one of my fav recent additions to our house!