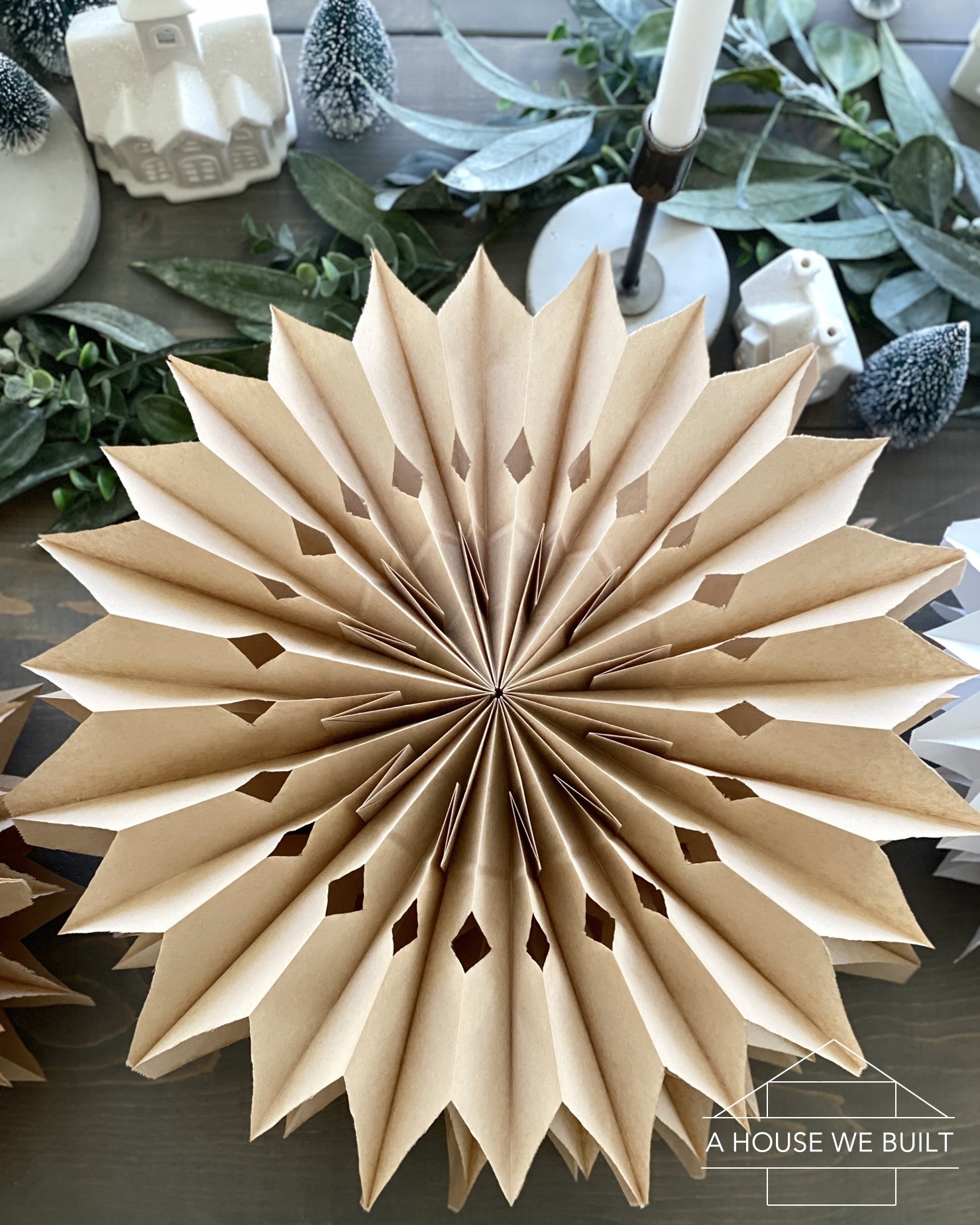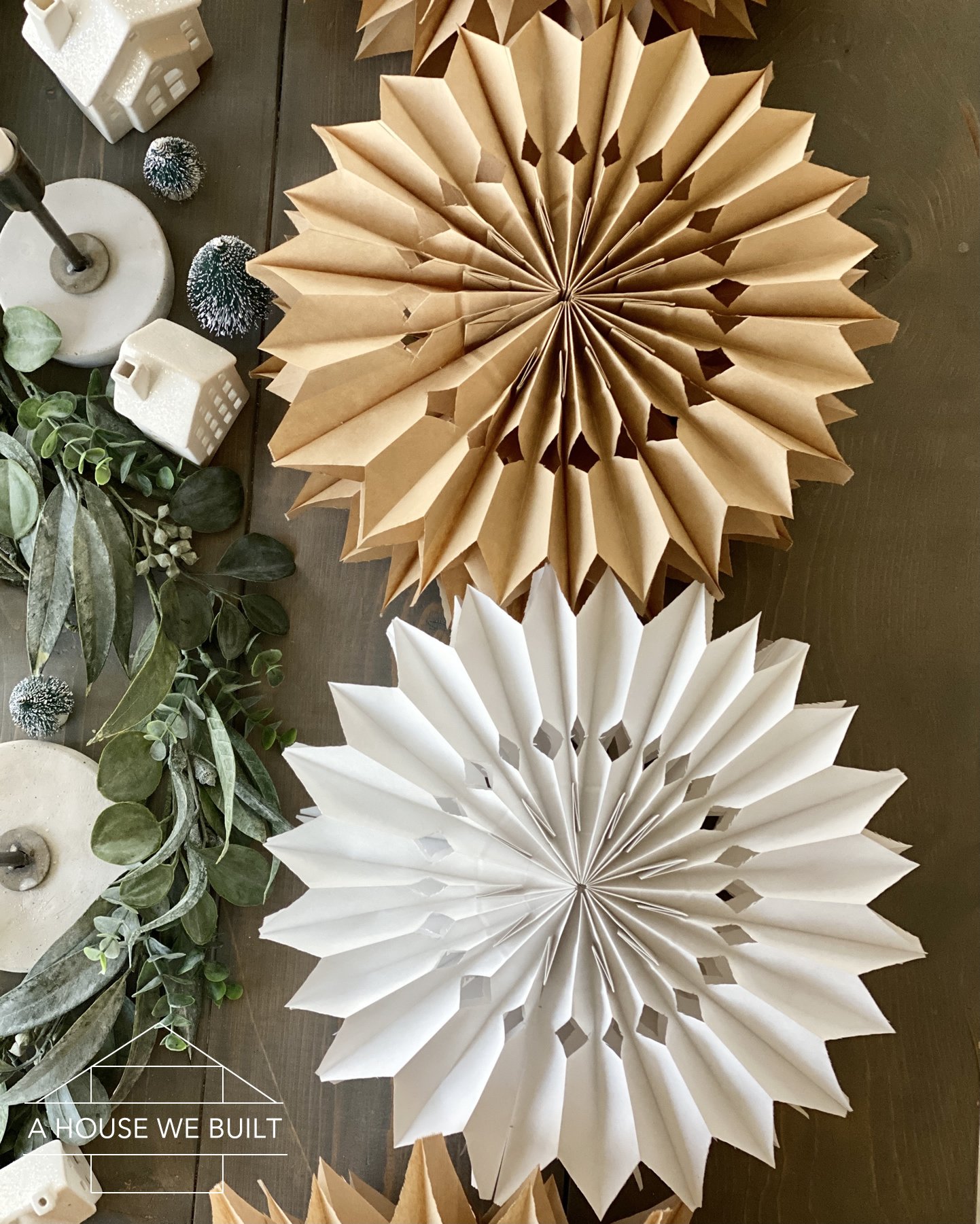 We made these huge paper stars for Christmas decor out of lunch bags and I'm going to share how to make them in this tutorial! They're beautiful and pretty easy to make, with a bonus of being recyclable!
MATERIALS:
Natural paper bags: Amazon (8-12 bags = 1 star)
White paper bags: Amazon
Black paper bags: Amazon
Craft glue stick: Amazon
Heavy duty scissors
Stapler
*Note: the way you get different size stars is simple to use different sized lunch bags. The size of your star will always be double the length of the bag you use so to get a 12″ star you need to use 6″ bags etc.
INSTRUCTIONS: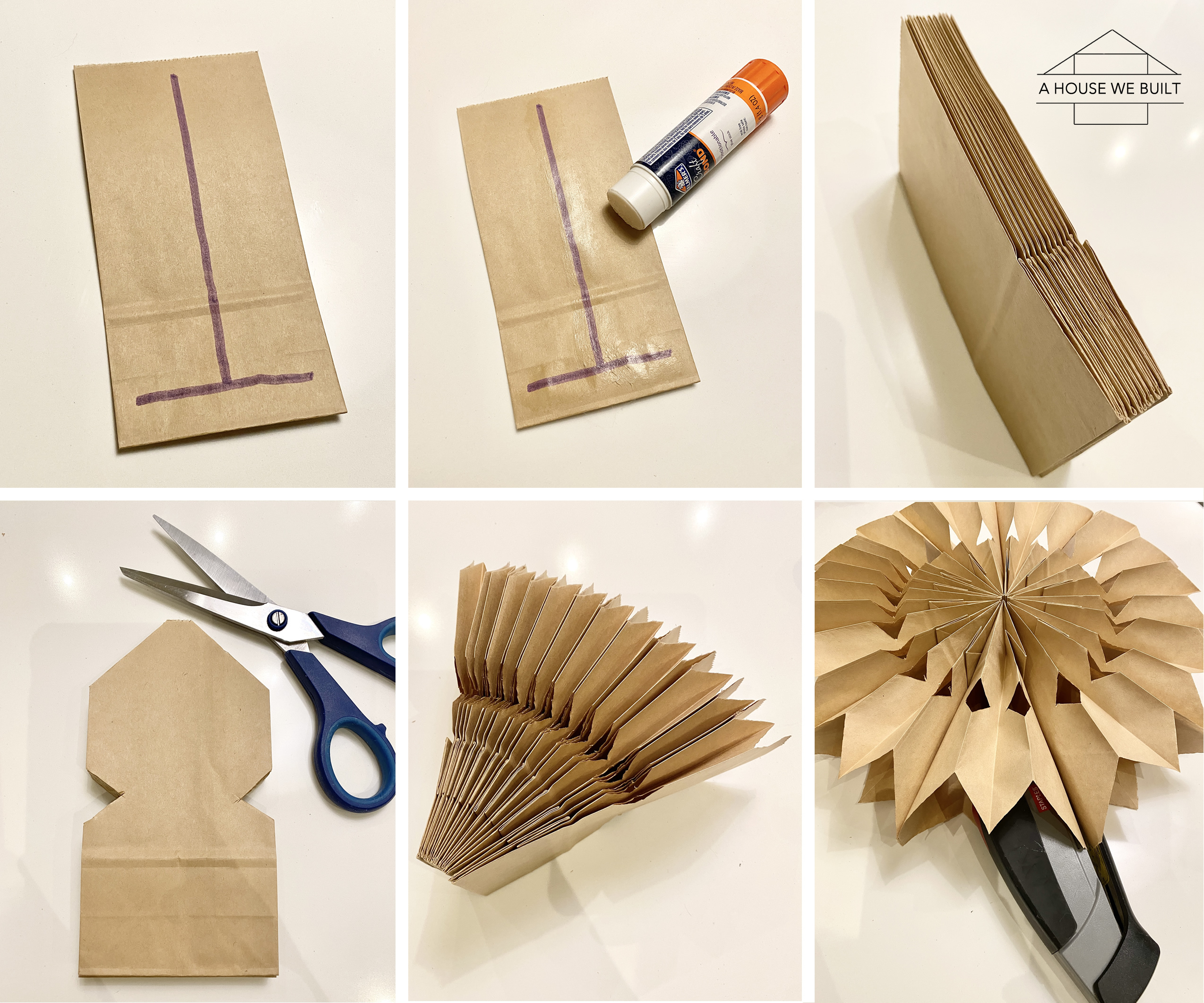 Glue your bags on top of each other. In the pictures above, I've indicated where to glue with a marker. Each star will need about 8-12 bags depending the size. Allow the glue to dry fully before moving on. The glue has to hold well for these stars to work.
Cut out your design. I found the cutout design shown in the bottom left pic above worked best but you can get super creative with it. Note that cutting through these is hard work because you have to make it through all the bags so it's definitely a task for an adult with heavy duty scissors.
Grab the two outer bag pieces and slide them around until they touch, then secure them together with more glue and I found that two staples per star helped hold it in place as it dried (one staple at the outer edge and another as far in as my stapler could reach).
Alternative option: You could pre-cut all the individual paper bags (using the first one you cut as a template for the rest of them) before you glued all the bags together. This would make the cutting easier.
How to hang the stars: I use little command hooks (Amazon) to hang the stars on my walls without causing damage. Just be sure to follow the removal instructions they come with exactly and always test one out somewhere hidden first. I've never had any issues removing them though!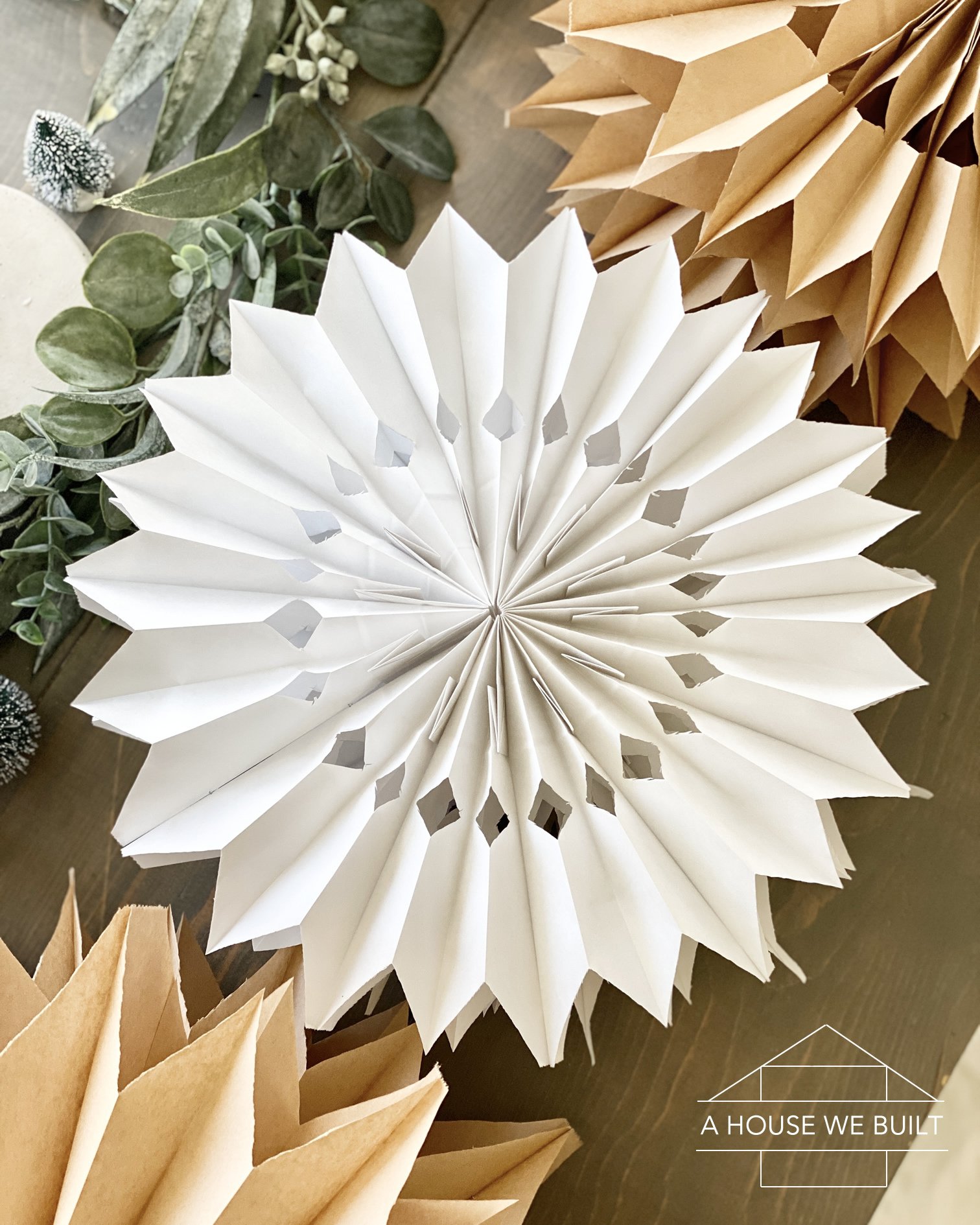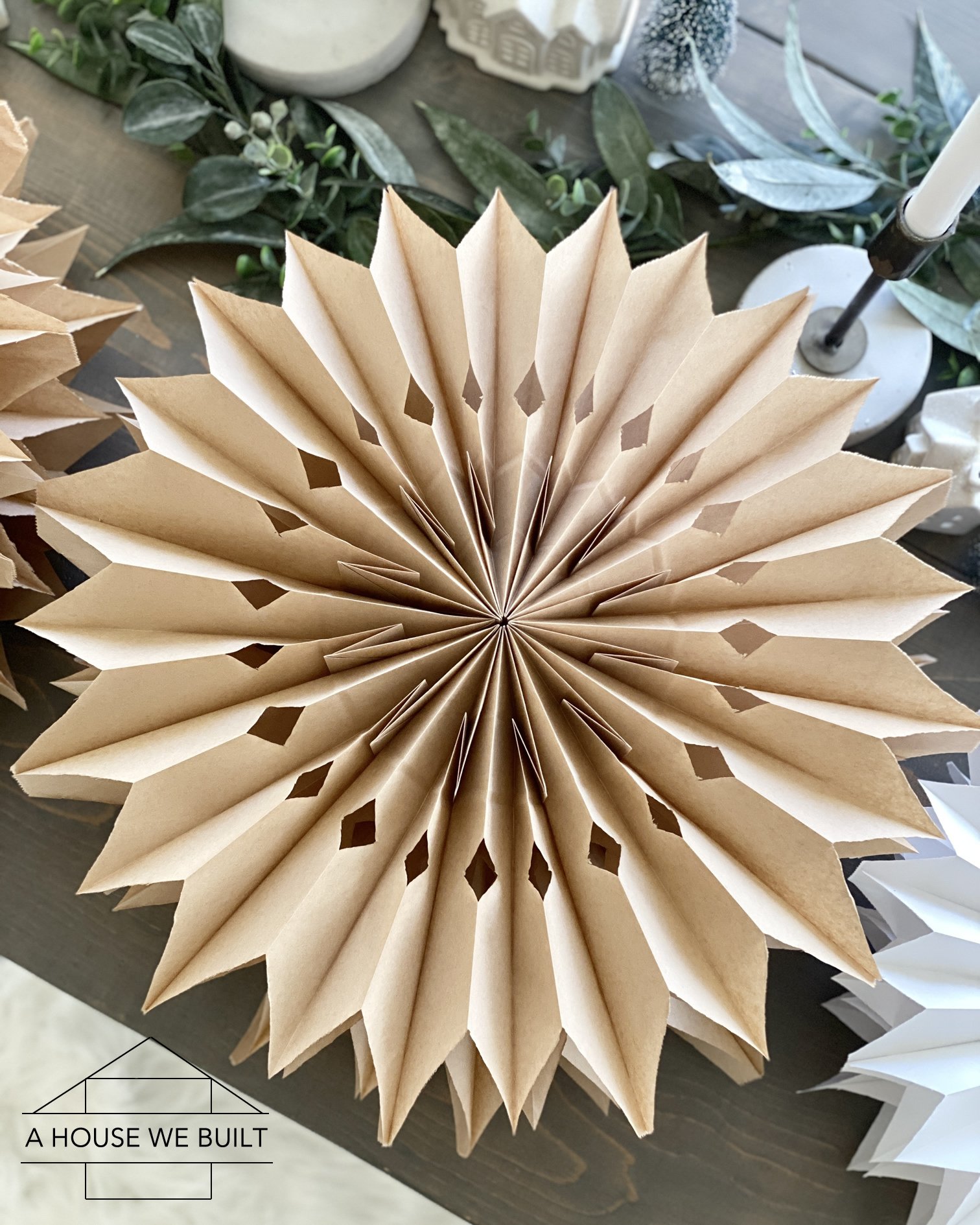 For more Christmas posts, click here.
For more DIY tutorials, click here.
To explore our house, click here.
To shop our home pics, click here.
Follow us on Instagram to see our daily posts here: @ahousewebuilt.