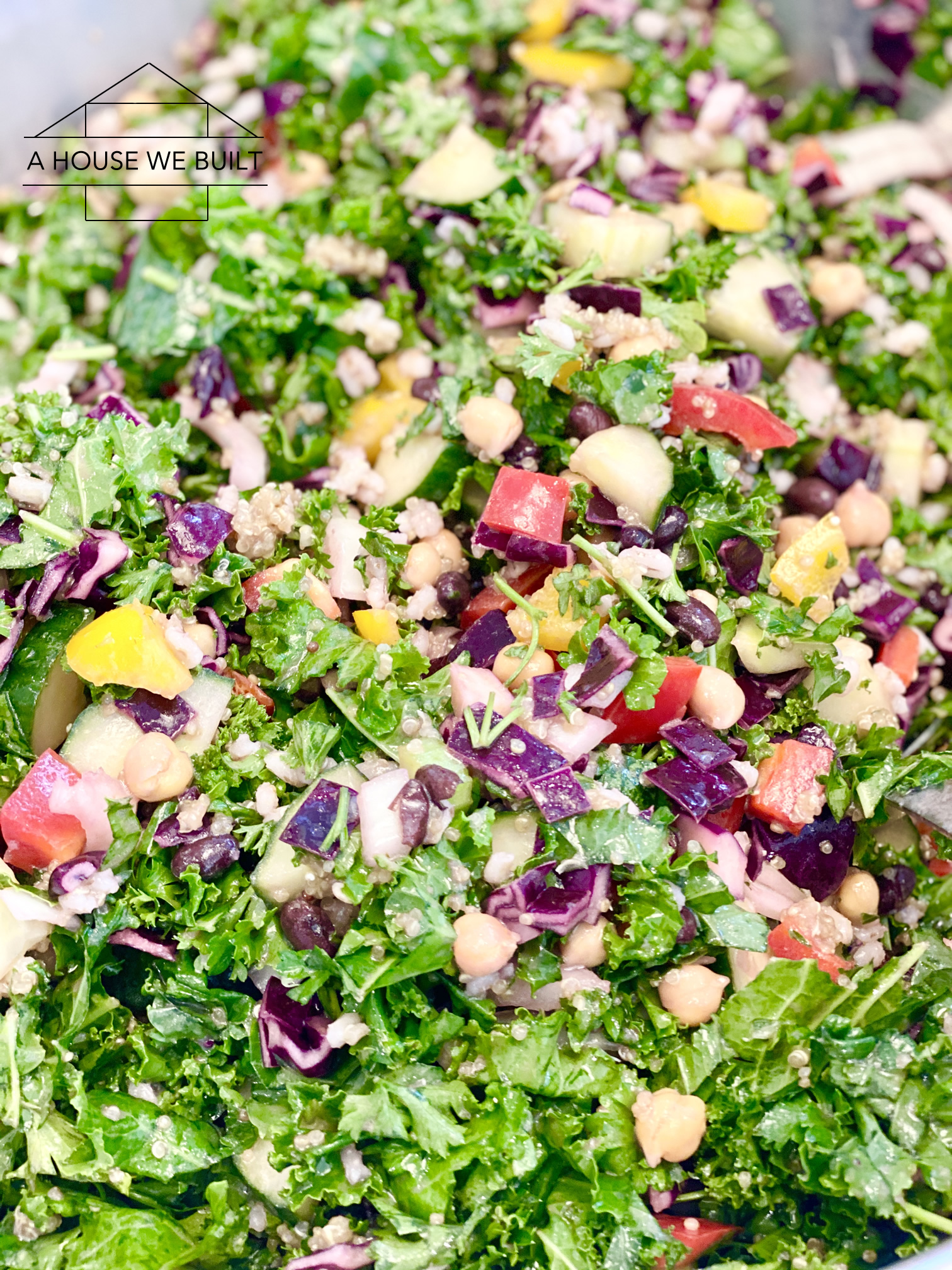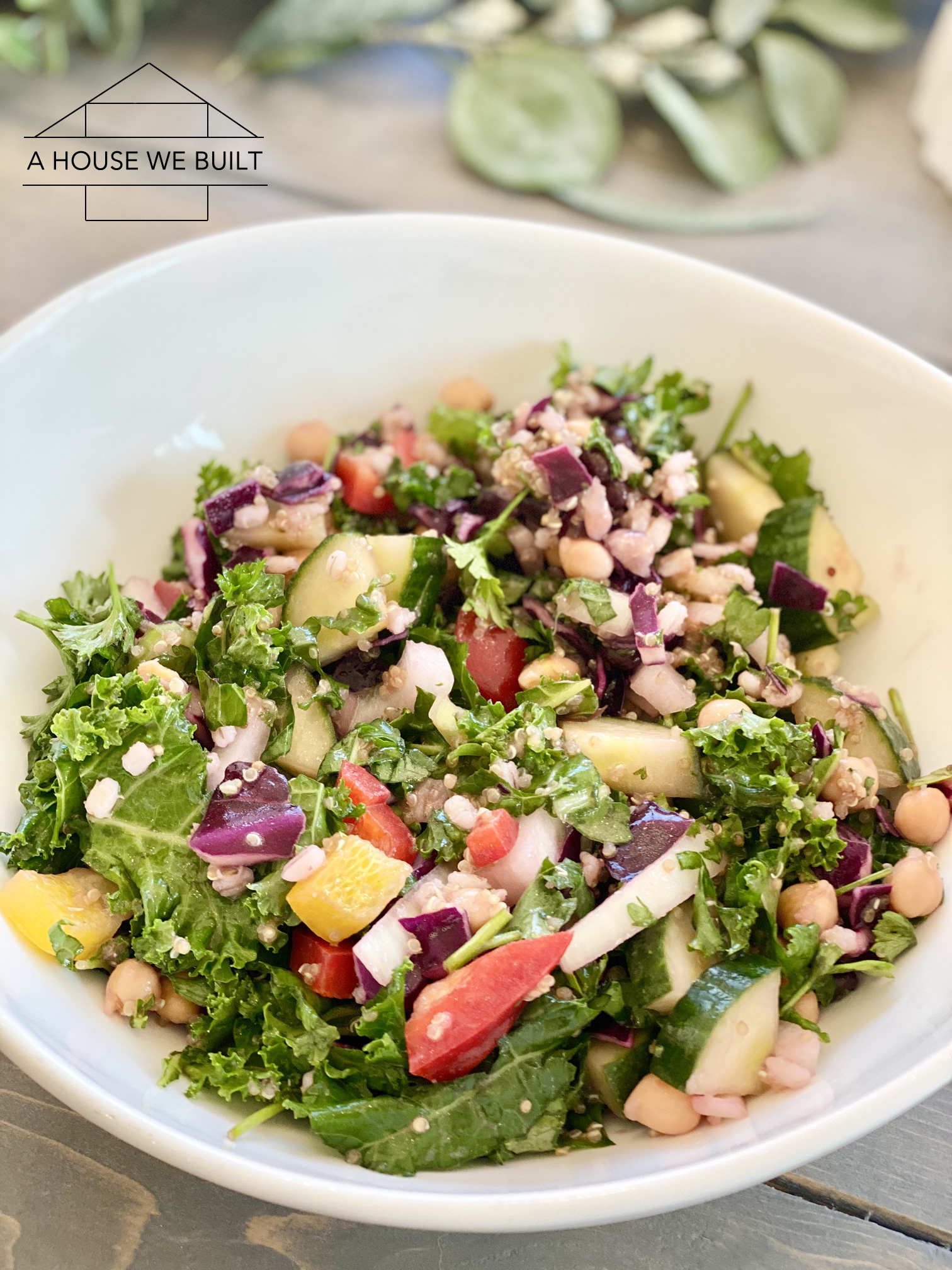 If you're looking for a healthy, hearty, filling salad that you can make in advance, that will last for several days in your fridge, and that's filled with nutrients, then you've come to the right place!
I make a huge batch of this salad almost every weekend (usually at least 3 times a month) and it'll last through the middle of the week. It stays fresh because the ingredients used in it are all ones that are not only totally fine to store in the fridge for a few days, but most of them just get even tastier with time.
That's why this salad is loaded with veggies that all keep very well, but there are no ingredients like avocados, lettuce, and tomatoes (for example) because they don't last well once prepared.
The logic behind this salad is to give yourself something healthy that is just sitting in your fridge waiting for whenever you get hungry. I like to call it a "bowlful of health" because it's literally a combination of some of the most nutrient dense and healthy foods that it's possible to eat. Plus, it tastes delicious and it's also filling and satiating thanks to the grains and proteins. Having something pre-prepared and easy to serve like this makes snacking on unhealthy foods much less likely because you can just grab this and go!
Essential veggies (add all of the following, unless you don't like one of them):
2 heads of kale (de-stemmed and chopped finely)
2 bunches of curly parsley (de-stemmed and chopped finely)
2 bell red/orange/yellow peppers, chopped into small pieces
2 large cucumbers, chopped into small pieces
1 medium red/yellow onion, chopped into small pieces
1/2 small red cabbage, chopped into small pieces
Optional veggies:
1-2 celery stalks, chopped into small pieces
1 medium carrot, chopped into small pieces
Grains (add at least 1 of the following, though I recommend adding 2 of them. If you're going to just add one of them, then I would recommend you double the amount to 2 cups):
1 cup cooked quinoa
1 cup cooked barley
1 cup cooked wild rice
Proteins (add at least 2 of the following):
1 can lentils (drained & rinsed)
1 can chickpeas (drained & rinsed)
1 can beans (drained & rinsed) *my favs are black and kidney
Dressing (mix the following ingredients together in a bowl then pour over salad & stir everything together):
Juice of 2-3 lemons/limes
As much olive oil as lemon/lime juice
1 tsp balsamic vinegar
1 tsp garlic powder
Little squeeze of honey
Salt & pepper to taste (I like a lot of both)
Note about the dressing: if you prefer using fresh garlic, you can substitute 1 clove of garlic for the garlic powder, but then you'll need to blend it in a high-powered blender like a Nutribullet (Amazon).
Store it in the fridge in an air-tight container. Usually lasts about 3 days.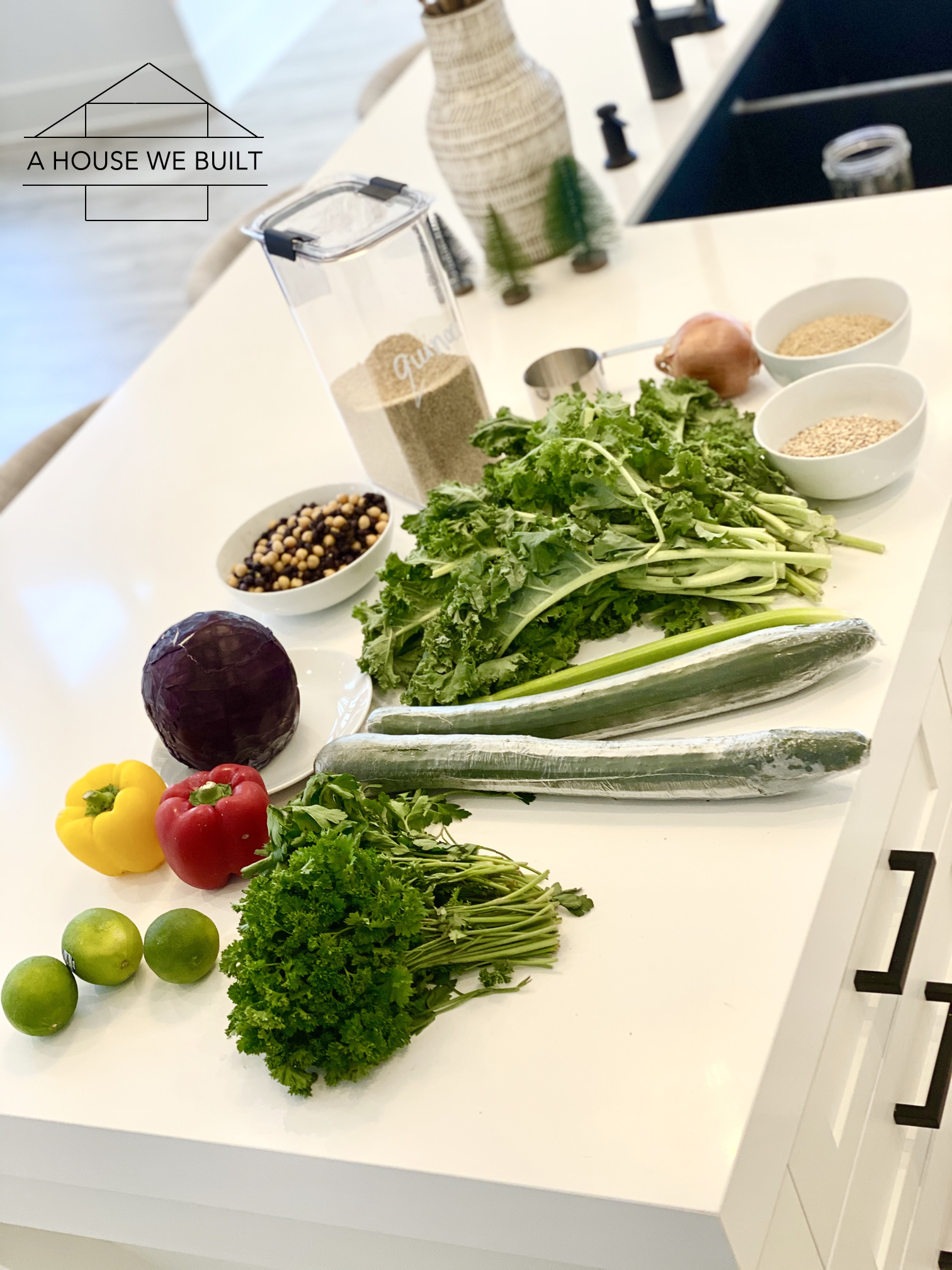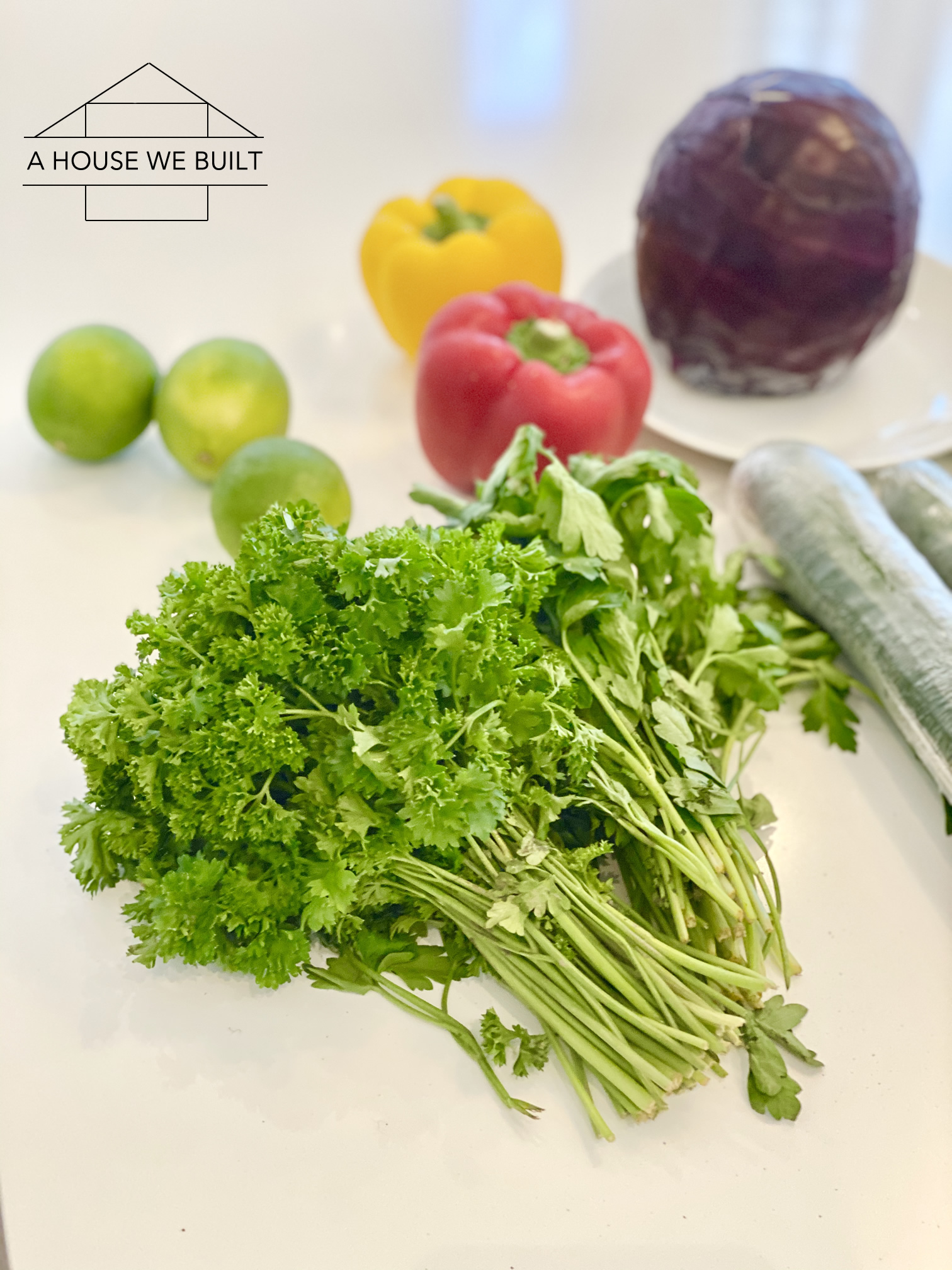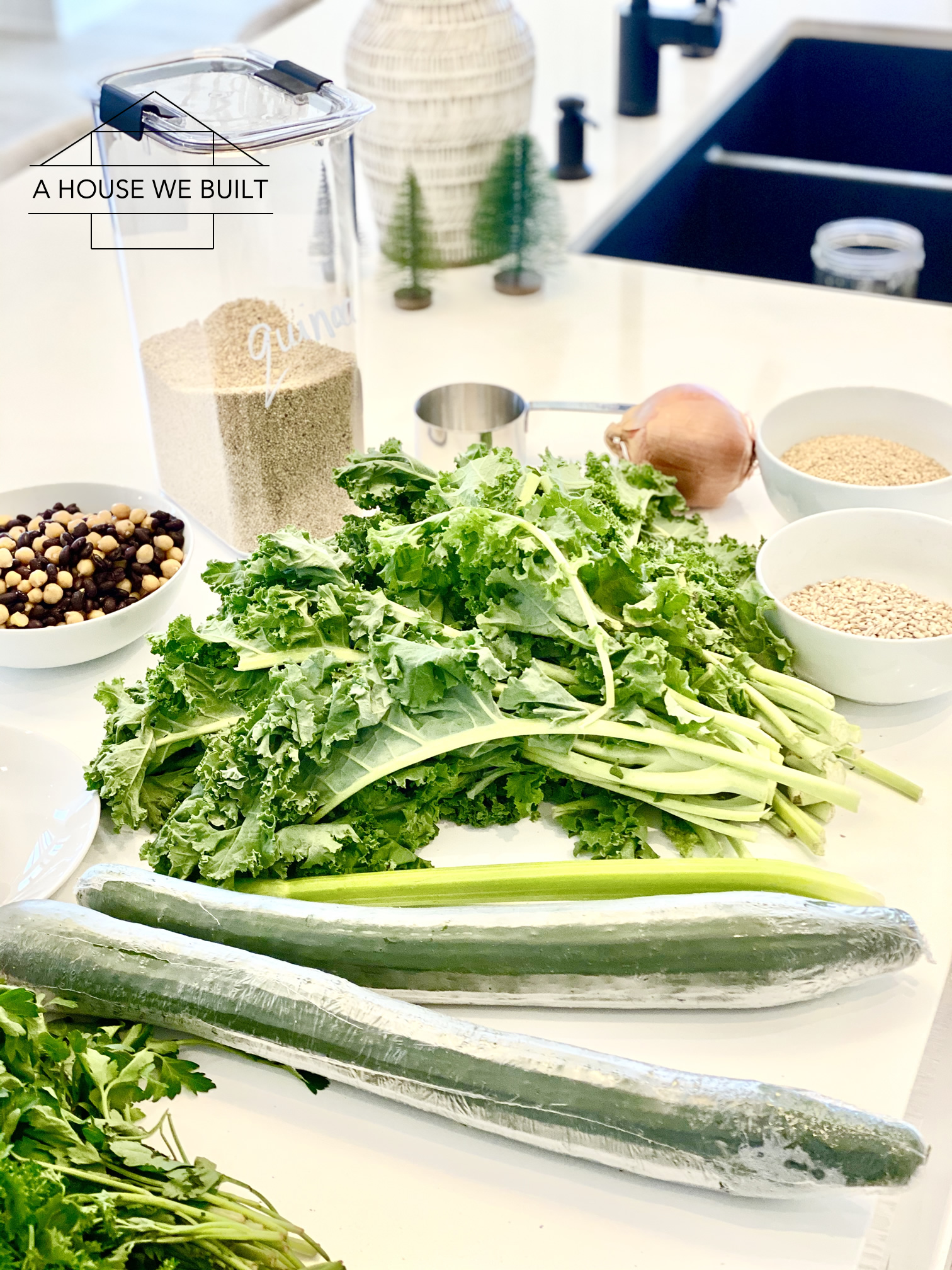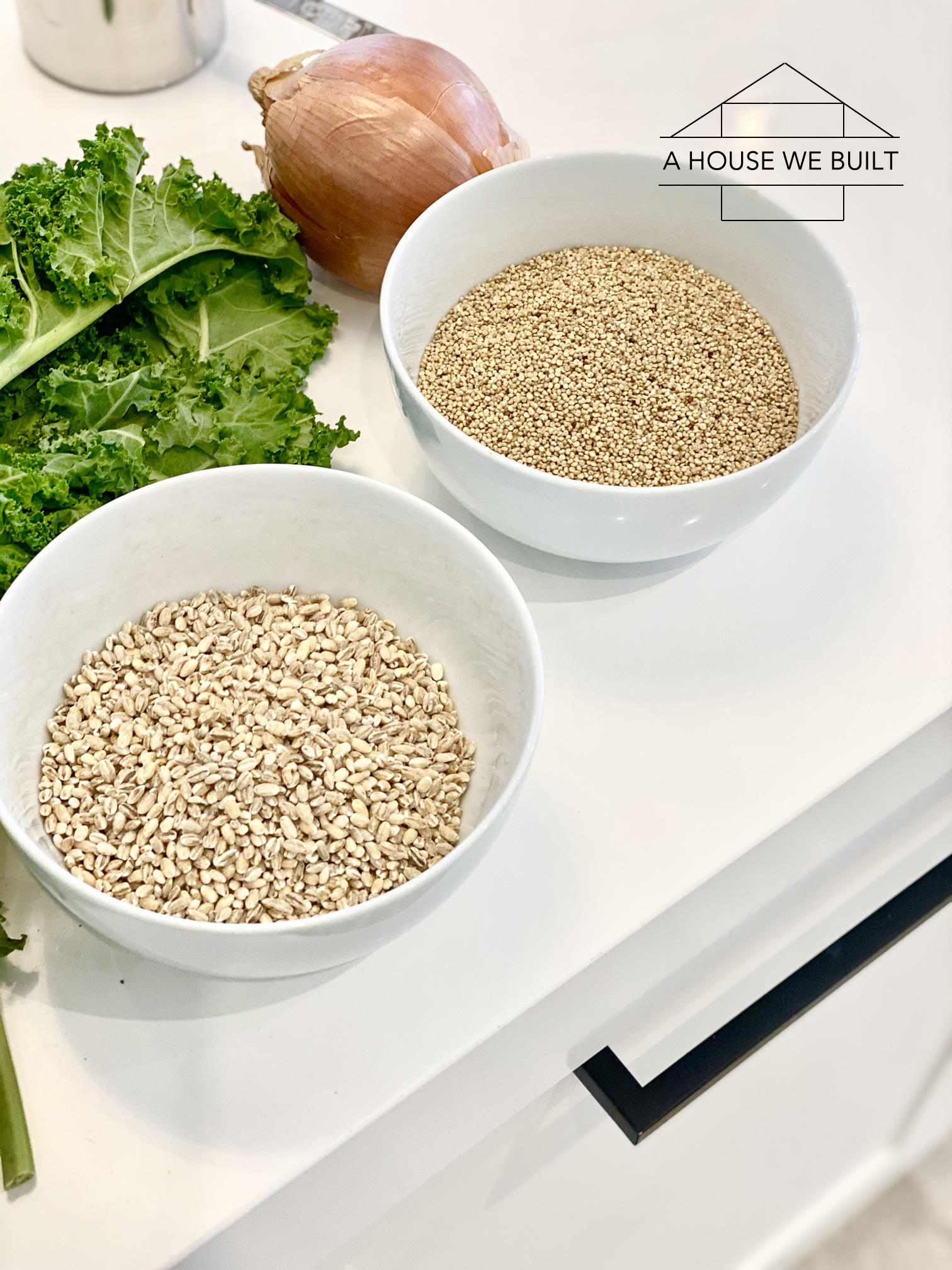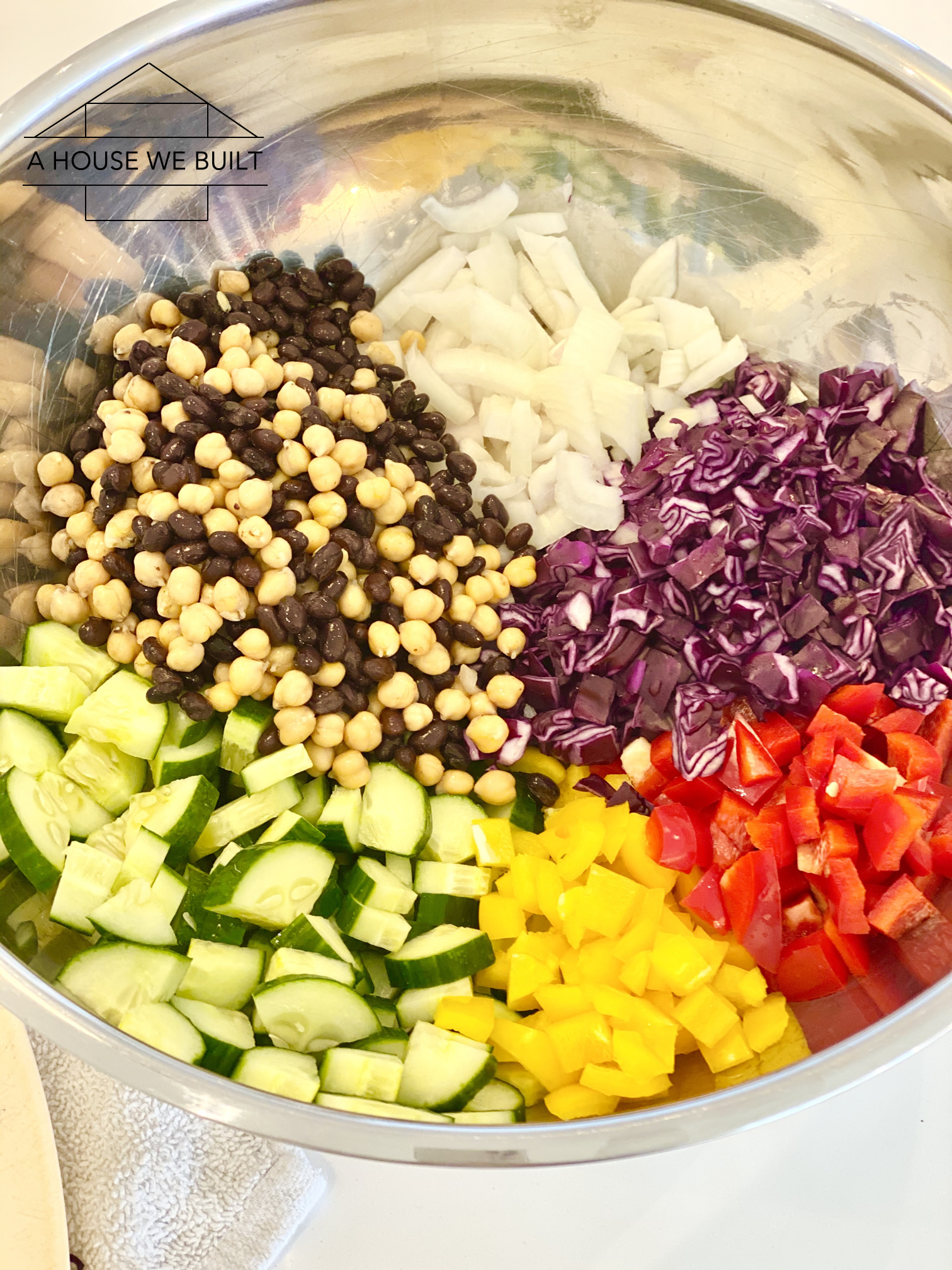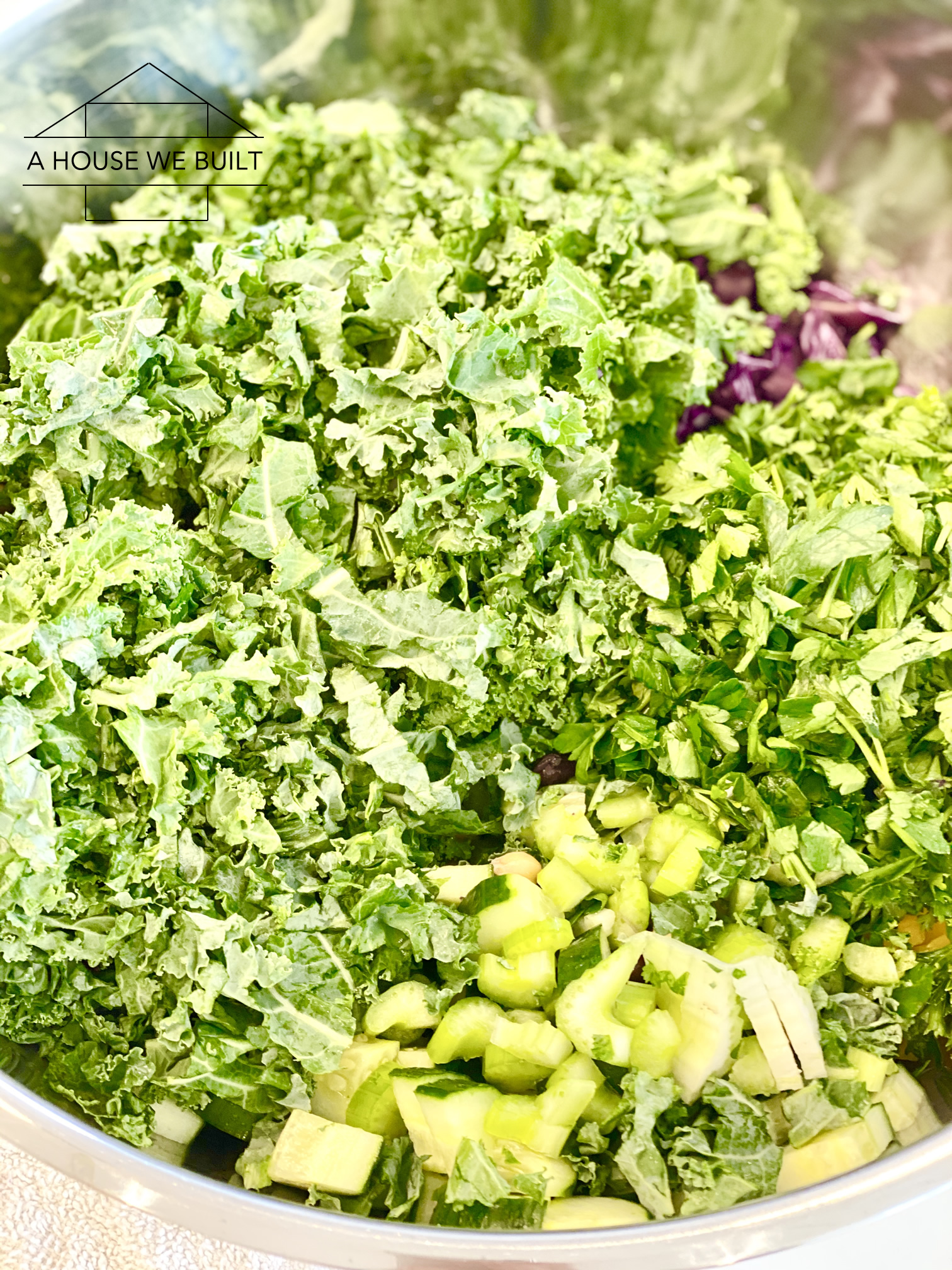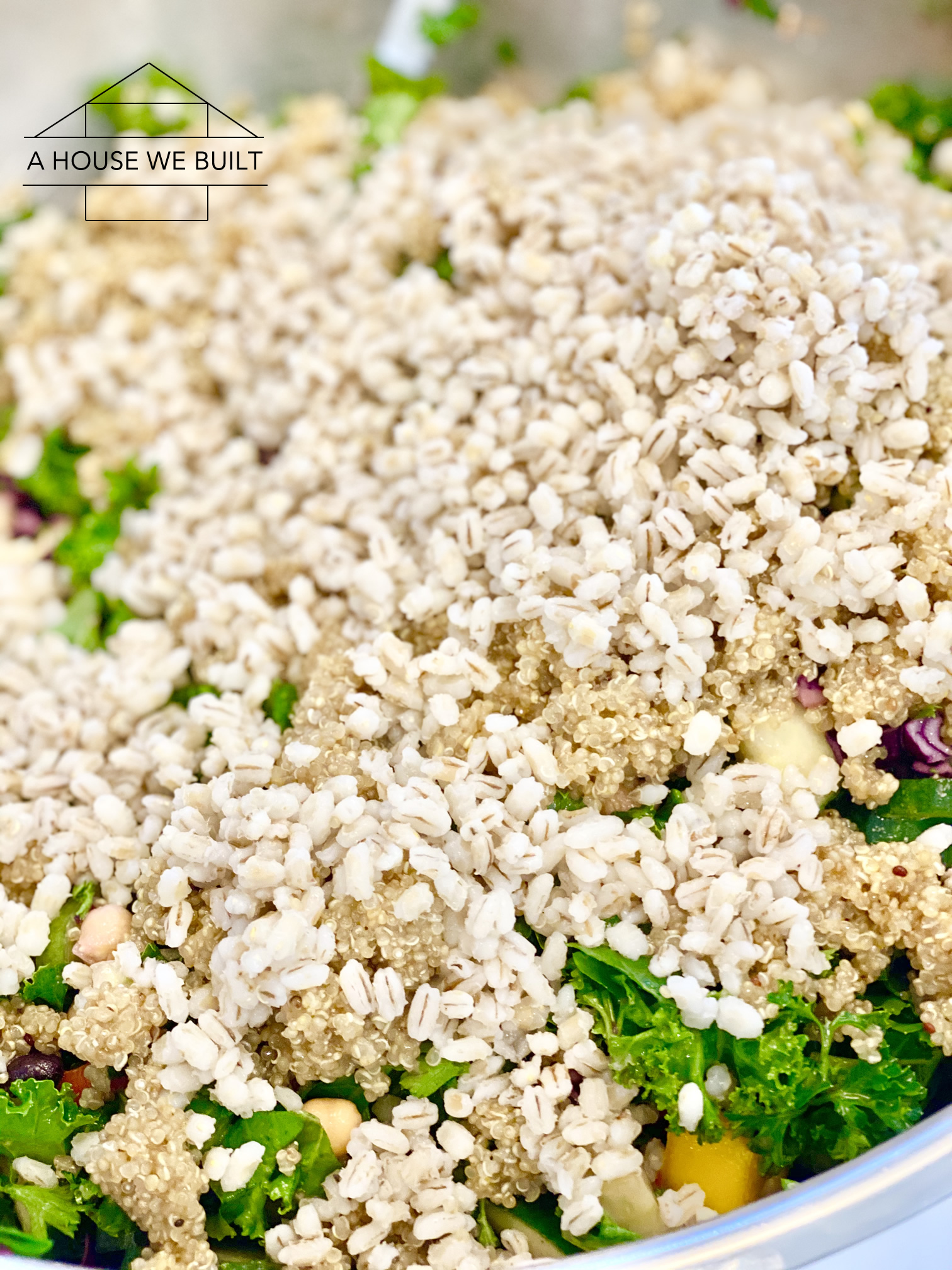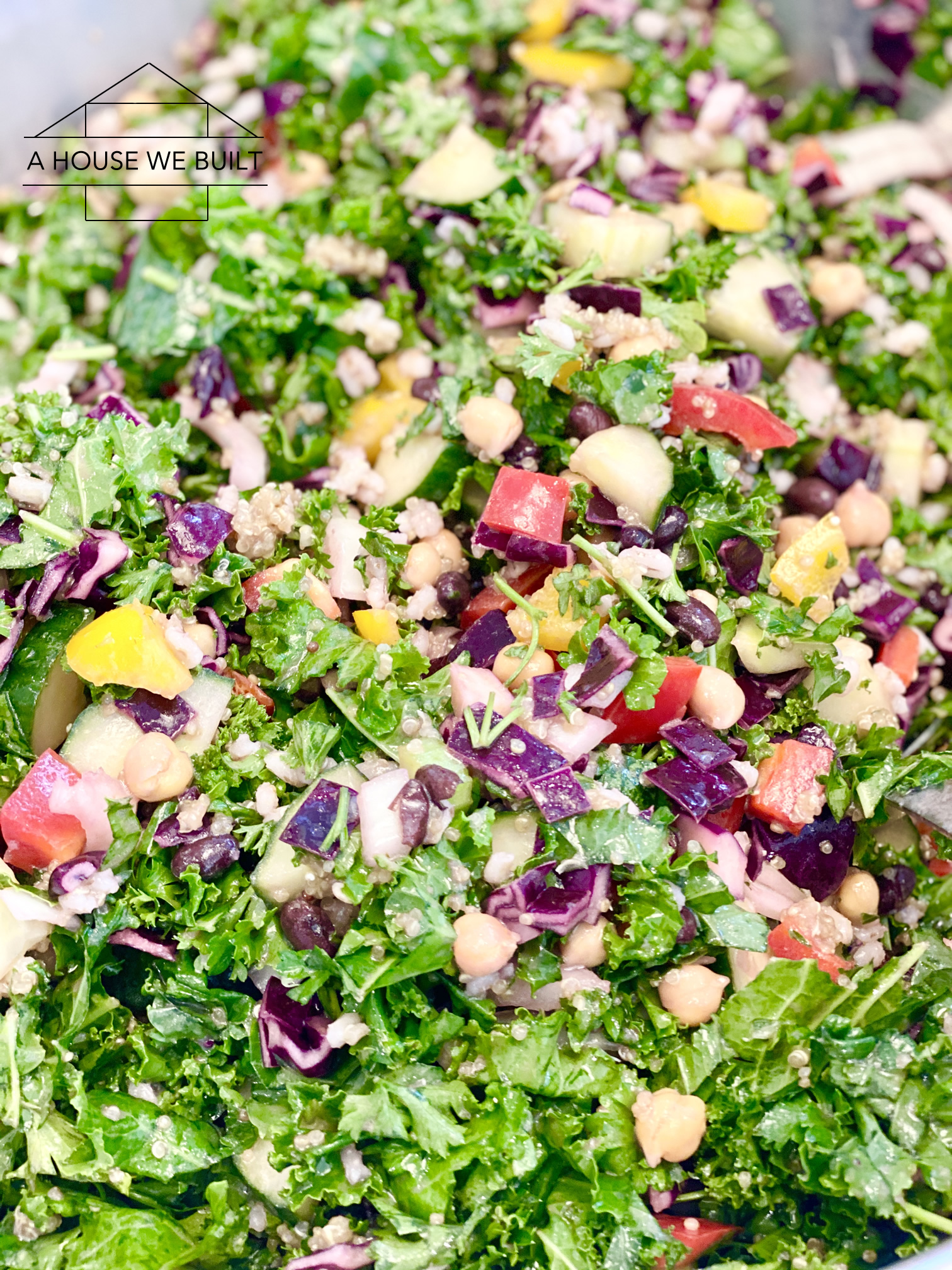 Sources from these pics: