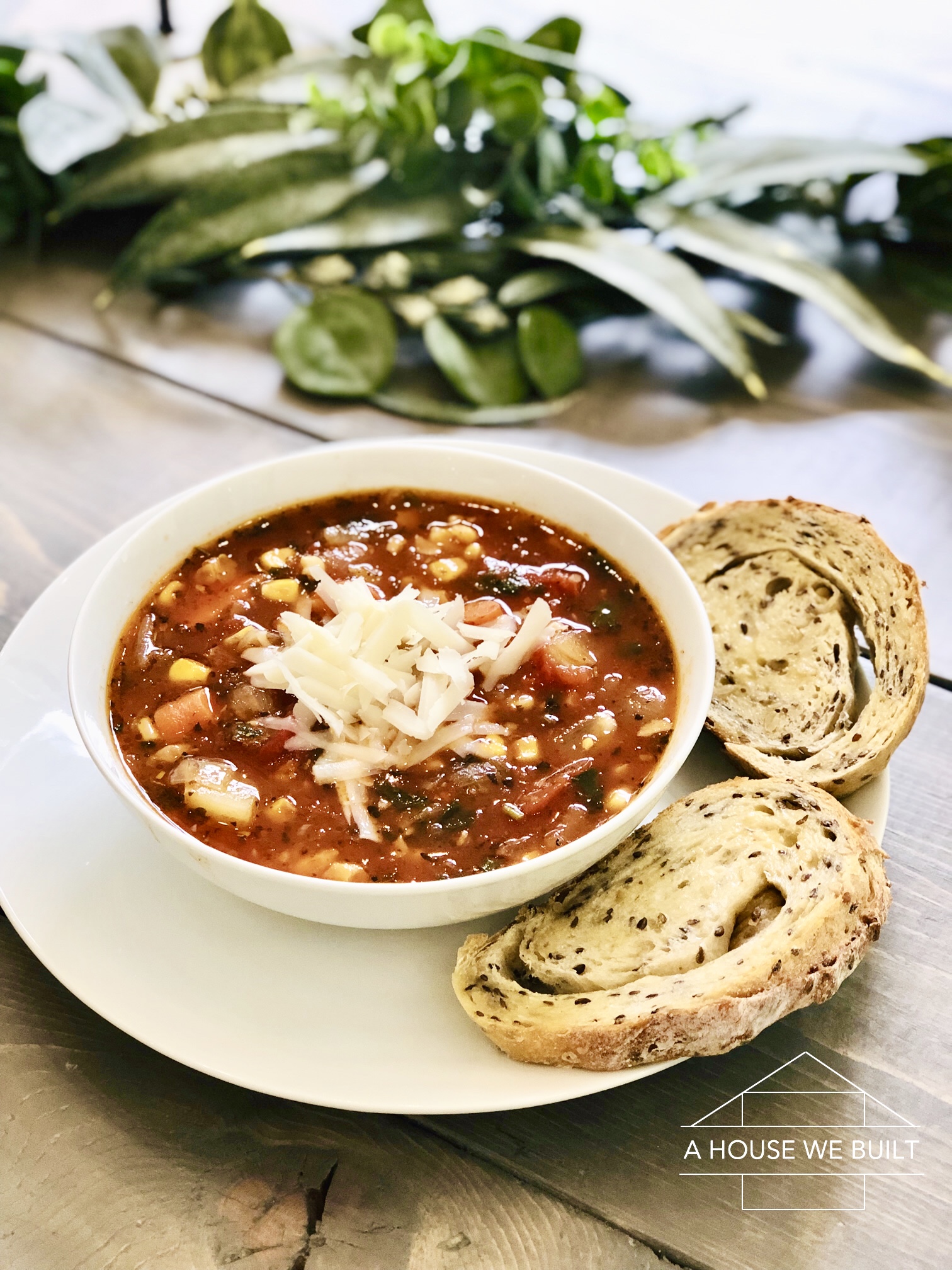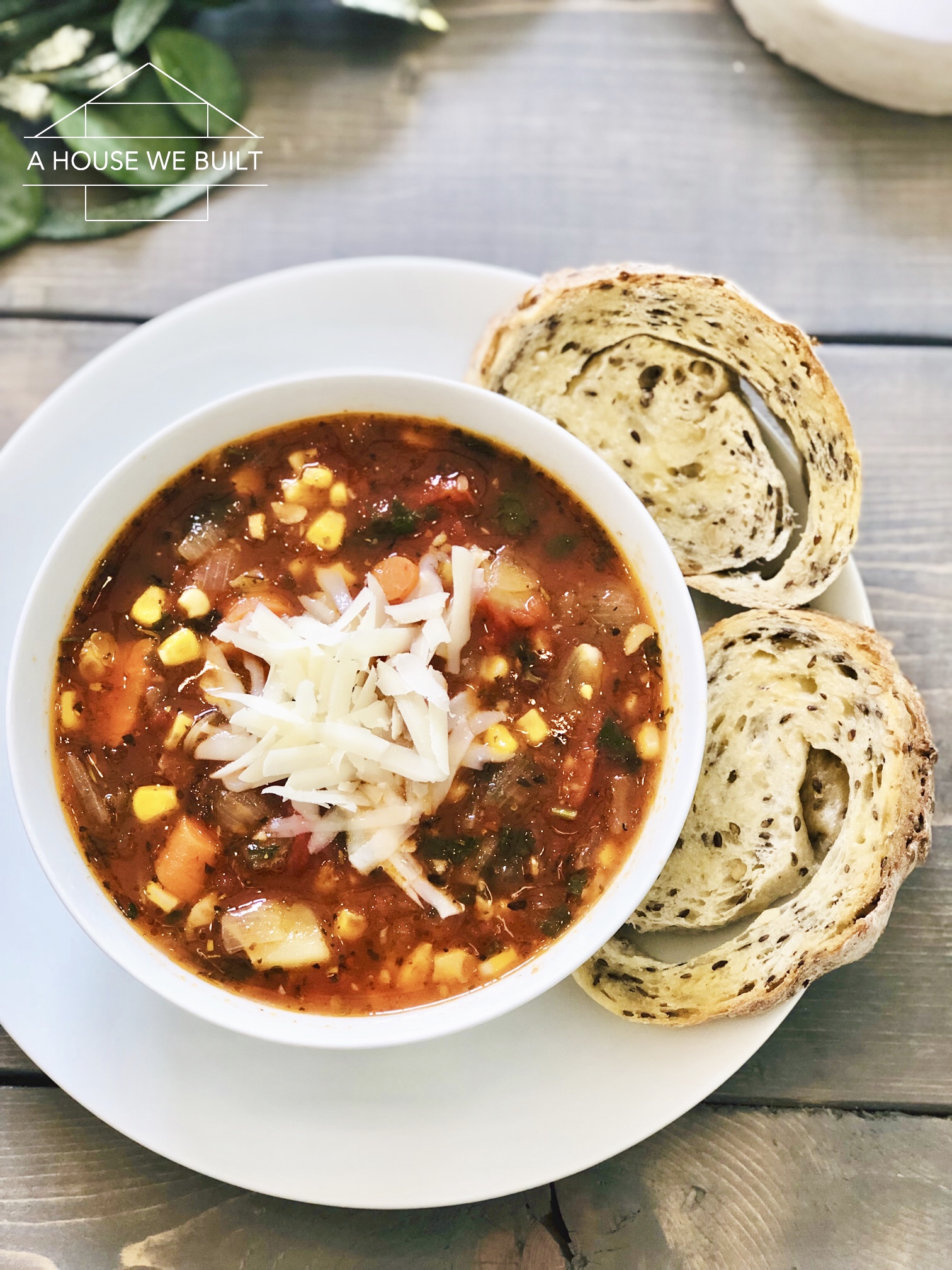 This hearty vegetable soup is absolutely delicious and for whatever reason every single year our family goes through a phase of craving it and we'll literally make it like 5-6 times in a row (or honestly, sometimes more). It's healthy, yummy, and very easy to make so I hope you enjoy it!
Note: I like to prep all the ingredients first – so I chop everything, drain & rinse canned goods, measure out the broth and spices etc and put them into bowls by the stovetop and start cooking after everything is prepped. I've made it both ways (prepping as I go, or prepping-then-cooking) and personally I find the process smoother if I prep prior to cooking. You don't have to do it like that, but just sharing my way 🙂
Add the following ingredients to a large pot on med-high heat and cook for about 5 minutes, stirring frequently.
2 tbsp olive oil
2 large onions (diced)
6 cloves garlic (diced, not crushed)
dash of salt
Add in the following ingredients and cook for about 5 minutes, stirring frequently.
3 celery stalks (diced)
3 medium carrots (diced)
2 medium potatoes (diced)
Add in the following herbs/spices and stir everything together for 1 minute.
2 tsp salt (1 tsp works too, I just like 2)
1 tsp dried oregano
1 tsp dried parsley
1 tsp dried basil
1 tsp red chili flakes
1 tsp fresh ground black pepper (up to 2 tsp for an extra kick)
1/2 tsp dried rosemary
1/2 tsp dried thyme
1/2 tsp garlic powder
Add in the following liquids and stir until combined.
4 cups vegetable broth
1 cup water
2 tbsp soy sauce
1 tbsp honey
Add in the following ingredients and stir until combined.
3.5 cups canned diced or crushed tomatoes
1.5 cups canned/frozen corn
1.5 cups canned kidney or black beans (drained & rinsed)
1.5 cups fresh/frozen chopped green beans – optional, but tasty
1.5 cups canned lentils (drained & rinsed) – optional, but I like it and it's healthy
(Note for all the canned stuff: honestly, you don't need to measure this so if your can is a little more or a little less than my measurements, don't worry. Just try to stick to the ratios. It'll taste great either way!)
Add in the following:
2 bay leaves (select whole leaves so they're easy to fish out after)
Bring to a boil, then cover the pot, reduce heat to low, and simmer for 40 minutes. When done, taste the potatoes and carrots to make sure they're soft enough.
Remove from heat, remove the bay leaves, and add in the following ingredients:
Juice of 1 lemon
1-2 cups fresh parsley or cilantro (chopped)
Stir everything together and enjoy!!
Optional things I've added successfully:
Broccoli: if you're going to add these, chop the fresh florets into even sized chunks and add them to the soup half-way through the simmer (around 20 minutes in) so that they don't overcook.
Pasta: if you decide to add pasta, I recommend cooking it separately, then add it in after the soup is fully done cooking and removed from heat. Also, if you have leftover soup that you refrigerate, all the broth will get soaked up by the pasta. Don't worry! Just add water when it's ready to be heated up again and there's enough flavor in the soup that that water will turn to broth as it's heated.
Recommend to serve it with:
Roughly grated parmesan or pecorino romano cheese
Fresh crusty bread & butter or our favorite Garlic Flatbread recipe
Additional resources: