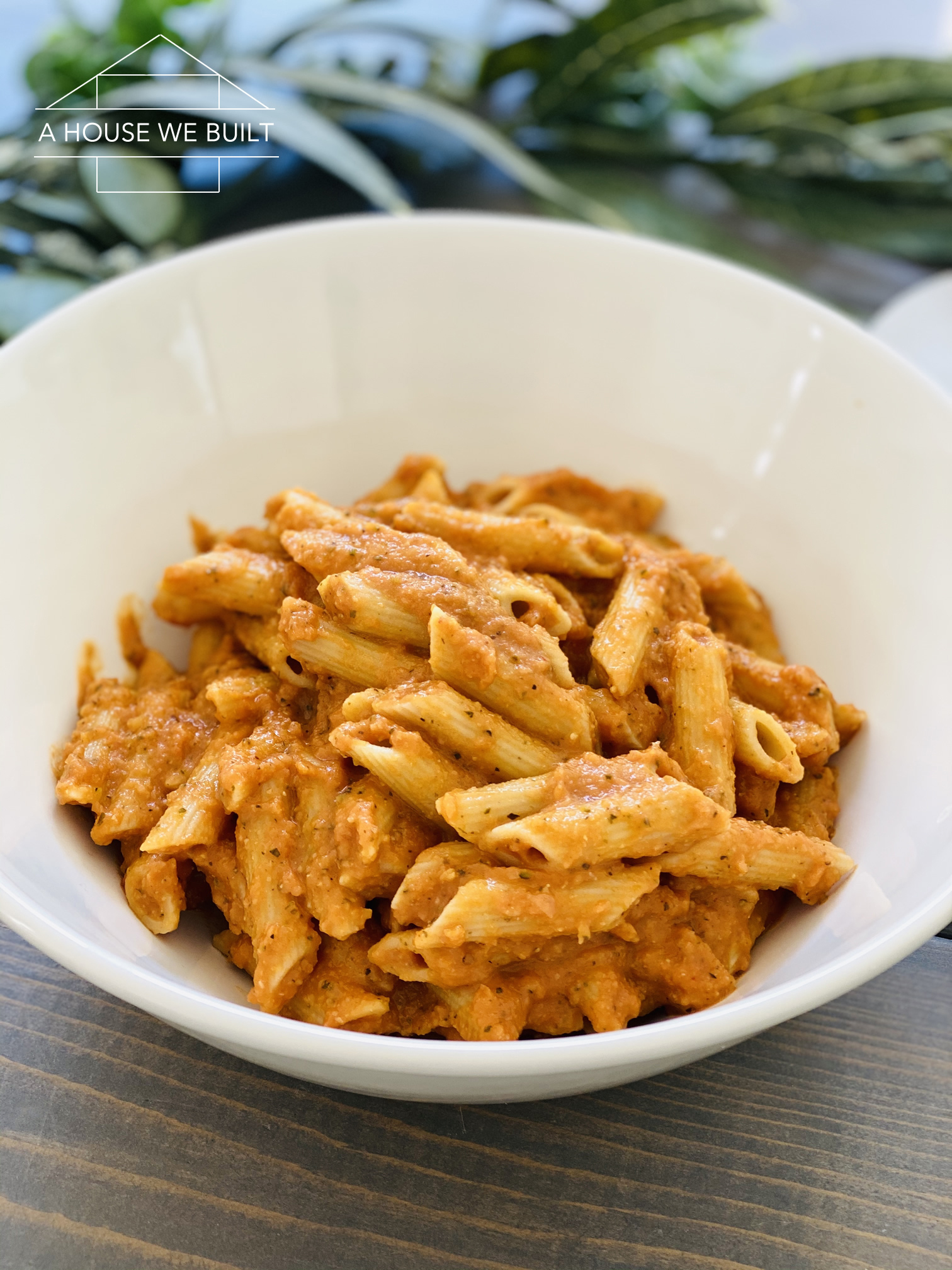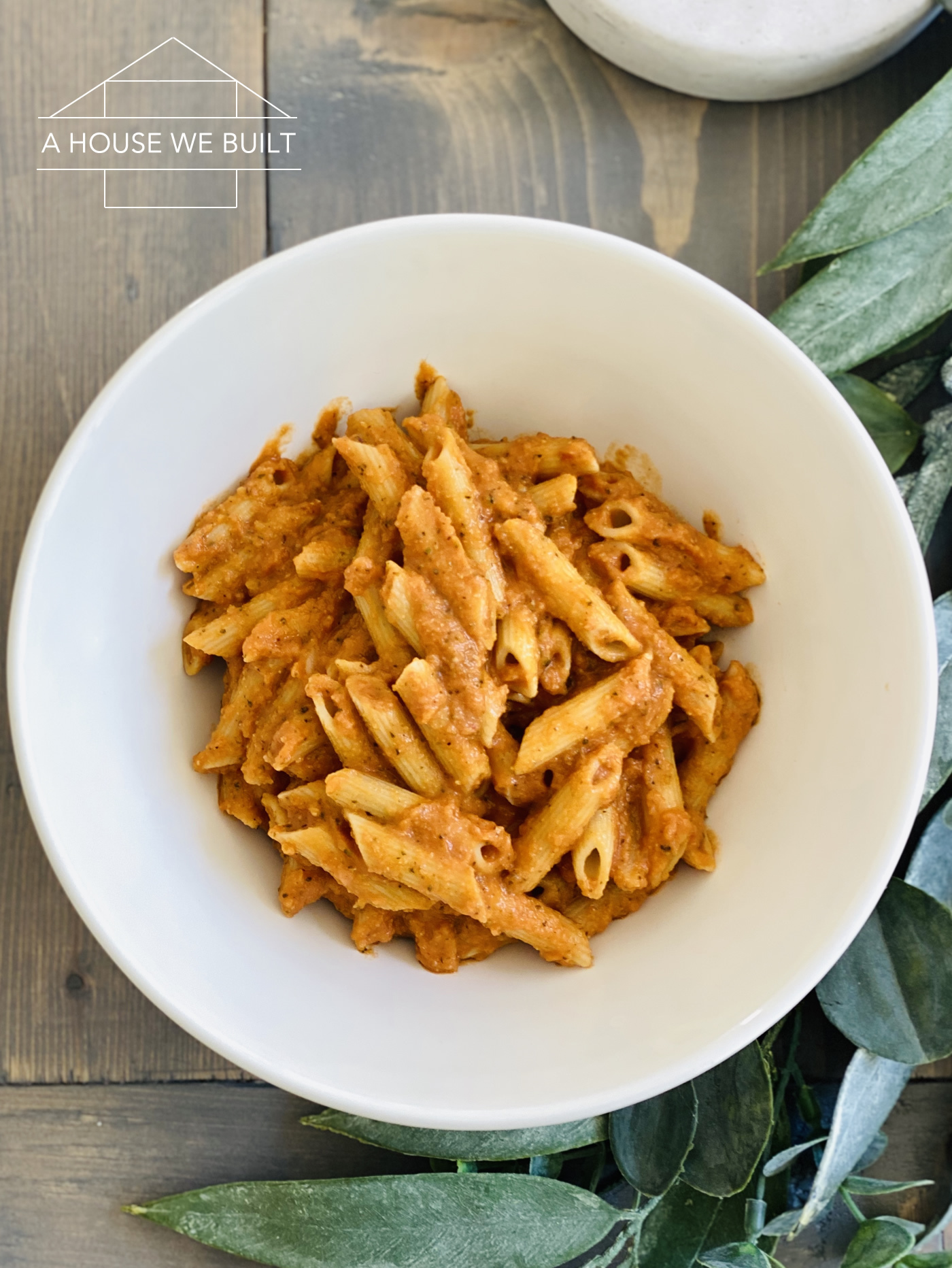 I've recently been loving this blended red pasta sauce so I thought I'd share the recipe for anyone who wants to try it. It's easy to make and seriously I've made it like three times in a row – that's how good it is!
I think this recipe will be especially appealing to anyone who is either vegan or trying to limit their dairy consumption because it tastes cheesy without having any dairy products at all. The secret is blended chickpeas. I'm not really sure why it tastes cheesy because (at least to me) whole chickpeas just don't really have that flavor, but when you blend them into this sauce it turns really creamy and delicious. This is also a great way to make a simple pasta red sauce healthier and heartier than it otherwise might be.
If you store it separately from the pasta, this sauce will stay fresh for several days in the fridge so I really have been loving just having it on hand for days when you don't feel like making a meal from scratch.
INGREDIENTS:
1 medium can of tomatoes (around 30oz) – mashed
1 small can of chickpeas (around 15oz) – drained & rinsed
1 medium/large onion – chopped
3 cloves of garlic (optional) – chopped
2 celery stalks or 1 medium zucchini* (optional but tasty) – chopped
1 tsp salt
1 tsp dried basil
1 tsp dried oregano
1 tsp dried parsley
1 tsp garlic powder
1/2 tsp ground black pepper
1/2 tsp red pepper flakes (optional but I like the spice)
2 tbsp white sugar
3 tbsp olive oil (this is for flavor so don't skimp!)
*Note about the celery/zucchini: I've made this both ways depending on what I have on have and both versions are tasty but I slightly prefer the celery option. Both are good though. Also, you could easily add in any other veggie you wanted. The whole thing gets blended up so it just becomes a part of the sauce and it's a great way to sneak more veggies into your meals! Just limit the quantity to about one medium-zucchini's-worth of 'other' veggies so it doesn't overpower the sauce – a red pepper would be great too.
PREPARATION:
I like to pre-prep all my ingredients into 2 bowls: I chop up all the veg and place it right into the pot with the olive oil. And in another bowl, I combine the tomato/chickpea cans and seasonings so they're ready to go once I start cooking.
In a pot on medium high heat, cook the chopped onion, garlic, celery, and olive oil until the onions are translucent and the celery has softened (about 4-5 mins), stirring frequently.
Add in everything else (tomatoes, chickpeas, seasonings). Reduce heat to medium, stir mixture until combined, and cook covered for ~ 10 mins (stirring every couple minutes so it doesn't stick).
Blend it!!! That's the secret. Just blend it all like you would a soup. So far, I've just used an immersion blender (mine's pretty old but I think this is the newer version of it: Amazon | Walmart) and blended it right in the pot, but you could also use a stand mixer (just be careful to allow room for the hot the air to escape).
Serve with your pasta of choice and enjoy!
For sources from our kitchen, click here.
For sources from our dining room, click here.
For sources from our pantry, click here.
For more of our recipes, click here.