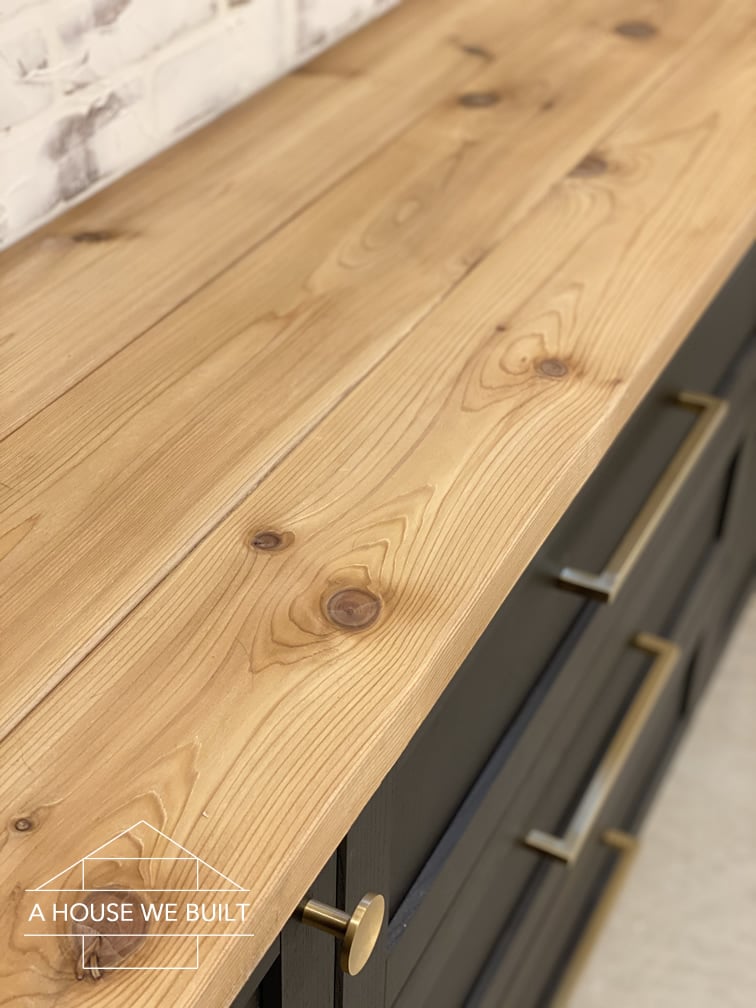 We decided to build our own wood countertops for all the cabinetry in our basement because we wanted this space to have a more rustic feeling than the rest of our house. They were really easy to make, I absolutely love their look, and it was a huge cost savings over some of the more traditional countertops.
You can use any type of wood you like, but we chose to use 2x6x8 and 2x6x12 cedar planks (raw, not treated). Originally, I considered using wider boards, but I wanted the look of the counter to show the actual planks so I was worried if I went too wide it would diminish that look – so 2×6's worked perfectly. I also considered using fancier lumber with square edges, but I preferred the rounded edge of standard lumber because it would accentuate the look of the grooves between the planks (and also be a safer front edge). I'm not a carpenter so I'm not sure what the terminology is but I hope that makes sense.
We chose to use cedar because it was naturally the color we wanted since we'd already done a lot of cedar paneling in our theater room, plus our wood hallway beams are a similar color as well.
We built wood countertops for our: Game Room, Home Theater Room, Basement Bathroom.
Finally, it's important to choose a board length longer than your total span of countertop because (at least to my preference) I don't think you don't want to have planks meet end-to-end in the middle of your counter. So for example, if your counter is 11′ long, use 12′ foot boards instead of 2 sets of 8′ lengths.
RAW MATERIALS:
2x6x8's if your counter is under 8′ long
2x6x12's if your counter is under 12′ long
No matter what boards you use, make sure they are absolutely straight and not warped.
TOOLS YOU'LL NEED:
BUILD INSTRUCTIONS:
Plan out your counter. If you need an uneven number of boards to cover the depth of your countertop, make sure it's the board closest to the wall you rip down to the right width, not the front board. So for example: if the counter depth you need is 25.5″ but your boards are 5.5″ wide each, you'll need 4 full width boards, and a 5th board ripped down to 3.5″ width. Also, be sure to include about a 1.5″ overhang at the front of your counter in your final depth calculations. So if you're covering a 24″ counter depth from the wall, your countertop should be about 25.5″ wide.
Before cutting your boards, lay them all out on the floor and assess what they look like. Flip each one over front and back and determine which side you want on top. Then rearrange them so that you're happiest with their configuration taking the veining and color variations into consideration.
Cut your boards to length. We measured each one individually. Some were 1/16″ different from each other and we cut accordingly. The more accurate your cuts, the more seamless and custom your counter will look. When you're finished cutting all your boards to length, lay them out on the counter to double check that all your lengths are correct and that everything fits.
Place the boards top down and mark the bottoms – number them so you know which order they go in. I also like to mark the locations of the pocket holes you're about to drill. See diagram below for pocket hole placement – this is just an example, your pocket holes don't have to be identical to this, but the holes have to be every 1′ alternating sides.
Use the Kreg Jig (one of the best tools we ever bought!) to drill pocket holes on the bottom of each board – these will be used to connect each board to the other.
Next screw your boards together with pocket hole screws into the pocket holes you just drilled. Be sure to first clamp the boards down to ensure that they're level with each other (we just used hubby's weights to hold them down straight lol).

Lightly sand the boards (I just did the rough spots because I didn't want to lighten the board too much). A trick is to run a knitted sweater over the boards, if nothing catches, it's sanded enough.
Paint the top coat on with a paint brush using even strokes. You'll want to do 3-5 coats. Apply the next coat as soon as the first coat is dry to the touch, lightly sanding the rough spots between coats. After the first 2 coats, start to specifically add more globs of top coat in the seams between the planks (feather out the strokes) but this will seal up the grooves so they're easier to clean long term). Note: I put my paintbrush into a ziploc bag between coats to keep it from drying out.
Allow the countertop to fully dry for 24 hours, then install it. Just left it into place and secure it to the cabinet (usually using short screws from the underside going up into the bottom of the counter). — Tip: If your counter is between two walls or tall cabinets and you're worried about scratching them as you lift the counter into place, use painters tape to cover the bottom edges of the counter to protect whatever it's brushing up against. Still use caution as installing it and go very slowly.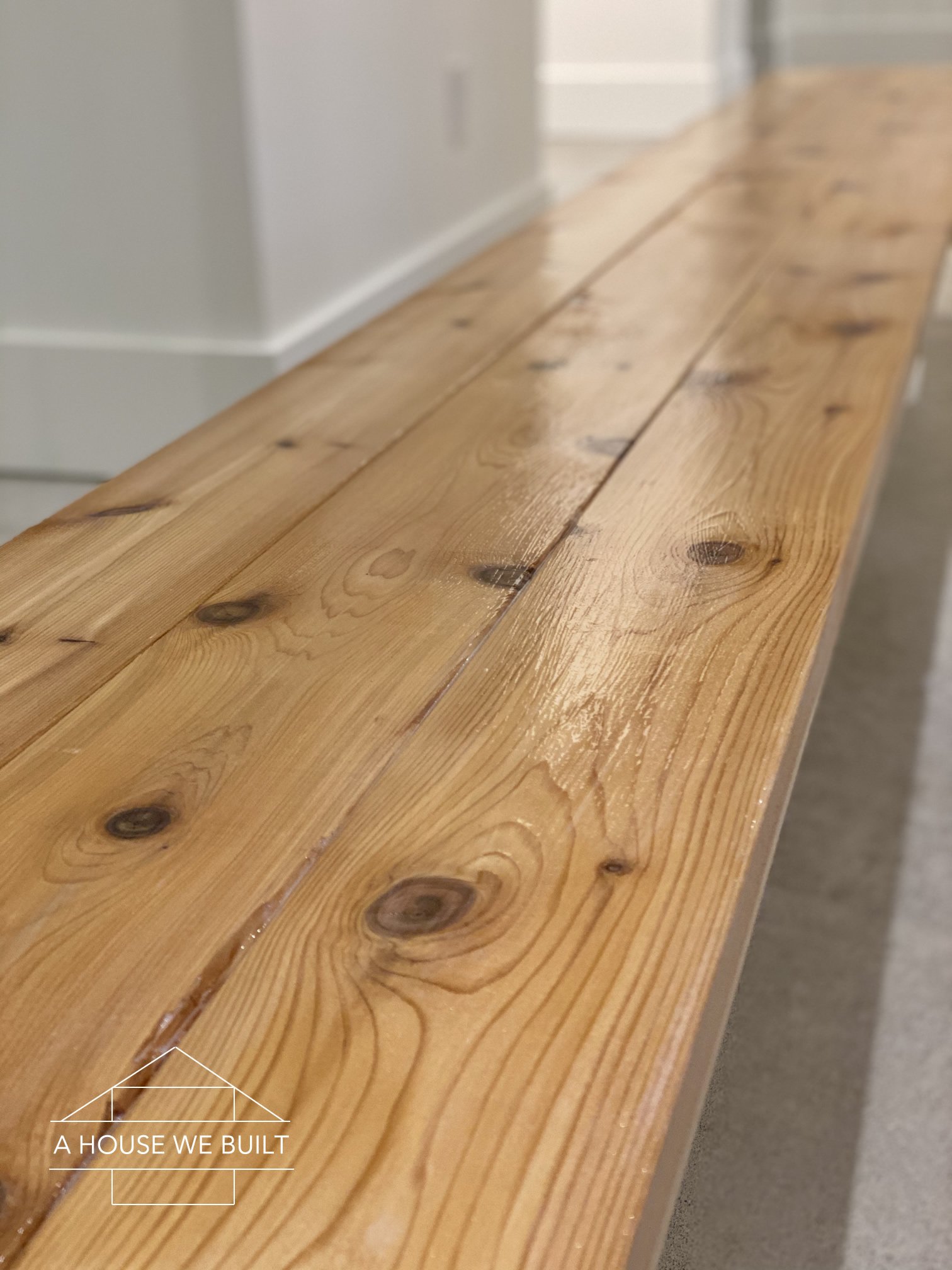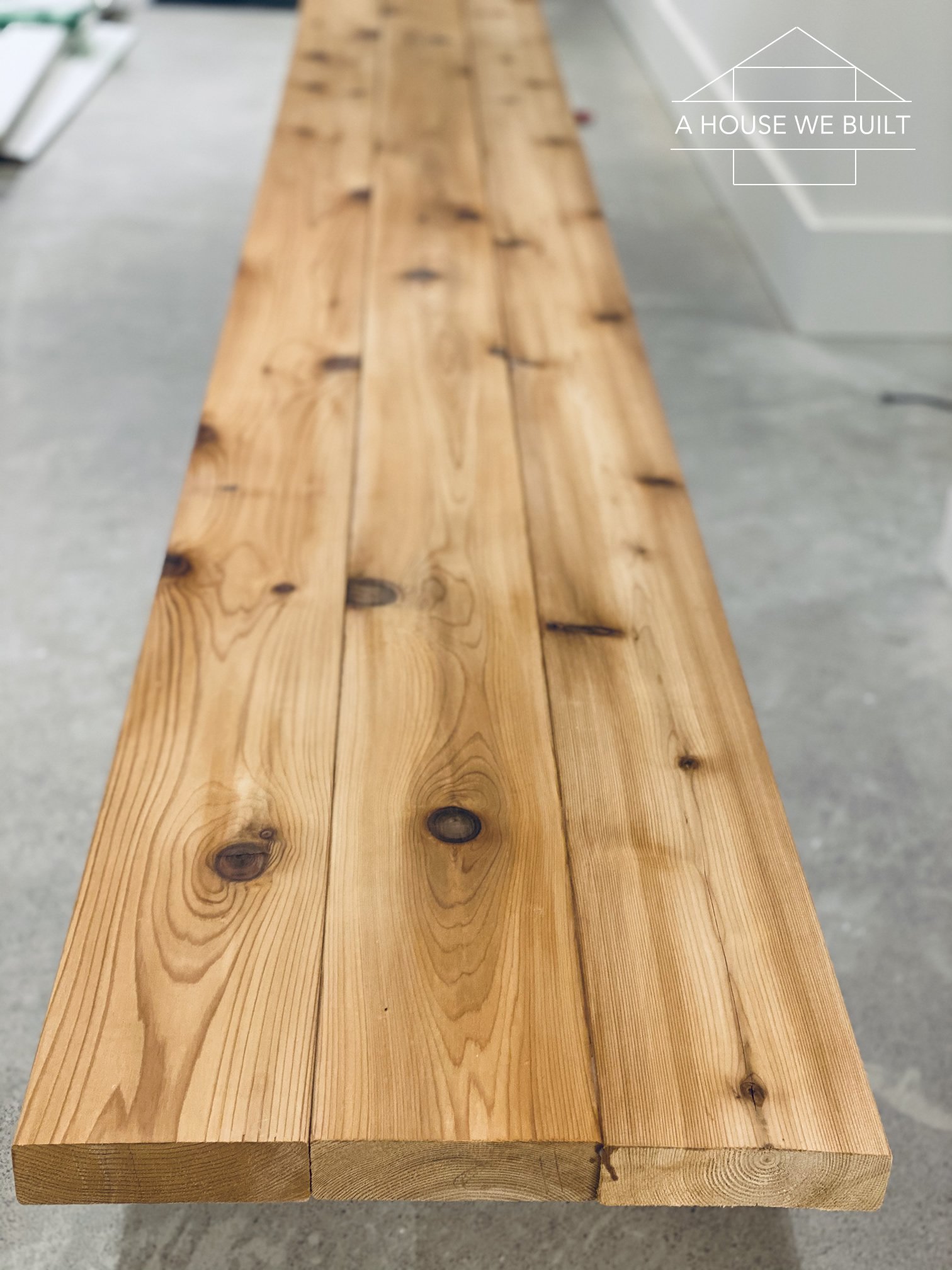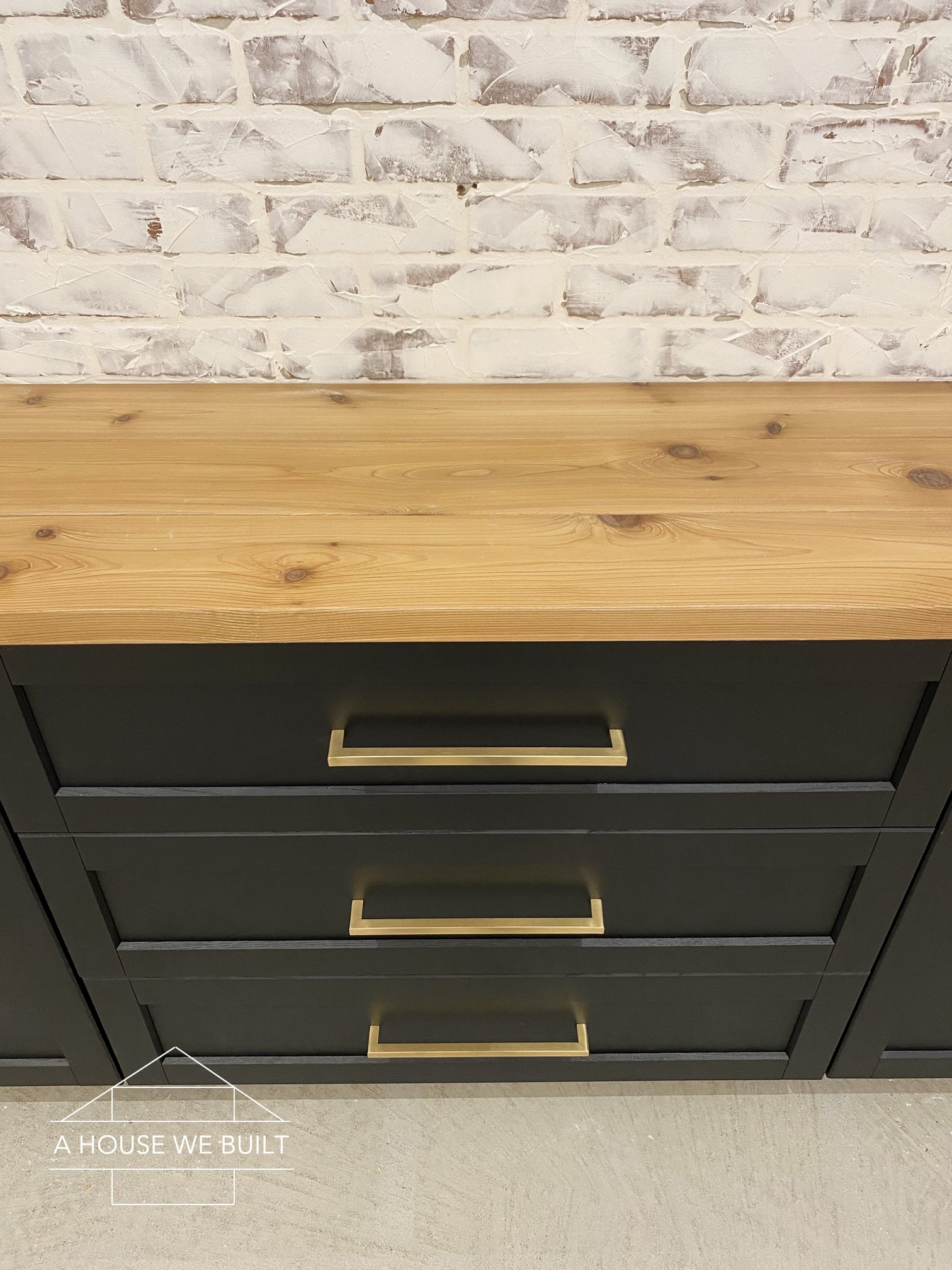 STAIN OPTION:
We've also done a version of this countertop with a stain which you can see in our Basement Bathroom. I've listed all the info on the stain we used below. I just apply them according to the instructions on the cans with a light sand between the final stain coat and top coat application to make sure it's smooth. The top coat we use fully seals it so we have no issues with water.
OTHER SOURCES: