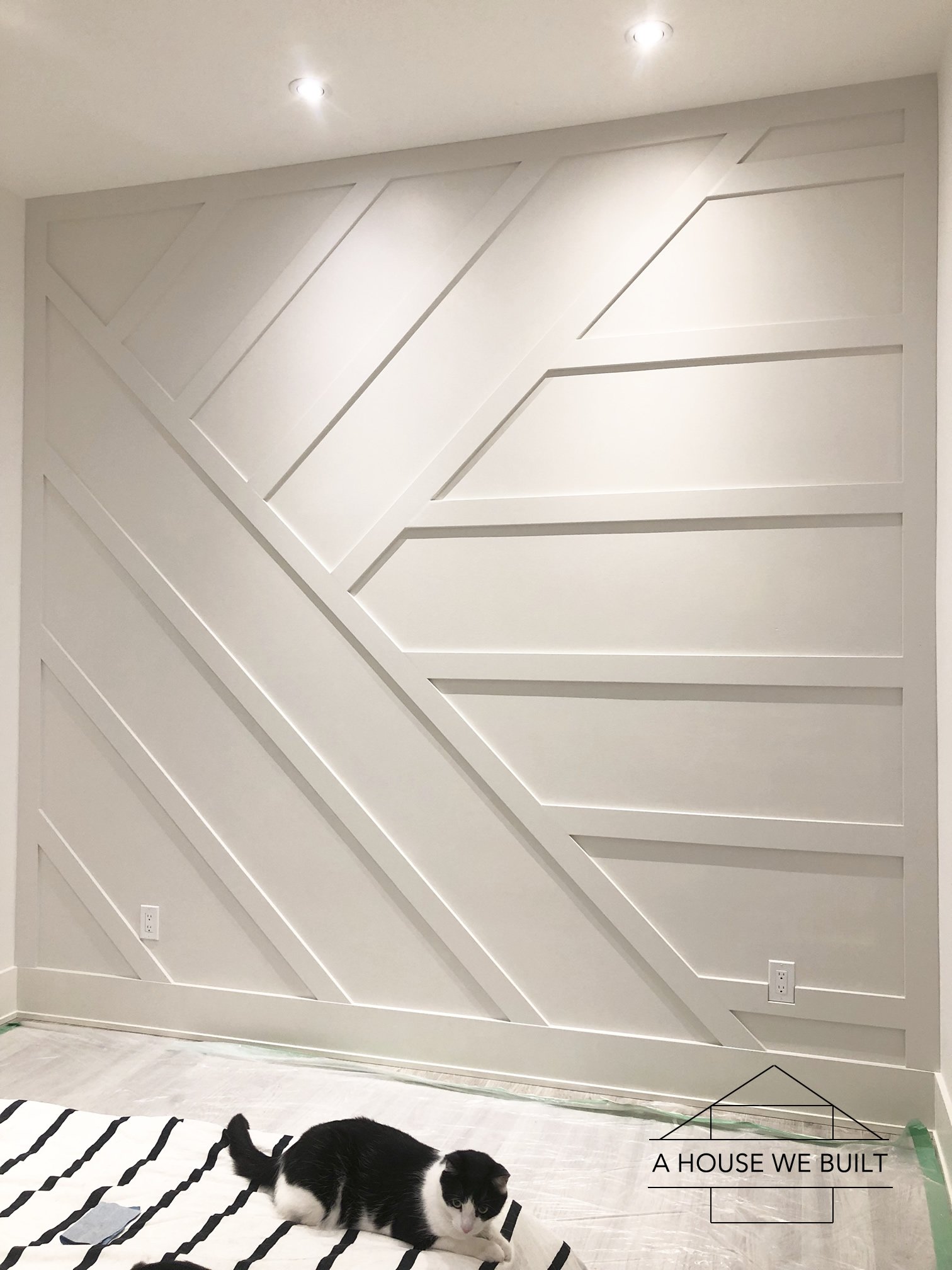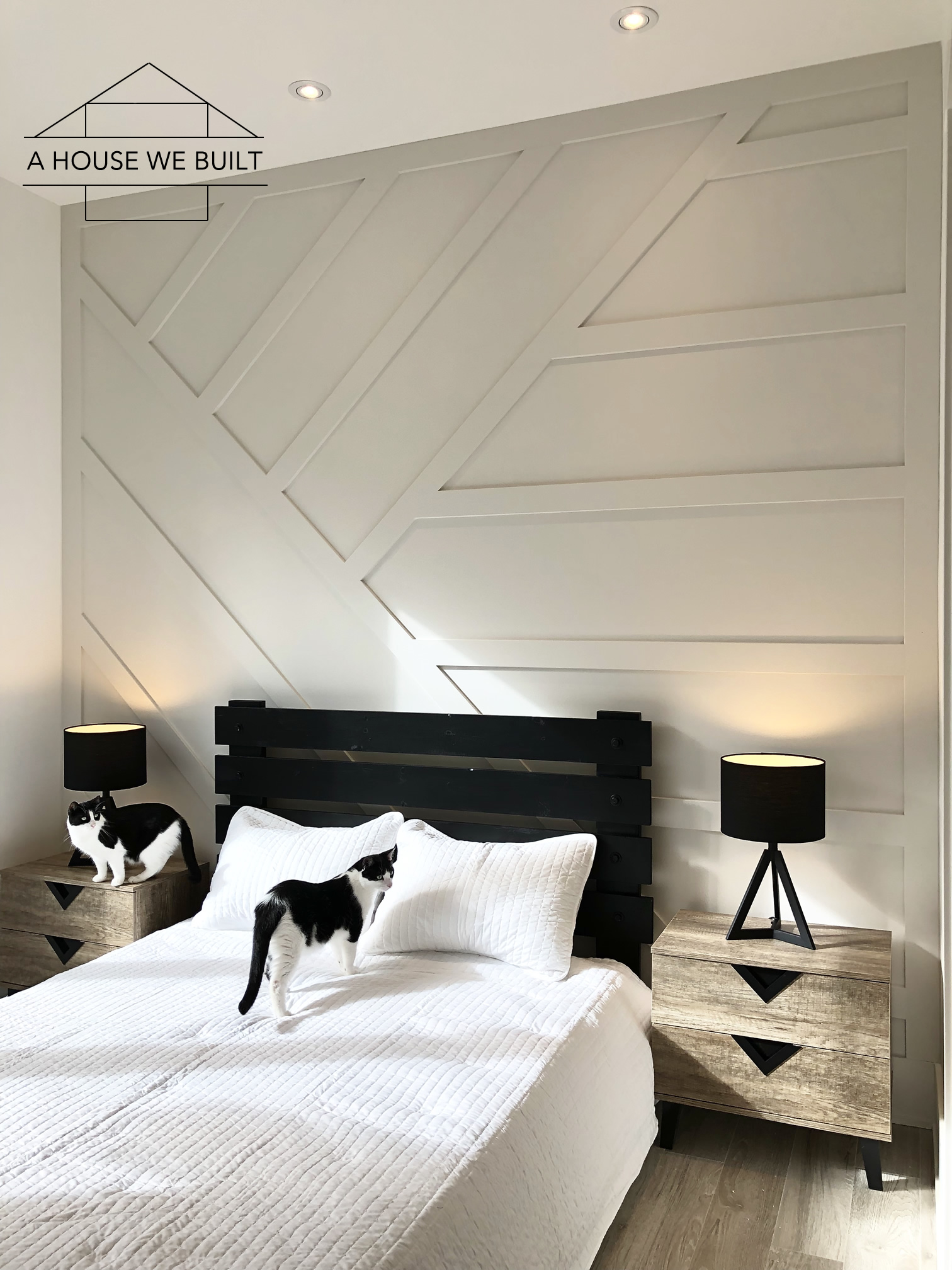 We built this accent wall over a couple nights for our guest bedroom and I'm loving how it's turning out so I thought I'd share how we did it along with some tips & tricks that might make it easier. Note: We've never done anything like this before so if you're a pro, please don't judge our work or techniques. I just love accent walls and have always wanted to do one ever since we first designed this house but I couldn't decide which pattern — a grid, herringbone, random pattern, B&B, etc so I drew up over a dozen different design variations for what to do on this wall, then we narrowed it down to 4 top favorite patterns, before deciding on this one. It took us 3 days in total to do this wall because we just didn't have enough whole days to dedicate to this project so we mostly did it at night… it took us one night to put up the boards, another night to fill the holes and sand, then another night to paint it. So this is how we did it:
Note: these instructions can be used for any pattern of wall paneling – they are not specific to my particular paneling design. So, no matter what type of paneling you want to do (squares, straight board and batten, herringbone, something completely different) the basic "how-to" instructions are the same.
What you'll need for prep & cutting/attaching the boards:
Miter saw (ours is like this: Home Depot)
Pre-primed boards (the ones we used were very similar to this: Home Depot, but a thinner version would be here: Home Depot. The size you pick to do is totally pure personal preference.
Carpenter's square: Amazon | Home Depot
Sharp pencil
Measuring tape
Level (Home Depot)
Construction adhesive (we used 5 full tubes: Home Depot)
Power drill (Amazon | Home Depot) and screws (less than the depth of the board + drywall if you do it like we did, see details below) or nails & a nail gun if you do it the traditional way (I think, I've never done it like this)
Painter's tape (Home Depot)
Drop sheet (Home Depot)
What you'll need for finishing:
What you'll need for painting:
Microfiber roller Home Depot (though I got a kit like this one: Home Depot)
Angled paint brush (Home Depot)
Paint (I chose BM Classic Gray but I had several other colors I was considering so you can pretty much do whatever you love. I recommend swatching colors in your house if you're unsure as colors tend to look different in different lights.)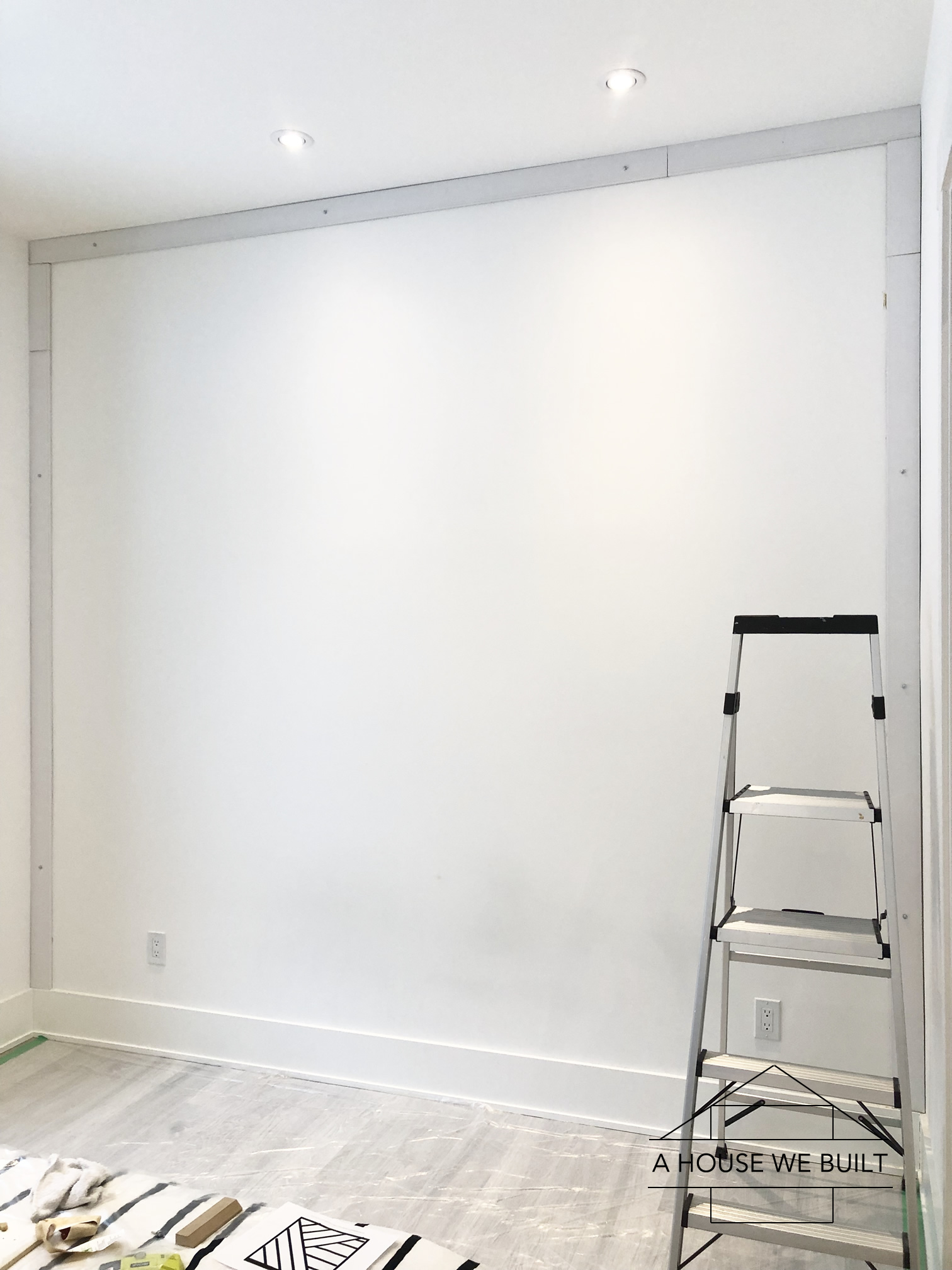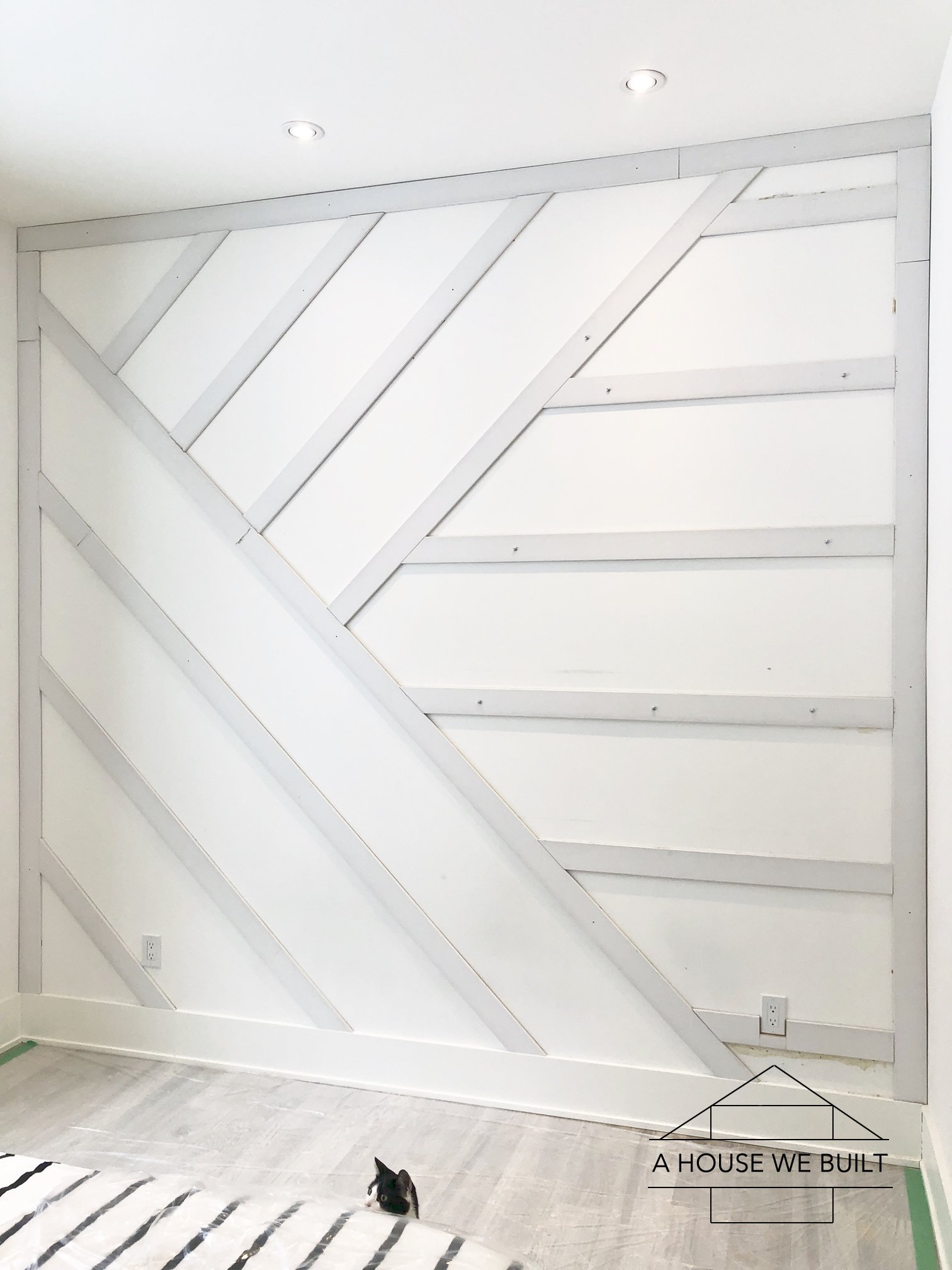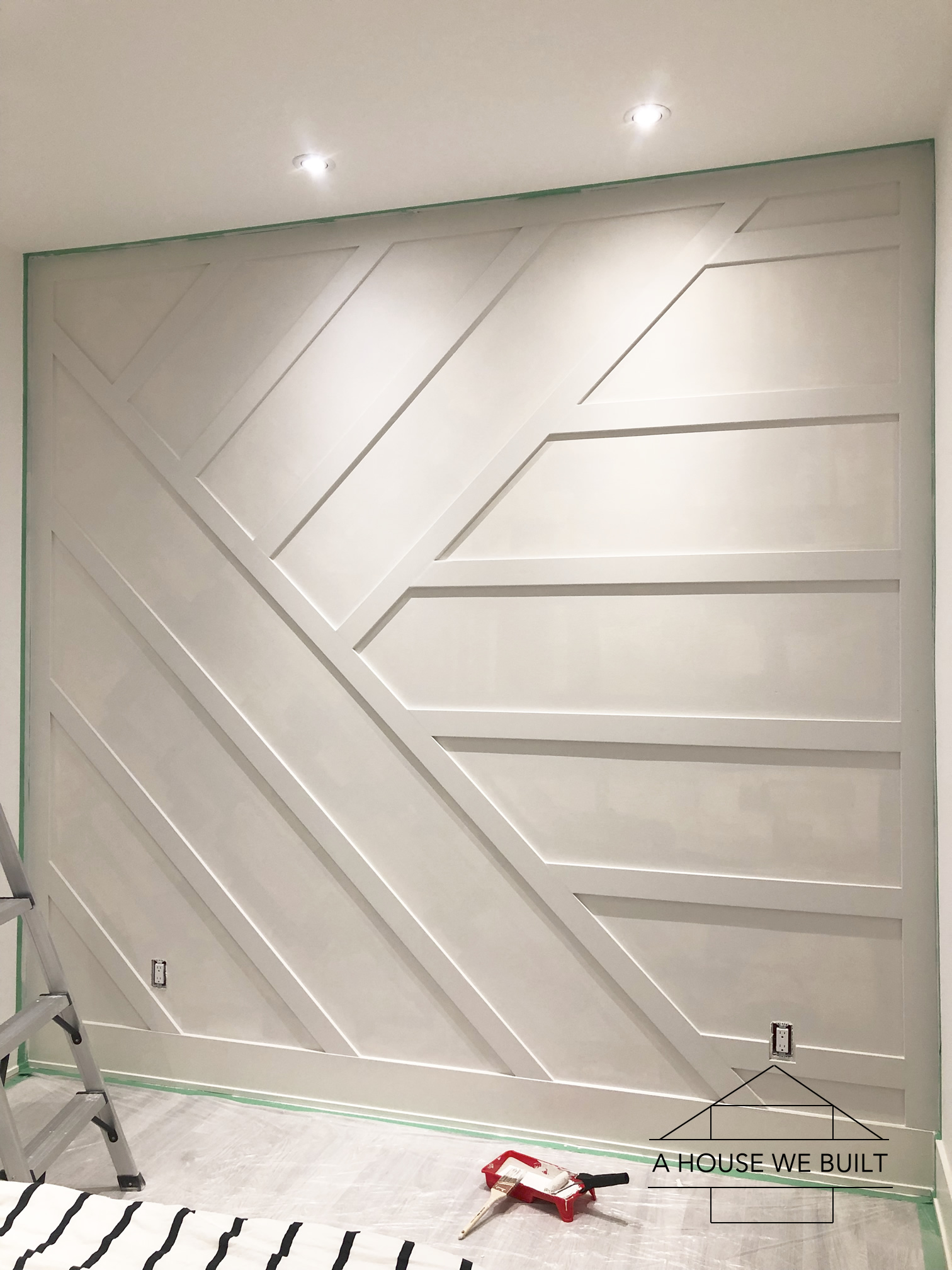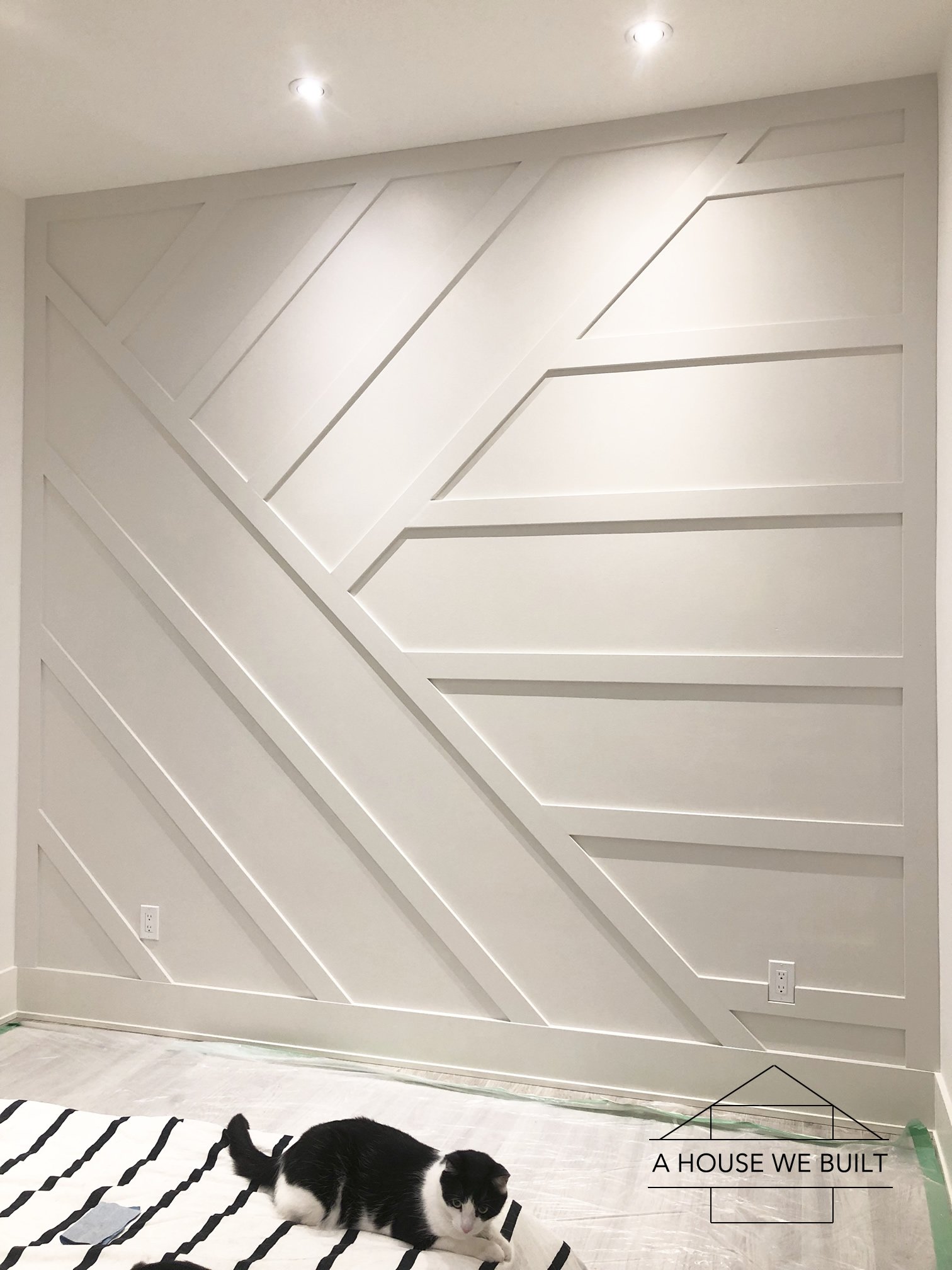 Steps:
Design. This was the longest part.
Plan your wall. This was the hardest part. It involves a lot of math and patience.
Cut boards and attach them to the wall with construction adhesive (Home Depot) that you just squeeze out onto the boards and I used a scrap piece of board to smooth it out before we applied it to the wall AND some kind of fastener (either screws or nails, depending on how you want to do it). Start with the perimeter and then strategically work through your pattern. Cut as you go so that you can adjust any measurements needed along the way. (Note: Our accent wall was on an exterior wall and we didn't want to have any penetrations in our vapor barrier so we didn't want to nail or screw the boards to any studs (which is commonly done) sooo we came up with a creative solution where we predrilled holes in our boards and got screws that were less than the thickness of the board + drywall and when applying the boards to the wall, we used the adhesive and then screwed the boards into place for about a day to dry, then we removed the screws and filled the holes so ultimately the only things with holes were the boards + drywall and our exterior wall assembly remained completely in tact.)
Sand down anything uneven with a heavier sandpaper (Home Depot)
Fill all the holes with Joint Compound (Home Depot) as well as the joins where 2 boards meet and use a putty knife (Home Depot) to help you get a smooth finished look.
Caulk every place were the board meets the wall with something like this Home Depot. Note, you lay down a line of it and then use your finger to smooth it out. I learned how to do this watching our trim trade during construction. It really helps to have a damp disposable towel on hand to wipe your finger too.
Sand everything you used Joint Compound on with a lighter sandpaper (Home Depot). You have to get this pretty smooth or it will show through once you've painted it.
Paint (be sure to either use primed boards or prime before painting). I used an angled paint brush (Home Depot) for the edges first, then a microfiber roller Home Depot (though I got a kit like this one: Home Depot) for all the boards and drywall.
Random thoughts:
If you're kinda thinking this all sounds a bit too hard I recommend trying a board & batten look or a simple grid wall since it'll all be 90 angle cuts and should generally be easier to tackle.
Paint the wall first if you can. I mean, why not?? I didn't because at the time we started putting up the boards I still hadn't decided on my final color. But it would have made painting faster to at least have the first coat on the wall done.
Make sure your board cuts are accurate. You don't want to have to fill in the space between boards with filler so if your cut isn't accurate just redo it rather than trying to make that piece work. You should be smoothing the joins between boards but not filling the gaps.
If you're a newbie to this kind of work (like us) I highly recommend trying to work "around" outlets etc instead of incorporating them into the design. It's just easier. And just personally I'm not a fan of trimming them out as it just draws even more attention to them. In our case, we unfortunately couldn't go around one of our outlets so I kind of got creative around it but in a perfect world, we would have just avoided it. I wasn't too worried about ours though since eventually it'll be behind furniture anyway so it's not like it would be visible.
For more sources from our Guest Bedroom, click here.
For more of our DIY tutorials, click here.
To explore the other rooms in our house, click here.