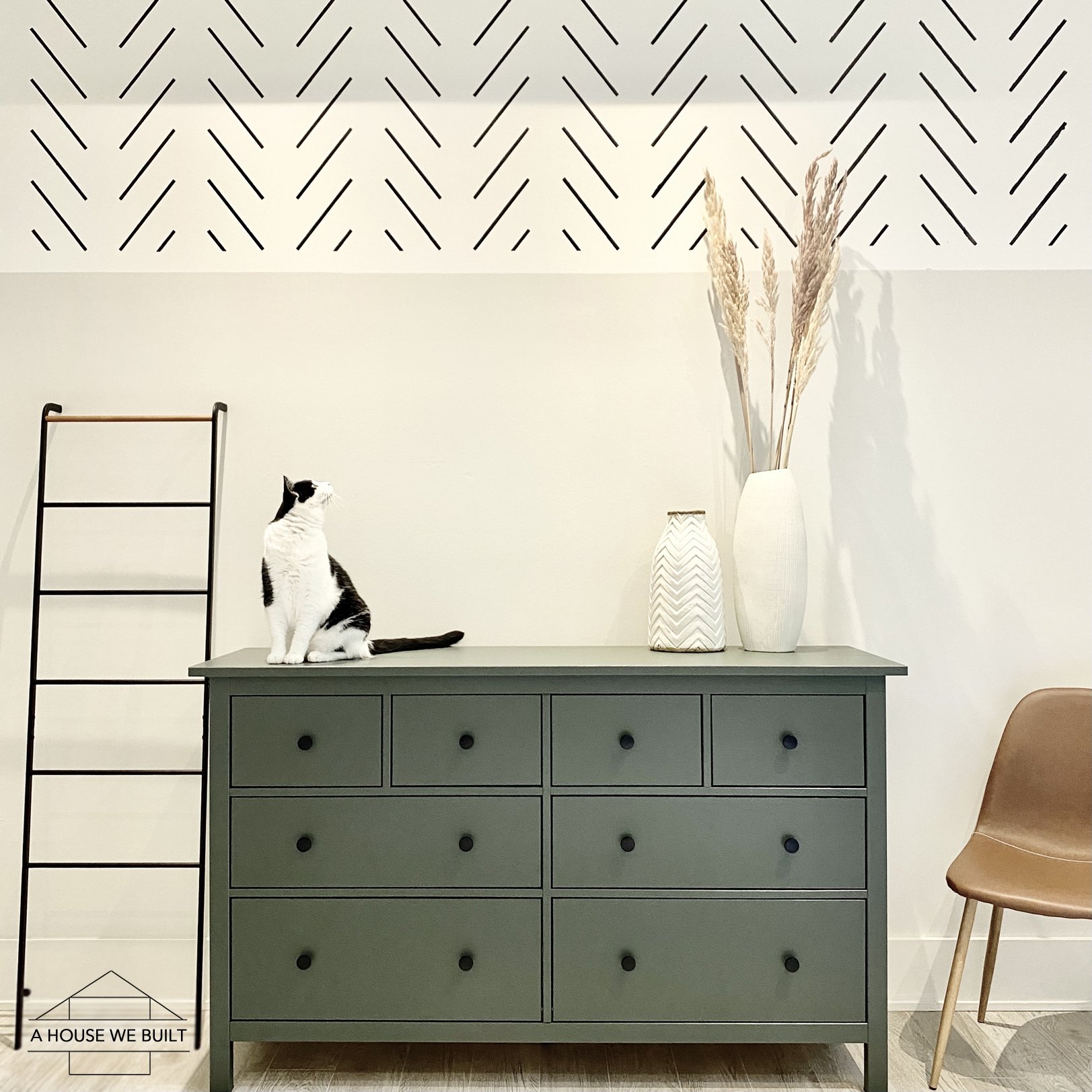 Repainting and refinishing an Ikea dresser is an easy project that can really elevate its look! We recently repainted the dresser shown above to this gorgeous deep muted green color and it totally transformed it.
This tutorial is specifically for the Ikea Hemnes line because this is the only line of their furniture I've ever repainted so I can't know for sure if their other lines would have the same repainting process or not. But the reason I like this particular line is that the unit is made from real wood and is quite good quality.
It was so easy to refinish this dresser that I wasn't planning to make a tutorial and didn't take pics along the way, but I've been asked for the process so I'm going to share that here along with my tips and tricks.
WHAT YOU'LL NEED:
*Paint note: I just used normal wall paint. Btw, Satin & Pearl are the same.
STEP ONE: ASSEMBLE THE UNIT
You want your dresser fully assembled (minus the knobs) before you start painting it. Build the frame and drawers, but don't install the drawers. Lay them out somewhere to paint with the drawer fronts facing up.
STEP TWO: SANDING
The only parts of the dresser you need to paint are the body/frame (meaning: top, both sides, front, and feet) and drawer fronts, so those are also the only parts you'll need to sand.
Using a 120 grit paper, just lightly sand over every surface you'll be painting by hand. Don't use an electric sander, don't press too hard, don't over-sand. The idea is just to lightly rough up the surface so that it's more accepting of the paint. The whole process of sanding should take like 5-10 mins tops.
STEP THREE: PAINTING
In total, you'll want to do 2 coats of paint, allowing at least a few hours between coats for drying.
I used a brush for the edges and corners, and a small microfiber roller for the flat surfaces. (Side note: I always use disposable paint brushes. I have a fancy paint brush but I honestly hate cleaning it so I prefer to use chip brushes. They're a little harder to work with though if you're new to painting so you might want to work with a better quality brush if you're not yet as practiced with getting a smooth paint surface.)
You want to work on one surface at a time – meaning you should paint the edges and corners first, then immediately roller that flat surface. The goal is to use your brush to get into all the places that the roller can't go, but the microfiber roller is what's going to give you that lovely smooth finish so you want to paint as much as possible with the roller. Sometimes that means painting with the brush first to get the paint into the edges/corners, then going over it with the roller for that nice smooth texture. So don't do aaaaaall your edging first, then aaaaaall your rollering next because it'll dry as you work and instead you want your brush strokes and roller lines to meld into each other on each surface to create a perfectly smooth finish.
The goal of painting any cabinetry is to get the smoothest surface you can. A few tips:
Lightly feather all your brush strokes
Don't use too much paint, you can always add more
Watch for drips and feather them out immediately
Always paint in the same direction with long even light brush/roller strokes
Aim for no streaks and even coverage
If there's a side of your dresser that is going to be less visible, I recommend starting with painting that side since you can learn a bit on it and perfect your technique before moving to the more visible sides.
Paint the top surface last as it's the hardest part to get perfectly smooth and painting the other smaller surfaces and getting them smooth will help you get the hang of the process.
After the first coat has dried, run your hand over the surfaces. If it feels smooth to the touch, you can do your second coat of paint without sanding. If it feels (or looks) rough, then consider doing a light sanding in between coats. Just use the same sandpaper as before, super light sand by hand over everything.
After the second coat, allow to dry overnight before moving forward.
STEP FOUR: TOP COAT
Technically, this is optional. You don't "have" to top coat your dresser. I've built lots of cabinetry that I never top coated so it's not something you'll always need to do. However, I wanted this dresser to be easily wipeable and more hardy to bumps and scratches so I decided to top coat the whole thing.
The reason I top coated the entire dresser (instead of just the top surface for example) was to ensure an even finish over the whole unit, especially since my paint was Satin, but my top coat was Matte.
Top coats come in many different finishes, my preference is this triple thick matte one: Home Depot.
I always apply top coat with disposable paint brushes only. Same as with painting, I do one surface at a time in full and try to work fast so that I can get each surface fully covered before it starts to dry because you really want an even coating. (Note: it sometimes go on cloudy, but will dry clear.)
The hardest part will be the top of the dresser because it's single biggest surface and you need to get an even coating on the whole thing. Once you've covered the whole thing, you should be able to lightly run your brush over your work, feathering your brush strokes into each other and ensuring it's perfectly covered. Watch for drips along the sides too!
Allow this to dry overnight at least.
Next you can choose to either lightly sand and do another top coat, or just leave it. I chose to do a sand & second coat.
STEP FIVE: HARDWARE
If you've come this far, I suggest swapping out the hardware (knobs) for something unique and personal. There's nothing wrong with the hardware this dresser comes with (in fact, they're quite good quality) but I just think that hardware is kind of like jewelry and it's a great and fun way to personalize your dresser.
A few styles/colors I love:

Tip: If your hardware comes with screws that are too long, just add a few small washers on the screw from the inside of the drawer to take up the extra space without being seen. I needed 2 washers/knob.
SIMILAR DRESSER OPTIONS
If you like this look but are not into DIY, I found a few dresser options in a similar muted green color like the one I chose for this project: Crate & Barrel| Crate & Barrel | Crate & Barrel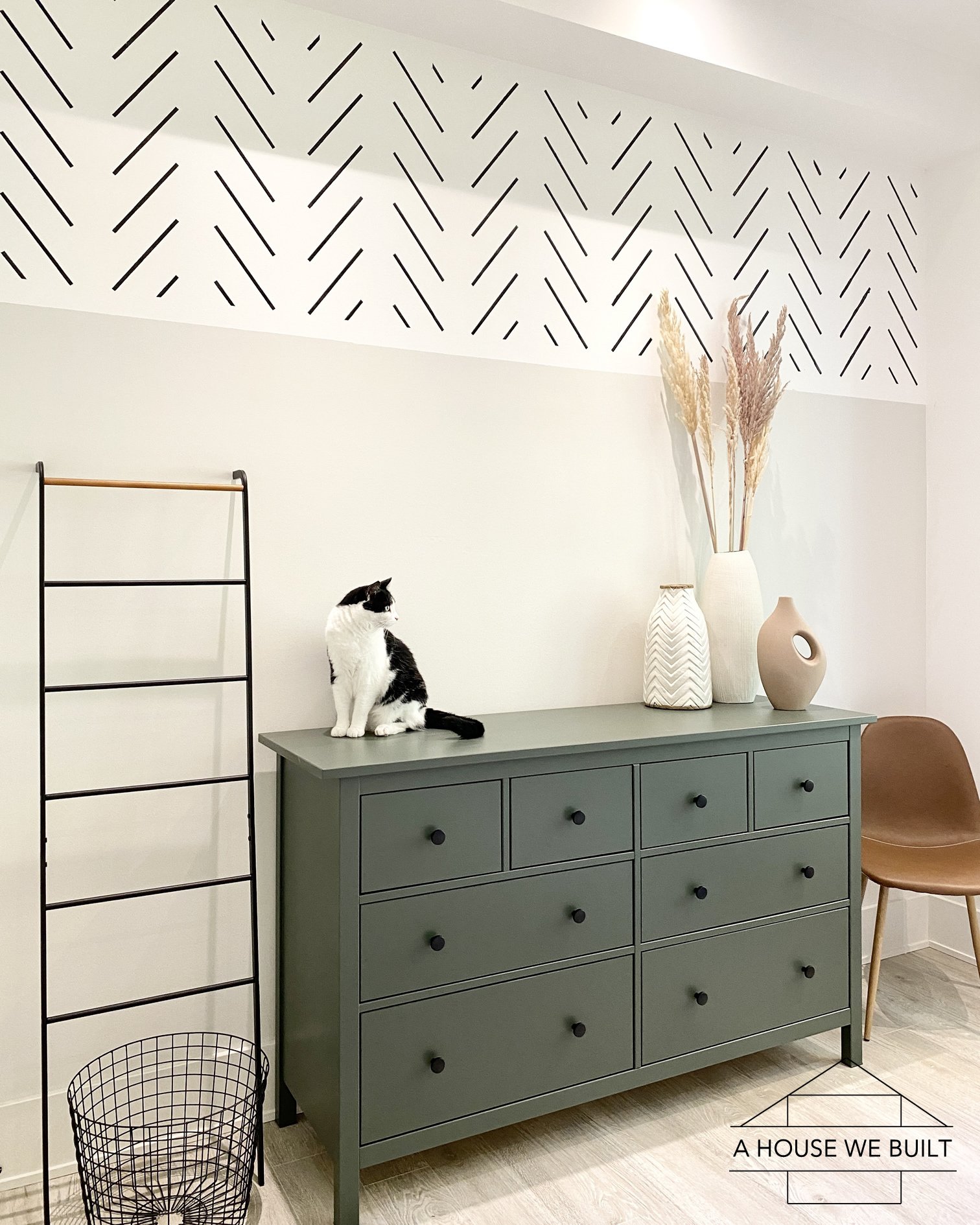 STENCIL SOURCE & TUTORIAL
OTHER SOURCES FROM THIS ROOM


For more of our DIY tutorials, click here.
To explore the other rooms in our house, click here.