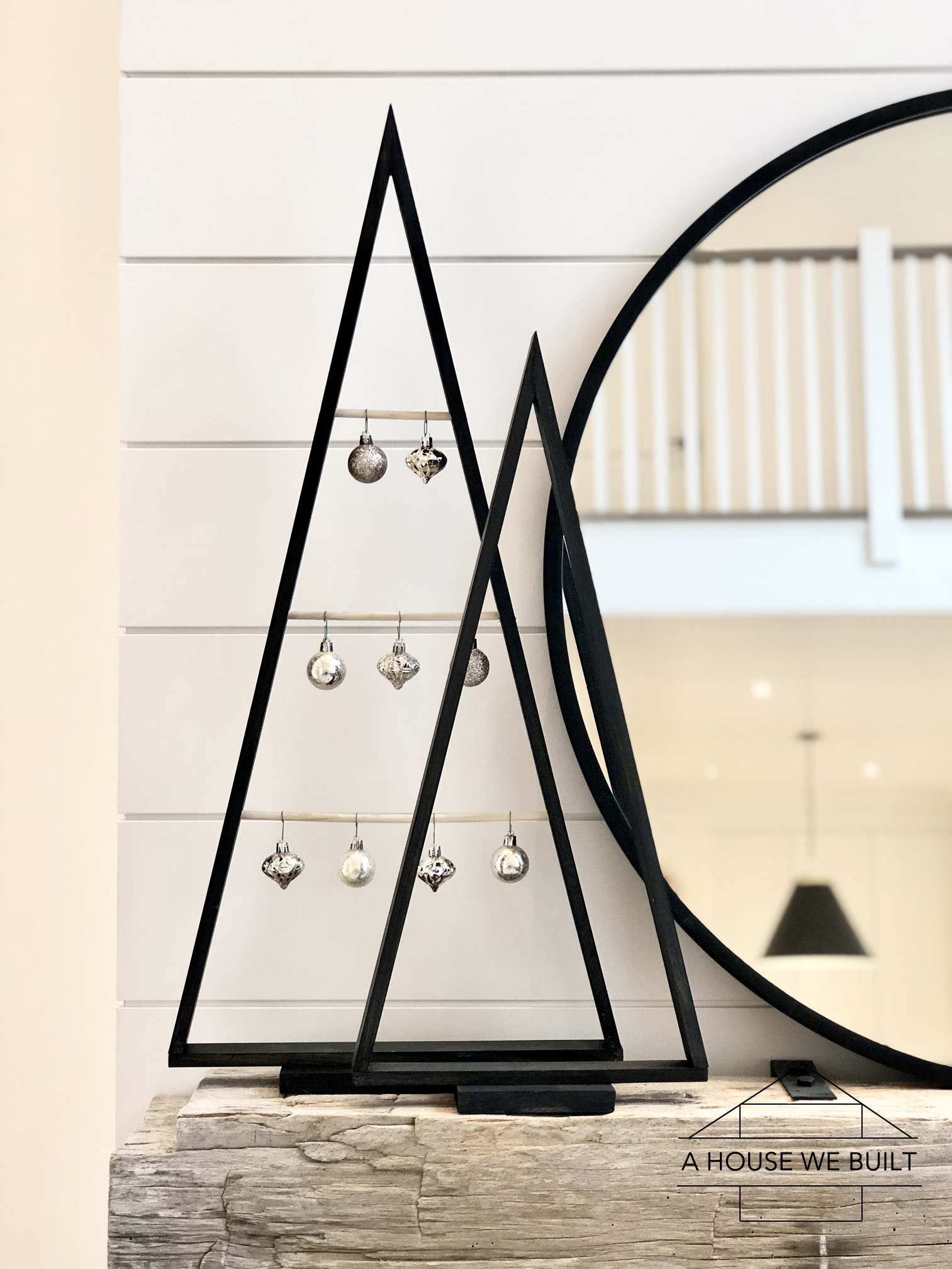 For our Christmas mantel decorations this year, I really wanted to try building some of the decor myself and I've always adored the look of minimal almost nordic-style wooden Christmas trees and also loved the look of these gorgeous black Crate & Barrel trees so I decided to try making some.
I wanted to play with the geometry of having two triangular trees beside my favorite big black round mirror (many sources, same mirror: Amazon | Wayfair | Urban Outfitters) so I decided to make my new DIY wooden Christmas trees with minimal black frames to reflect the same design direction as our mirror.
While I've done several woodworking projects, any angles (other than 45*) always made my head spin so these trees were a bit of a brain tangle for me, but I persevered and my little trees turned out just as I'd hoped! They're not perfect, but they still gave me exactly the look I wanted! So here's how I made them:
Materials list:
1x2x8 board: Home Depot (the amount you need will depend on how many trees you make, I recommend getting a slightly "nicer" grade of wood for this project)
1×4 board: Home Depot (you only need a couple feet of this for the base)
Wood dowel: Home Depot (you may only need one, or none if you don't want to hang ornaments)
Miter saw, ours is like this: Home Depot (note: this is small enough a project that you could do all the cuts by hand using the next type of saw on this list, which you will need anyways)
Back saw: Home Depot (you could do all the cuts with this if you don't have a miter saw)
Power drill: Amazon | Home Depot (you only need this if you plan to put in the dowel to hang ornaments from, and you'll also need a bit that's the same size as your dowels)
Wood Glue: Home Depot (if you use this, you'll need clamps) OR Super Glue: Home Depot (if you get a fast enough drying one, you won't need clamps)
Matte black paint: Home Depot (+ paint brush)
Sandpaper
Measuring tape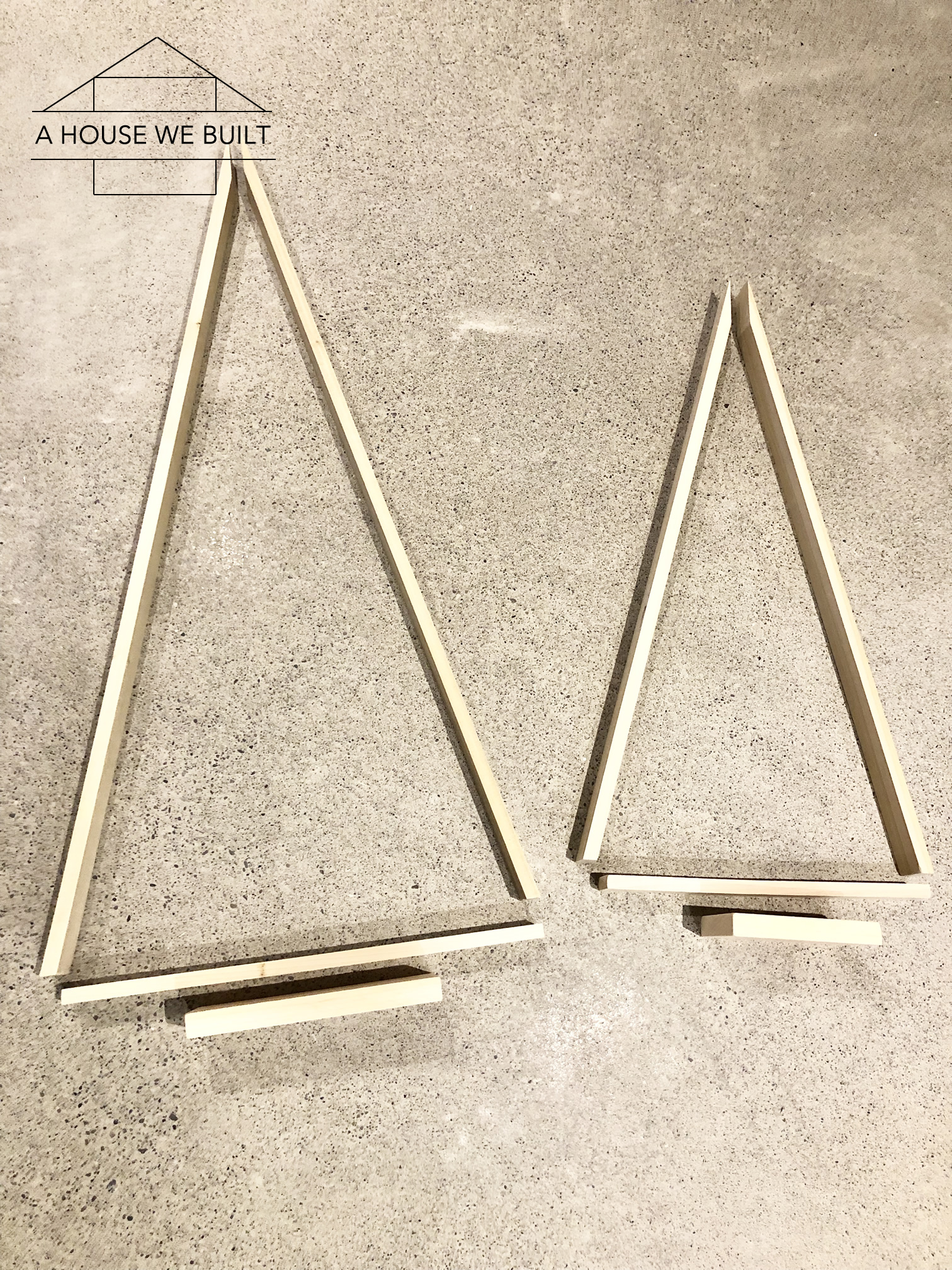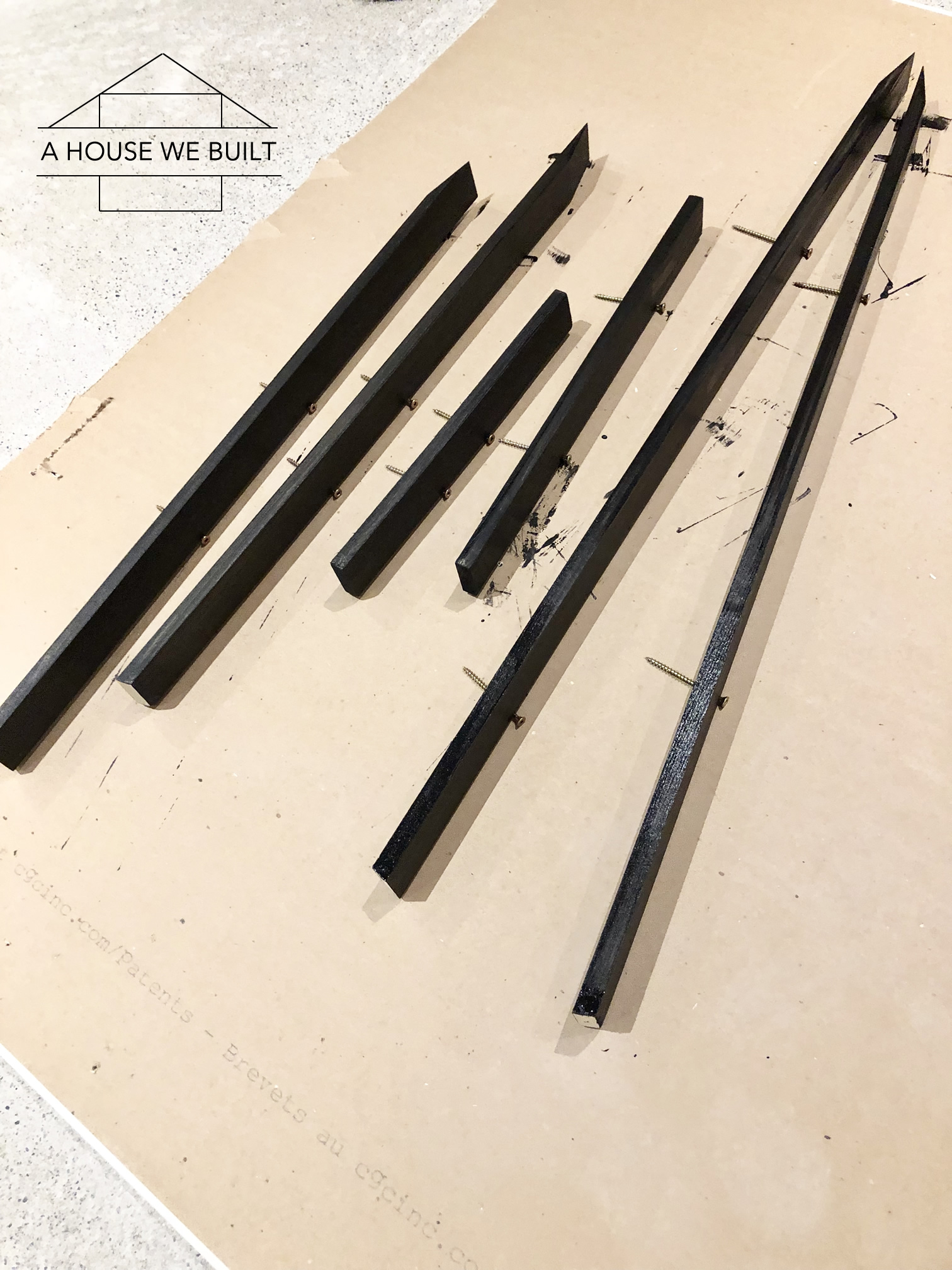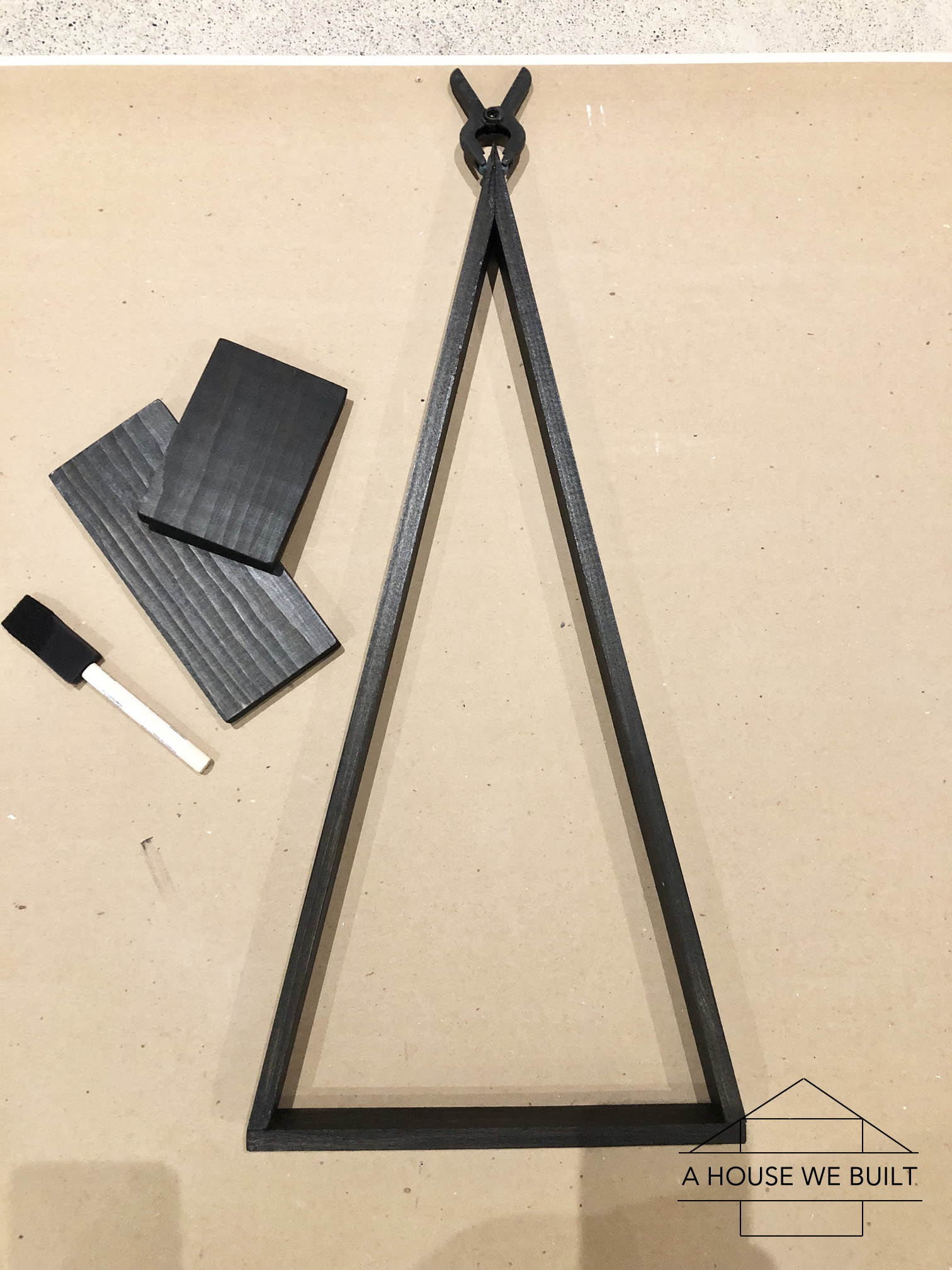 How to build them:
Decide how big you want your trees to be. You can literally make them any size you want. For size reference, the smaller of my 2 trees has 26″ long sides, a 12″ bottom side, and a 5.5″ base plate.
Cut your pieces to the right length: 2 long sides + 1 short side for every tree. Plus a wider bottom plate to stabilize it (to calculate the length of the bottom plate, just make it about 8″ shorter than the bottom side piece, 4″ on either side). If you want your tree to have the same angle as mine, then for the 2 long sides, back-cut the top 76.75 degrees, and the bottoms 13.25 degrees. But you could make your triangle wider, you just need to then calculate different angles. For the bottom side pieces, I actually didn't do any angle cuts, I just left them straight because that's how done with angles I was – don't judge. To be fancier, you could do angle cuts on them if you want.
You can leave your wooden tree natural if you want, or you can either stain or paint it. But whatever you choose, now is the time to paint/stain. I chose to paint mine flat black to match our mirror.
Glue the pieces together. If you're using a slow-drying glue, clamp them overnight. Note: you want to glue the 3 triangle pieces first, then once that's dry, glue the entire triangle to the baseplate in the center/middle. I let my triangle dry overnight, then let the triangle dry to the baseplate the next night.

If you want to add dowels to hang ornaments from, just choose where you want them and drill holes on both sides of the tree at the same place on both long sides. Make sure your drill bit is the same size as the dowel you're using and make sure you drill the holes straight across so the dowel can go in one hole on one side and through to the other hold on the other side in a straight shot. I chose to do dowels on my larger tree, but kept my smaller tree more minimal with just the frame.
Push the dowel through (I found that twisting it along helped) until it's through on both sides.
Use a hand saw to cut off the extra dowel. Remember to angle the saw same as the tree.
Sand down the cut marks.
Repaint the sides with an extra coat of paint. You can also paint the dowels if you want. I actually just left mine natural to minimize them, though I also considered painting them white.
Hang ornaments and enjoy!
Below you can see both versions of the trees. I took the picture on the left the night I finished building the main trees, but before adding the dowels. Then I added the dowels to the big tree and took the pic on the right the following morning. Honestly, I like it both ways, with and without ornaments.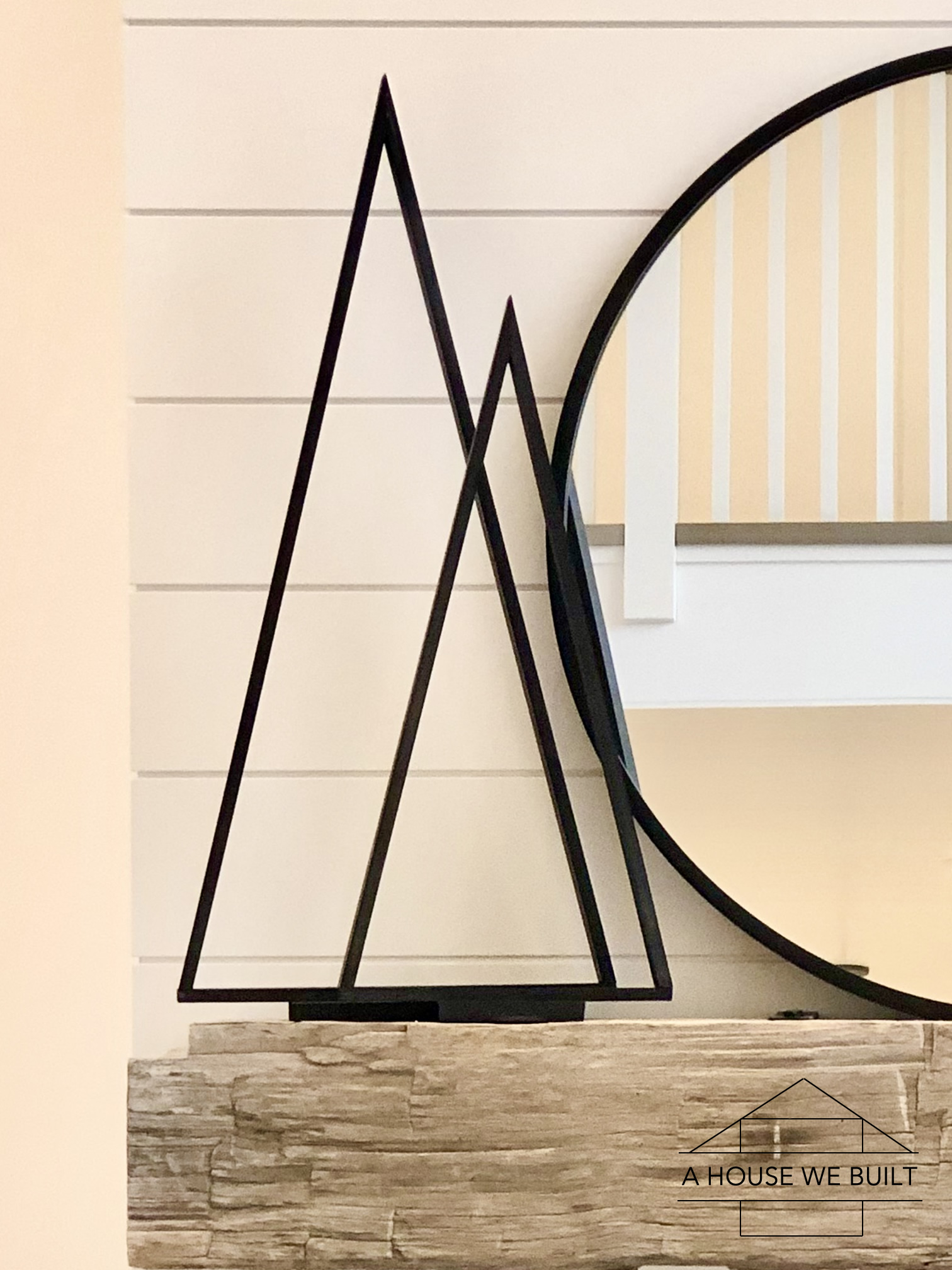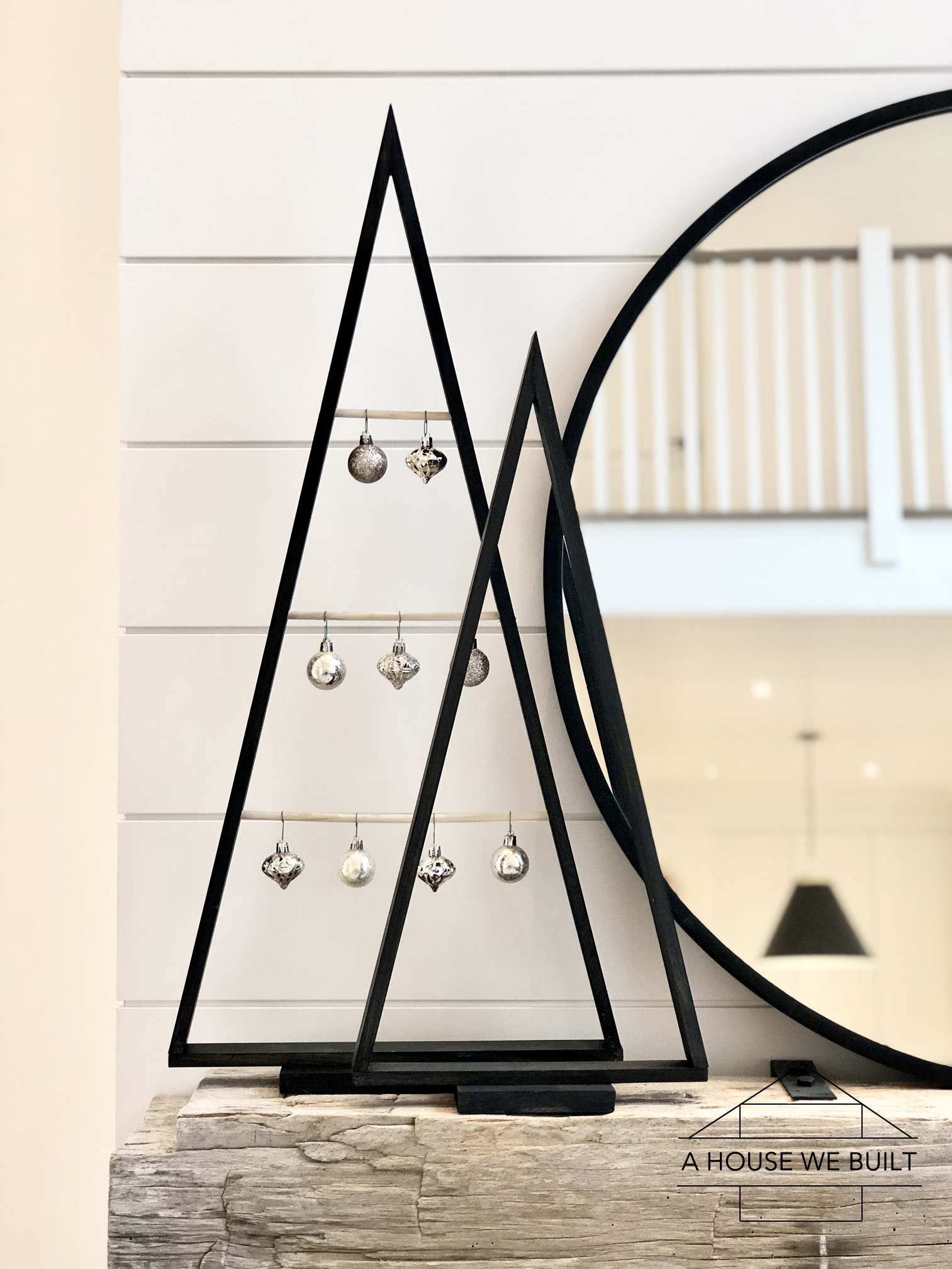 If you're not super into DIY projects, then definitely check out these Crate & Barrel trees!