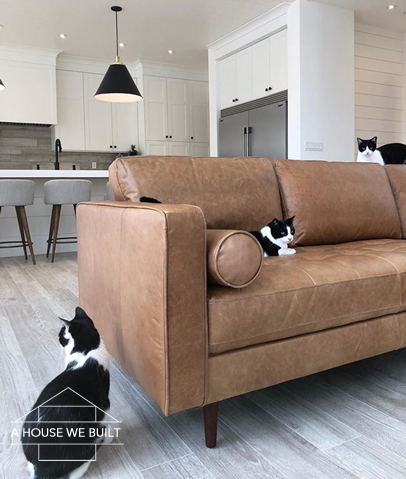 One of the most common questions I got on our Instagram page right after we showed our new leather couches was "How do you keep the cats from scratching the leather sofas?!" and I'm no expert but these are some steps we've taken to help prevent damage not only to leather but all furniture.
NOTE: our cats are not declawed. Declawing cats is a cruel, barbaric, and outdating tradition that is now thankfully banned or illegal in many places. There are many humane ways to stop cats from damaging furniture and declawing should never be considered as an option. #adoptdontshop #pawsneedclaws
I keep the cats' nails trimmed weekly. Pro tip: if you do it while they're sleeping they don't even notice. I use a nail clutter similar to this one (Amazon) and a tip I have is that when they're awake and snuggling with you, make a point to very gently handle their paws — just calmly while you're giving them scritches and pats, run your hand down their paws too. Be gentle and soothing and totally chill about it so don't draw attention to what you're doing but rather just let it feel like a natural part of their petting. This way they'll get used to you touching their paws and when you go to cut their nails while they're sleeping it doesn't bother them because they're used to you handling them and feel comfortable and trusting about the whole experience.
We have lots of scratchers around the house for them as alternative things for them to sink their little claws into. I use mobile cardboard scratchpads which are easily to tuck away. These are the ones I use: Amazon and I just keep one on each floor or zone in our house. You can even get some catnip (Amazon) to sprinkle on it if you want to draw their attention to using them! A little goes a long way so even just a cup of it should last you a while.
I use a lot of verbal cues. Contrary to common belief, cats *are* trainable. They're very smart, just also stubborn. But if you're 1) consistent, 2) firm, 3) gentle with your verbal cues, they do learn. It is absolutely vital that all 3 elements I just mentioned in order for it to work. Consistency is key. They're not human and they're not mind readers so they don't intrinsically understand the concept of a special piece of furniture that shouldn't be destroyed so you have to be consistent in telling them a firm but gentle "No" with the same tone in the same manner for several times before they start to understand it on their own. Do not spray them with water, yell, or lunge towards them. That just scares them without actually teaching them anything and turns them sour towards you. Instead be consistent, firm, and gentle in your verbal cues and before you know it you and your kitty will come to an understanding. But it is important that this tip is paired with the one above it (having scratchers) around because if you tell them they can't scratch your couch but you don't offer them anything else to scratch instead, then it's not fair. Try to understand where they're coming from. Scratching is an innate instinct for them so the goal is to try to give them a safe, non-furniture-damaging way to do what they were born to do.
When introducing anything new and special to your house (like our couches, or new table decor, or really anything), I always try to have something else in the room that is even more attractive to the cats to draw their attention away from whatever I'm adding. In our case, I kept some of the fabric wrapping the couches came in pooled on the floor and the cats were way more interested in that. It's also important to note that cats are curious by nature. If you try to keep them away from something, it'll only make them want it more. Let them sniff and inspect things and by you not making a big deal out of it, chances are they'll move on pretty quickly too.
For our couches, I consciously choose leather that looked "worn" so that it would weather well over time and wouldn't show scratches as much – just in case. Also anytime they may accidentally scratch the leather, I use this leather conditioner (Amazon) and put a little on a clean towel and rub it into the spot vigorously for about 10 seconds and it practically removes the mark (especially after a few coats). Be sure you test any conditioner first in an unseen area of leather to be sure it reacts with your couch. I also fully condition the couches every couple months with the same conditioner (Amazon). I swear this stuff works miracles!!!
As a side note, I've been around dogs my whole life (these are our first cats) so I feel like I'm mentally used to training pets so I've also kinda trained our cats not to destroy our stuff just using the same firm but calm methods you'd use to train a dog, as mentioned above. They're pretty good about generally listening to verbal cues — they understand the difference between a firm "no" and warm praise so I've used that with a lot of calm repetition to train them away from our furniture.
Finally, when we first moved in, we use a spare bedroom as a "cat room" (room tour here) where we let them acclimatize to our house so they wouldn't get overwhelmed. I still put them away there at night because they love that room (it's a kitty haven!) so I don't worry what they're sinking their little claws into at night. Remember cats are very active at night so keeping them in a separated room they feel safe and happy in at night might also help save your furniture.
I hope this helps!!
And if you don't have cats, please just enjoy the cute picture instead!