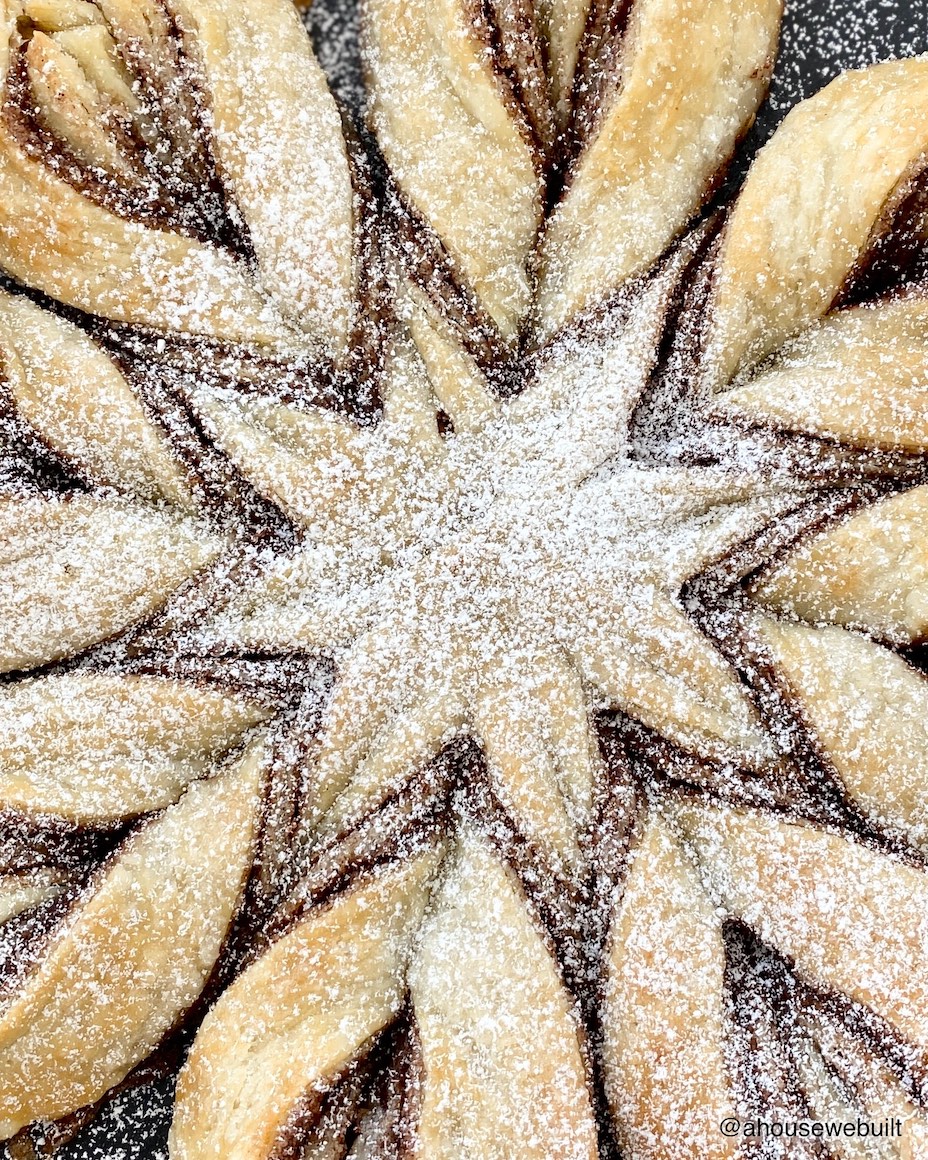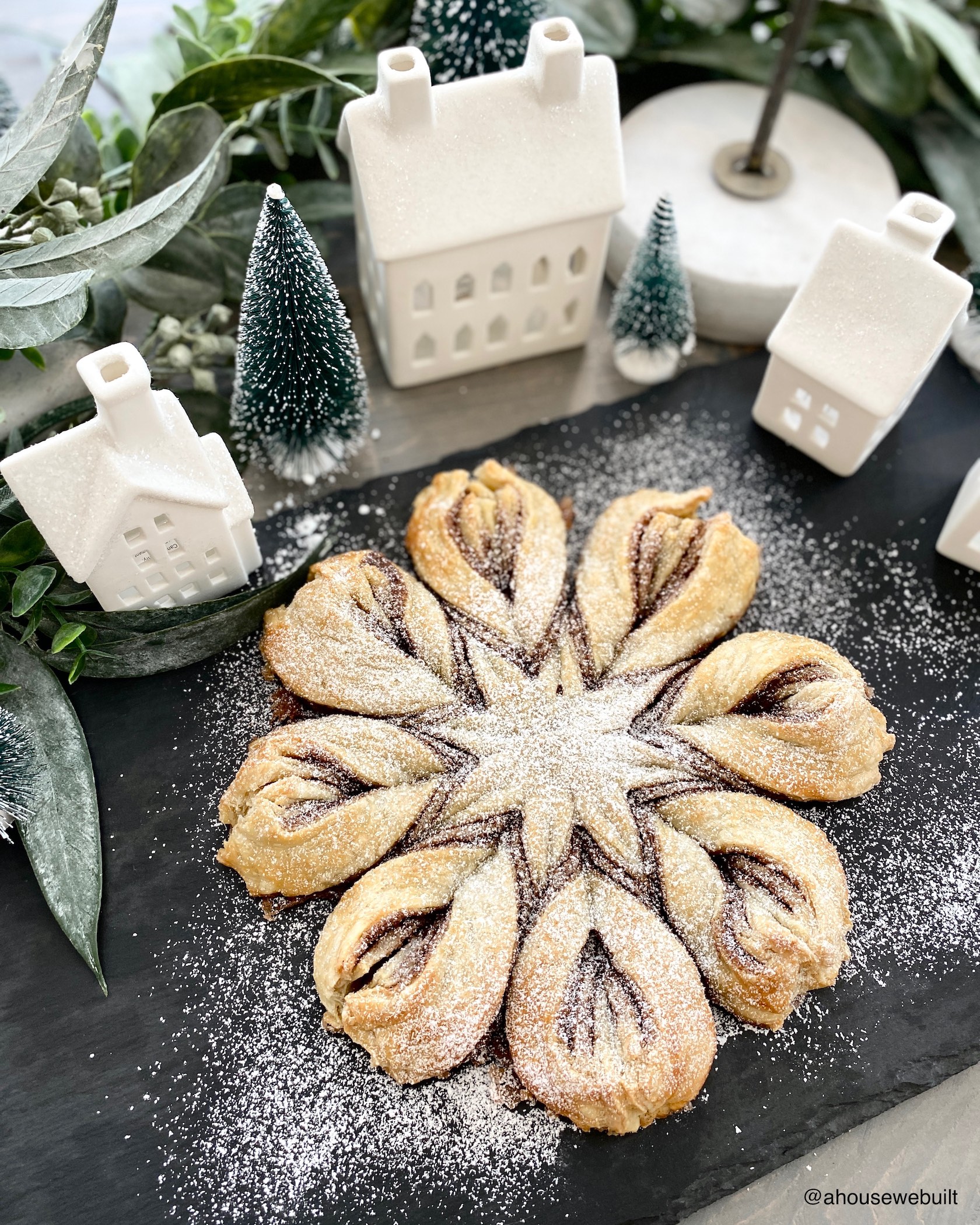 We made this cinnamon star for Christmas Eve and it's quite easy to make despite looking pretty intricate so I thought I'd share the technique and process here. You can absolutely make your own dough from scratch (I think the easy dough recipe from my Cinnamon Roll Recipe would work perfectly) but I actually just used pre-made puff pastry dough for this one because it was just faster and more convenient since I didn't have to wait for the dough to rise. But either way works. And you can also totally do a chocolate filling if you prefer, or even nutella or jam… really anything spreadable would work great!
Ingredients:
3 sheets of puff pastry dough OR from scratch dough (Recipee)
1/4 cup of cinnamon sugar (just white sugar mixed with cinnamon) OR any other spreadable filling
1/8 cup melted butter (I use vegan butter)
1 egg white OR soy milk
1-2 tbsp white sugar to sprinkle on top before baking
1-2 tbsp powdered sugar to sprinkle on top before serving
Sources from the header pics above:
Instructions:
Preheat your oven to 350.
Roll out your dough on a lightly floured surface. (Important note if you use puff pastry: keep it frozen until the night before you're ready to use it, then transfer it to your fridge. When you're ready to start baking, keep it in the fridge until the last minute and only take what you're immediately about to use out at a time. Puff pastry is easiest to work with when cold.)
Choose a round plate of the size your want your star to be and use it as a template to cut your first layer of dough into a circle. I used a pizza cutter to cut the dough.
Place your first round dough circle onto parchment paper, brush with melted butter, and sprinkle with cinnamon sugar.

Repeat process to make a second dough circle that you'll place over the first one and also brush with butter and sprinkle with cinnamon sugar.
Then make one last (third) dough circle to go on top.
Lightly make cut lines using the back of a knife or something not sharpe enough to cut the dough. Start by making lines at 12-3-6-9 o'clock, then do a line down the middle of each quarter, then another line down the middle of each eighth. You should end up with each quarter divided into 4 sections, so 16 sections in total on the whole star. Leave about 1-2 inches in the center that you will not cut.
Use a pizza cutter to carefully cut the lines through all 3 pieces of dough. I found it easier to start and the center and cut outward.
To make the twists, grab to adjacent pieces and twist them outward (away from each other) once, then let go. Then grab the same pieces and twist one more time (same direction) and pinch the ends together.
Repeat all around the star.

Brush lightly with egg white or milk.
Sprinkle with white sugar.
Bake at 350 for about 30-35 minutes, or until it turns golden brown all over the top. I like to set my timer for 30 minutes then watch it every few minutes from that point on until it's golden enough.
Remove from heat and allow to cool for 10 minutes.
Gently transfer to a serving dish (using two large spatulas helps).
Once it's cooled, you can sprinkle it with powdered sugar for a pretty finishing touch.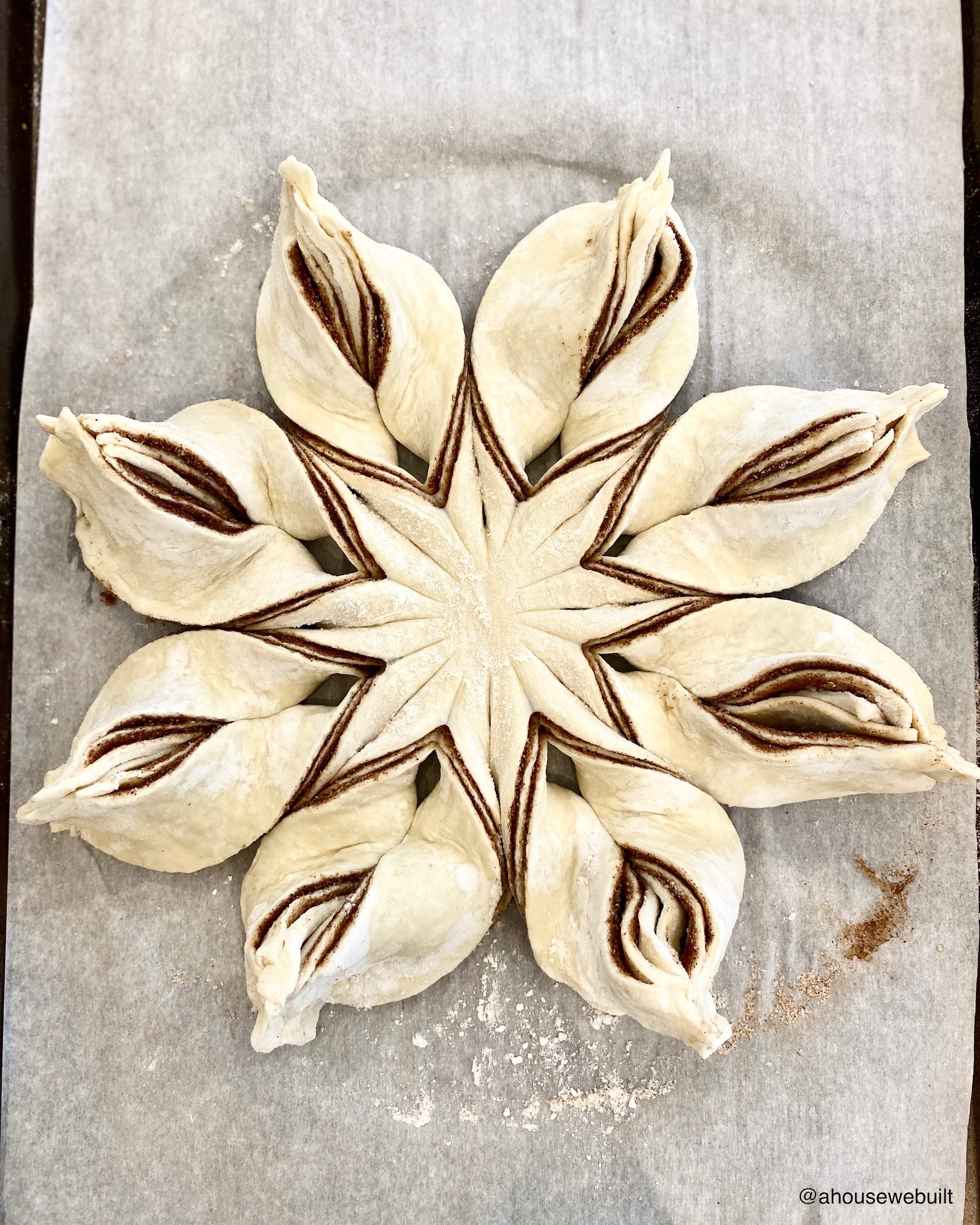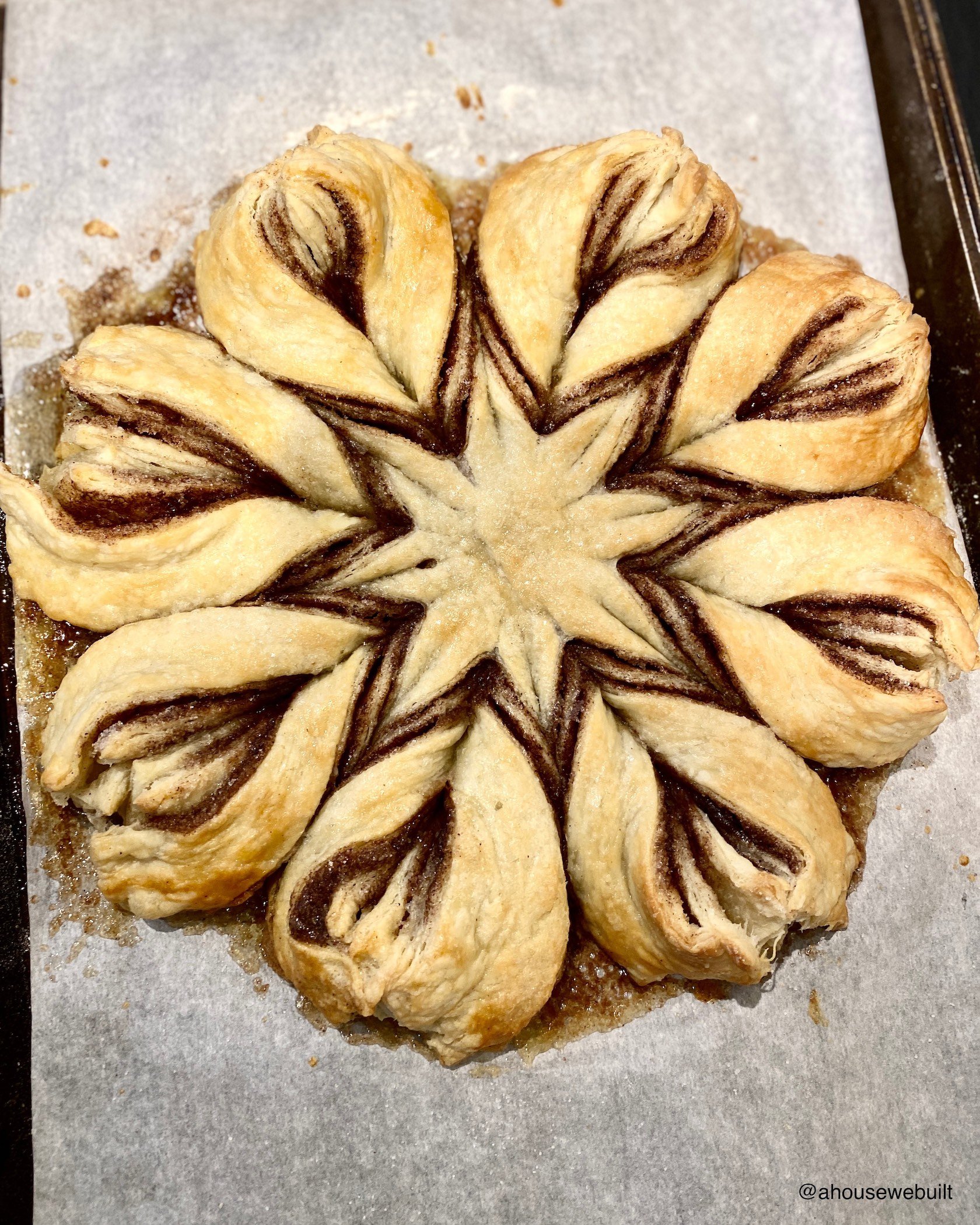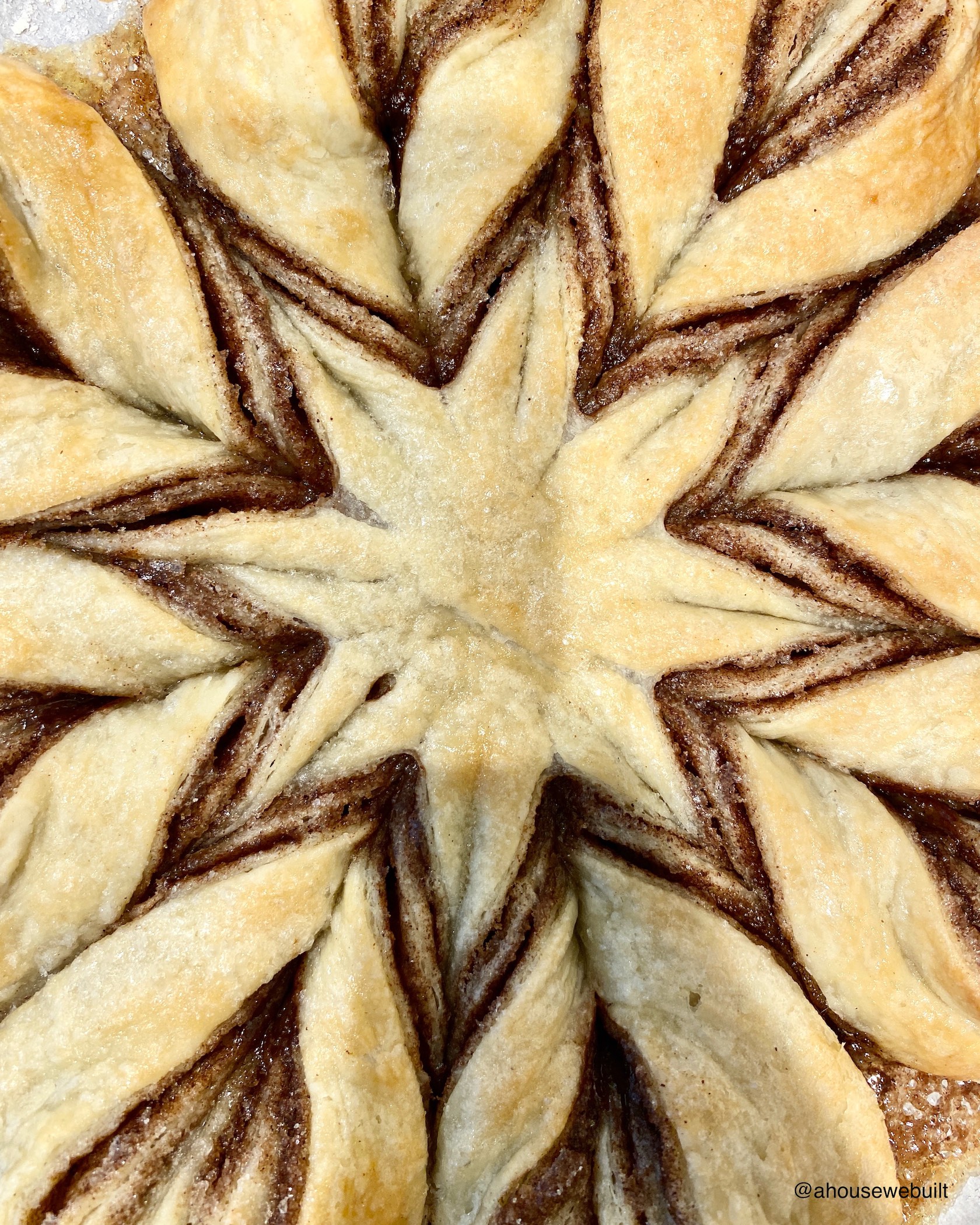 For all our recipes, click here.
To shop our home pics, click here.
To explore rooms in our house, click here.
Follow us on Instagram to see our daily posts here: @ahousewebuilt.