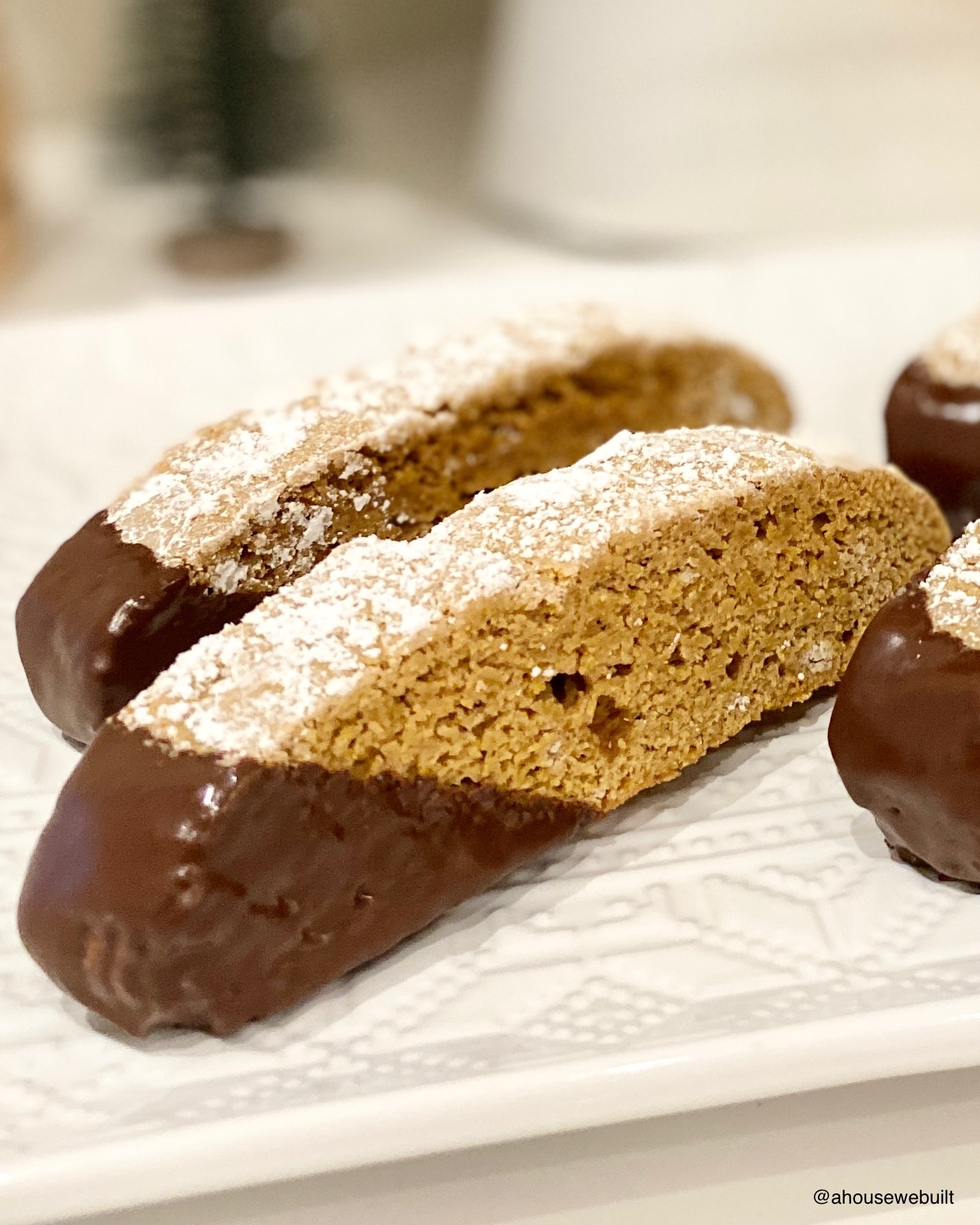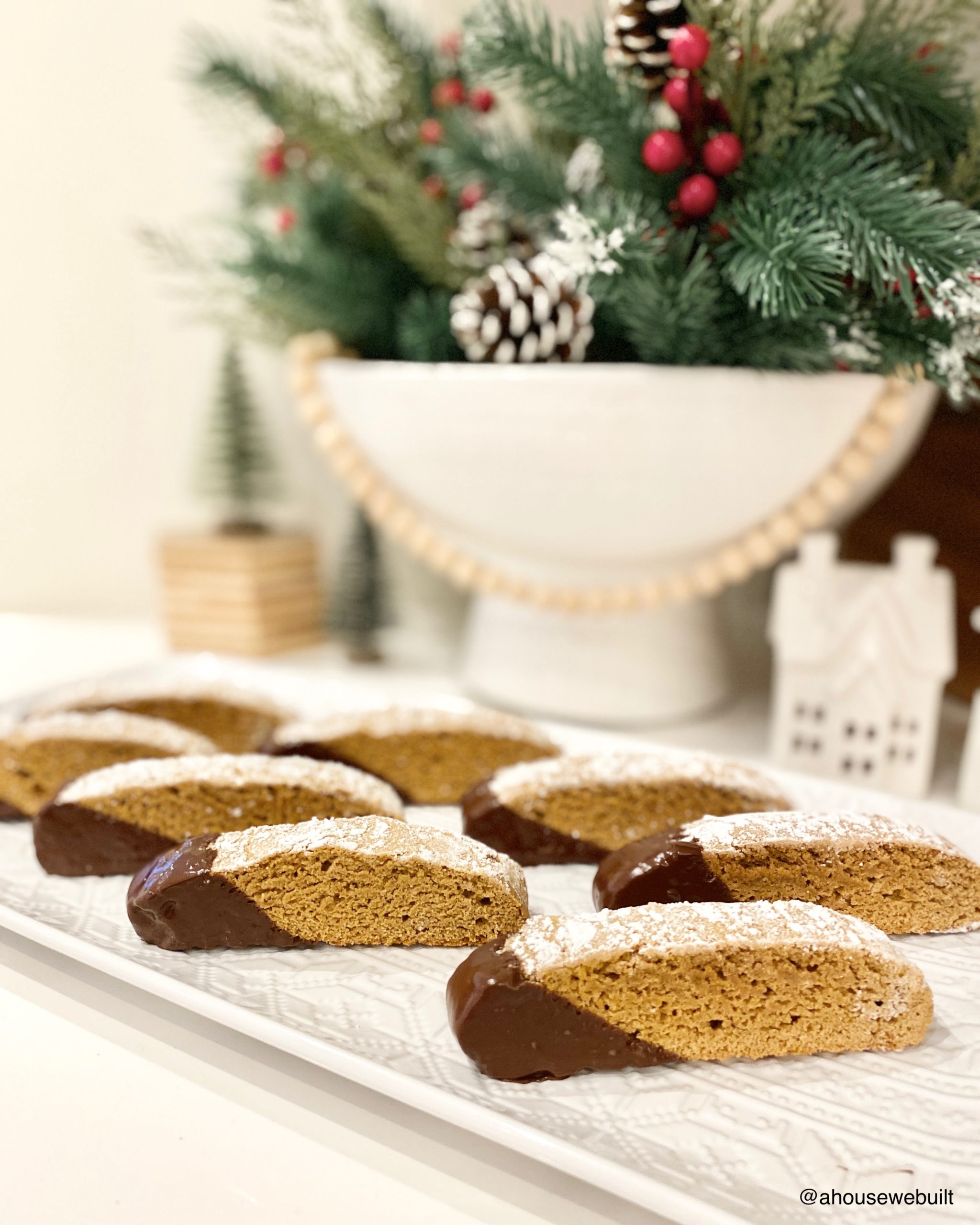 I made biscotti for the first time and it turned out really well so I'll share the recipe here! Since I'm in the middle of my Christmas bake-a-thon, I went for a gingerbread biscotti dipped in chocolate for extra yum!
Dry ingredients:
2 cups flour
1 tsp baking powder
1 tsp cinnamon
3/4 tsp ginger
1/2 tsp nutmeg
1/4 tsp cloves
Wet ingredients:
2 eggs
1/8 cup molasses
1/4 cup sunflower oil or melted butter
3/4 cup brown sugar
1 tsp vanilla
Extra ingredients:
Large spoonful icing sugar
1/2 cup chocolate chips
1 tbsp coconut oil or melted butter
Instructions:
Preheat oven to 350*.
Mix all dry ingredients together, then all wet ingredients, then combine the two. I just mixed them in a bowl with a fork – no fancy equipment needed.
Line a baking sheet with parchment paper and transfer the dough onto it (just in a heap).
Wet your hands with water (they really have to be fully wet), then gently press the dough into a rectangular shape that's about 3/4 inch high. My final dough form was about 10 inches x 5 inches.
Sift some icing sugar on top of your dough (enough to cover it).
Baking for 25 minutes at 350*.
Remove from oven and let cool for 15 minutes. Also reduce oven to 300*.
Gently use a bread knife to cut your dough into 3/4″ slices. Make sure your pieces are even sizes.
Place the slices on their side on a baking sheet and bake for 10 more minutes.
Flip the pieces over to the other side and bake for another 10 minutes.
Remove from oven and let cool completely. As soon as you can handle them, I recommend transferring them to a wire rack and standing them up so they can cool on all sides.
Once the biscotti are fully cool, you can either eat them as they are or take it to the next level and dip them in melted chocolate. To do this, just melt up some chocolate chips with a spoonful of coconut oil in the microwave. I did 30 second increments, stirring in between (about 3 times).
Dip one end of each biscotti in the melted chocolate (or drizzle on top if you prefer).
Allow the chocolate coating to fully cool before serving. (I put my chocolate covered biscotti into the freezer on a flat tray for 5 minutes to make the chocolate set faster.)
And that's it! It's really quite easy and they taste delicious! ENJOY 🙂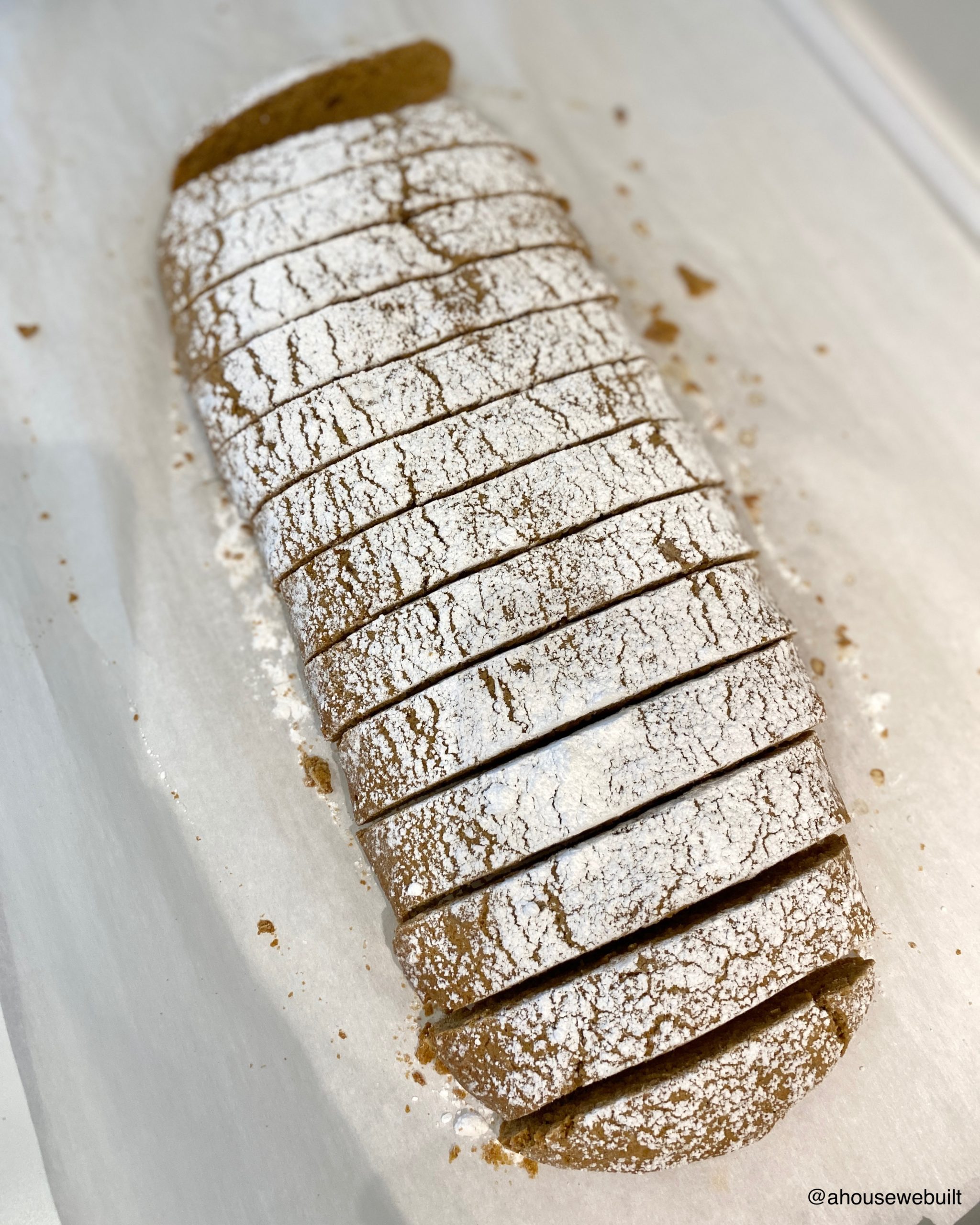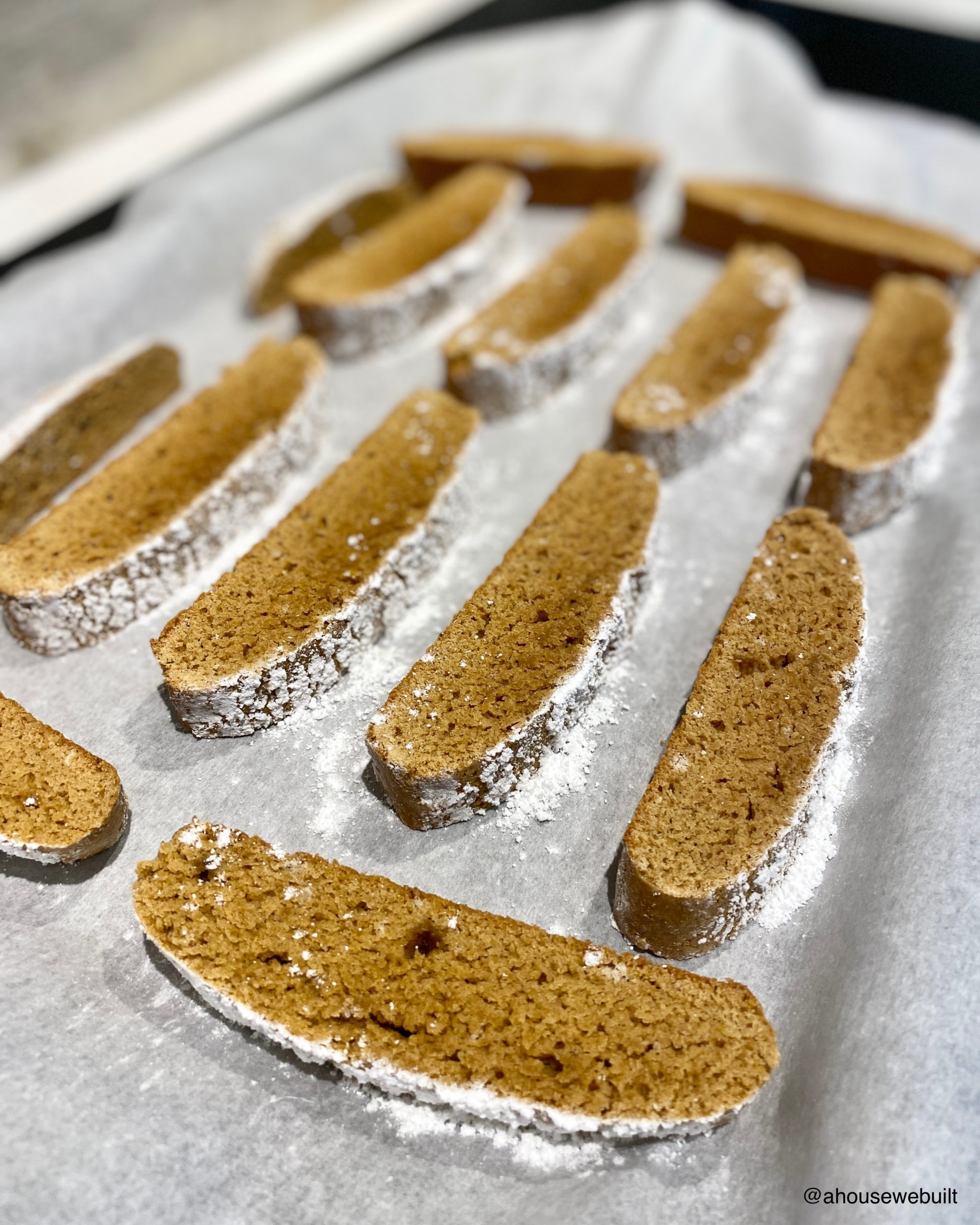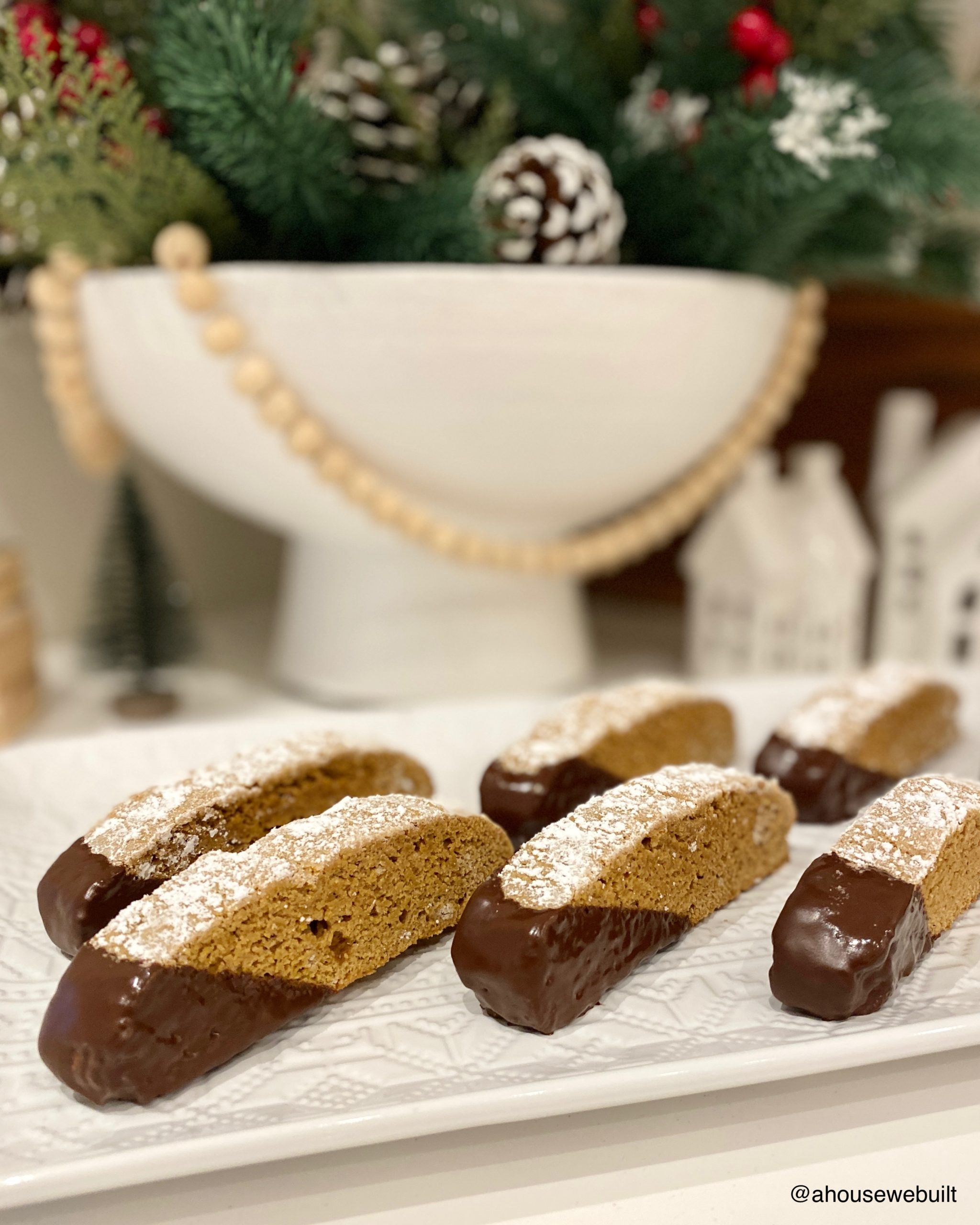 For all our recipes, click here.
To shop our home pics, click here.
To explore rooms in our house, click here.
Follow us on Instagram to see our daily posts here: @ahousewebuilt.