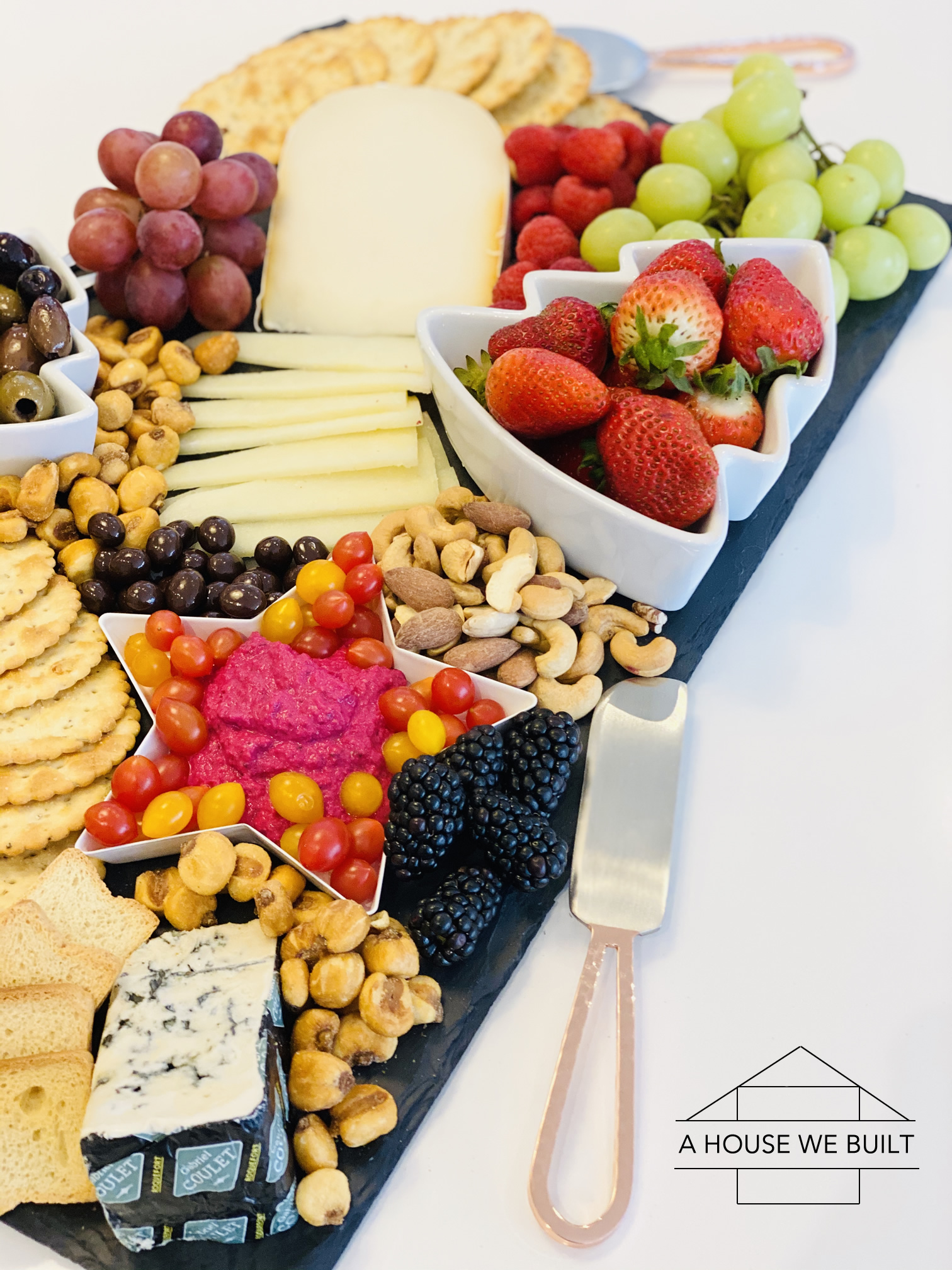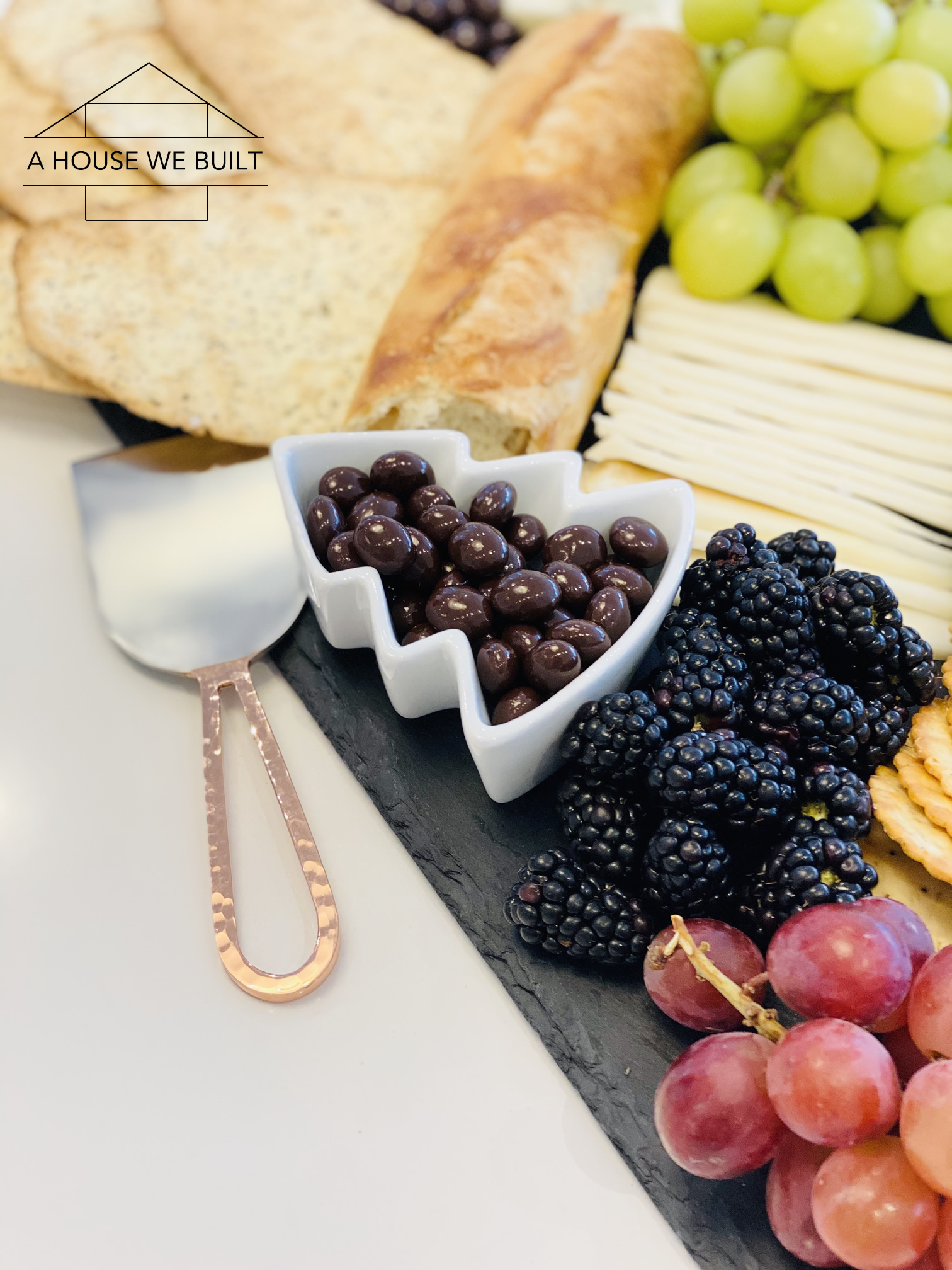 Cheese boards are perfect for decadent and tasty snacking! They're also excellent party pleasers! I know that a charcuterie board is often the more traditional option, but since we don't eat a lot of meat in our house, a cheese board is the way to go for us! It's not only perfect for parties, it's can also be an amazing option for those random nights when you don't know what to make for dinner and you just want to snack!
My favorite board to use is this slate board from Crate & Barrel (comes in small, medium, and I have large) and I paired it with this adorable modern copper handled cheese knife set and Christmas tree ramekins which felt perfect for the holiday season! More on other cheese boards & knives I love down below!
The best cheese boards have a variety of flavors to compliment each other – a mix of cheeses, crackers, fruit (fresh & dried), sweet treats, salty snacks, some crunchy bits and anything else your heart desires!
As far as presentation goes, there are basically a zillion different cheese board styles and cheese knives out there to choose from, so I've rounded up my favorites styles below to help narrow down the selection!
Favorite cheese board styles:

Favorite styles of cheese knives & accessories:

Favorite snack board foods:
Cheeses (I like to do 3):
1 hard (my fav is manchego, I usually slice this to make triangle wedges)
1 medium (my fav is goat gouda or cheddar, I'll slice gouda but cube cheddar)
1 soft (my fav is soft unripened goat, but brie is common too)
Crackers (I also like to do 3, in a variety of shapes):
1 Flavored
1 Crispy
1 Softer
A baguette (sliced or in chunks)
Fresh fruit:
Grapes are a must for me
Berries are also a must
Seasonal options: pears, peaches, figs, persimmons, apples, tangerines, grapefruit, melon…
Salty snacks:
Olives are my go-to, the more variety the better
Roasted red peppers
Mini pickles/cornichons
Sweet treats:
Chocolate bites/truffles
Dried fruit (apricots, dates, cranberries, figs…)
Candied ginger (sweet with a bit of a kick)
Spreads:
Jams and spreads (sweet or spicy)
Humus (for color, try beet or pea humus)
Honey in a cute little jar/dish
Crunch factor:
Nuts (roasted & salted for extra yum)
Roasted corn kernels
Pretzels and breadsticks
Veggies:
Cherry tomatoes
Cucumber slices
Honestly there's no right or wrong way to do make these boards. I did up a couple different versions here as examples, but there are literally endless different and fun ways to make these yummy snack boards! And you don't even have to do cheese… you can do veggie boards, fruit platters, or even dessert trays!!