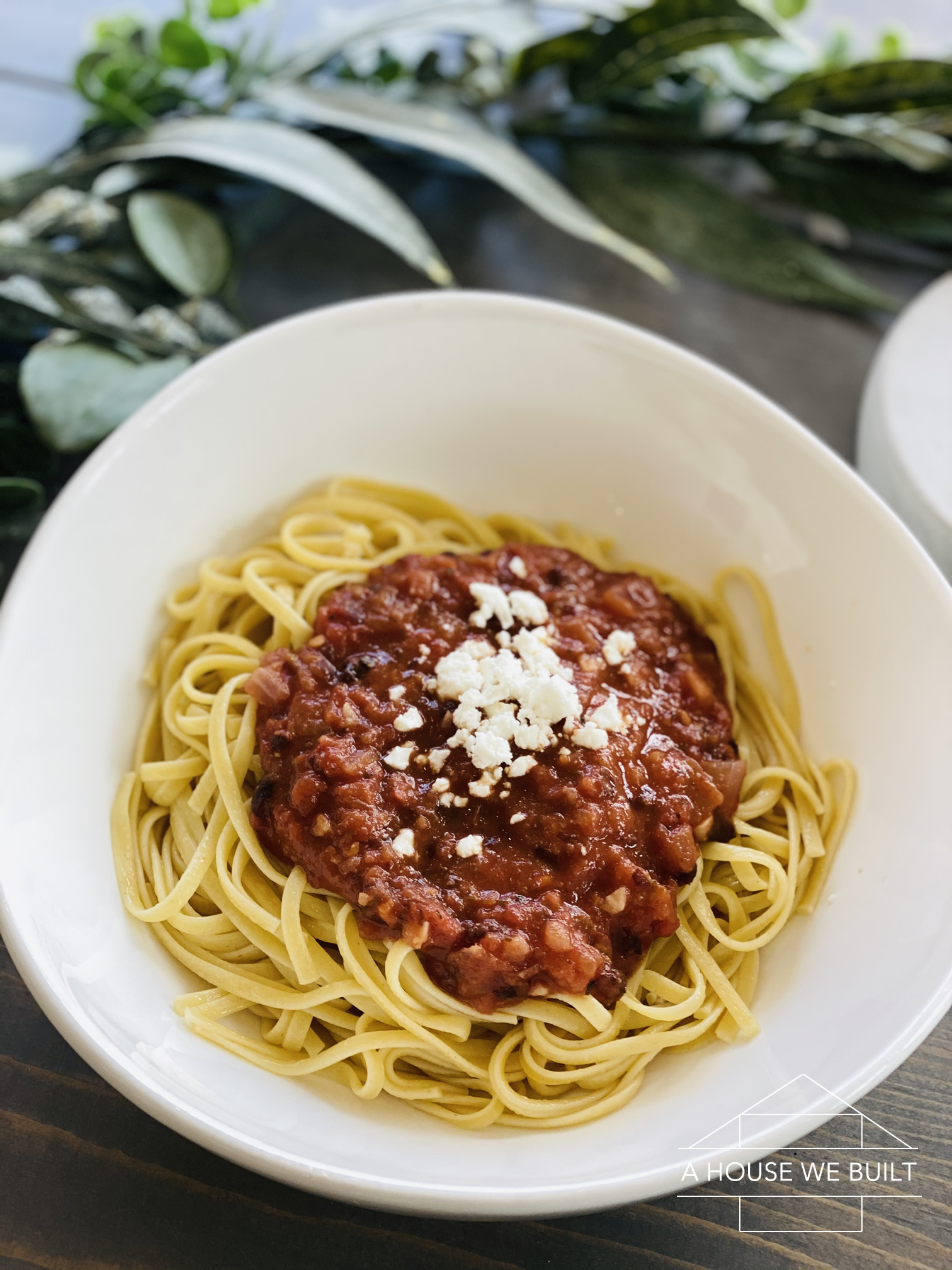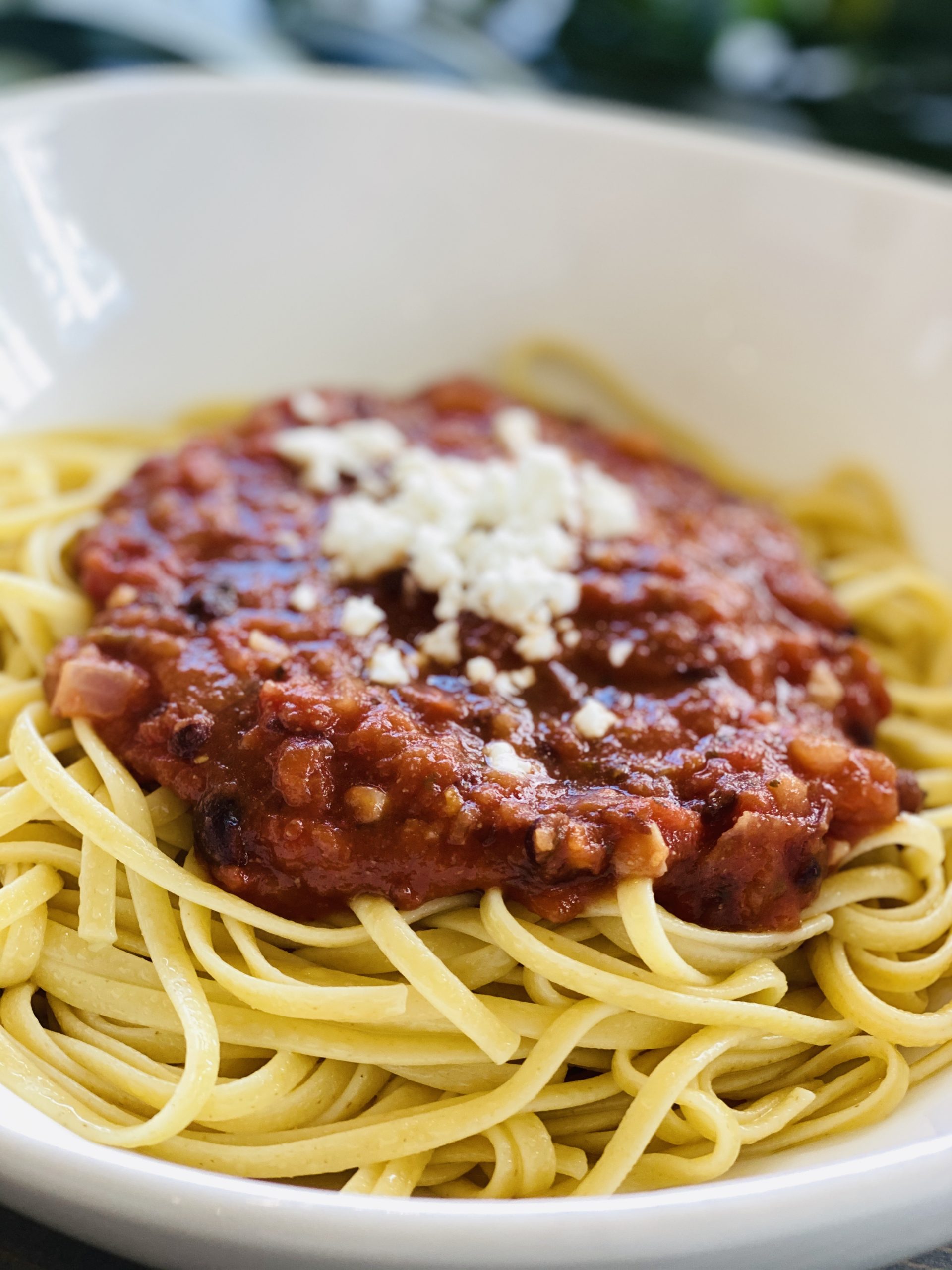 Pasta is one of my favorite dishes and with since we've been pretty strict about staying home these past few pandemic weeks, I've tried getting creative with making recipes out of pantry shelf stapes – without extra fresh ingredients (that by now we're out of). The catch is that I'm also trying to make the meals as balanced as possible so I wanted this to be more than just tomato sauce and pasta so this is a bit of a jazzed up version with protein from the beans/lentils while still being a yummy pasta dish!
(If you're wondering why we don't just use ground meat, we just don't really like to eat much meat in our house. We're not vegan – we eat cheese/eggs/fish – but we typically don't eat meat products.)
Ingredients:
1 can tomatoes (either used crushed, or crush the tomatoes you have)
1 can black beans or lentils or chickpeas (drained + rinsed + lightly crushed/mashed.)
1 cup vegetable stock/broth
1 onion (any kind, chopped)
4 garlic cloves (minced)
3 tbsp olive oil
2 tbsp tomato paste (optional, but tasty)
1 tbsp sugar
1 tsp salt
1 tsp garlic powder
1 tsp dried basil
1 tsp dried oregano
1/2 tsp dried parsley
1/2 tsp red pepper/chili flakes
1/2 tsp ground black pepper
Now, if we were still doing regular grocery runs (which we're not), I would totally add chopped celery, fresh basil, spinach or kale, even some roasted cherry tomatoes… but we're really trying to stay home right now for as long as we possibly can, so that means that we're working with pantry staples.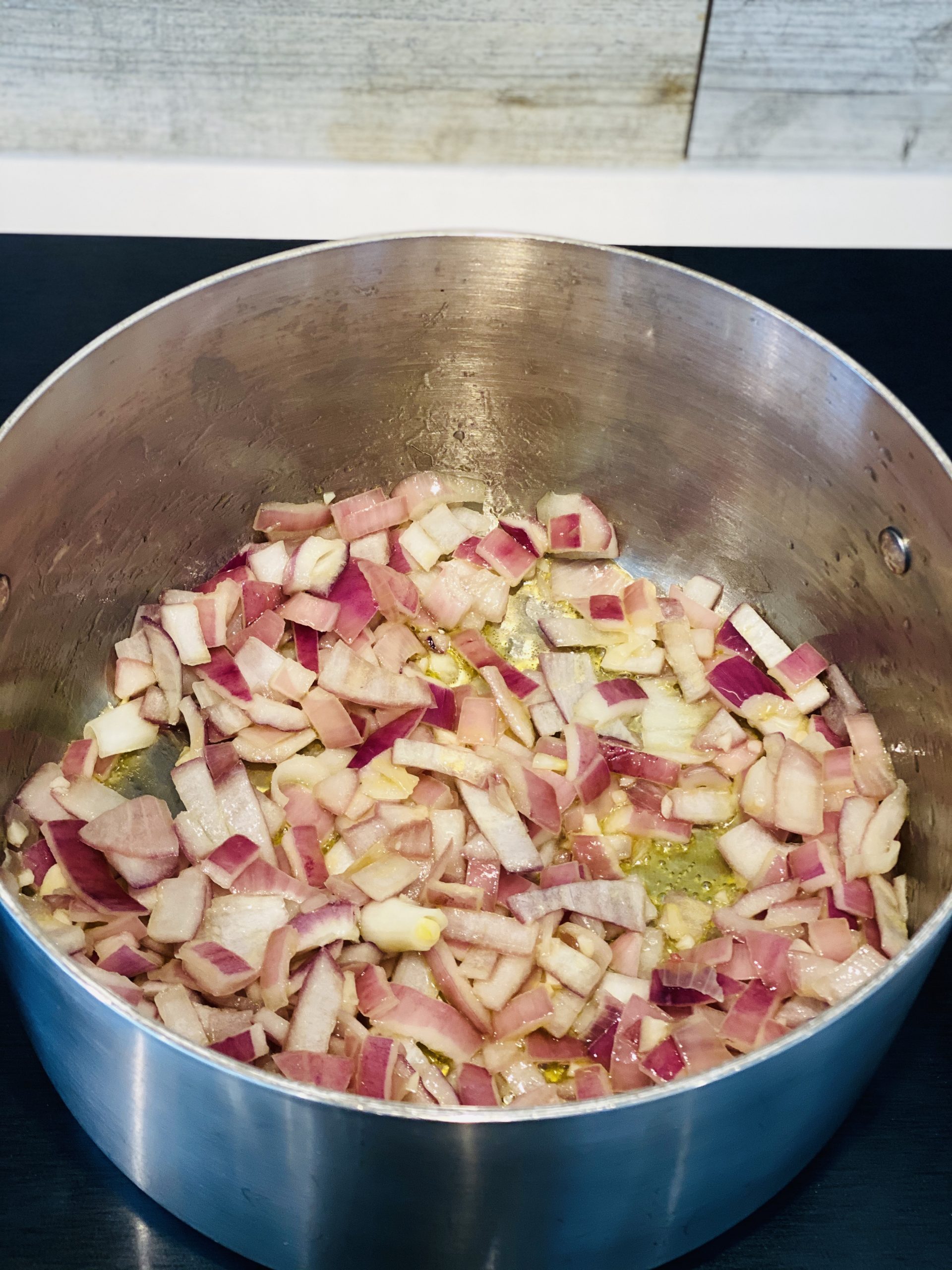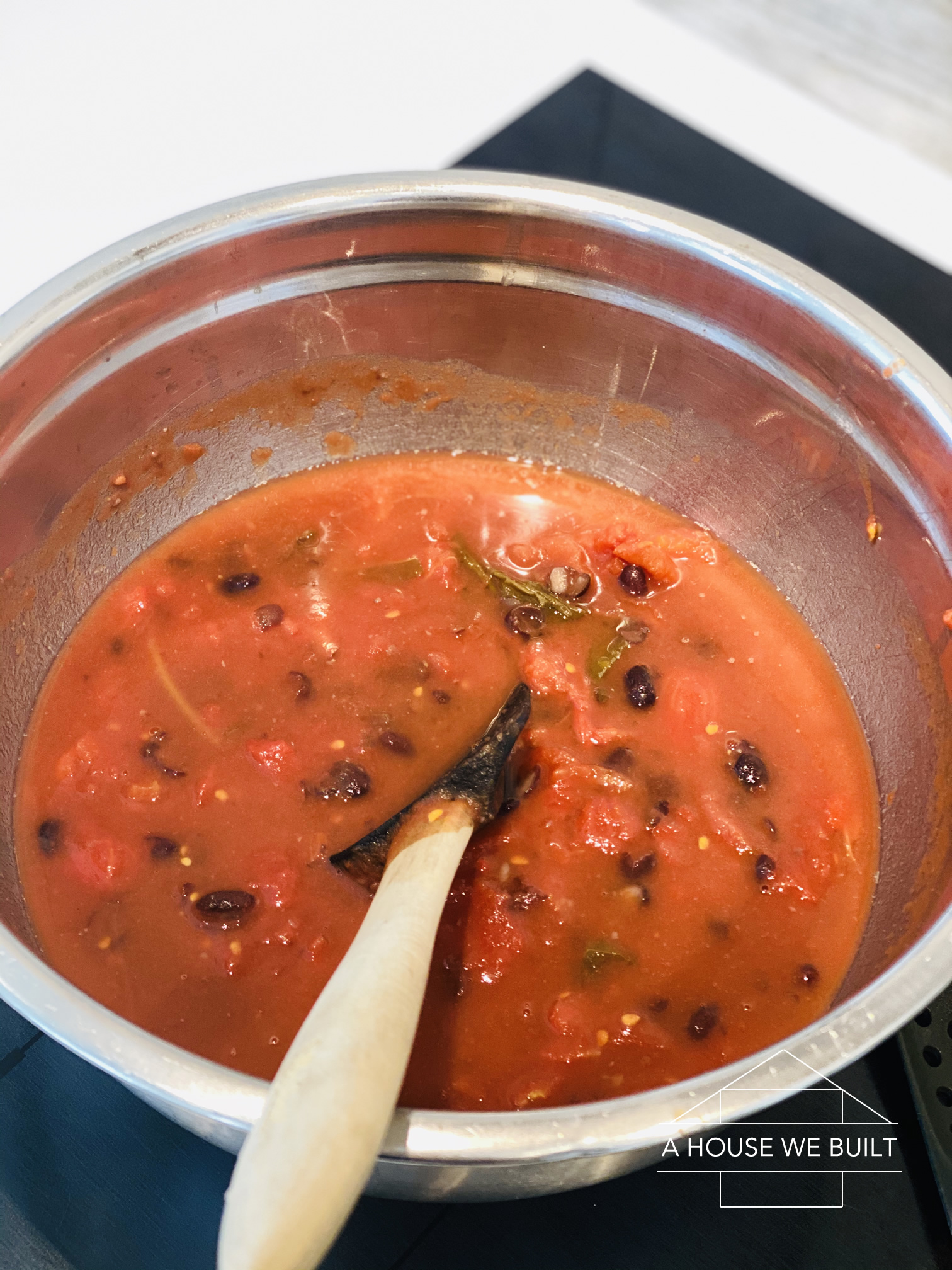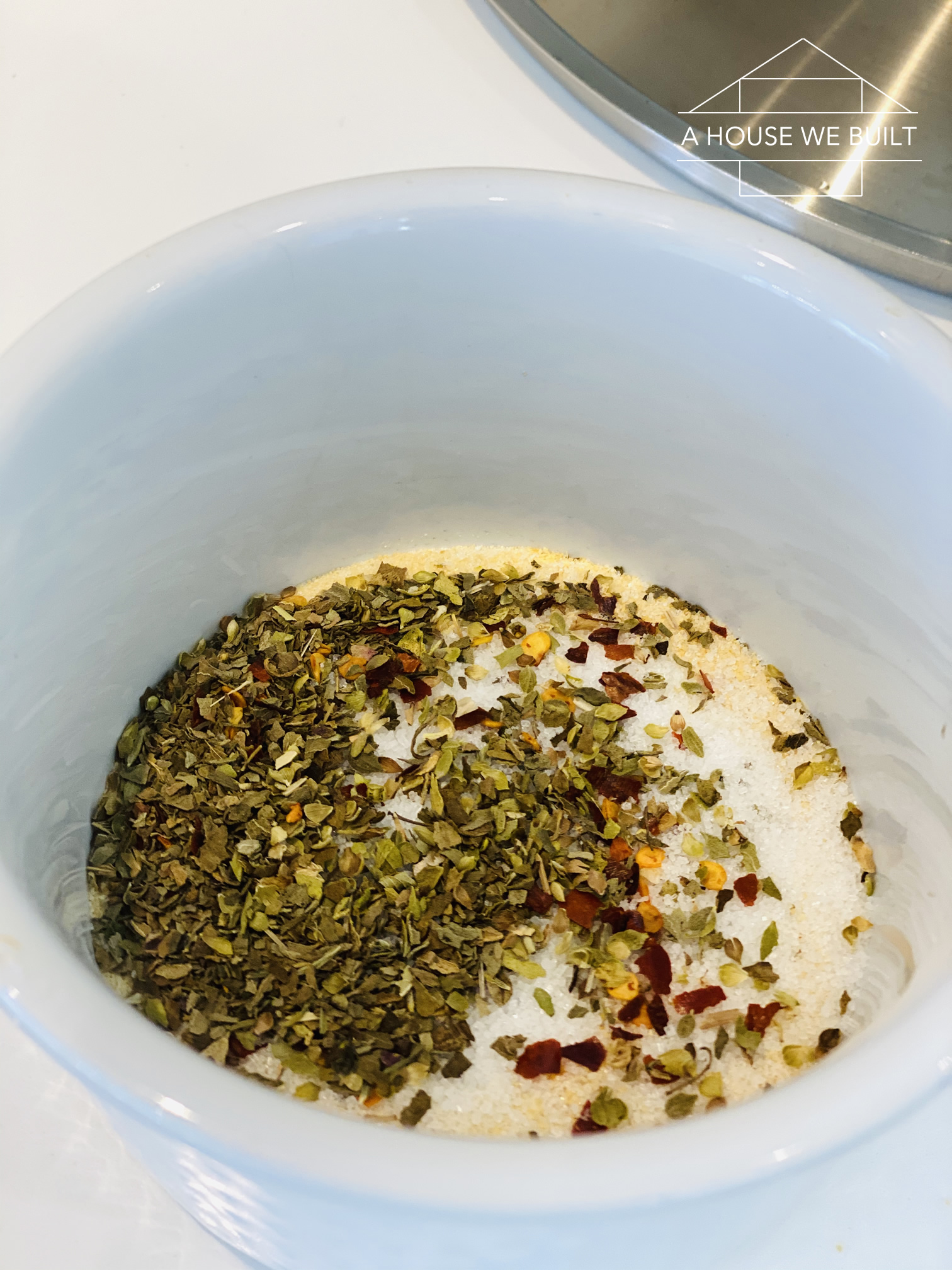 Preparation:
I like to pre-prep everything into 3 bowls before I start cooking to make things simpler. First, chop up your onion and mince the garlic and place them into a large sauce pan with a healthy glug of olive oil, and set aside.
In a large bowl, drain and rinse your beans/lentils/chickpeas and mush them up with a fork/potato masher until they're just a bit broken up, but NOT a paste!! Add in your can of crushed tomato + cup of veggie stock/broth + olive oil. This is your liquids bowl.
In a small bowl, assemble all your spices and set aside.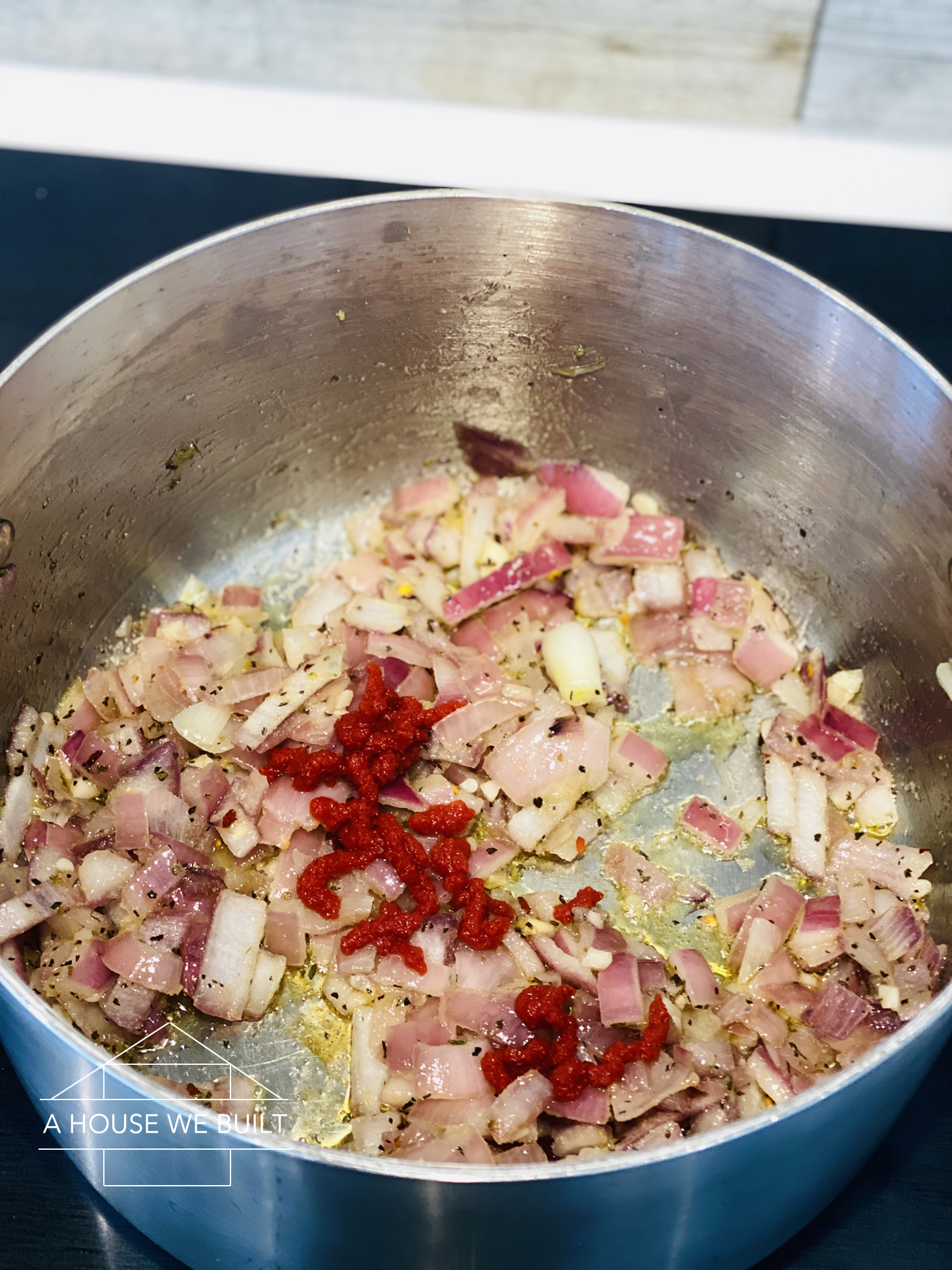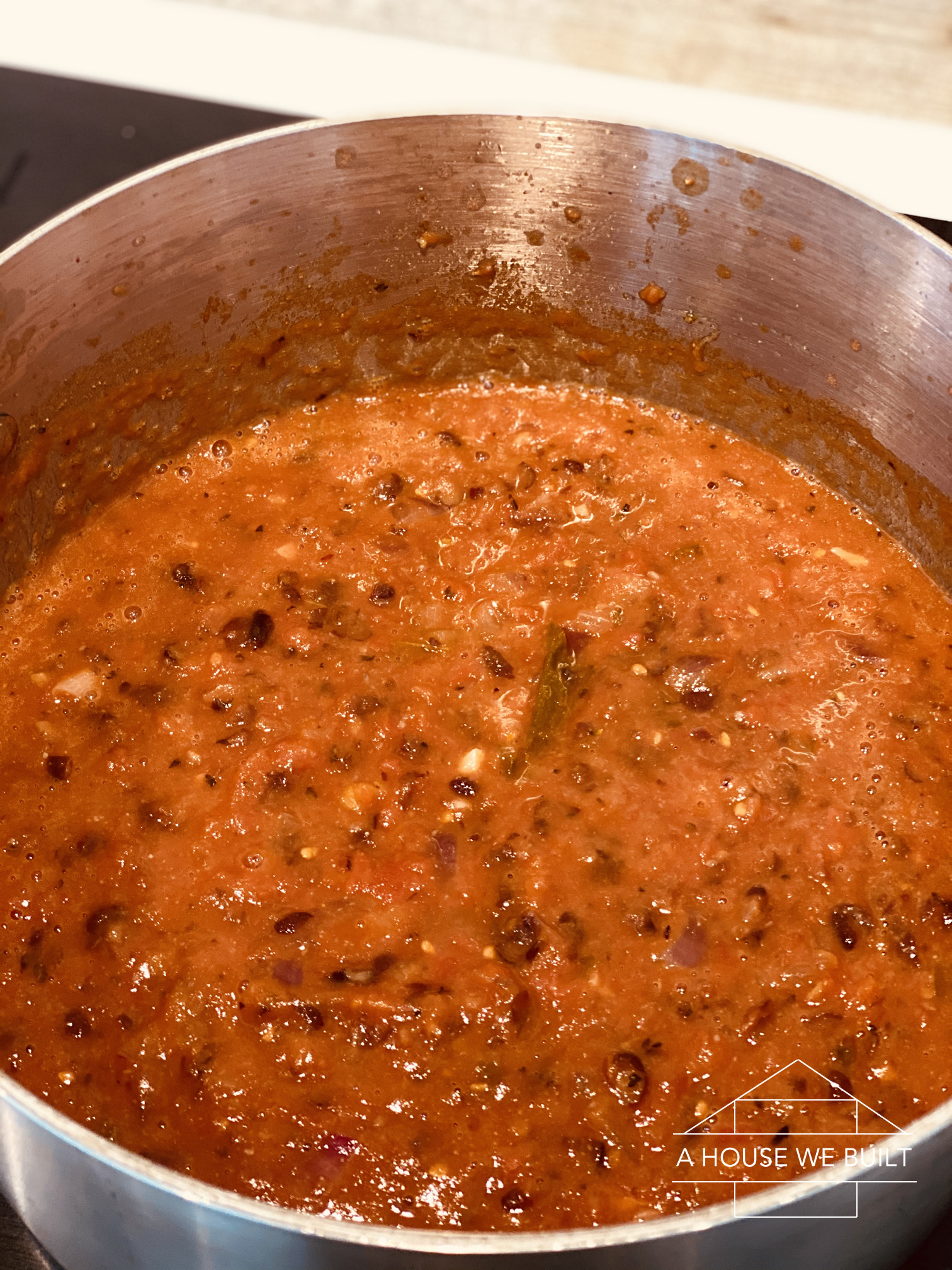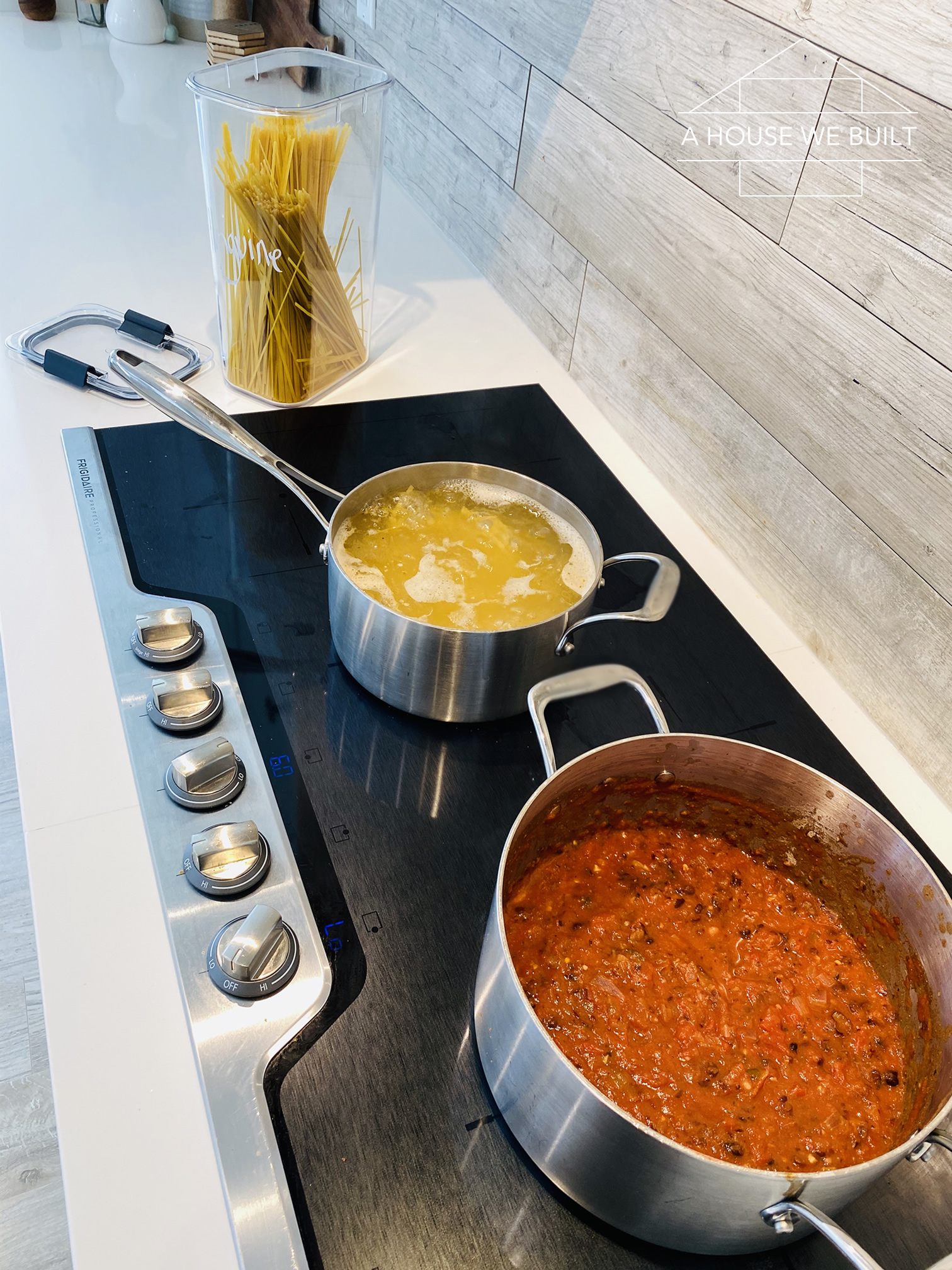 Cooking instructions:
In a sauce pan on medium-high heat, fry up the onion and garlic in olive oil for about 3 minutes, or until the onion is translucent.
Add in the spice blend, and stir constantly for about a minute.
Add in the tomato paste and stir it through. (This is optional.)
Add in the contents of your liquids bowl (crushed tomatoes, mushed beans/lentils, veggie stock, olive oil) and stir it through. Reduce to medium-low heat and cook for around 30 mins or until the sauce thickens up a little, stirring occasionally.
Optional last step that I personally like to do (but is not strictly necessary), use an immersion blender (Amazon) to break it up a little. But JUST pulse it a few times for like half a second in different spots around the sauce pan. You don't want to turn it into soup!! It should have texture.
Prepare your pasta of choice according to package instructions.
Serve & enjoy!
For sources from our kitchen, click here.
For sources from our pantry, click here.
For more of our recipes, click here.