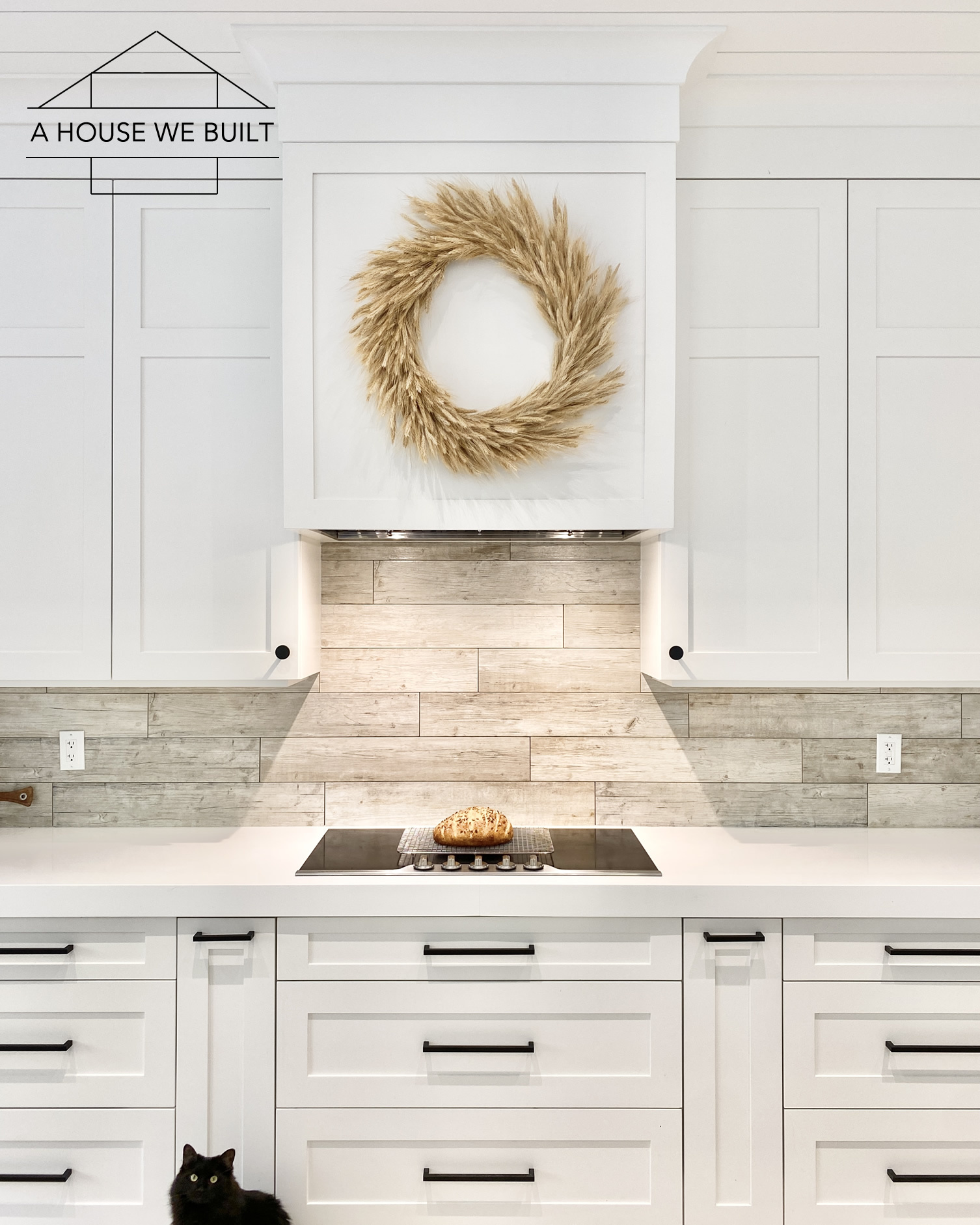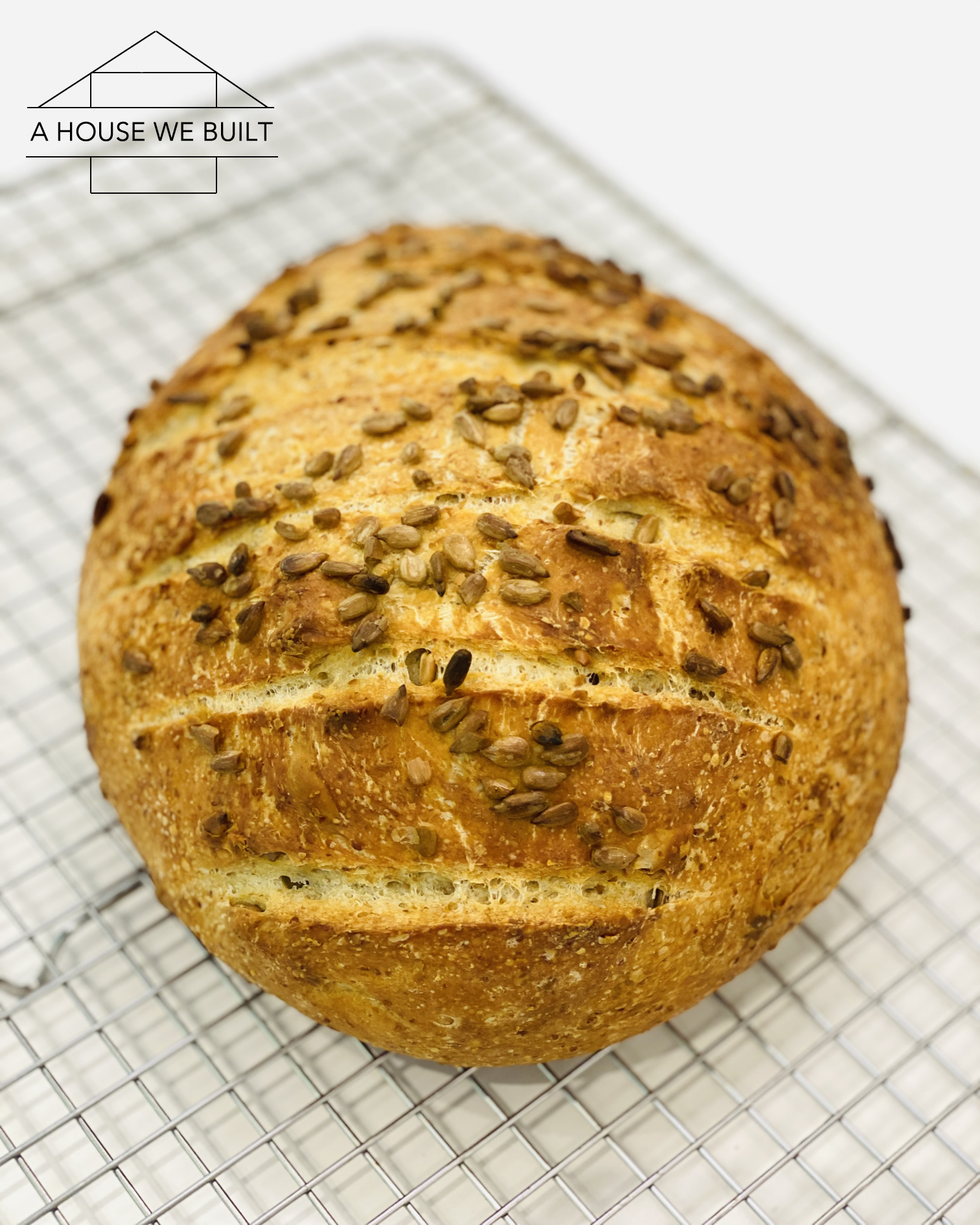 We make homemade bread almost every week around here and I thought I'd share our recipe! I say "our" rather loosely here because this is my husband's recipe. He makes it himself and I just enjoy the results!
This bread basically tastes like a hearty white country bread. It has amazing texture and chew – it's not too light and not too heavy, and is great fresh or toasted. You can also add seeds for extra healthiness!
Ingredients:
6 1/2 cups (1000g) bread flour or all-purpose flour, sifted
2 3/4 cups water, warm (~110F)
1 tbsp active dry yeast
1 tbsp salt
Optional: 1/2 cup ground flax seeds and/or 1/2 cup roasted sunflower seeds
Tools:
How to make the dough:
Sift flour and add to mixer bowl. Sprinkle in the salt. (If you're doing the option with the extra seeds, add them in now with flour.)
Warm the water in the microwave and then stir in the yeast, vigorously! Wait till the yeast forms a foamy layer on top.
Slowly pour in the yeast-water while mixing on low until fully incorporated.
Blast mixer at medium/high for a few minutes to develop gluten. Dough should again be smooth and stretchy and only slightly sticky. You should only handle it with slightly wet hands and it should not stick to them very much. If it is sticky, add a little flour (1 tbsp at a time) until you're able to handle it without sticking. If it is too dry and there's flour sitting at the bottom of the bowl that isn't incorporating, then add a little water (1/2 tsp at a time). Everyone's flour will be a little different so you have to adapt a little depending on your flour.
Cover dough and let rise for ~2 hours at room temperature – until at least doubled in size.
Uncover the dough and gently fold it over itself a few times, bringing it down in volume. BE GENTLE! Use water on your hands if sticky, not flour.
Cut the dough in half – forming two smaller doughs, each of which will become one loaf as per the instructions below.
Re-cover doughs and store in the fridge. You have two choices at this point:
A) Let dough sit in fridge overnight, or even for several days. This builds sourdough flavors.
B) Remove from fridge after ~2 hours, when the dough has again roughly doubled in size.
Either way, when you take a dough out of the fridge, it will be time to start the baking process.
How to bake the bread:
Remove dough from fridge.
Gently transfer dough to an oiled mixing bowl and gently coax it into a loaf-ish shape, folding a few more times if you think your dough can handle it. Cover dough and allow it to warm to room temperature (should take around 2 hours). Dough should rise a bit more during this time. You know it's done when the loaf is approximately the size of a loaf of bread and jiggles when you wiggle it. In terms of time, around two hours. You can float the bowl with the dough in a larger bowl with warm water to speed it up if you're short on time.
While you wait, preheat oven to 450 convection bake with a dutch oven inside.
When the oven is ready and the dough is room temperature, oil the dutch oven and GENTLY transfer dough to it. Slash the top of the loaf with a razor, mist it with water if you are feeling fancy, then cover the dutch oven, and bake in oven for 15 min.
Remove cover from dutch oven and cook for 15 minutes more to brown the top of the loaf.
When the 15 mins are up and the loaf is a nice golden-brown, remove dutch oven from oven, remove loaf from dutch oven, and allow loaf to cool on wire rack for ~45 minutes.
Eat loaf.
Kitchen sources from the pic above:
Drawer pulls (long): Amazon
Drawer pulls (short): Amazon
Knobs: CB2
Wreath (similar): CB2
Cabinetry: custom made, color BM Simply White
Backsplash: wood-look tile
Counters: white quartz
For all our recipes, click here.
To shop our home pics, click here.
To explore rooms in our house, click here.
Follow us on Instagram to see our daily posts here: @ahousewebuilt.