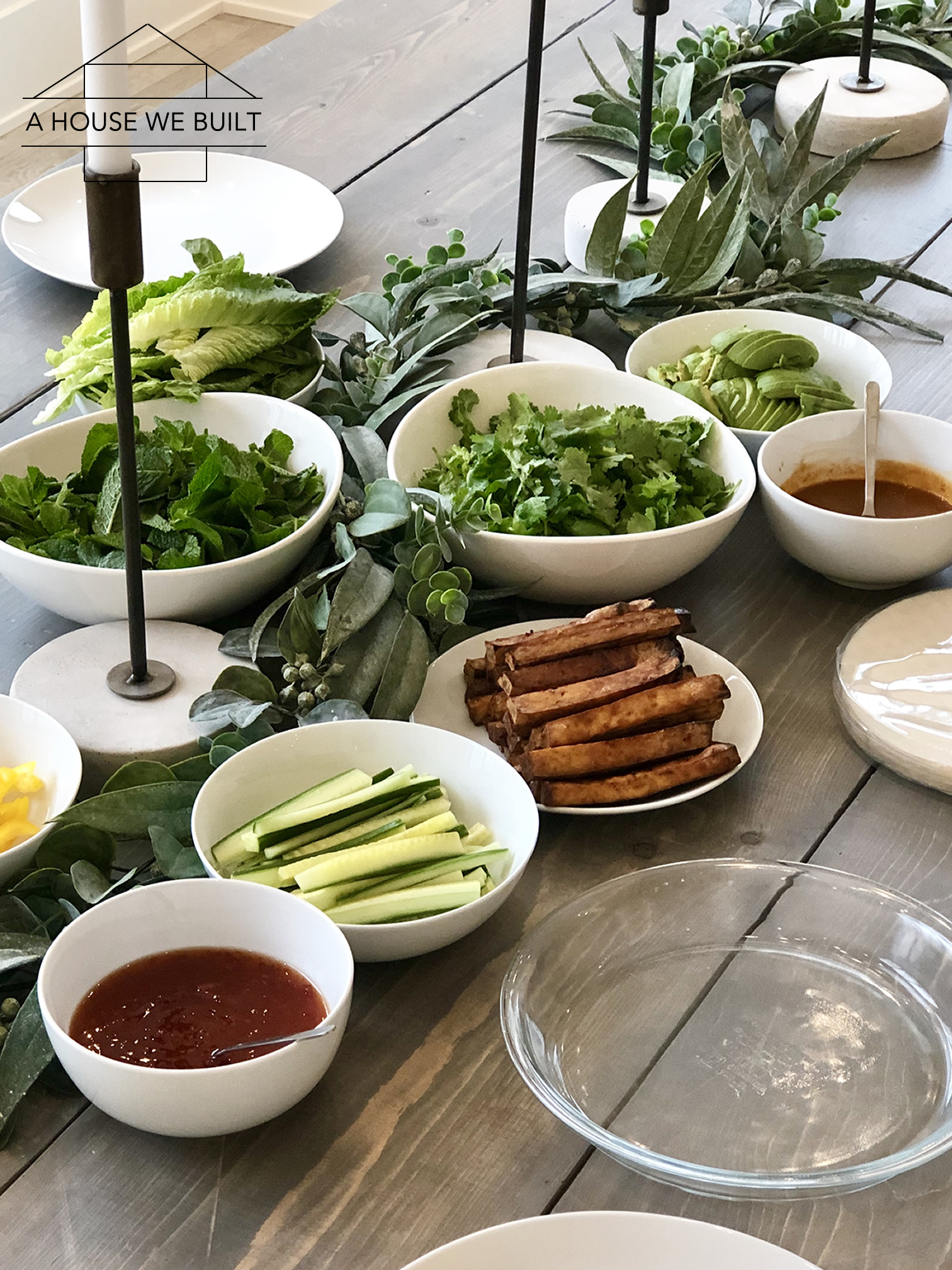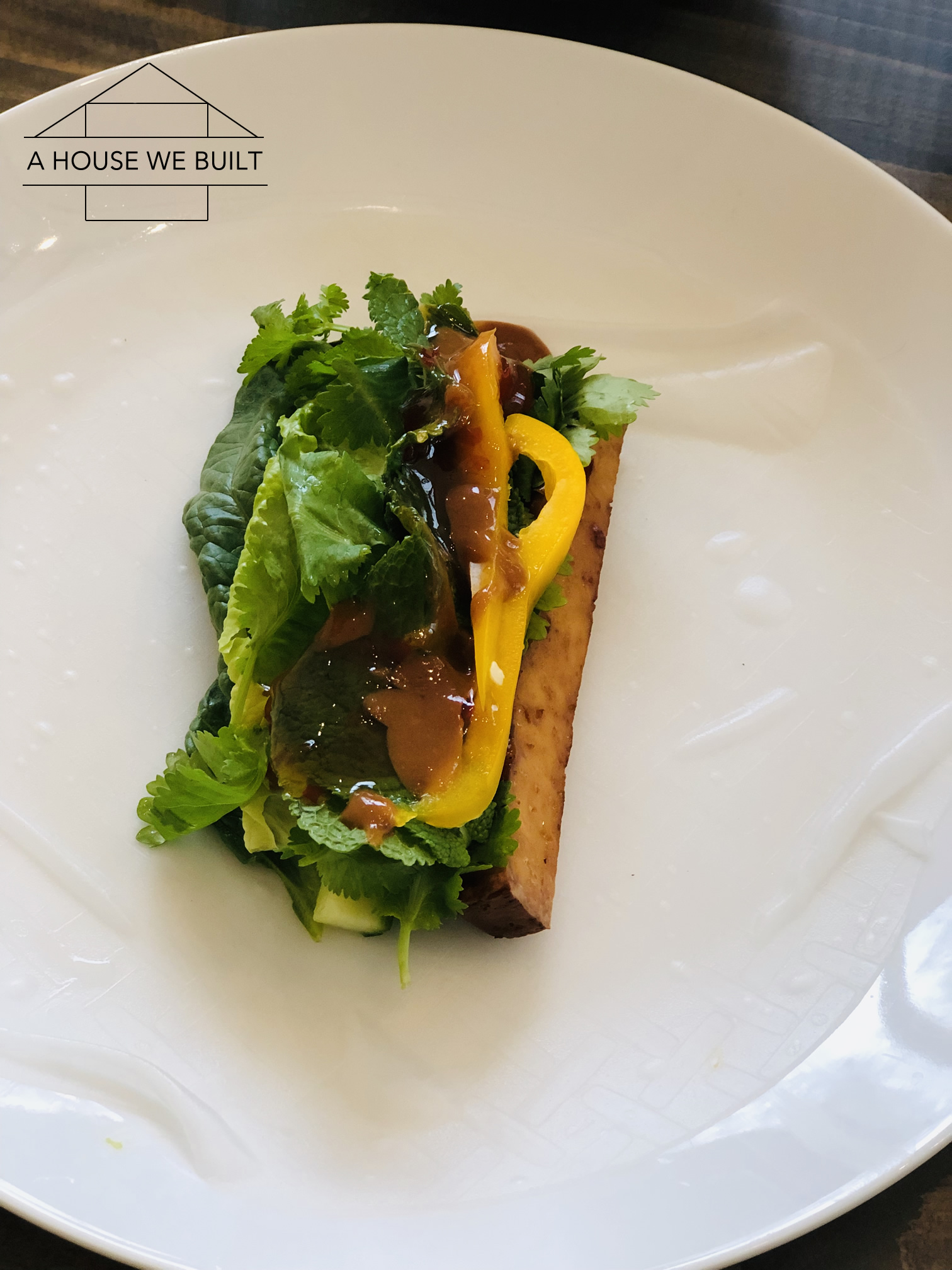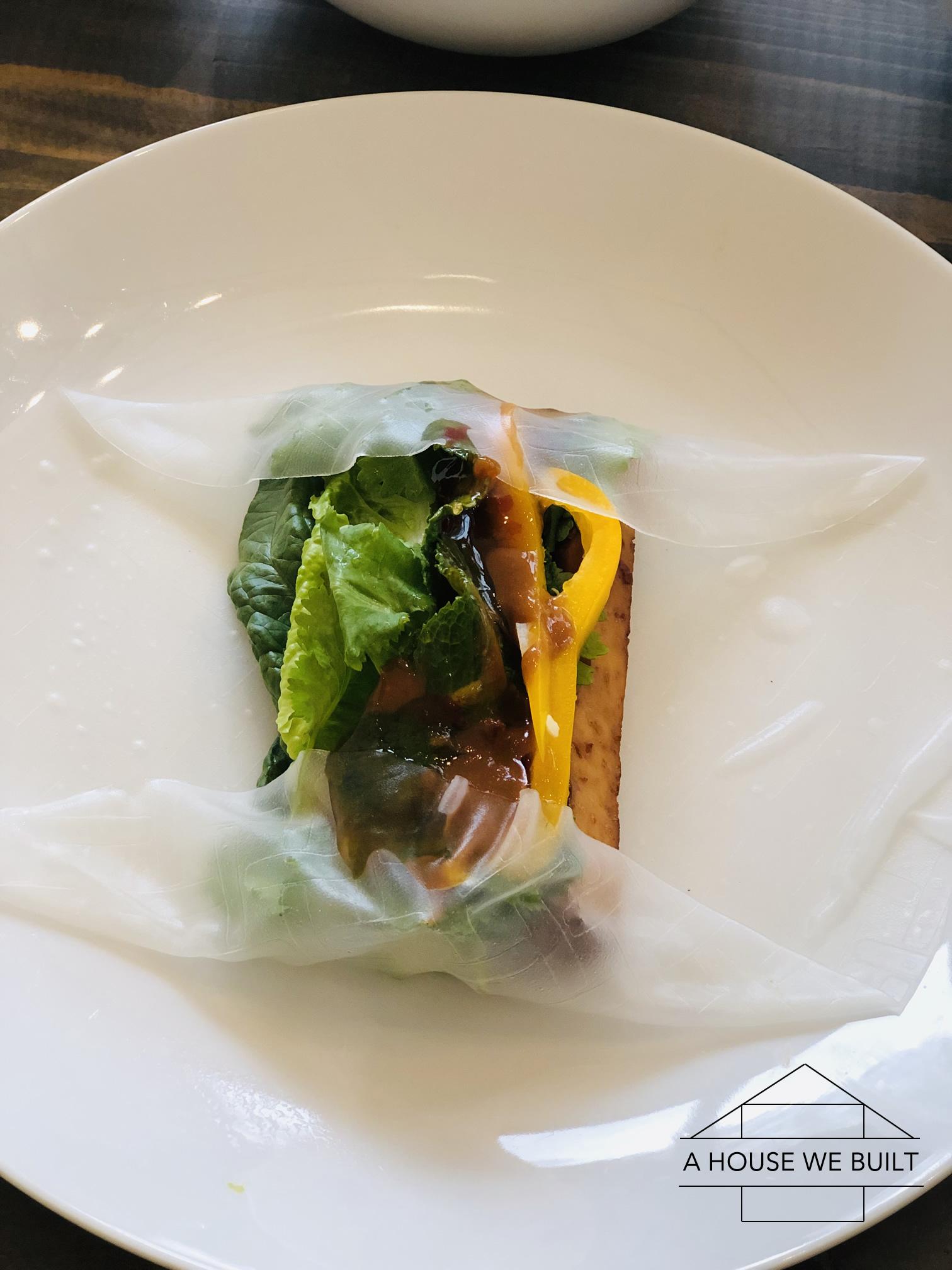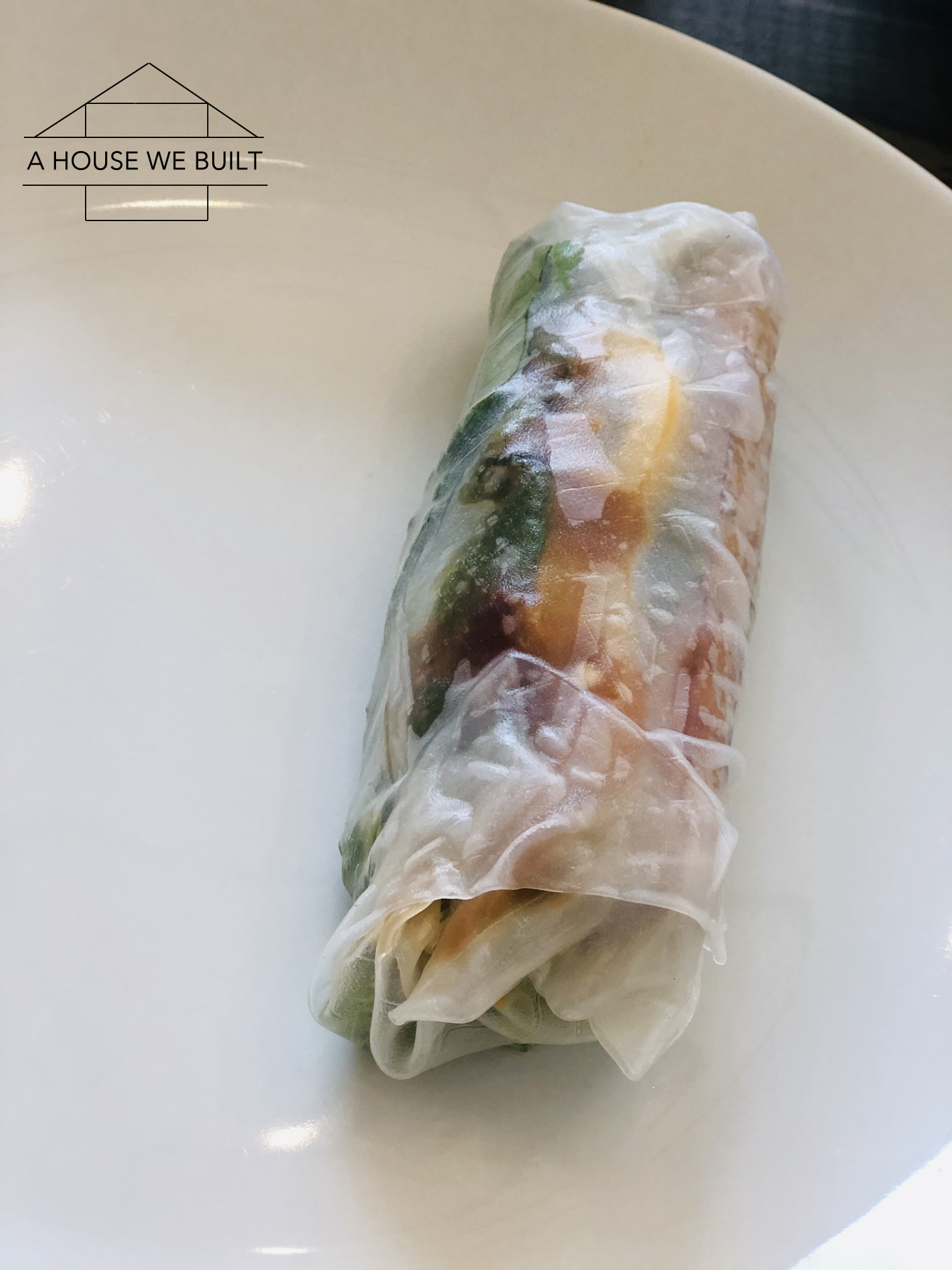 These fresh rolls are one of our favorite meals to make — we often make them on special occasion days like Mother's Day and Father's Day. They're fresh and tasty and the best part is you can make each one exactly how you like (kind of how pizza toppings can be totally modifiable) so they're a hit with almost everyone!
We don't go by a recipe and each time we make them they're slightly different, but I'll share the general idea and you can also modify it to suit your own taste.
The wraps are these round rice paper discs, about the size of a small dinner plate. They come in packages about an inch thick and they're hard like pasta when you buy them. To make the wraps, we just fill a large pie plate with warm water (as warm as you can bear to touch) and fully immerse one of the rice paper wraps in the water for about 30 seconds to a minute until it is completely and totally soft. Then gently lay it out on a cutting board, or actually we just use dinner plates, and put your favorite ingredients lengthwise in the middle while leaving about 2 inches of empty space at the top and bottom, when all your toppings are in just fold in the two ends, then tuck in one side and roll the rest of the way (kind of like a burrito, but longer).
Note: these do not stay fresh long as the rice paper wraps dry very quickly so what we do is we actually prep all the filling ingredients at once, then lay them out in the middle of the table, and everyone gets a plate and just assembles, eats, assembles, eats etc, until they're full… so it's a very interactive and involved meal which we find to be so much fun, even though it's a lot of work! They take a bit of skill to learn how to wrap so you'll definitely have to help younger kids or new-to-this-food adults, but it's such a fun family experience to make these so it's worth the mess! And, they're super healthy!
Our wraps are most commonly filled with these ingredients:
Lettuce (I core the stems and cut them into strips)
Avocado (thin slices)
Cucumber (thin sticks)
Bell pepper (thin sticks)
Fresh cilantro (de-stemmed)
Fresh mint (de-stemmed)
Baked tofu (I cut extra-firm tofu blocks into strips, drizzle over a bunch of soy sauce, sesame oil, and thick teriyaki sauce and bake at 400 until they're a bit crispy.)
For sauces we use the following (we've found it's less messy to spoon the sauces inside the wraps instead of dipping into them):
Sweet chili sauce (I just buy this)
Peanut sauce (I make this by mixing peanut butter, soy sauce, a smidge of sesame oil, hoisin sauce/teriyaki sauce, and sriracha/hot sauce until it's the right consistency for dipping)
Other optional fillings:
Egg (if you beat them up with some soy sauce and make them kinda like a crepe in a pan on the stove, then cut them into strips, they make a great addition to the rolls)
Mango strips
Fresh Basil
Shredded carrot
Thin rice noodles (we kinda consider this a waste of space in the wrap but some people love it)
And that's it!! For a full list of our kitchen sources, click here!